In this article, we compare CleanMyMac X and MacBooster 8 to decide which software wins the CleanMyMac X VS. MacBooster 8 battle. 
Performance as slow as a turtle, frequent crashes, and annoying errors are some of the signs that your Mac gives when clutter accumulates in it. Do not let these warnings go unheard and declutter your device as soon as possible for the best performance. If we talk about the best utilities to clean the Mac with ease, then the name of two programs popup almost everywhere on the web. One is CleanMyMac X, and the other is MacBooster 8. CleanMyMac X VS. MacBooster 8 is a tough fight, and users find it difficult to choose between the two. 
If you are also among one of those confused fellows who are finding it confusing to pick a winner in the CleanMyMac X VS. MacBooster battle, then this article is for you. Here, we compare the two software in detail so that you can decide which of these programs is the best match for your requirements. Without much delay, here we begin the ultimate CleanMyMac and MacBooster comparison. 
CleanMyMac X VS. MacBooster 8: Comparing the Features
No two software offers the same features. Almost always, there is a slight difference in the offerings of one utility and the other. Therefore, here we compare the functionalities offered by both of these programs to decide which utility scores better in the CleanMyMac X VS. MacBooster 8 battle as far as the feature set is concerned. 
Cleaning
Let's begin with the primary objective of using any of these programs, i.e., decluttering the Mac. Both of these tools are in close competition with each other when it comes to removing the clutter. 
CleanMyMac X comes with smart cleaning options to remove system junk, empty trash bins, clean iTunes and photos, perform malware scans, and clean the mail app. In addition to this, it also cleans large and old files and improves system performance at the same time.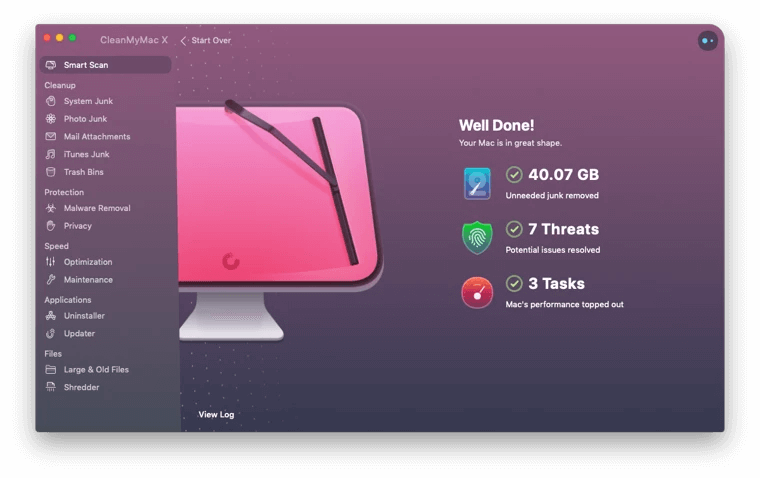 Whereas, MacBooster 8 claims to clean 20 types of junk files, including the large and old files. It also uninstalls unneeded apps and their remnants, removes duplicate files and photos, frees up the Mac memory from unrequired system log files, broken login items, mail attachments, localization files, Xcode iOS log, old application updates, and iTunes cache.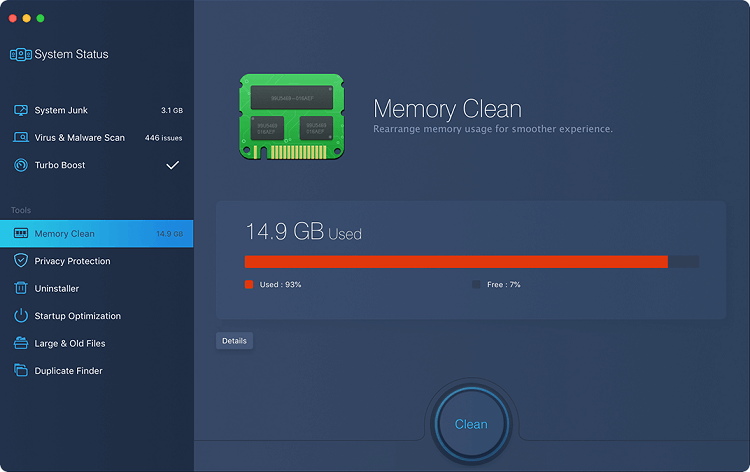 Security
We know that security is one of the top concerns while selecting the best utility to clean and optimize the Mac. Perhaps, the developers of CleanMyMac X and MacBooster 8 know it too. And hence both of them have played their cards quite well in the security department. 
CleanMyMac X comes with a file shredder so that you can securely erase files from your computer without worrying about anyone recovering or accessing them later on. Moreover, it also comes with an in-built malware remover to shield your device from viruses and other malware.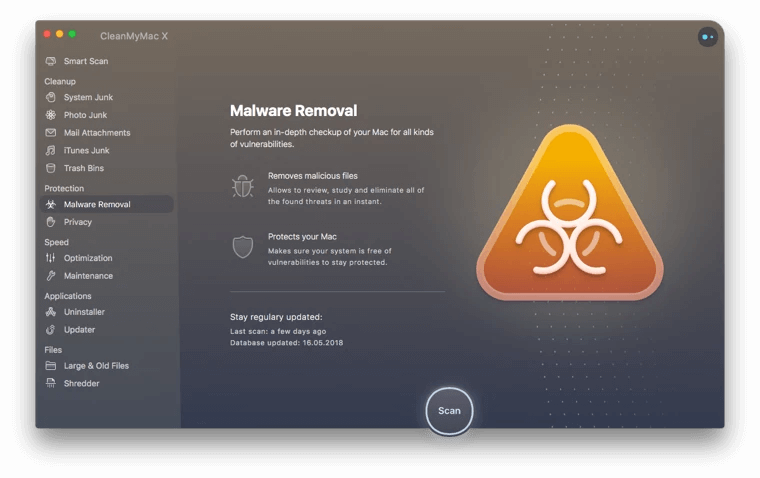 Talking about MacBooster 8, it leaves no stone unturned to protect your privacy and keep the device secure. It performs virus and malware scans in real-time. Additionally, it also cleans malicious cookies, makes sure that there are no loopholes in the settings of the device that intruders can take advantage of, clears the browser and third-party apps tracking data to protect your privacy.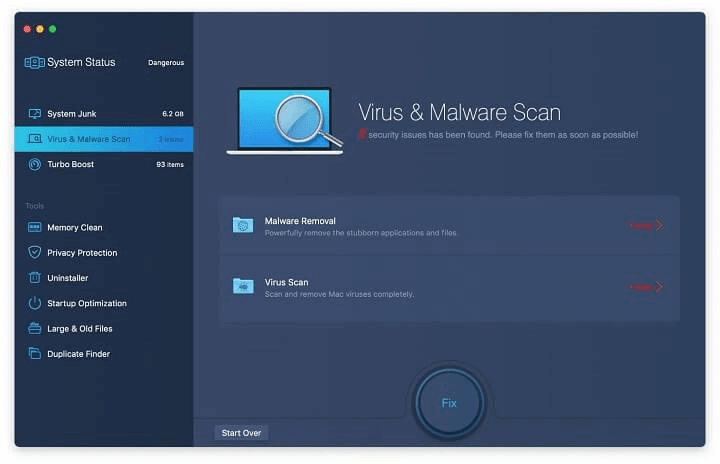 Optimization
Mac needs no optimization is a myth that you should not believe. Even the most well-engineered computer machines, such as your favorite Mac, become sluggish with time and require a bit of effort to boost its performance. Talking about optimization, many of you might be thinking about the in-built optimizer in Mac. Well, it is good enough for basic optimization tasks, but if you want a truly incredible performance, then you must use a tool like CleanMyMac X and MacBooster8. Here's what each of these programs offers in the optimization segment. 
CleanMyMac X boasts startup management tools that let you manage startup programs with ease. You can turn the background apps on and off as per your wish, and this makes your Mac boot faster. Moreover, it shuts down the applications that hog up the device resources and slow it down. Further, it lets you rotate old log files, rebuild and reorganize select database.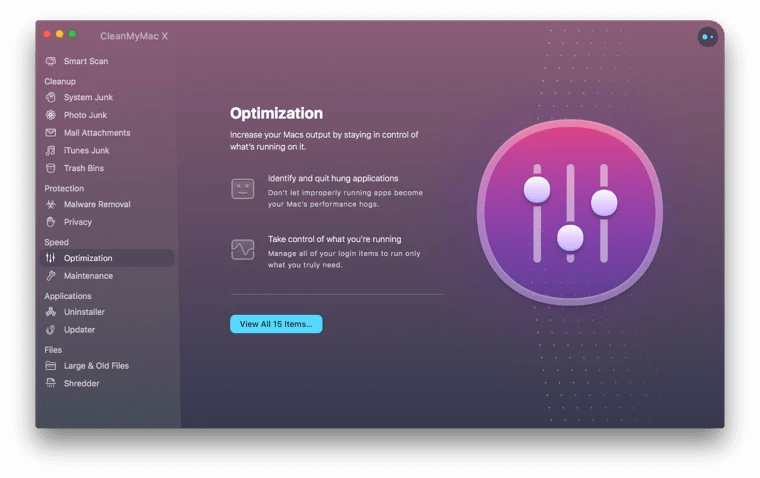 It is not all, and CleanMyMac X also allows you to repair broken permissions on the operating system, check and repair the file system errors, speeds up and reorganizes the mail database, organizes the services database. In addition to this, it improves the searching performance of the Mac so that you effortlessly get what you require and cleans the DNS cache when you open any website for the first time. 
MacBooster 8 also offers several stunning optimization features to give CleanMyMac a tough fight in the CleanMyMac X VS. MacBooster 8 battle. For instance, it cleans all the cache, fixes disk permission issues, frees up inactive Mac memory, optimizes login startup items, performs DNS optimization. And hosts a lightning booster mode to make your online surfing experience faster and better.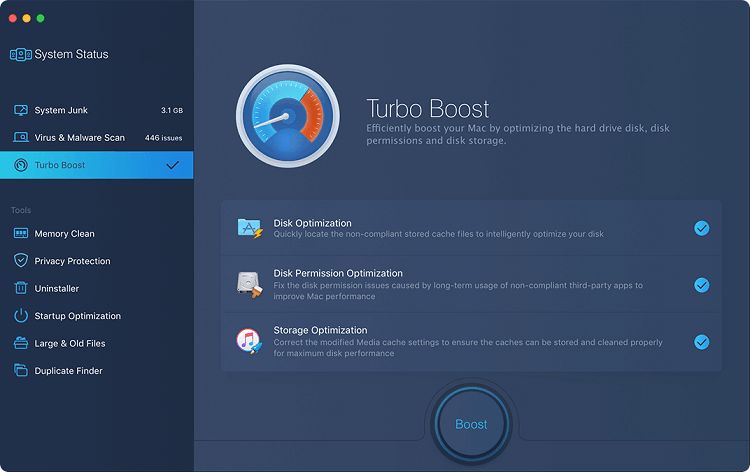 Now, after looking at the features of these utilities in-depth, let's review them side-by-side for a better comparison. 
| | | |
| --- | --- | --- |
| Features | CleanMyMac X | MacBooster 8 |
| Junk Removal | Yes | Yes |
| Malware Removal | Yes | Yes |
| Duplicate Photo Finder | No | Yes |
| Duplicate Photo Remover | No | Yes |
| File Shredder | Yes | No |
| Space Visualization | Yes | No |
| Customized Cleanup Tips | Yes | No |
| Software Updater | Yes | No |
| Application Uninstaller | Yes | Yes |
| Device Monitor | Yes | No |
| Disable Hung Programs | Yes | No |
| Disk Permission Repair | Yes | Yes |
Features of CleanMyMac X and MacBooster 8 at a glance
Above, we have compared the features of CleanMyMac X and MacBooster. Now, let's do the same with the pros and cons of these utilities as it is the upsides and downsides of a program that determines whether it is better than its counterpart or not. 
CleanMyMac X VS. MacBooster 8: Comparison of Pros 
| | |
| --- | --- |
| CleanMyMac X Pros | MacBooster 8 Pros |
| Pleasing interface | Ease of use |
| Fast and accurate scans | Duplicate file finder and remover |
| An ocean of features | Sleek user interface |
| User friendly | Reasonably priced |
| It doesn't hog up device resources | Monitors activities in real-time |
CleanMyMac X VS. MacBooster: Comparison of Cons
| | |
| --- | --- |
| CleanMyMac X Cons | MacBooster 8 Cons |
| Priced on a bit higher side | Removes apps without any warning |
| Limited features in the free version | The free version a little ineffective |
| No duplicate file finder and remover | Some users reported a few security issues |
| A few features are unncessary | Replicates Mac's in-built optimization tools a lot |
We have compared the features, pros, and cons of both of these utilities. Now, it's time to make the final decision about whether you should choose CleanMyMac or MacBooster 8. But, before making a choice, let's first have a look at the factor that also plays a crucial role in determining whether the software is worth investment or not, i.e., its price.
Read More: Best Uninstallers for Mac to Delete Apps on MacOS
CleanMyMac X VS. MacBooster 8: The Price Comparison 
CleanMyMac X comes for $90. If you are an existing CleanMyMac user, then you can upgrade to CleanMyMac X for $45.  Moreover, if you wish, then you can also subscribe to its app for $40 per year. 
MacBooster 8 is priced at $59.95 per month for a single Mac. 
CleanMyMac X VS. MacBooster 8: The Winner
Above, we have made a  fair comparison between the features, pros, cons, and price of both of these programs. Now, it's up to you to decide which utility wins the CleanMyMac X VS. MacBooster 8 battle as the winner depends upon your specific requirements. For instance, if your priorities include duplicate file finding and removing, then MacBooster 8 is a better choice for you. But, if you want lots of features and do not mind paying a bit more for them, then CleanMyMac X is what you are looking for. And if you are not satisfied with any of these programs, then you can find the alternatives on our blog. 
Subscribe to Our Newsletter
Keep yourself updated with the latest technology and trends with Innovana Thinklabs Limited.