CloneSpy is a popular deduplication software. But you should download it or not, will it be the best fit for your needs? Find the answer to these questions in this honest and full review of CloneSpy.
Do you know why most computers go from being smooth and fast to buggy and slow within a short period? Well, it's the duplicate files existing on your PC that brought it to such a state. When searching for the solution to this problem, the name of CloneSpy appears almost everywhere on the search engine. But before you download this software and use it to get rid of space-hungry duplicate files, would you like to know whether this program is worthy of your attention or not? If yes, then this article is for you. Here we genuinely review CloneSpy and share our experience with this software.
Before going deeper into the review, let's first have a brief overview of what is CloneSpy and its specifications.
What is CloneSpy
As you may already know, CloneSpy is software that finds the duplicate files present on your computer and helps you remove them. In addition to eliminating duplicates, you can also use this software to delete similar files and files having no content to free up more hard drive space.
Specifications and System Requirements of CloneSpy
Developer: CloneSpy
OS Compatibility: Windows XP, Vista, 7, 8, 8.1, 10 (both 32 and 64 Bit versions)
Memory required: At least 40MB in case of the 32-bit version, not less than 80MB in the case of the 64-bit version
Screen resolution: Minimum 800*600
Latest version: Version 3.4
Price: Free
Now that you have an idea of what CloneSpy is, let's discuss the top features of this software in detail.
Core Features of CloneSpy
Taking forward the review of CloneSpy, below are its attractive features that enticed us to try it.
Scanning of zero-byte files: One of the best things about CloneSpy that makes it worth downloading is it scans and finds even the zero-byte files. These files are those files that do not have any content in them.
Move or transfer duplicates: Sometimes, you may not want to delete a file permanently, even if it is a duplicate. In such a scenario, this software allows you to transfer or move files to some other location.
Exclusion of extensions: If you do not want to scan and remove any file of a particular extension, then you can exclude it from the scan purview.
Multiple search modes: This software offers the users many modes to identify the duplicates that should be removed from the computer.
Above were some astonishing features of this software. They look quite promising. But whether any software is the perfect choice for you or not depends a lot on the way to use it. Therefore, the next section of this review talks about how to find and delete duplicate files with CloneSpy.
How to use CloneSpy
Beginners may find it a little difficult to use CloneSpy. But hopefully, the step-by-step process shared below will help you try it.
Step 1: Download the installation file of CloneSpy.
Step 2: After the Exe file gets downloaded, click on it and follow the instructions on your screen to install the software.
Step 3: Launch the software.
Step 4: Click on the Add Folder button.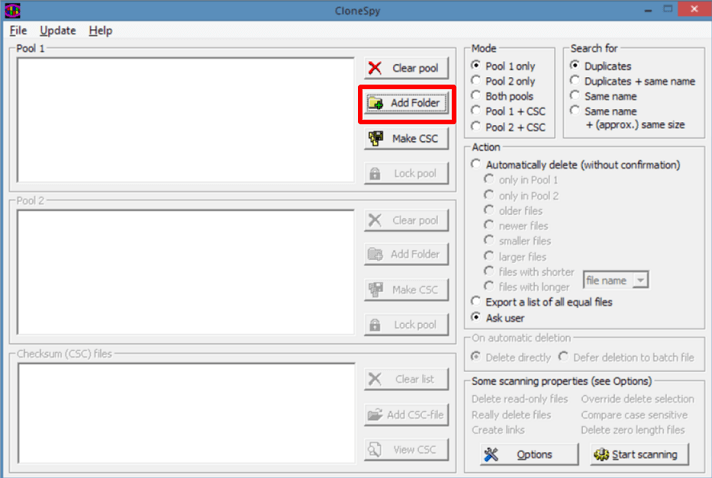 Step 5: Browse through your disk drive, choose folders, and click on the Add selected folder option. 
Step 6: Now, choose an option from the Action section. In our opinion, you should choose the "Automatically delete (without confirmation) option and then select whether you wish to remove larger, smaller, newer, or older files. However, if you want to check every file before it gets deleted, then choose the "Ask user" option.
Step 7: If you want to change any of the software settings, then click on the Options button. If you do not want to make any changes, then click on Start scanning.
The Options screen gives you alternatives like delete files to recycle bin, really delete, and move to a folder. Here you can also replace each deleted file with a shortcut to the retained file.
Step 8: In case you have selected Options in the previous step, after changing the settings click on OK.
While using CloneSpy, we noted some pros and cons of this software that our readers must know before deciding to download it. We share the same in the next segment of this review.
Pros and cons of CloneSpy
Every software has some strengths and weaknesses, and CloneSpy is no exception. Below are its pros and cons.
Pros
Quick scan speed.
Detects file versions that are older and outdated.
Detection of zero-byte files.
Allows you to replace deleted files with shortcuts to retained files.
You can transfer or move files instead of deleting them permanently.
Cons
The interface is not friendly enough for beginners.
It needs configuration before starting the scan.
By now, you might have made up your mind about whether you want to download CloneSpy or not. If your decision is in its favor, then below are some warnings before using this software.
Some warnings before you use CloneSpy
If you choose to automatically delete duplicate copies of files, it will not give you further confirmation before deleting them.
Run the scan on only those drives or folders where you know the contents and have confidence that it is safe to delete files.
Do not be overzealous while scanning the system folders, otherwise, you may end up damaging your PC.
Do not use CloneSpy to scan drive where Windows is installed or Windows folder with automatic deletion. If you do it, then your system may get killed.
Concluding the Review of CloneSpy
Above was our unbiased review of CloneSpy. You can download this software if it fits your requirements. However, if you are looking for software to delete duplicate photos specifically, we have a better solution. You can use Quick Photo Finder, i.e., one of the best deduplication programs for photos. And for more software recommendations and reviews, subscribe to Innovana Blog.
Subscribe to Our Newsletter
Keep yourself updated with the latest technology and trends with Innovana Thinklabs Limited.