BitSafe Anti-Malware is an excellent PC security software, but whether it is the best fit for your needs or not. Read this genuine and detailed BitSafe Anti-Malware review to get the answer. 
Every day we expose our computer to numerous risks. For instance, the website you are visiting may be a trap laid by hackers to attack the PC and steal your personal information. Or the software you have just installed may come with harmful bundleware that damage your computer without you even knowing. The online shopping websites where you enter your credit card details to make the payment may not be secure enough to protect the information. Well, the risks are uncountable. Therefore, you need a robust shield to protect your PC. While searching for one, BitSafe Anti-Malware is among the top names that come up. It is the perfect protection for your device or not, is the question we answer through our honest and complete BitSafe Anti-Malware review.
Before we go any further, let's discuss a little about this software and its key specifications.
What is BitSafe Anti-Malware
In the most simple words, BitSafe Anti-Malware is software that applies intelligent security algorithms to identify and protect your computer from malware attacks. Below are its major specifications and system requirements.
Key Specifications and System Requirements of BitSafe Anti-Malware
Developer: Bit Guardian GmbH
OS: Windows 7, 8, 10
Price: $49.95
Free Version: Available
Top Features: Quarantine, deep scan, live updates
Above was the general information about BitSafe Anti-Malware that you should know before going deeper into the review. Now, let's take a detailed look at its versions, then we will move on to the highlighting features of this software.
Versions of BitSafe Anti-Malware
BitSafe Anti-Malware offers two flavors of itself. One is the paid version that is available for a half-yearly price of $49.95. It offers additional features, like single-click malware removal and round-the-clock customer support.
Another is the free version with feature limitations but complete protection from malware.
Coming to the features, it has some of the most unique tools to keep the computer protected. We share them below.
Noteworthy Features of BitSafe Anti-Malware
Below are the most attractive features of this anti-malware software.
Multi-scan: There is a multi-scan option that you can use to run a quick and deep scan for finding the malware hidden in your computer. BitSafe Anti-Malware employs a smart algorithm so that any malware cannot bypass the scan, no matter how strong it is.
Live updates: The best anti-malware program is one that protects your computer from both present and future threats. Luckily enough, this software keeps itself updated about the newest threats so that it can defend your PC against new malware types.
Quarantine: The meaning of quarantine is to separate the infected files from the healthy ones to prevent infection from spreading. BitSafe Anti-Malware isolates the infected files in a way to let you use them without harming your computer and the data on it.
Multi-dimensional protection: It is a program that protects your computer from all the possible directions, like the internet, Windows, and startup, ensuring that all the vulnerable dimensions remain shielded.
One-click malware removal: You can get the latest version of BitSafe Anti-Malware to remove all malware from your computer in just a click.
Complete refund: If for some reason you feel dissatisfied with your purchase of BitSafe Anti-Malware, although it may not happen, then you can get the entire amount refunded within 60 days of purchasing it.
Round-the-clock support: The support team of BitSafe Anti-Malware is available at all times of the day and night to clear your doubts.
After knowing the features of this software, we know you must be tempted to use it. Therefore, the next section of our review shares how to use BitSafe Anti-Malware.

How to use BitSafe Anti-Malware
To protect your PC from malware, you need to take the following steps.
Step 1: Download BitSafe Anti-Malware by going to its website from this link.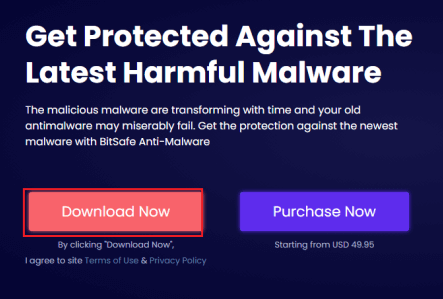 Step 2: After the webpage comes up, click on the "Download Now" button.
Step 3: After the setup gets downloaded, click on it and follow the on-screen instructions to complete the installation.
Step 4: Once the installation is complete, the software launches automatically.
Step 5: Now, let it scan your computer for malware infections.
Step 6: After the scan completes, you can remove all malware by using the one-click button.
Above was how to shield your PC from malware attacks using BitSafe Anti-Malware. Now, let's take you to the most important section of this review, i.e., what we liked or disliked about this malware removal software.
What we liked in BitSafe Anti-Malware
Below is what all pleased us about this software, i.e., its pros.
Friendly interface.
Fast scans.
Deeply scans the PC to uproot all the infections.
It lets you remove malware with a single click.
You get multi-dimensional PC protection.
Features, like quarantine and live updates.
What we have not liked in BitSafe Anti-Malware
The only thing that has not pleased us is that you cannot get BitSafe Anti-Malware for older Windows versions.
We had an in-depth look at BitSafe Anti-Malware from all possible angles. Now, below is the answer to some frequently asked questions about malware removal so that you can decide whether this software is right for you or not effortlessly.
Frequently asked questions
Here are some questions that the readers of our blog have often asked.
Q1. What is anti-Malware? 
To put it simply, Anti-Malware is a program that detects, prevents, and shields your computer from malware infections, such as viruses, ransomware, Trojans, and more.
Q2. How do I remove malware? 
Since manually removing malware is not practically possible, you can find and remove malware from your PC by using a dedicated anti-malware program.
Q3. Is anti-malware necessary? 
To protect your computer and data from being misused by hackers or harmed, it is of utmost importance to remove malware as early as possible. And for doing it, you must have the most intelligent anti-malware at your disposal.
Q4. What is the best free anti-malware? 
There are a plethora of malware removal programs available in the market. However, in our view, BitSafe Anti-Malware that we have reviewed in this article is a decent and cost-effective tool to disinfect the computer.
Wrapping up the Review of BitSafe Anti-Malware
In this article, we have genuinely reviewed BitSafe Anti-Malware, i.e., among the best programs to keep malware infections at bay for its quarantine, multi-scan, and other incredible features. You can download it on your 64/32 Bit Windows computer if you think it suits your requirements. And before you leave, feel free to share your opinion about this software through the comments section.
Subscribe to Our Newsletter
Keep yourself updated with the latest technology and trends with Innovana Thinklabs Limited.