Photos are a time machine. They transport us to the good times spend with our loved ones and make us reminisce about the moments that may not come back. But, since we never get satisfied with a single picture and click multiple photos to get the perfect shot, the same images become a menace. It is so because the duplicate clicks if left undeleted, eat up the device space and make your Mac's speed tortoise-like slow.
But, Mac's have an in-built memory optimizer to clean such junk. If this what you are thinking, then let's first clear a misconception. The built-in memory optimization tool only transfers the duplicates from your device to the iCloud. It is like picking up clutter from one place and putting it at some other location. It does not give you a permanent solution for space management. And, Apple restricts the free iCloud space to just a few GBs. You need to pay Apple for expanding it. Is it worth shelling out money to keep clutter, such as duplicate pictures? We don't think so.
You need to delete duplicate pictures permanently for efficient memory management on Mac. Since manual photo deletion requires you to hunt for duplicates in a massive picture library and is a time-consuming task, we suggest you get the best duplicate photo cleaner for Mac. Through this write-up, we shall introduce you to Easy Photos Cleaner, the top Mac cleaning utility in the marketplace.
This tool lets you get rid of duplicates in just a single mouse click, free up plenty of space, and give your Mac a new fast life. We will dive deeply into the features and benefits of Easy Photos Cleaner after a while. First, let's walk you through how to find and delete duplicate photos on Mac using this incredibly fantastic utility.
How to Clean Duplicate Photos on Mac using Easy Photos Cleaner
Deleting duplicate photos on Mac with Easy Photos Cleaner is as easy as eating a piece of cake. The only thing that you need to do is implement the below steps.
Step 1: Download and set up, and invoke Easy Photos Cleaner on your device.
Step 2: Click on "Add photo/Folders/Photos Library" button to add the duplicate photos. Alternatively, you can also drag and drop your photos, folders, or photo library to the selection area.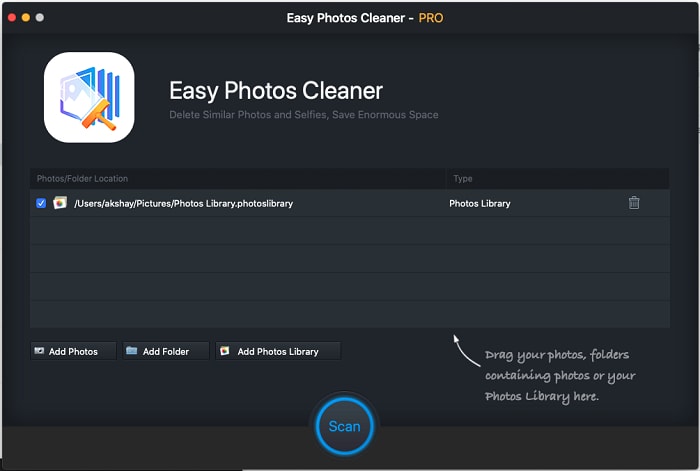 Step 3: On the next screen, set your preferences. Choose "Exact Match" to find and delete exactly the same photos. If you want to detect similar looking pictures, then select "Similar Match". You can also adjust the matching level, bitmap size, time interval, and GPS using the given sliders. After you are done tweaking the settings, click on "Continue".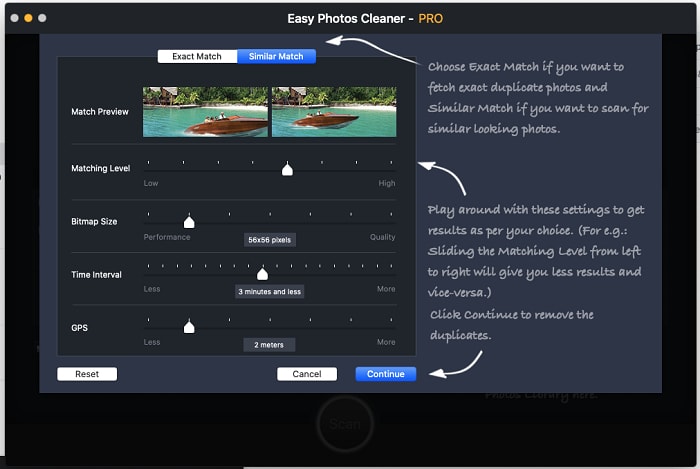 Step 4: Wait for a few seconds until the software collects all your photos.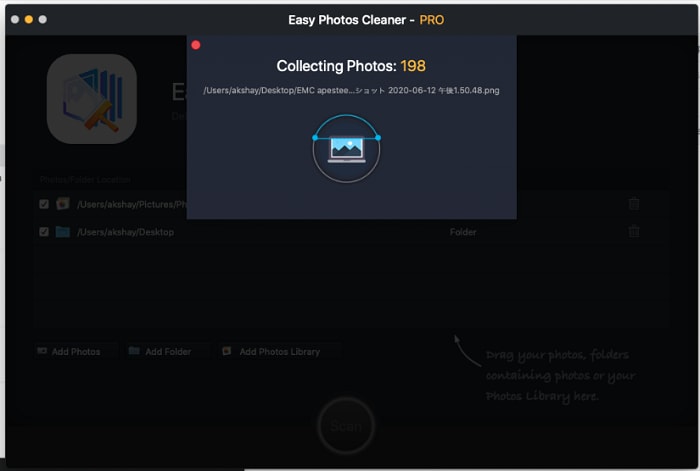 Step 5: Let Easy Photos Cleaner scan and process your pictures (it only takes a second or two).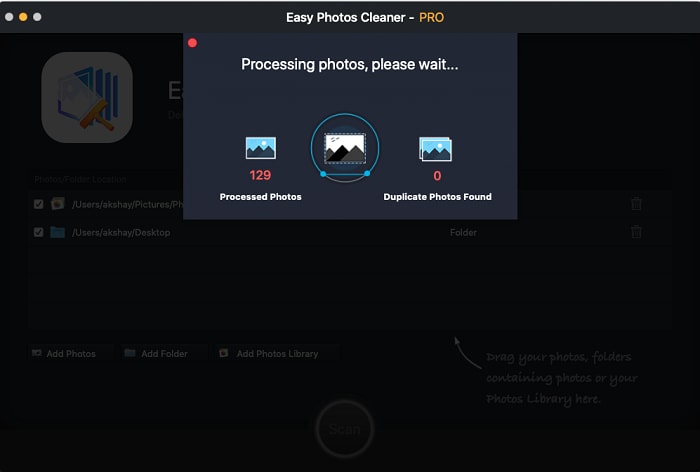 Step 6: Preview the on-screen results and click on "Auto Mark". The Auto Mark feature selects one picture from each duplicate group for deletion. Alternatively, you can also mark them manually.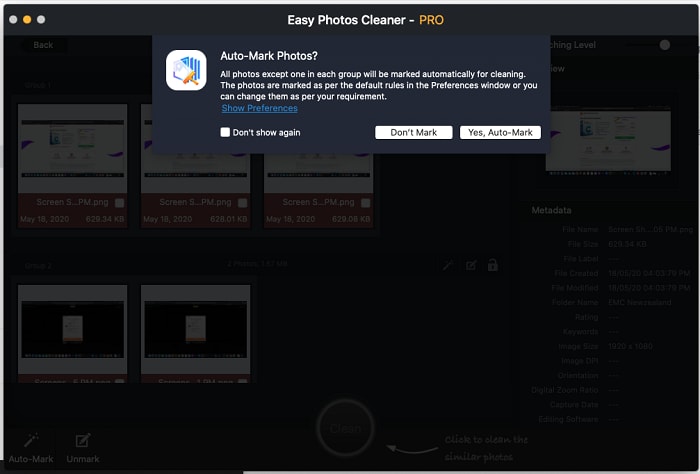 Step 7: Click on the big "Clean" button present at the bottom of the screen to delete duplicate and similar photos on Mac.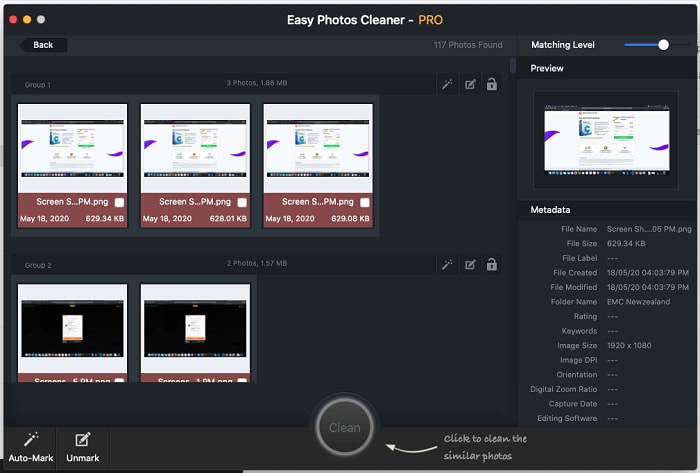 Step 8: Confirm your desire to delete the marked duplicate pictures.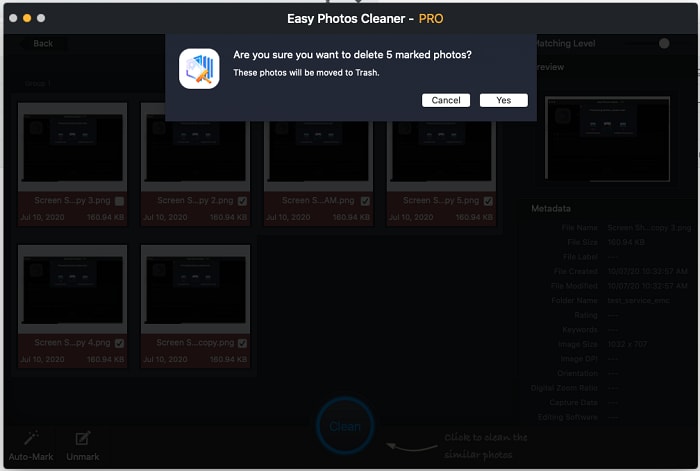 Step 9: Enter your device's username and password so that the duplicates can be deleted. Don't worry, your information remains secure. We don't store it.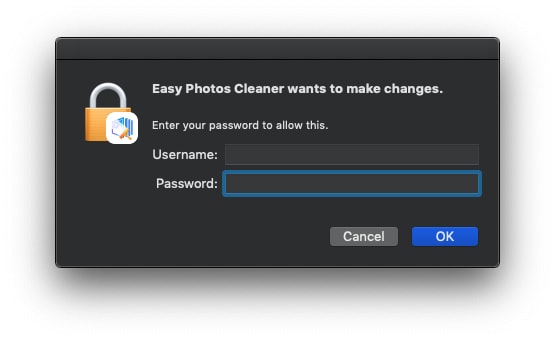 Step 10: Celebrate as your Mac is now clutter-free.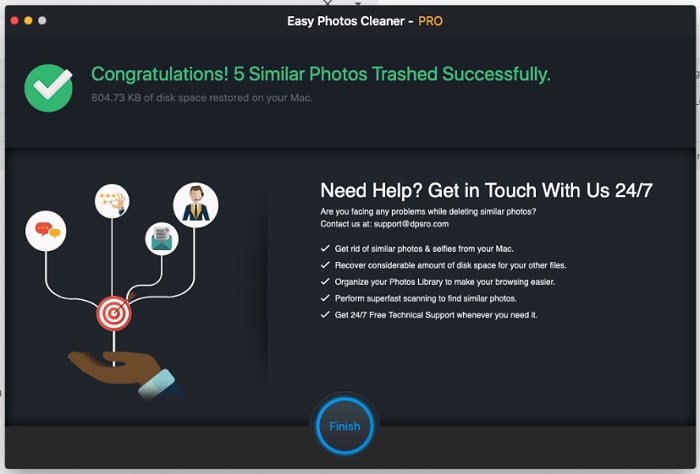 Deleting duplicates from Mac is so simple, right? The above easy steps are all that you need to follow. Well, in addition to ease of use, several other noteworthy features also make Easy Photos Cleaner the favorite duplicate photo cleaner of millions. Below we discuss them.
Also Read: 5 Best Note-Taking Apps for Mac in 2020
Features that Make Easy Photos Cleaner the Top Duplicate Photo Cleaning Tool
This utility offers an ocean of unique features that induce us to recommend it to our readers. Here, we share the same.
Easy drag and drop
It is much easier to drag and drop pictures than to select them conventionally. Hence, here you get the drag and drop functionality to move the pictures to the scan pane.
Support for external devices
Not all the duplicate photo removers let you delete the duplicate pictures from external devices such as pen drive. But, with Easy Photos Cleaner, you can even remove duplicates from the other peripherals.
Preview scan results
Pictures are beautiful memories of happy and fun times. And, no memory should be accidentally deleted. Thus, with this tool, you can preview the scanned duplicates. This prevents accidental photo deletion and makes it easy for you to decide which photos to delete and which to keep.
Auto marking duplicates
If you want to delete all the duplicate photos in one fell swoop, then the feature to auto mark the duplicate photos becomes inevitable. Without this functionality, you need to select the dupes one by one and this seems a cumbersome thing to do. But, luckily, this tool lets you auto mark the pictures.
Free up ample disk space
Easy Photos Cleaner deletes more duplicate than other similar utilities and lets you recover whopping disk space on your Mac to keep important files and photos.
User-friendly interface
The user interface of this utility is simple, straightforward, and easy to use. In our view, people of all ages and technical experiences can use it without any hassles.
The above was a snapshot of the remarkable benefits that Easy Photos Cleaner provides. You will get to know more about them and other enticing features after you start using the tool. Hence, click on the below link to download Easy Photos Cleaner for Mac.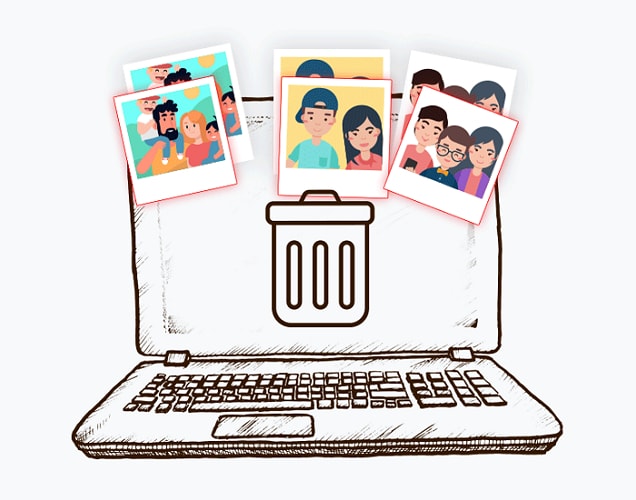 Photos are an integral part of our life as they take us back to our memories. However, the same pictures seem like trouble if we leave the duplicate clicks undeleted. Hence, deleting twin shots is of utmost importance to keep the picture library unclutter, well organized, and make Mac's performance smoother. Since manual cleaning is a tiring activity, through this write-up, we enlightened you about Easy Photos Cleaner to delete duplicates automatically in a flash. Use this tool to free up space and let us know your experience in the comment box below. Also, subscribe to our blog as we will soon be back with more such useful Mac utilities and other tech info.
Subscribe to Our Newsletter
Keep yourself updated with the latest technology and trends with Innovana Thinklabs Limited.