Is Device Doctor the driver updater that you should download? Read on this genuine and detailed review of Device Doctor to know the answer to this question.
Outdated drivers are the top culprits behind almost every computer problem. Therefore, for an optimal and error-free PC performance, it is crucial to keep the drivers updated. Since it is a cumbersome task to update the drivers manually, people take help from software such as Device Doctor to perform driver updates automatically. You can also download Device Doctor for updating the drivers. 
However, no software is the perfect fit for everybody's needs. Therefore, first, you must know about the specifications, features, pros, and cons of the program in detail so that you can decide whether it fits your requirements or not. Therefore, we are here with a detailed and honest review of Device Doctor. 
Before stepping into the review, first of all, let's get an idea of what is Device Doctor and its specifications. 
What is Device Doctor
Device Doctor is a software that scans your computer for outdated drivers, finds, downloads, and installs the driver updates automatically. In addition to updating the drivers, it also performs a few other tasks, such as identifying the unknown devices on the Device Manager to keep track of your PC's overall health. 
Below are the key specifications of this software. 
Key Specifications of Device Doctor 
Developer: Device Doctor Software Inc. 
Latest Version: 4.1
Driver Database: 13,000,000+
OS Supported: Windows XP, Vista, 7, 8, and 10
RAM Needed: At least 256 MB
Hard Disk Space: At least 10 MB of free hard disk space required
Price: $29.95 
Free Version: Available
Top Features: Identification of unknown devices, system restore point creation, Windows startup booster, software uninstaller, and registry cleaner. 
Coming to the versions of Device Doctor available for download on Windows 10, the software has different editions. We talk about them below. 
Versions of Device Doctor
Device Doctor boasts both free and paid versions. If you choose to use the free version of the software, then you can only perform a driver scan and miss out on features, such as driver backup and restore. 
If you upgrade to the paid version of Device Doctor, then you get all the additional features, along with the option to download drivers with its in-built driver downloader. 
Device Doctor also comes in a portable version that you can use without any installation requirements. 
All the versions of Device Doctor are available for both 32 and 64 Bit versions of Windows. 
Talking about the way to use Device Doctor and its interface, we found it pretty simple for both amateurs and experienced users. Let's look at the step-by-step process to use it, along with taking a sneak peek at its interface. 
How to use Device Doctor?
To download the driver updates with Device Doctor, you need to follow these steps. 
Step 1: Visit the below button to download the Device Doctor. 

Step 2: Click on the "Download Device Doctor" button. 
Step 3: Wait for the setup to get downloaded. 
Step 4: After the setup gets downloaded, click on it. 
Step 5: Run the software installer and follow the on-screen instructions to complete the installation. 
After the software installs and you launch it, the home screen comes up. It looks like the one we share in the next section of this review of Device Doctor. 
Device Doctor Interface
The interface of Device Doctor is quite straightforward. After you download, install, and launch the software, the home screen appears. It has neatly labeled options titled Scan, Backup, History, Toolbox, and Settings.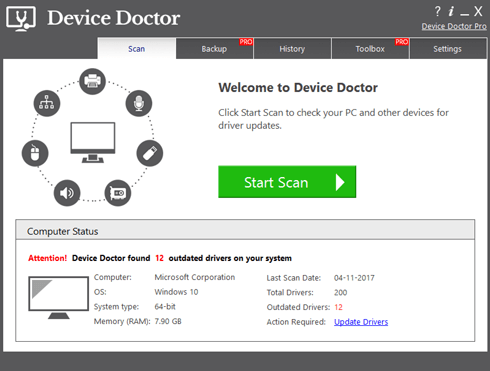 To scan for the outdated drivers existing on your PC, you need to click on the "Start Scan" button. After the scan completes and its results appear, you can click on the "Fix Now" button to download the driver updates.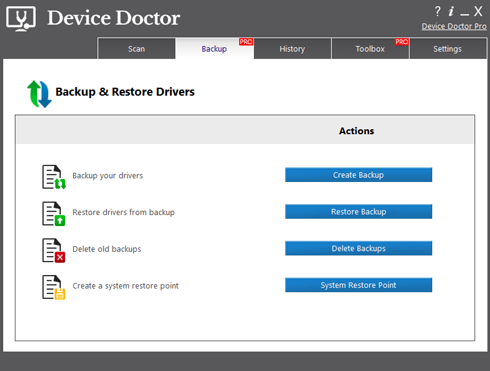 You also get the option to backup the drivers, restore the backup, delete backups, and create a system restore point if you are using the premium version of Device Doctor.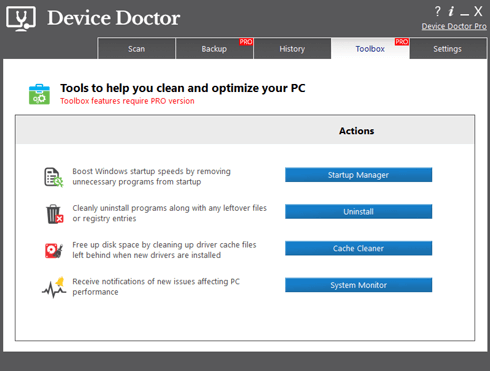 The Pro version users also get advanced tools, such as Startup Manager, Software Uninstaller, Cache Cleaner, and System Monitor in the Toolbox.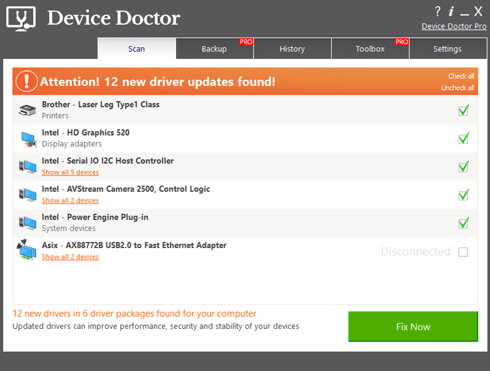 By now, you might have got a slight idea about the features offered by Device Doctor. However, below is a detailed description of the same for better understanding. 
Noteworthy features of Device Doctor
Here are the remarkable features that you get if you download Device Doctor's free or paid version. 
Identification of unknown devices: It helps you with identifying and updating the drivers for the unknown or unidentified devices on Device Manager. 
Startup manager: If you upgrade to the premium version of Device Doctor, then you can boost the startup speed of your computer by eliminating the unnecessary programs from the startup. 
Software uninstaller: The paid version of the software comes with a software uninstaller tool to uninstall the unneeded programs. 
Offline scans: With Device Doctor, you can scan the computer for out of date drivers even if you do not have an active internet connection. 
Cache cleaner: There is also a cache cleaning tool for deleting the driver cache files to free up disk space. However, this option is only available in the Pro version of the software. 
System monitor: The Pro version of Device Doctor boasts a system monitor to keep track of your PC's performance by identifying the issues affecting it. 
Driver backup and restore: It also allows you to create and restore driver backups, delete old backups, and create a system restore point. However, these options are not available if you download the free version of Device Doctor for Windows 10. This feature is offered exclusively to the users of the Pro version. 
Now, in the next section of this review of Device Doctor, we help you decide whether it is worth downloading or not by sharing its pros and cons. 
What we have liked in Device Doctor
There are many pros or strengths of this software that we have liked. We share them below. 
It updates both WHQL and non-WHQL drivers.
You can backup the drivers.
There is an option to restore and delete the driver backups.
Hosts optimization tools such as software uninstaller and registry cleaner.
It comes with a system monitor to check your PC's performance.
There is no need for an internet connection to run the scan. 
What we have not liked in Device Doctor
There are certain shortcomings of this software that we failed to ignore. We enlist the same below. 
The scan results are not detailed enough.
Slow scan speed.
It detects fewer drivers than other similar software.
Almost all the additional features are missing in the free version. 
The free version only allows you to scan for the drivers needing an update. 
It often downloads the drivers in a zipped format that needs to be unzipped and installed manually. 
Summing up the Review of Device Doctor
In the end, we would say that you can download Device Doctor if you want simple and straightforward software to scan for outdated drivers. However, to get the advanced features and perform a driver update, you need to shell out some bucks. And if you are looking for the best alternatives to this software, then you can try Bit Driver Updater. It is among the top programs available in the town currently to update the drivers. You can read this genuine review of bit driver updater to know more about it.  
Subscribe to Our Newsletter
Keep yourself updated with the latest technology and trends with Innovana Thinklabs Limited.