It is crucial to download Acer monitor driver correctly and keep it updated for the ultimate device performance. Therefore, read on to know how to download, install, and update the Acer monitor driver with ease. 
Device Driver is a group of files or a piece of software that enables the hardware devices to communicate with the computer's operating system. Without fully updated and efficient drivers, the system may fail to function properly. Hence, if the driver for the monitor isn't aligned or it has an old or broken driver, it is time you download the Acer monitor driver and install it correctly. 
Moreover, you cannot forget the drivers after downloading and installing them because if the drivers are outdated, then several errors and glitches will come your way when you use the device. Therefore, through this article, we also talk about the best way to update the Acer monitor driver.
Recommended Software for Acer Driver Update
There are multiple ways and software to perform the Acer driver update. We have described some of them below as well. However, if you are the perfectionist who only wants the best for his/her device, then we recommend you to try Bit Driver Updater. The software offers almost everything that a user requires from a driver updater. Here is the link through which you can try Bit Driver Updater without spending a penny.

How to Download Acer Monitor Drivers
Follow these two methods to update or download your Acer drivers:
Method 1: Download and perform the Acer driver update from the Acer website
You can download your monitor driver from the support website of Acer. To do so: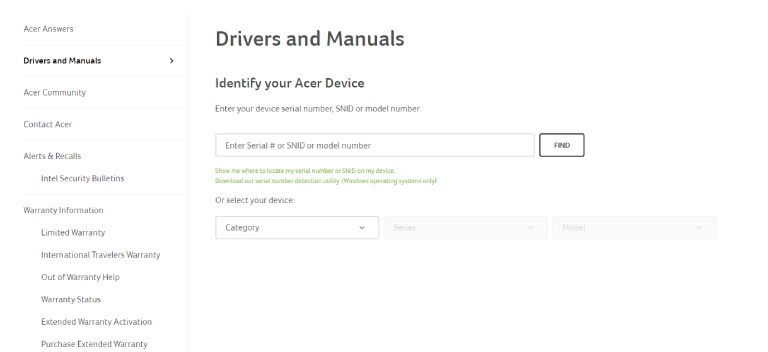 In the search box, enter your device's details, and click on Find.
You'll get either a list or the specific item of Acer drivers for your system. Find and download the latest Acer monitor driver on your computer system.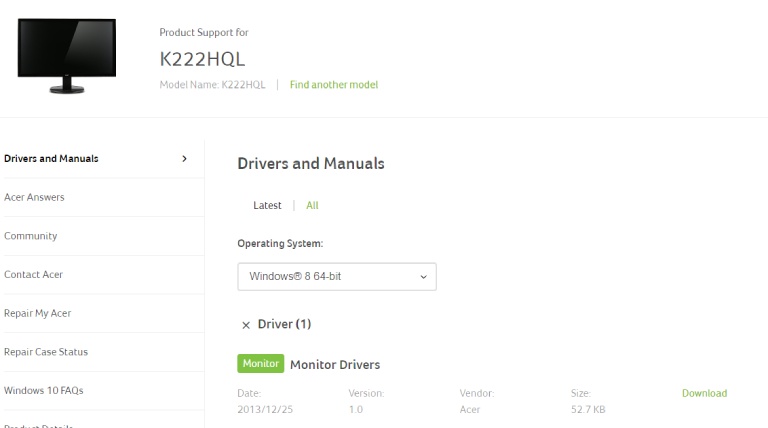 Now, just open the downloaded Acer driver file and simply follow the on-screen instructions to install it on your computer system.
Method 2: Use Device Manager to Download and Install the Acer Monitor Driver
All Windows computers come with a built-in system called "Device Manager" to perform the driver download, installation, and update. Below is how to use it for downloading and installing the Acer monitor driver. 
On the keypad of your computer, press the Windows and R keys together to evoke the "Run" box. 
When the Run box opens, input the "devmgmt.msc" command and click the "OK" option. 

After the Device Manager loads, locate and click on "Monitors" to expand them. 
Right-click on the Acer monitor and select "Update driver" from the available options. 

Next, you need to click on "Search automatically for updated driver software."

Wait for a few hours till Windows finds the Acer monitor drivers, downloads, and installs them on your device. 
Method 3: Perform an Operating System Update
Updating the operating system is another way through which you can download Acer monitor driver, install, and update it. However, if Acer has released a driver update only a few hours back, then Windows may struggle to find and download the updated drivers. If you wish, then follow the steps shared below to give this method a try. 
Open the Run box.
After it opens, type "ms-settings:windowsupdate" and click on "OK" to open the Windows update settings. 

When the Windows Update screen appears, click on the option to "Check for updates."

Download the update that Windows finds for your device. 
Now that you have downloaded the Acer monitor drivers and installed the same, keeping them updated is also crucial. Therefore, below is how to update them in the best way. 
Method 4: Update Acer Monitor Driver Automatically in the Twinkling of an Eye
The above-mentioned method for Acer monitor driver download is quite a lengthy one and requires the person to have time, patience, and skills. But there's one more way to do it automatically and without any hassle. It's with the help of Bit Driver Updater.
Bit Driver Updater is extremely proficient at detecting and finding correct Acer drivers for your system. Its one-click update smartly scans your system and updates all the outdated drivers in one go. It finds all the latest and correct Acer support drivers for your system.
That means, while using Bit Driver Updater, you wouldn't have to go through long processes of downloading and installations, as it would download,  install, and update the Acer monitor drivers in the system for you.
You can instantly scan your system for outdated drivers with the FREE version, while with the PRO version you can do a lot more, like driver Backup and Restore.
Download /Update Monitor Drivers Automatically
It is recommended to close all other applications before going with the Scan.
Download and install Bit Driver Updater.

As soon as you install the software on your PC it starts scanning the PC for all the outdated and corrupt drivers.
After the scan is complete, it finds all the outdated drivers that are present in your system and are affecting its performance.
It provides you options whether you want to automatically update all the outdated drivers, or if you want to go the path of the manual update.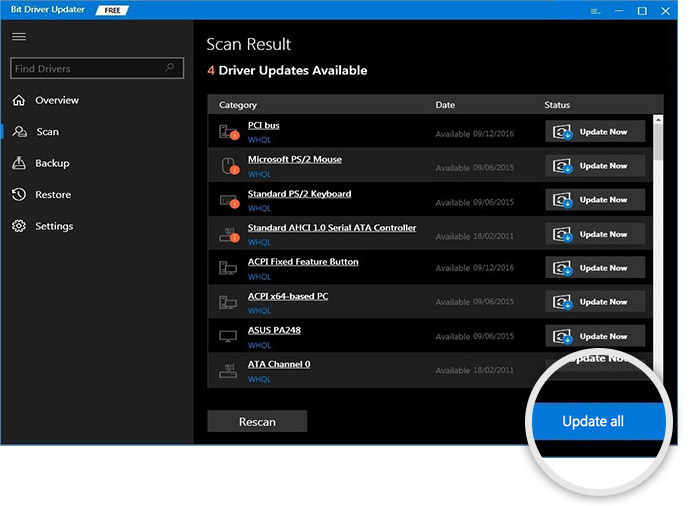 Above we shared the easiest steps to download, install, and update Acer monitor drivers. You can get Bit Driver Updater from the link shared here. 

Drivers are quite complicated to understand. We know even after knowing the best way to download Acer monitor driver, install, and update it, several questions might be troubling you. Therefore, the below section answers all your questions. 
Frequently Asked Questions about Download Acer Monitor Driver On Windows
Q.1 What are These Acer Support Drivers?
Acer offers a wide range of device drivers for different kinds of computer devices. They assure the optimum functioning of these devices. These drivers can be for your Modem, or for your Camera, or even for your LAN, and many more.
If any of these devices gets corrupted or outdated, then by downloading and installing the latest Acer drivers, you can easily fix them.
Q.2 What are the Acer Monitor Drivers?
Like all other Acer support drivers, the Acer monitor driver for windows 10 and other versions is also necessary to keep it in an optimum and efficient condition. Acer monitor drivers seek to correct and update all the corrupted drivers in your monitor that are slowing its performance.
Q.3 Do I need to update Acer drivers regularly?
Yes, it is absolutely necessary to keep a check on these Acer support drivers and keep updating them regularly. If you don't keep such a track, these same Acer drivers might become corrupted or old, and that would affect the system's performance. 
And if that happens, you won't be able to access your hardware devices connected to the driver files that are outdated. So, you always have to update your drivers on a regular basis.
Q.4 Why my Acer drivers have become corrupted?
 Some of those reasons could be:
Acer drivers might go missing when you are installing your OS.
These drivers might become outdated if not checked or updated for long periods of time.
Improper installation or handling of the driver could be a reason too.
If your system is attacked by a virus or malware infection, the Acer driver files might become corrupt.
Acer Monitor Driver on Windows – Downloaded 
We have the above-shared methods to download Acer monitor drivers in no time and without any sort of hindrance. Up-to-date drivers are the most crucial component to maintain the consistency of the system. Moreover, it is too important to get accurate outcomes. So, that's how you can download Acer monitor drivers on your Windows computer and ensure enhanced system performance. That's all as of now, will be back shortly, till then, stay tuned with us. And, share your feedback as we will be glad to know your views. Do subscribe to Innovana Blogs for the latest tech stories!
Subscribe to Our Newsletter
Keep yourself updated with the latest technology and trends with Innovana Thinklabs Limited.