Amongst all the computer peripherals, a printer is a most helpful and commonly used device. Therefore, to ensure its proper functioning, it is essential to keep its driver always updated. One of the most economical yet efficient printers of all times is the HP Printer. In this article, we will discuss different techniques to help you download/update a full-feature HP Printer driver.
An HP Printer driver update can be carried out in two different ways. One method is to update the drivers manually using the 'Device Manager' option on your computer, or you can also get assistance from the HP support website. But manual updates can be time-consuming and slow if compared to automatic driver updates. Therefore, to save your effort, you can install the latest driver for your HP printer using an efficient & impressive driver update software like Bit Driver Updater.
How to Download the HP Printer Driver Manually
There are two cases when you need to download software and drivers for your HP printer. First, if you have got a new printer and you are installing it for the first time. Second, when your printer is acting up, and not giving you the desired results. If you have basic computer knowledge and skills, you will find it super-easy to install the HP Printer driver manually.
Here, we will talk about two different manual techniques to install or update your HP Printer Driver-
Install HP Printer Driver using Device Manager
Follow these steps to install your driver using the 'Device Manager' –
Click on the 'Start' menu and type 'Device Manager'
Click on the topmost result to open the 'Device Manager' window
Click on 'Printers' and select your HP Printer device
Right-click the printer device and then click 'Update Driver'
Select the first option – 'Search automatically for updated driver software'
Wait until the driver update is complete for your HP printer
Also Know:- Best Free Driver Updater Software For Windows 10, 8, 7
Update HP Printer Driver from the HP support website
Here is how you can quickly get the latest and authenticated drivers for your HP Printer directly from the HP support website –
Go to link
A page will show up asking you to select your product

Click on 'Printer'
Enter the name of your HP Printer device, or you can also choose from the list of the popular printers given on the same page

Click on 'Submit' after you have entered the printer name
It will show you a list of all the available drivers for your printer device

Now, select the appropriate driver from the list depending on the make and variant of your computer device. For example- you must know the OS on which your system is running to download the appropriate driver
Click on 'Download'
Open the driver file that gets downloaded and follow the on-screen instructions to install it
Read More: How to Update Printer Drivers 
How to Download the HP Printer Driver using a software
After learning the above manual techniques, you can anytime set up your HP Printer with the latest drivers installed for it. There is no question when it comes to the authenticity of the drivers since you are installing them from your Windows built-in application, or you are seeking support from HP's official website.
But you can find it a little troublesome to go through the above steps when you do not have sufficient time, or if you are not a tech-savvy person. Also, while performing the manual update for your HP software & drivers, you are always in doubt if you are making the appropriate driver choice for your printer or not. Therefore, to keep you away from all these concerns, we recommend you to use intelligent software like Bit Driver Updater which will do all the work for you.
Know Bit Driver Updater
Bit Driver Updater is a secure, fast, and intelligent utility tool that automatically scans your computer device for all the missing, broken, or outdated drivers and updates them in just one click. While using this intuitive software, you do not need to worry about installing the latest and appropriate driver for your HP Printer or for any other hardware/external device. Also, it saves your time and requires very less or no manual intervention.
Install/Update the HP Printer Driver using Bit Driver Updater
Here, we are providing you with a step-by-step guide on how you can easily download or update your HP Printer driver using software. Before anything else, you need to download and install the Bit Driver Updater on your computer using these three easy steps –
-Download the 'Bit Driver Updater'


-Double-click the downloaded setup file to start its installation
-Follow the on-screen instructions to complete the installation
Once the installation is complete, to download/update your HP Printer driver –
Launch the 'Bit Driver Updater' from the 'Start' menu
Click on the 'Scan' Option on the left-hand side
'Bit Driver Updater' scans your computer and gives you a list of the drivers which need an update
Click on the 'Update Now' button next to your HP Printer and verify the driver information on the next screen that comes up
Click on 'Update All'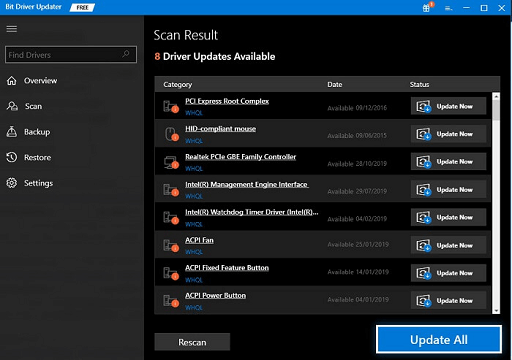 The process is very simple and does not require you to be a tech expert. Not just that, but the Bit Driver Updater offers you many additional features when upgraded to its Pro version. It gives you two times faster driver updating speed along with functionality to update all the necessary drivers in just one click. Also, you can create a backup of the existing drivers so that you can restore them whenever needed.
Conclusion
After reading this article, you can take your pick from the above-listed methods and perform a hassle-free HP Printer driver download anytime you like. However, it is always recommended that you take a backup of the existing drivers before updating them so that you can quickly put them back to their original state if and when required.
Subscribe to Our Newsletter
Keep yourself updated with the latest technology and trends with Innovana Thinklabs Limited.