Recording and streaming quality greatly depends on the microphone you use. A good quality mic can take its levels up, whereas a not-so-perfect microphone can bring it down drastically. Talking about microphones, we cannot stop thinking about Blue Snowball. It is amazing how well it performs when you podcast, stream games, make calls, watch videos, or do anything else. It is the best-in-class microphone. But if you do not download Blue Snowball drivers, then it may make you face annoying issues.
For instance, the Blue Snowball may not be recognized on your computer. Imagine that happening when you have an important call to make on Skype, are in the middle of a game, or watching some interesting YouTube video. Sounds irritating even in the imagination, right? Well, you can prevent this situation by downloading the Blue Snowball mic drivers and keeping them updated.
And, if you are searching for how to get Blue Snowball to work on Windows 10 perfectly, then you will be glad to know that an appropriate driver can make your microphone function without any hassles.
It is a cakewalk to download, install, and update Blue Snowball microphone drivers on Windows 10. All you need to do is, follow the methods shared in the below section.
Also Read: How to Resolve Microphone Not Working on Windows
Methods to download Blue Snowball drivers, install, and update them
Below are the different approaches to get the Blue Snowball drivers downloaded, installed, and updated efficiently and effectively.
Method 1: Get the driver from Windows Device Manager:
Windows has a dedicated tool to perform all activities connected to the drivers. This tool called Device Manager helps you carry out tasks like downloading, installing, and updating drivers. Though it takes a bit of time and technical expertise to get the required drivers using Device Manager, you can try it by following the below steps.
Right-click the Start icon to make the Quick Access menu visible.
Select Device Manager from the options that appear before you.

After opening the Device Manager, click on the branch of Audio inputs and outputs. 
Right-click on your Blue Snowball microphone and choose the Update driver. 
Click on Search automatically for updated driver software.

After Windows has successfully found and installed a driver for your Blue Snowball microphone, give your computer a quick restart.
Method 2: Update Windows to download Blue Snowball drivers:
Updating the OS is another way to get Blue Snowball iCE drivers on Windows 10. This process is a little time-consuming and may not be successful every time. Windows may be unsuccessful in finding the required drivers if the update is very recent. However, you can implement the below steps to try this method.
Using the combination of keypad keys Windows and X, open the Quick Access menu.
Click on the Settings option.
From the on-screen panel, choose Update & Security. 
Click on the option to Check for updates.

Download the update Windows suggests and install it.
Reboot your device.
Also Read: How to Download and Install EVGA Drivers for Windows
Method 3: Download, install, and update the drivers for the Blue Snowball microphone automatically (Recommended):
As you may have known by now, it is a herculean task to download Blue Snowball drivers, get them installed, and updated manually. Well, we have a smart recommendation for you. Instead of going through the tiring manual route, you can take a safe shortcut and perform the task automatically. You can download the required drivers, install, and update them in a flash using one of the best driver updaters, such as Bit Driver Updater.
Bit Driver Updater is among the most reliable and preferred driver update tools as it downloads and installs all the necessary updates automatically with one click. Moreover, with this software, you also get many benefits like the freedom to ignore the drivers you do not want to update, increase the download speed of drivers, creation of system restore points, and more. To get an in-depth view of this software, you can go through its review.
Now, let's walk you through the short series of steps you need to follow to get the updated Blue Snowball microphone drivers on Windows 10.
Click the download button shared below.

Now, click on the installation file you just downloaded and install the program.
Sit back for a couple of seconds and let Bit Driver Updater perform a thorough PC scan.
After the scan, go to the Blue Snowball mic drivers and click on the Update Now button to get their new version downloaded and installed.
Want to elevate the performance of not just your microphone but the computer as a whole? Then, choose the option to Update All problematic drivers.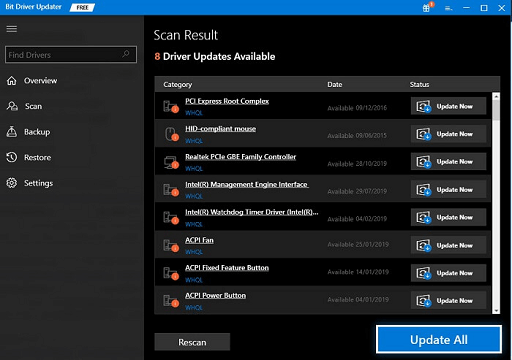 Do any questions still linger on your mind? Don't worry, you will find all your answers in the next section, where we address the frequently asked queries.
Frequently Asked Questions (FAQs)
Q1. Are there drivers for Blue Snowball?
Many people believe that Blue Snowball works without drivers. But the same is not always true. It is the drivers that connect your microphone to the computer and makes them communicate with each other. Without drivers, your commands won't reach the PC, and you will face issues with the microphone, such as it not getting recognized.
Q2. How do you install a Blue Snowball driver?
You can download the latest Blue Snowball drivers and install them manually through Device Manager or automatically via Bit Driver Updater. We find the latter option more convenient and easy to follow.
Q3. How to get Blue Snowball to work on Windows 10?
If your Blue Snowball microphone is not working or not recognized on Windows 10, you can take the below steps to make it work.
Reinstall the mic's driver
Turn on the microphone access if it is off
Update the Blue Snowball drivers
Blue Snowball drivers downloaded effortlessly
In this article, we brought to your attention the ways to download, install, and update Blue Snowball drivers. You can use any of these methods to get the drivers you need. However, for your convenience, we recommend you accomplish the task using Bit Driver Updater, i.e., one of the best automatic driver update programs available currently. For more tech information and guides, subscribe to and bookmark this blog.
Subscribe to Our Newsletter
Keep yourself updated with the latest technology and trends with Innovana Thinklabs Limited.