Not every software is worth downloading. Therefore, read this genuine and complete review of DriverFinder before you download it. 
The task of finding and updating outdated drivers is cumbersome and crucial at the same time. Therefore, to make the work easier, people use dedicated software, such as DriverFinder to search for out-of-date drivers and update them. You can also download DriverFinder to get updated drivers for all peripherals connected to your computer. But before downloading the software, is it not a good idea to read its review first? 
In our humble opinion, you must go through the software reviews before downloading them. If you get any software that is not a perfect fit for your needs, then it only hogs up the PC space and makes the situation worse. Therefore, to help you decide whether DriverFinder is the right choice for you or not, we are here with a detailed review of DriverFinder. 
Before we move towards a comprehensive analysis of the software, let's first understand what it is exactly. 
What is DriverFinder
DriverFinder is software that lets you search for outdated drivers, download, and install their updated versions effortlessly. It employs precision PC scanning technology to scan your computer thoroughly and find the right drivers for it. Below are its key specifications. 
Key specifications of DriverFinder 
Developer: DeskToolsSoft 
Latest Version: 3.8.0
OS Supported: Windows 10, 8, 7, Vista, and Windows XP (Both 32 Bit and 64 Bit)
CPU Required: 300 MHz Pentium compatible or higher
RAM Needed: 256 MB
Free Space Required: At least 24 MB free hard disk space
Screen Resolution: 800 x 600 true color or higher
Top Features: Support for both plugged and unplugged devices, driver backup and restore, precision PC scanning technology
Now, if you are thinking, "Do I have to pay for DriverFinder or not, then it has two versions that you can download, one is a paid version, and the other is a free edition. Let's take a quick look at them. 
Versions of DriverFinder
DriverFinder comes in two flavors. One is the completely free version, and the other is a paid version that offers you automatic driver updates. 
You get the activation key for the paid version of DriverFinder for $29.95 (Basic license with one year access on a single PC), $39.90 (Premium license with two years access on three PCs), $199.97 (Lifetime license). 
Above was the general overview of this software, now let's see how to put DriverFinder into action. 
How to use DriverFinder
To update the drivers with DriverFinder, you need to follow the steps shared below. 
Step 1: Visit the below link and click on the "DOWNLOAD NOW" button. 

Step 2: After the installer file is downloaded, double-click on it. 
Step 3: Select the language that you prefer and then click on "OK."
Step 4: Click on the "Next" button to launch the setup wizard. It looks like the one shown below. 
Step 5: Click on "I Agree" to accept the license agreement terms and conditions. 
Step 6: Click on the "Install" button to begin the installation. 
Step 7: After the installation completes, click on "Finish."
Now, the software starts and runs an automatic driver scan. After the scan completes, the home screen of DriverFinder comes to view. It has several options that are described below. 
DriverFinder Interface
DriverFinder boasts a clean, straightforward, and beginner-friendly interface. After it launches, you get a screen like the one below.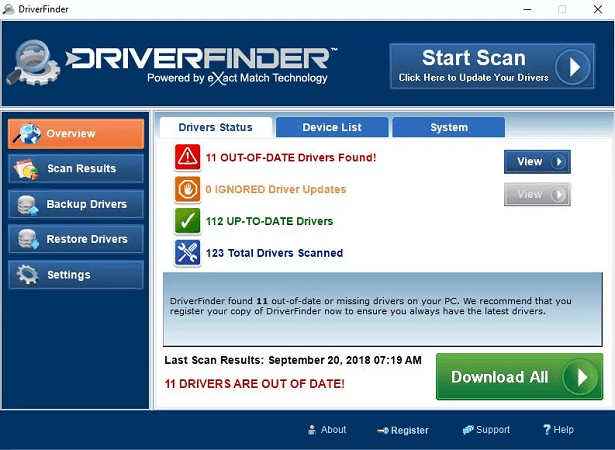 The "Overview" tab contains three options. The first option, i.e.,  Driver Status shows you the scan summary.  Device List displays the information about the peripherals on your computer. The third option, i.e., System shows details about the PC such as its manufacturer, model, OS, total physical memory, and processor model. 
If you click on the "Scan Results" tab, then you get detailed information about the outdated drivers, ignored drivers, and up-to-date drivers on your computer.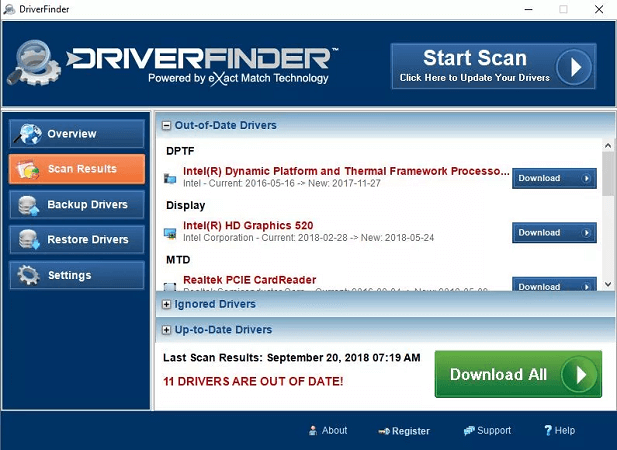 The "Backup Drivers" tab gives you the option to create a backup of all or some of the drivers existing on your PC.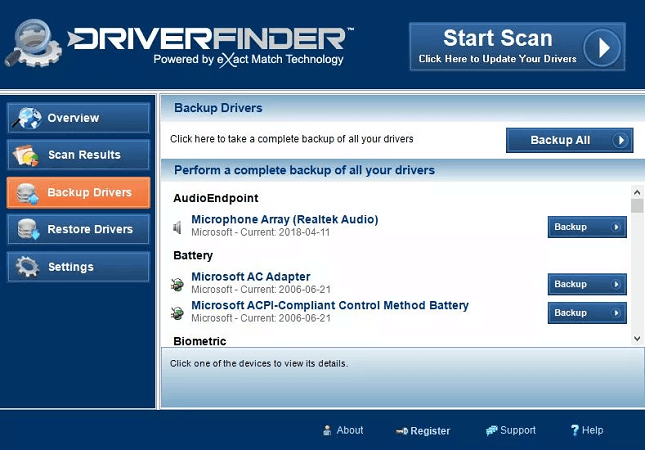 Creating a driver backup is pointless if you cannot restore it in the time of need. Therefore, DriverFinder's home screen contains a "Restore Drivers" tab that allows you to restore the drivers from a backup location.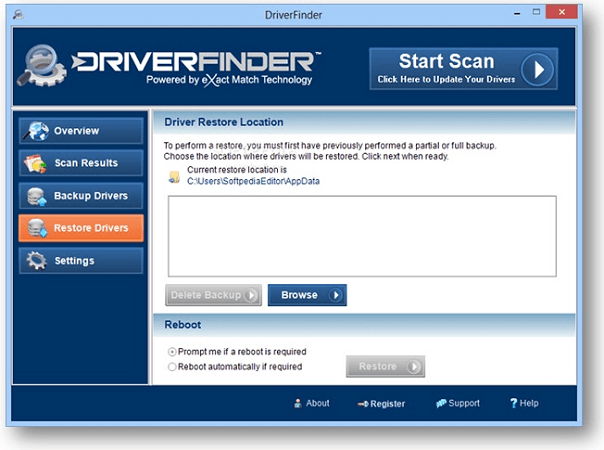 Lastly, you have the "Settings" that allows you to set the download location, backup location, and adjust the proxy settings.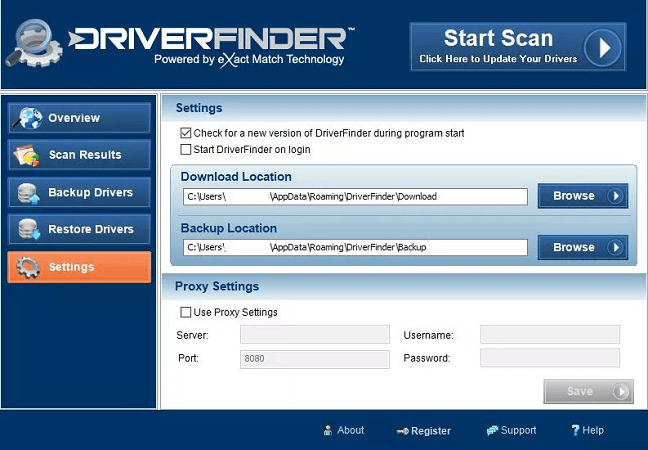 After having a sneak peek of the interface, you might have got an idea of what all this software offers. In the next section of our DriverFinder review, we share a detailed description of its features so that you can have a better understanding. 
Notable features of DriverFinder
Below are the features of DriverFinder that we find worth mentioning. 
Support for Both Plugged and Unplugged Devices
DriverFinder supports all the devices irrespective of whether they are plugged or unplugged. It means that you can update the drivers for your MP3 player, USB webcam, digital camera, or external hard disk even if they are not connected to the computer. 
Precision PC scanning Technology
If you download DriverFinder on your Windows computer, then you can find all the outdated drivers that plague its performance. DriverFinder employs a smart precision PC scanning technology to detect your PC's brand, model, OS, and all the connected peripherals with accuracy. Accurate system detection leads to correct and compatible drivers. 
Downloading DriverFinder gives you access to over a million drivers. It has a vast database of drivers,  and all new drivers are added to it within 24 hours of their release. 
While reviewing DriverFinder, we found that it boasts a pretty convenient option to backup either all or some of the drivers. Driver backups act as a safety net in case some unexpected issues arise after updating the drivers. 
With DriverFinder, you can restore the drivers from their backup location effortlessly if you ever need to do it. Moreover, it also allows you to copy the drivers and place them on a USB stick, CD or DVD drive, and other mediums. 
It is self-updating software that asks you to download the latest version of DriverFinder whenever the developers release it. 
Now that we have gone through the features of DriverFinder, it's time to move to the most important and concluding section of this review. Below are the strengths and weaknesses of this software. After knowing them, you will be in a better position to decide whether it fits your requirements or not. 
What we liked in DriverFinder
Here are all the strong points or things that we found likable in DriverFinder. 
Easy installation process. 
Fast driver scan and download speed.
Simple and intuitive interface.
The option to backup drivers altogether or individually. 
Support for unplugged devices. 
Presence of proxy settings. 
Accurate driver scan. 
What we have not liked in DriverFinder
DriverFinder has a few essential features missing. We share them below. 
There is no option to download and install drivers in bulk. 
Scan scheduler is not present. 
The free version does not allow you to update the drivers automatically. 
It is a bit pricey in comparison to similar software. 
Summing up the review of DriverFinder
Since the computer gets exposed to various problems if you do not update the drivers, we genuinely reviewed DriverFinder. If you think that it matches your requirements, then you can go to the official website of DriverFinder to download it. Do not trust any software cracker websites that offer you the DriverFinder license key for free or at a discounted price as it is unsafe to download programs from such places. And if you need an alternative to this software, then you can read about Bit Driver Updater,i.e., the best program to replace it. 
Subscribe to Our Newsletter
Keep yourself updated with the latest technology and trends with Innovana Thinklabs Limited.