You should download Duplicate Cleaner or not? Is it the perfect deduplication software for you or not? Find the answer to these questions in this honest and detailed review of Duplicate Cleaner. 
Do you keep transferring photos or other files to your computer without separating the duplicate ones? If yes, then it may be a reason for the sluggish PC performance. Identical files are like termites that eat up the storage space and system resources, making the computer slower day-by-day. Therefore, it becomes crucial to get rid of them. Since deleting them manually is a tedious process, you may need help from software to do it. While searching for such a program, Duplicate Cleaner is among the top names that come up. But is it worth downloading Duplicate Cleaner or not? It is the question we answer through this genuine software review.
Before beginning the in-depth review of Duplicate Cleaner, let's first have a quick overview of this software and its specifications.
What is Duplicate Cleaner
As it is evident from the name itself, Duplicate Cleaner is software that helps you find and delete duplicate files, such as photos, music, and more from your computer. Below are the central specifications and system requirements of this software.
Specifications and System Requirements of Duplicate Cleaner
Developer: DigitalVolcano
Latest Version: 4.1.4
Compatibility: Windows Vista, 7, 8, 10
Processor: 1 GHz or faster
Disc Space: 20Mb
Display: 1024 x 768 High Color or better resolution
Price: $29.95
Free Version: Available
Above were the technical specifications of this software. Now let's dive a little deeper and look at its key features.
Highlighting Features of Duplicate Cleaner
Below are the top features of Duplicate Cleaner that you must know before making any decision about downloading it.
A multitude of filters: Duplicate Cleaner offers quite a lot of filters based on file type, date, size, content, and other parameters to narrow your search and find the correct duplicates.
Detection of edited images: Most of us often edit, rotate, crop, and apply various other tweaks to our pictures to get that one perfect image to upload on social media. It results in tough to find and delete duplicate images. Hence, this software comes with the ability to detect and remove such photo duplicates.
Zip archives scan: Finding and eliminating duplicates from the zip archives is among the toughest challenges. Therefore, you can download Duplicate Cleaner to scan zip archives and make them free from duplicate files.
Selection assistant: Some decisions are quite difficult to make. For example, it is a tough job to decide which photos to delete. Thus, this software boasts a unique selection assistant that helps you select files based on groups, dates, drives, folders, etc. It even allows you to select a folder and look for the files that duplicate it.
Duplicate folder browser: There is a duplicate folder browser option that shows you the duplicated directory trees and lets you select the ones you do not wish to keep.
Save scan profiles: Duplicate Cleaner lets you save the scan profiles to use the scan settings in future scans, so they take less time.
Move/copy/rename duplicates: Sometimes, we may not want to remove a file permanently, even if it is a duplicate of some other file. Therefore, this software comes with an option to move/copy the file to another location, rename it, or transfer it to the recycle bin.
Side-by-side comparison: With Duplicate Cleaner, you can compare the images side-by-side to determine which copy to keep. Moreover, it also lets you view image and camera tags, like size, date taken, and color depth.
Detailed duplicate description: It shows you the complete description, including the details like length, bit rate, and sample rate of detected duplicate music files.
Now, the next important question you may be having on your mind is, "OK, these are the incredible features of this software, but how to use it?" Below we answer it for you.

How to use Duplicate Cleaner
To remove duplicate files with Duplicate Cleaner, you need to follow these steps.
Step 1: Go to the below link and click on the "Download" button to download the Duplicate Cleaner setup.
Step 2: Double-click on the downloaded setup and follow the on-screen instructions to complete the installation.
Step 3: Select the language which you want Duplicate Cleaner to speak.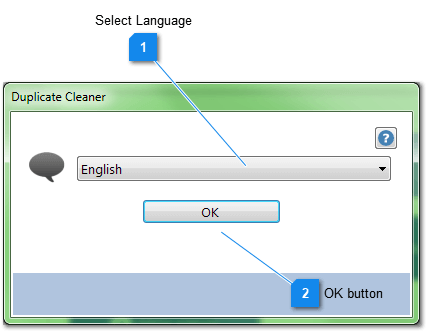 Step 4: Select the scan mode. Below are the various available modes.
Regular mode: Finds duplicates by comparing file content and attributes such as file name, date, and size.
Image mode: It compares image content to group similar photos and lets you compare image tags.
Audio mode: It is for the audio file tag comparison.
Step 5: Select the Regular mode, then choose whether you want to find files with the same content, similar content, or ignore the file content.

The other two scan modes, namely Image mode and Audio mode, are only available for users of Duplicate Cleaner Pro.
Step 6: Specify the scan location by clicking on the "Scan Location tab."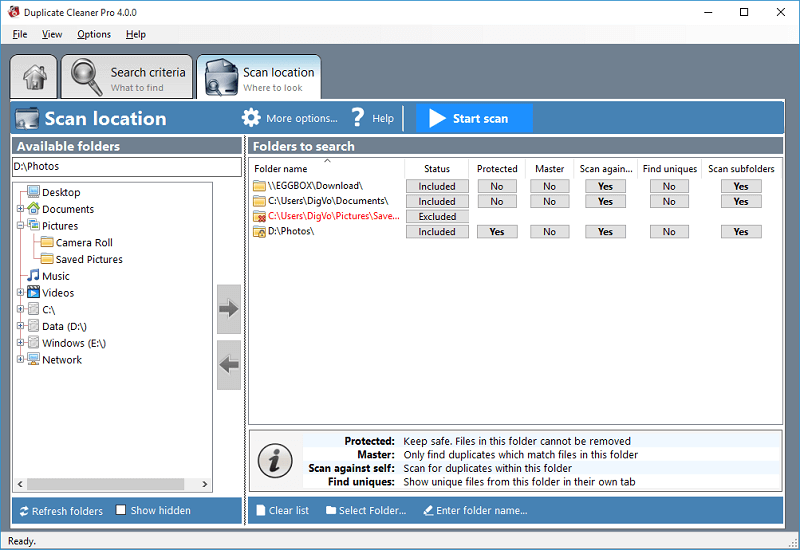 Step 7: Click on the "Start Scan" button present on the Search criteria or Search location tab to begin scanning the computer.
Now, if you want to remove the detected duplicates, find similar images, detect duplicate folders, scan zip files, and apply advanced search filters, then get the Pro version of Duplicate Cleaner.
But before you do that, it is advised to go through the pros and cons of this software to know whether it is worth spending your hard-earned money on it or not. Thus, the next section of our Duplicate Cleaner review discusses the same.
Pros of Duplicate Cleaner
Below are the strengths of this Duplicate Cleaner that makes downloading it a good decision.
Flexible and easy to use interface.
Accurate scan results.
It shows the scan results with big thumbnails.
You get a 15 day free trial of Duplicate Cleaner Pro.
Cons of Duplicate Cleaner
Here is why it is not a very good idea to download Duplicate Cleaner, i.e., weaknesses of this software.
You cannot pause the scan.
While using it, you may encounter a few minor glitches.
The interface is easy to use but overloaded with tools and options.
It takes a lot of time to scan large folders.
Let's wrap the Duplicate Cleaner review!
Above, we honestly reviewed  Duplicate Cleaner in detail, so you can decide whether it worth downloading or not. In case you are specifically looking for an easy way to delete duplicates photos, this software may not be what you need. In such a case, you can take a look at the Quick Photo Finder, i.e., one of the best programs to find and delete unwanted image duplicates.
Subscribe to Our Newsletter
Keep yourself updated with the latest technology and trends with Innovana Thinklabs Limited.