Every software is not perfect for the needs of all. Therefore, before you download Duplicate Photo Cleaner, read this honest and detailed review to know it fits your requirements or not. 
The smartphone cameras have made every millennial a photographer. Many phone photographers click multiple pictures a day to get one shot that fetches them thousands of likes. Well, clicking photos is fun, but the pain begins when you forget to delete duplicate photos after transferring the images to your computer. The piled-up identical photographs make the PC buggy. While looking for software to find and remove such images, you must have landed on Duplicate Photo Cleaner. Is it worth downloading Duplicate Photo Cleaner or not? We answer the question through this genuine and complete review. 
Before going deeper into the review of Duplicate Photo Cleaner, let's have a look at its major specifications and system requirements. 
Specifications and System Requirements of Duplicate Photo Cleaner
Developer: Webminds Inc
Latest Version: 5.21.0.1278
OS Supported: Windows XP, Vista, 7, 8, and 10
CPU Needed: 400 MHz or higher
RAM Required: 128 MB or more
Hard Drive Space: 5 MB of free space
Price: $49.95
Free Version: Available
Now that you have gone through the general details of this software, below are its highlighting features. 
Key features of Duplicate Photo Cleaner
Before downloading Duplicate Photo Cleaner, you need to know about its top features that we share below. 
Content-based search: It employs photo comparison algorithms based on content for accurate detection of duplicate images. Moreover, it also finds edited, cropped, rotated images, and the pictures taken by changing the camera angle. 
Move photos: If you do not want to get rid of the duplicate/similar pictures permanently, then you can move them to a different location. 
Folder comparison mode: There is a special mode that allows you to compare photos in different folders. It helps you merge folders and create backups effortlessly. 
Image preview: Duplicate Photo Cleaner is software that lets you be sure about not deleting any important image accidentally. It allows you to preview the image before taking any action. 
Sector detail scan: While reviewing Duplicate Photo Cleaner, we came across a  very interesting feature. This software even lets you scan choose an element in an image and scan other pictures for the same detail. 
Adobe Lightroom scan: With this software, it becomes easy to manage content in Adobe Lightroom. It allows you to find and remove identical/similar images from the Lightroom. 
The above features are quite tempting. However, a user should not download software merely because it offers exciting features or has a catchy catchphrase. You ensure that you can use the program comfortably. Therefore, the next section of this review shares how to use Duplicate Photo Cleaner. 
How to use Duplicate Photo Cleaner
Below are the steps you need to implement to delete twin/nearly twin pictures using Duplicate Photo Cleaner. 
Step 1: Download Duplicate Photo Cleaner by clicking this link.  
Step 2: After the installation file gets downloaded, double-click it. 
Step 3: Click on the "Allow" button to continue the installation. 
Step 4: Click on the "Install" option.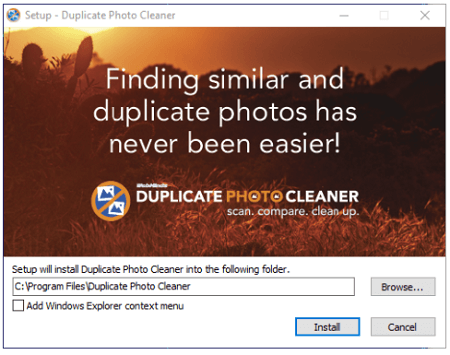 Step 5: Wait for the installation to complete.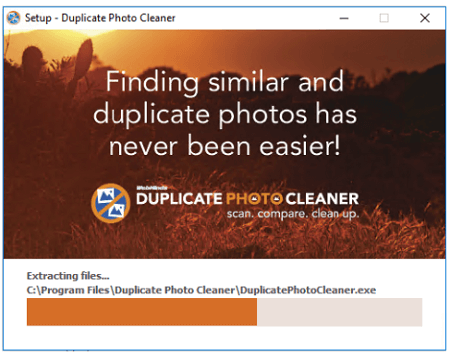 After Duplicate Photo Cleaner is installed, the software will launch automatically. And you will get an interface like the one that the next section of this review describes. 
The Interface of Duplicate Photo Cleaner
One of the best things about Duplicate Photo Cleaner for which we recommend you to download it is its interface. Its home screen neat and friendly with no confusing options. Below is a snapshot of how it looks.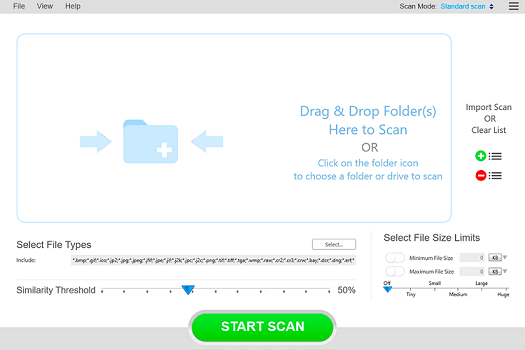 It offers a variety of scan modes, and you can choose one by clicking on the "Scan Mode" option visible in the top-right corner. 
Either you can click on the "+" button to add the folders or use the drag and drop feature to bring the folders to the scan pane. 
The bottom side of the screen shows settings related to the file types, similarity threshold, and other filtering options. After selecting the appropriate settings, you need to click on the "Start Scan" button to launch the scan. 
After the scan completes, you get a result screen that looks like the one shown below.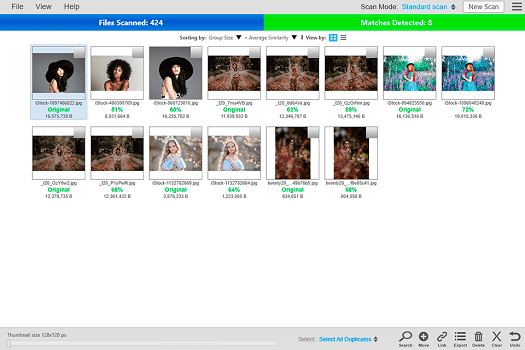 You can preview the image by clicking on it. 
The preview screen shows you a side-by-side comparison of the original and duplicate image along with the similarity percentage.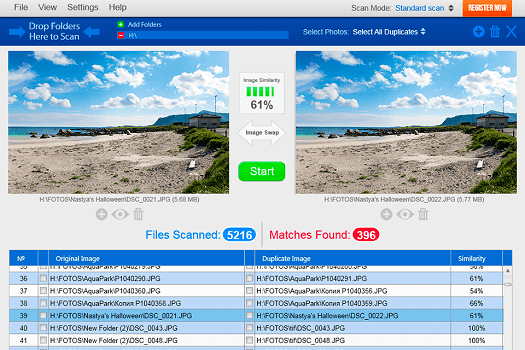 You can take the required action, such as moving, deleting, exporting the picture by selecting it and choosing an option from the bottom bar. It also allows you to select all the duplicates and delete them with a click.
In this section of our review of Duplicate Photo Cleaner, we saw how to use this software and its interface. Now let's talk about the strengths and weaknesses of this duplicate photo cleaning tool. 
Pros of Duplicate Photo Cleaner
It lets you compare the images side-by-side. 
The scan speed is jet-fast.
There is a drag and drop feature to add the folders to the scan window.
You can check and remove duplicate photos from Adobe Lightroom.
It allows you to select and delete duplicates in bulk.
There are a plethora of scan modes. 
Friendly and intuitive interface.
Cons of Duplicate Photo Cleaner
Sometimes, it fails to find all the duplicates.
There are only a few advanced features.
The customer support is a bit unresponsive. 
It freezes many times while scanning the full hard drive.
A bit expensive as compared to other software. 
Let's wrap the review of Duplicate Photo Cleaner
You can download Duplicate Photo Cleaner if Adobe Lightroom scan and availability of many scan modes are your top priority. However, if you are thinking about going for an alternative, then you can choose Quick Photo Finder for the incredible features that it offers. Before leaving this page, you can also share your views about this software through the comments section. 
Subscribe to Our Newsletter
Keep yourself updated with the latest technology and trends with Innovana Thinklabs Limited.