Do you need a quick guide to download HP LaserJet 1020 driver? If yes, then you have arrived at the right place. This post shows you how to get the required drivers in the quickest and easiest ways possible. 
The printing industry has changed tremendously since its inception. From the bulky and problematic printers of yesteryears to the compact and convenient printers of today, it has come a long way. Talking about such printing machines of present times, HP LaserJet 1020 Plus is a name that strikes our mind. This LaserJet printer is easily connectable and offers top-notch printing at an affordable price. It allows you to print over 14 pages per minute with a resolution of  600 x 600 dpi (black). However, like all the other printing devices, it may also fail to work unless you download HP LaserJet 1020 printer driver.
In case you are uninitiated, a driver is what connects your printer to the computer, so your commands get executed perfectly. Without apt drivers, you may face various errors and issues while printing. Therefore, here is a free guide to download the HP LaserJet 1020 Plus printer driver easily.
Without further ado, let's take you to the methods you need to download the updated driver for your HP LaserJet 1020 printer on Windows 10/8/7 (32 Bit and 64 Bit) computer.
Quick and Easy Ways to Download HP LaserJet 1020 Plus Driver
Below are the approaches you can follow to download the HP LaserJet 1020 printer driver quickly and easily for free.
Method 1: Download HP LaserJet 1020 Plus Driver via the Official Website
The official website of HP allows you to download drivers for all its products, including the LaserJet 1020 Plus printer for free. You can follow these steps to do it.
Visit the HP website.
Float the mouse pointer on Support and choose Software & drivers from the drop-down list.
Choose the Printer option from the products displayed on the screen.
Enter the product name in the given box and click on Submit.

Choose a different operating system if the detected one is not correct.
Once the OS is detected, click on Download to get the driver that you need.
Once the driver file downloads, double click it to install the required driver for your printer.
Method 2: Download HP LaserJet 1020 Driver Using Device Manager
Another method to download driver software for HP LaserJet 1020 Plus printer freely is through Device Manager. Below is the way to use it.
Call up the Run box using the shortcut command Windows + R.
In that box, type devmgmt.msc and select OK.

After you get the Device Manager on your computer screen, click on the Printers or Print Queues section to expand the same.
Right-click on the HP LaserJet 1020 Plus printer and select Update driver from the on-screen menu.
At last, choose Search automatically for updated driver software.
Now, have a bit of patience and let Windows search for the needed drivers and install them on your device. However, it may disappoint you if the driver update is too recently released.
Also Read: How to Download, Install, and Update Hp Drivers
Method 3: Update Your Windows Version to get HP LaserJet 1020 Plus driver downloaded: With every operating system update, you receive new features and needed drivers for every peripheral that is attached to the computer. Hence, updating Windows is also one of the methods to download the HP LaserJet 1020 driver for free, install, and update it. Follow the instructions shared below to do the same.
Press Windows and I key together to trigger Settings.
After the Settings window shows up, choose Update & Security from the options that you get on the screen.
Once the Update & Security window becomes visible, go to Windows Update.
Click on the Check for updates button.
Finally, download the detected update for your operating system.
Method 4: Download HP LaserJet 1020 Driver Automatically (Recommended)
This is the method that we recommend if you want not only to download, install, and update drivers, but also improve every bit of PC performance. With an automatic driver updater such as Bit Driver Updater, you can download and install the required driver updates automatically in a single click and make the performance of your computer smoother than you have ever imagined. Moreover, this software lets you backup and restore the drivers effortlessly and offers many other features that you can know by reading its complete review.
Here's how to use this magical driver updater to download the updated driver with one click.
Download and install Bit Driver Updater from the below link.

Wait till it finishes the automatic PC scan ( It takes only a few seconds to complete the scan).
Review the scan results and click on the Update Now button located next to the printer or other driver that you want to update.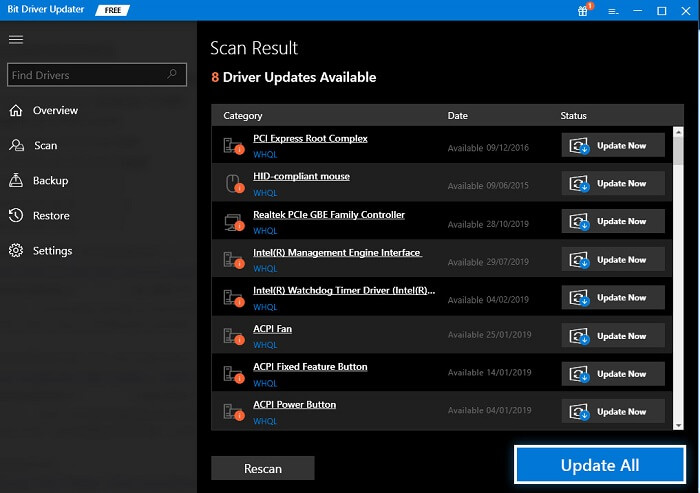 Alternatively, you can update all the device drivers together with a single click on the Upgrade to PRO button.
We receive numerous questions about HP LaserJet 1020 Plus drivers, below we answer the ones that are frequently asked out of them.
Frequently Asked Questions
Q1. Why do I need a driver for my HP LaserJet 1020 printer
A driver is a support your printer needs to communicate effectively with your PC. Without it, the computer won't understand your instructions, and you may encounter the below problems.
Annoying printing glitches.
Your printer may not work.
Serious PC crashes and issues.
Q2. How do I download HP LaserJet 1020 Plus driver?
You can refer to the detailed guide above to download HP LaserJet 1020 Plus driver. However, if you are confused about which method to use, then we recommend you download the updated drivers and install them with Bit Driver Updater. This software makes downloading drivers a quicker and easier process.
Q3. How do I install HP LaserJet 1020 printer driver?
To install the driver for your HP LaserJet 1020 Plus printer, follow these steps.
Open Device Manager.
Click on Printers/Print queues.
Right-click on HP LaserJet 1020 printer and choose Update driver. 
Select the Browse my computer for driver software option.
Key in the location where you have saved the driver file, mark the "Include subfolders" box, and click on the Browse button.
Select the folder that contains the installation file of the HP LaserJet 1020 driver.
Click on the OK button and follow the on-screen directions to complete the installation.
Q4. How to update the HP LaserJet 1020 Plus driver?
Updating drivers is essential to ensure the smooth performance of printers and computers altogether. You can update the HP LaserJet 1020 Plus and all other drivers with a single click using Bit Driver Updater.
HP LaserJet 1020 Plus Driver Downloaded Successfully
This article taught us the simplest methods to download HP LaserJet 1020 driver, for free without any hassles. We recommend you make sure that you always have updated drivers downloaded and installed so that your printing machine delivers a glitch-free performance. Hopefully, you found this guide useful, and for more such guides keep reading our blog.
Subscribe to Our Newsletter
Keep yourself updated with the latest technology and trends with Innovana Thinklabs Limited.