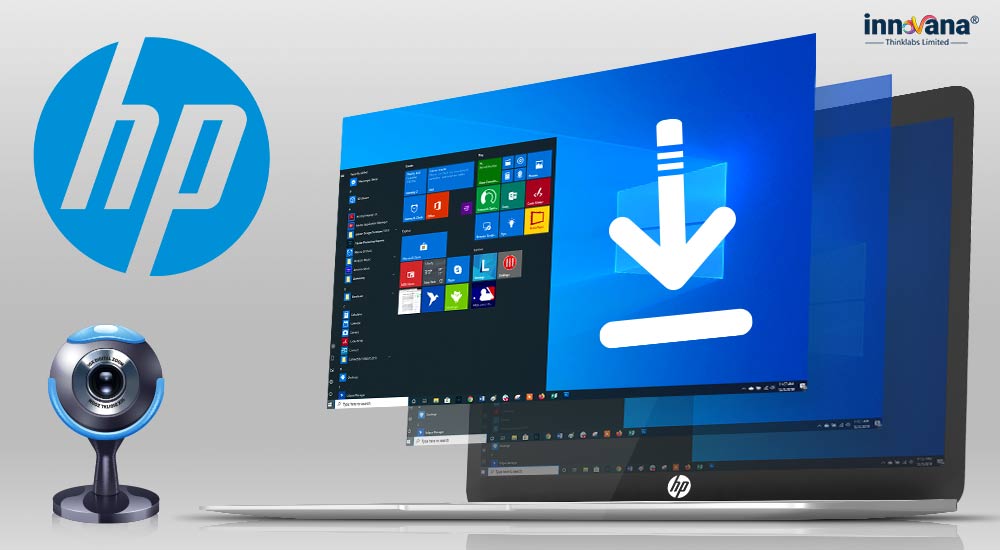 Simple driver update can fix the webcam issues that you are facing. Thus, read on to know how to install and update HP webcam driver effortlessly.
Presently, when most of us are locked down in our homes, the webcam seems to be among the essential computer peripherals. You need it for various purposes such as attending a work from the home meeting or catch up with a loved one. In such a situation, if the webcam stops working, then this seems like the most irritating thing that could happen. If you are also annoyed for the same reason that your HP webcam has stopped functioning, then don't worry. We are here with a simple solution. All that you need to do is, download and update the HP webcam driver.
Recommendation on How to update HP Webcam Driver
After reading about updating the HP webcam driver, if you have started assuming the time-consuming process of updating a driver, then hold on. You do not have to panic about the tedious process of driver update. You can easily do it with the highly recommended ITL Driver Updater. Here is the link from where you can get the best software to update the HP webcam driver or any other device driver.

Through this post, we discuss the same, i.e., the easiest ways to install and update HP webcam driver. The world will surely overcome the current pandemic situation and emerge as a winner. But, even after that happens, webcams will continue to be an integral part of our life in this digital era. Thus, now you know where is your go-to place if the webcam starts behaving erratically and you need a guide to reinstall the HP webcam driver.
The Simple Ways to Download and Update HP Webcam Driver
Below are the easiest ways to download and update the HP webcam driver to make it work smoothly again.
Method 1: Reinstall HP webcam driver via Device Manager
Not many people know that Windows has an in-built utility called Device Manager to resolve all the driver-related issues. You can also install the HP webcam driver again through Device Manager. Here's how to do it.
Step 1: On your keyboard, press the Windows logo and R key simultaneously to open Run box.
Step 2: After the Run box opens, type devmgmt.msc and click on OK to launch Device Manager.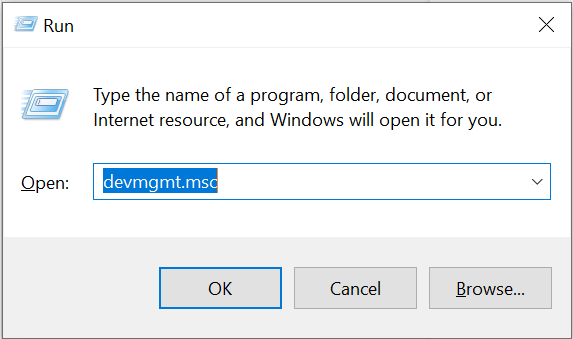 Step 3: Once Device Manager opens, locate and expand the "Cameras" category.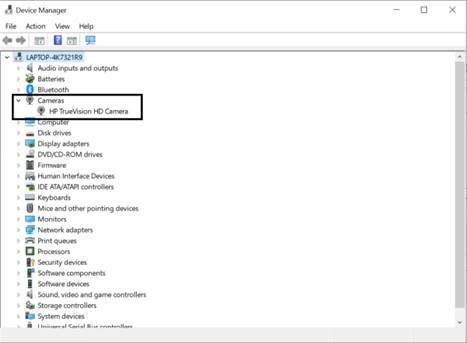 Step 4: Right-click on your webcam and select "Uninstall device".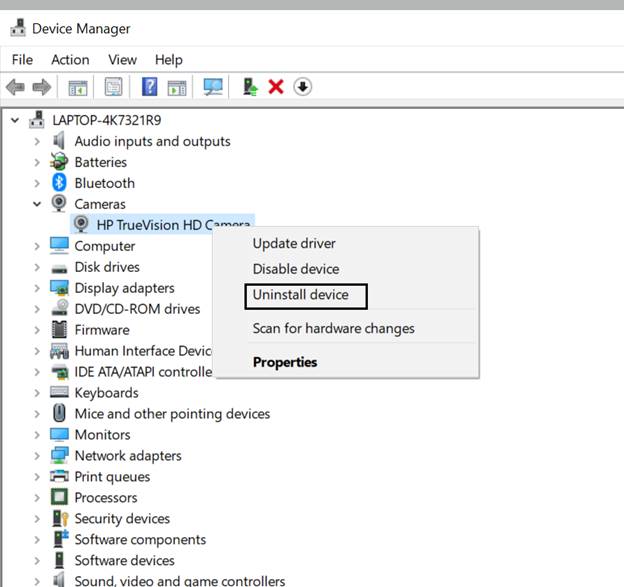 Step 5: On the next screen, click "Yes" to uninstall the HP webcam driver.
Step 6: Restart the device.
Step 7: Launch Device Manager.
Step 8: Click on the Action option and choose "Scan for hardware changes" from the drop-down menu.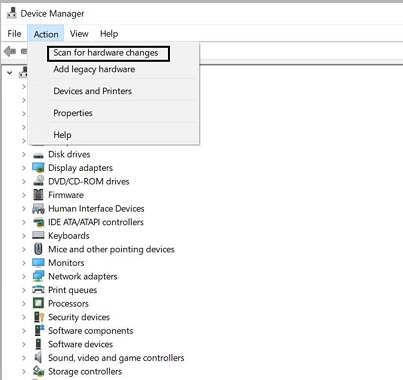 Step 9: Check whether the webcam is working correctly or not.
---
Method 2: Install HP Webcam Driver via the Official Website
Another way to download HP webcam driver is through the official website. Below are the steps to do it.
Step 1: Visit the official website of HP.
Step 2: Click on the support option and select software & drivers from the drop-down menu.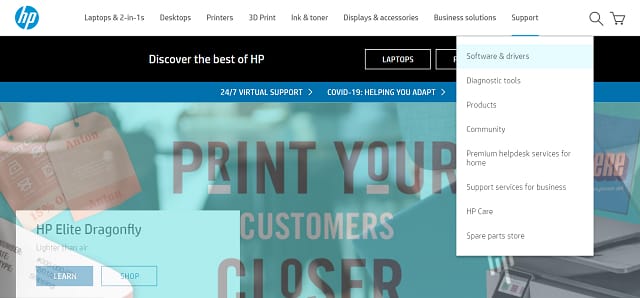 Step 3: Now, choose the type of device that you are using, i.e., desktop or laptop. Here, we are using an HP laptop.

Step 4: Click on "Let HP detect your product."


Step 5: Wait for HP to detect your device and the Windows version.
Step 6: Download the appropriate drivers.
Read More: 8 Best Windows Driver Backup Software to Restore Deleted Drivers
---
Method 3: Update HP Webcam Driver using ITL Driver Updater
If the above methods seem complicated or you are short on time, then here we've got a quick solution. All you are required to do is, get ITL Driver Updater. With this best driver updater, you can automatically update all the outdated, missing, and corrupt drivers in just a few clicks. Apart from this, it also speeds up your device and takes its performance a notch up. Below is how to use this wonderful utility and download the HP webcam driver easily.
Step 1: Install and open ITL Driver Updater.
Step 2: Choose the scan option from the left pane.
Step 3: Wait for the scan to finish.
Step 4: Once the scan finishes, click on Update Now to upgrade the HP webcam driver.
How easy it is to download and update HP webcam driver with ITL Driver Updater, right? Three steps and you are done. The cherry on top of the cake is, along with updating drivers, it also makes your PC/laptop work as a brand spanking new model. Thus, don't think twice before downloading this incredible driver update tool.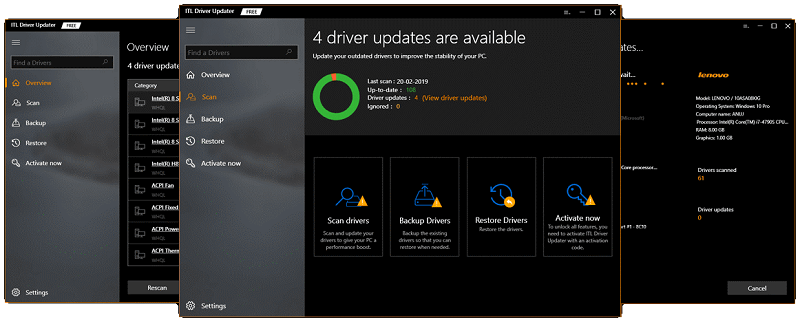 Through this post, we discussed the best ways to download and update HP webcam drivers. In our view, not just the webcam but all the Windows drivers need regular upgrading for the smooth functioning of the device. Thus, get ITL Driver Updater to ensure that the drivers remain updated at all times. Before bidding adieu, do let us know your thoughts about the post and subscribe to Innovana Blog for more such information.
Subscribe to Our Newsletter
Keep yourself updated with the latest technology and trends with Innovana Thinklabs Limited.