Do you want to use a wireless WiFi adapter to connect with the internet? If yes, then Linksys WUSB6300 is a great choice. Along with the adapter, you also need suitable drivers. Hence, read this Linksys WUSB6300 driver download and repair guide.
Even after the introduction of such advanced wireless technology, some PCs still lack network and WiFi adapters. The only option to connect them with a network is via broadband cables or USB threatening with smartphones. But, do you know that there are various devices available in the market that can help you to connect with a network without using any wires or cables. Linksys is one of the leading manufacturers of such products. Its WUSB6300 is among the best WiFi adapters available currently. However, as it is also a PC device, hence you require to download and install appropriate drivers for it.
Today, we are going to provide you with the Linksys WUSB6300 driver download and installation guide. We'll discuss all the effective methods to download, install, and update  Linksys WUSB6300 driver on Windows PC in detail.
How to Download & Update Linksys WUSB6300 Driver
Here we start our Linksys WUSB6300 driver download and update guide. Below are the methods through which one can effortlessly get and install the driver on the Windows computer.
Download From The Manufacturer's Support Page
Just like all other leading computer and computer device manufacturers, Linksys also provides driver support for its devices. Hence, you can download the driver from the official support page of Linksys. It provides the latest version of drivers. Hence, you can also update the Linksys WUSB6300 driver on your PC by downloading the updated one from the support page.
Below are the steps following which one can efficiently download and install Linksys WUSB6300 driver on the Windows system.
Visit the Linksys support page.
Enter Linksys WUSB6300 in the search box.
Click on Linksys WUSB6300 AC1200 Wireless-AC USB Adapter.

Select Downloads / Firmware.

Expand Version 1.0.

Choose an appropriate Linksys WUSB6300 driver for your PC.
Click on Download.
After that, extract the downloaded Linksys WUSB6300 driver zip file.
Then, open Device Manager. It is easily accessible after right-clicking the Start icon.

Go to Other Devices.
Expand it.
Right-click on the Linksys WUSB6300 driver.
Select Update Driver.
Click Browse my computer for driver software.

After that, navigate to the location where you have extracted the driver file and click Next.
This is how you can download and install Linksys WUSB6300 driver on Windows operating system manually.
Also Read: Guide to Install and Download USB-Serial Controller D Driver
---
Use Windows Update to Download Linksys WUSB6300 Driver
One of the default options to update all the Windows software and drivers is using the Windows Update feature. It allows you to upgrade the whole operating system. Here are the steps through which you can use Windows Update to update and download Linksys WUSB6300 driver.
Go to the Start button of Windows operating system.
Right-click on it.
Access Settings.

Now open the Updates & Security settings.

After opening Updates & Security, select the Windows Update option available on the left side of the Window.
Then look for the Check for updates option and select it.
Now just wait for the operating system to download the latest version of the Linksys WUSB6300 driver.
Update Linksys WUSB6300 Driver With BIT Driver Updater (Automatically)
Most of the people use the above two methods to download and update drivers of their Windows computer. But, still, they are not entirely satisfied with any of them. The problem with the first method is that it takes a huge amount of time and effort. That's why people who have a busy life try to avoid it. On the other hand, the second method is short, but it takes time to detect the driver problems and their solutions. Some people also claim that it is not effective every time.
Hence, computer users do not trust it and look for an effortless, time-saving, as well as reliable third-party software to update drivers. But it is one of the rare feature combinations for driver updating software. Keeping this in mind, we want to introduce you to BIT Driver Updater. It is one of the best software that can provide you with the solutions to all your driver issues. It even offers single click driver detection and update feature.
One can try this tool by following the instructions provided below.
Click the Download Now button provided below.

After that, install the downloaded file.
Then launch the installed BIT Driver Updater tool.
Use the Scan Drivers option to detect all the driver problems.
Once detected, go to the Linksys WUSB6300 driver and click on Update Now.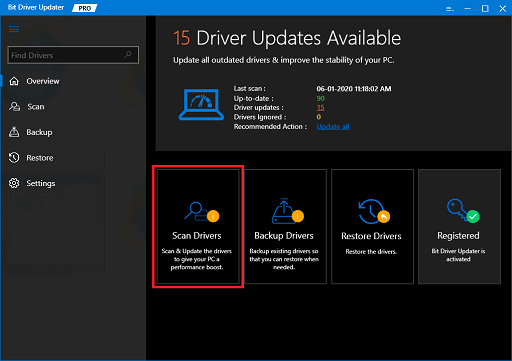 With the above steps, you can effortlessly download Linksys WUSB6300 driver on your PC. You can also follow them to update any other device driver.

Now, Easily Solved Linksys WUSB6300 Driver Problem
Linksys WUSB6300 is one of the best WiFi adapter available for Windows PC. By connecting them to your computer, you can connect to a WiFi network wirelessly. However, along with the adapter, you also require an appropriate driver. You can follow the above Linksys WUSB6300 driver download guide to get the best driver version for your PC. All the provided methods are quite effective and tested as well. Hence, you can rely on them. Although, if you ask for the experts' recommendations, then it is BIT Driver Updater.
Moreover, if you also know some other methods to download Linksys WUSB6300 driver, then you can share your knowledge with us via comments.
Subscribe to Our Newsletter
Keep yourself updated with the latest technology and trends with Innovana Thinklabs Limited.