Graphics drivers are pretty important for the graphics processing ability of your computer. Even if you have a high-end graphics card or graphics processor, then also you'll require appropriate graphics drivers. They help in the proper functioning of graphics cards as well. Some of the popular Graphics card and driver manufacturers are Intel, AMD, NVIDIA, and Realtek. We all know how big-name Intel is in the field of software manufacturing. After Intel, AMD is also one of the leading manufacturers. A lot of computer users use AMD drivers. That's the reason, we have brought a guide to update AMD driver on Windows 10 and various other latest versions of Windows.
Intense Recommendation For Updating AMD Drivers

As you proceed with the guide, you'll see multiple effective methods to update your AMD drivers. But, the one that we recommend the most is Bit Driver Updater. We have also elaborated on its features along with all other methods that we have mentioned here. You can refer to the description to know more about it. You can also test it by yourself as it is free to download. Here is the download tab.

How to download, install, and update AMD drivers on Windows PC?
Here we are going to provide you with methods to download, install, and update AMD driver on Windows 10 PC. If you have seen some of our previous driver updating guides, then you may find some of the methods quite similar.
So, let's start with the methods to download AMD driver on Windows 10.
Download AMD Driver on your PC
If you have previously downloaded some drivers from any of the manufacturer websites, then you might find downloading AMD driver easiest. The official website of AMD to download the driver software provides an AMD autodetect tool that makes the job quite easier for you. Here are the steps that you can follow to download AMD driver from the official website of manufacturers.
1. The first step is to visit the page through which you can download the AMD drivers. So you have to Visit Link
2. After visiting the page, the AMD autodetect function of the website provides you with a suitable driver automatically. It autodetects the AMD driver on Windows 10, 8, 7 as well.

However, if you want to do it manually, you can scroll a little to the manual section and proceed with the further steps.
3. Now, you are required to select your product and the type of product. So, select it and click on the Submit button.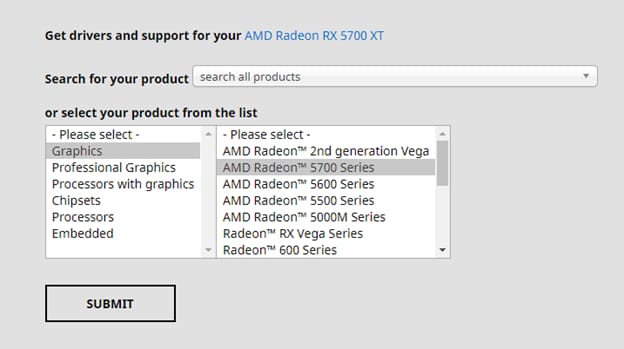 4. After that, you have to click on your operating system.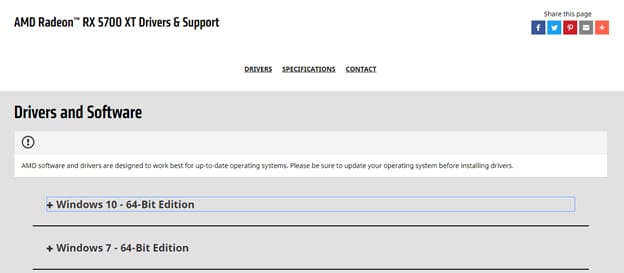 5. At last, just click on the download button to download AMD driver.
Also Read: Solved: AMD High Definition Audio Device Not Plugged In Windows
Install AMD Driver on Windows PC
Today, we also provide you the step by step guide to install a driver. You can follow these steps to install AMD Driver on Windows 10, 8, and 7 as well.
1. First of all, you need to completely close all the running applications and Windows.
2. Double click on the downloaded .exe file and click on Run.
3. Now, it will ask you to make changes to the Windows, click on Yes.
4. The installation wizard now asks you to select the location of Destination Folder, select on, and click on Install.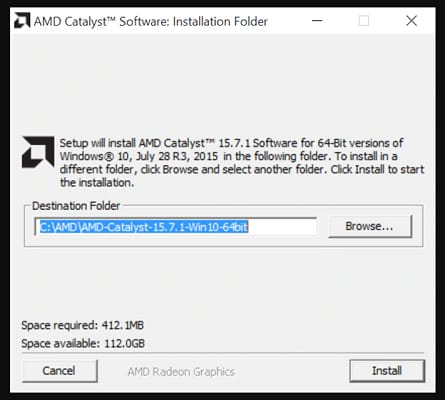 5. Now select your language and click on Next.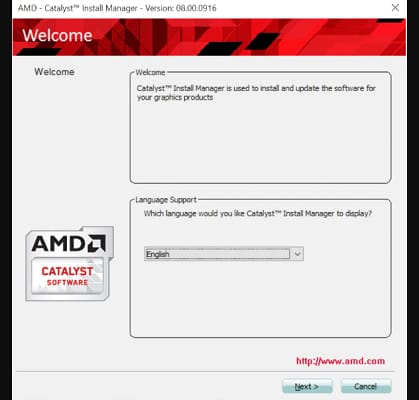 6. Choose the installation location and select Next to proceed.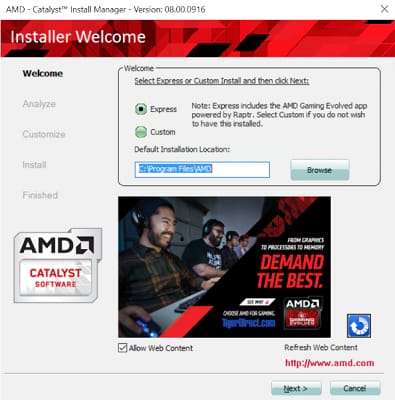 7. Now the End User Agreement appears on the screen, click on Accept to install AMD driver on Windows 10, 8, or 7.
8. After that, just wait till the installation gets complete.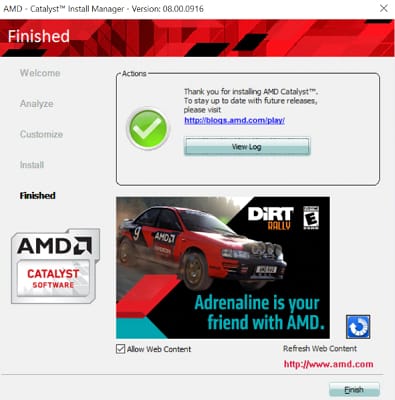 Also Read: How to Update Graphics Drivers on Windows 10 Easily
How to Update AMD Driver on Windows 10, 8, and 7
Here comes the thing that you have to do to take care of your AMD driver after installing it. You must update AMD drivers regularly on your Windows system to ensure their proper functionality. Just like any other driver, there are two ways to update the AMD driver as well. One is time and effort consuming, and on the other hand, one is quite simple and fast. So, let's discuss the tougher one first.
Updating AMD Driver using Device Manager
The people who have read our previous write-ups might be familiar with this method. You can use the Windows Device Manager to update the AMD drivers on your Windows 10, 8, or 7 PC. Here are the steps that you need to follow.
1. As we have to use Device Manager to update AMD drivers, hence, first of all, we have to open the Device Manager. You can do it by searching for it in the Windows search box.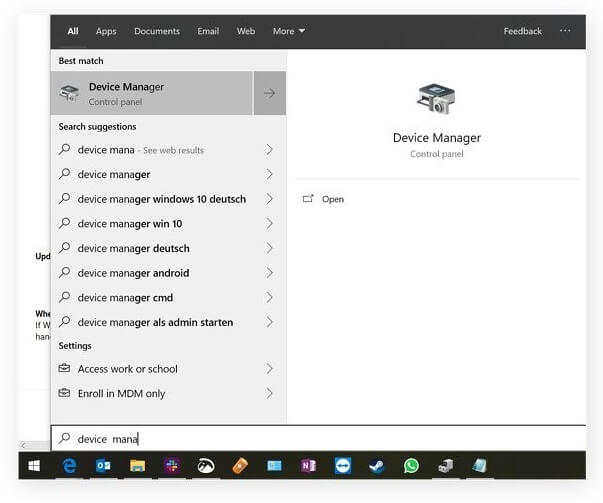 2. Once it gets opened, click on Display adapters to maximize the category.
3. Now right click on the AMD driver and select the Update driver option from the drop-down list.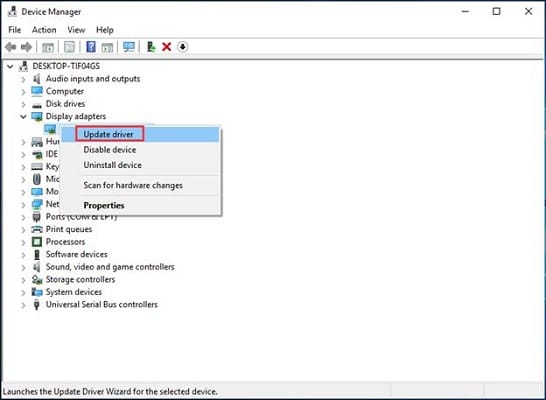 4. Now it will ask you the method to search for drivers. You have to choose 'Search automatically for updated driver software'.
Now, Windows will start looking for the appropriate driver update for your AMD driver. If there is an update available, then Windows will update your AMD driver.
Updating AMD Driver using Bit Driver Updater
It's universal now that the Bit Driver Updater is the most appropriate software to update drivers on Windows PC. Hence, the utility can also help you to update AMD drivers on Windows 10, 8, and 7 as well. If you came here looking for the best solution to update AMD driver, then we undoubtedly recommend Bit Driver Updater to you. It has everything you need, from speed to authenticity. Along with that, the driver updater tool is free to download. Hence you can give it a try without even spending a penny. You can download it from the here.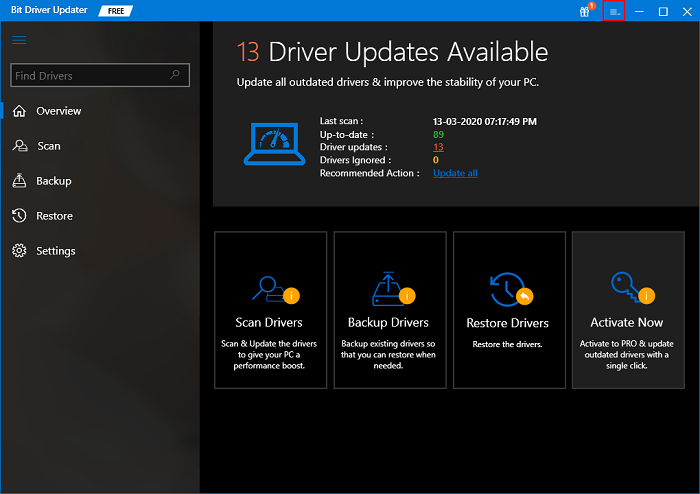 After downloading, install it and just follow these simple steps to update the AMD driver effortlessly.
1. Run the Bit Driver Application.
2. As soon as you make it run, it starts detecting all the problematic device drivers on your system. It will not take much of your time as Bit Driver Updater is fast enough to perform the complete driver scan in just a few seconds.
3. At last, you just need to look for AMD drivers on the list of outdated drivers and select Update Now to start the AMD driver update.
Isn't it a piece of cake to update AMD driver using Bit Driver Updater? Yes, it is. Then why are you still using the manual methods to update drivers? Install Bit Driver Updater on your PC and start updating your drivers effortlessly. However, it is entirely your decision whether you want to update the AMD driver or any other driver manually or automatically. But, if you want to know our opinion, then it is surely Bit Driver Updater.
We also have guides to update various drivers. So, if you want to check them, subscribe to Innovana blogs and bookmark the page as well.
Subscribe to Our Newsletter
Keep yourself updated with the latest technology and trends with Innovana Thinklabs Limited.