We all have connected our PC or laptop with the internet or any other network. But do you know about the essential components that help your PC to connect with a network? You might be thinking about the routers, network adapters, etc. However, there is still a component that most of the people do not know about and is quite essential for the network connectivity of your PC. And that is the network drivers. Yes, you also require drivers to connect your PC with a network. Not just you require them, you need to update network drivers regularly for ensuring the uninterrupted network connectivity.
If you are facing issues while connecting to a network and all the components seem fine, then it might be possible that you do not have appropriate network drivers. Do not worry, as you have arrived on the right page. Here we are going to provide you with step by step methods to download and install network drivers that are suitable for your PC.
Methods to Download Network Drivers on Windows PC
There are various authentic sources from where you can download network drivers. Here are the multiple methods as per the different sources to download reliable and genuine network drivers on your PC.
Download Network Drivers From Driver Manufacturers
Just like any other driver, you can also download network drivers from their original manufacturers. Some of the well-known manufacturers of network drivers are Intel, Cisco, and D-link, etc.. Although, Intel drivers are one of the most used network drivers among all of them. Intel manufactures the network adapter that comes integrated in most of the Windows PCs. Hence, most of the people use Intel network drivers. You can take help from one of our previous guides if you are the one who wants to download and update Intel drivers.
Download Network Drivers From PC Manufacturers
Another reliable method to download network drivers is to download them from the official site of your PC manufacturers. You can easily get most of the drivers for your device on the driver support of your PC manufacturer. Some famous PC developers, such as Acer, Dell, HP, etc. provides all kinds of drivers for their PCs and laptops. Hence, you can easily download any driver from the driver support of your respective PC manufacturer. You may also seek help from our previous write-ups if you want to download drivers for your Acer, Lenovo, HP, or any other PC.
Method to Install Network Drivers Using Device Manager
Here is the method through which you can update and install network drivers manually after downloading their latest version. In this procedure, you have to use the Windows Device Manager. It may also seem quite difficult for the novice users. Hence, if you are not interested in this, then you can directly skip to the next section of this guide. So, here we start.
Step 1: First of all, go to the Windows search box and type Device Manager.
Step 2: Most probably you'll get Device Manager at the top of your search result. Select it and open the Device Manager.
Step 3:. Find Network adapters in the list of device driver categories. Select the arrow-like icon to expand the list of network drivers.
Step 4: Now select the network driver that you want to update or install and right-click on it.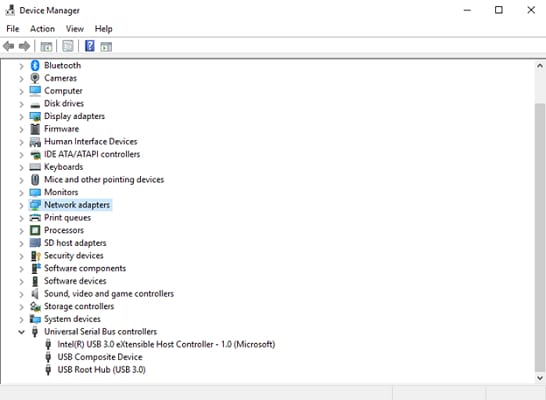 Step 6: Then opt for the Update option from the context menu.
Step 7: After that, you have to select Browse my computer for driver software to install network drivers manually.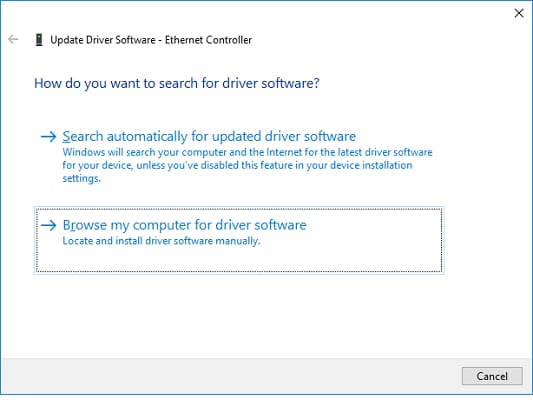 7. Once you have selected to browse your system for a driver update, you have to provide the location where you have downloaded or extracted the file of the latest driver. So, enter the location and then select the Next option to start the installation.
This is how you can update or install network drivers manually using the Device Manager.
Method to Update Network Drivers Automatically
As we have mentioned before, some of you may find the above method to install and update network drivers manually too time-consuming and difficult as well. Hence, we recommend Bit Driver Updater.
Using a robust software like Bit Driver Updater to update network drivers or any other device driver on your PC is the easiest way to do so. With this software, you can keep your drivers healthy and fix errors related to them efficiently even if you have zero knowledge about computer drivers. This is the reason why we strongly recommend you to have this software on your PC. Not just it fixes driver issues but also boosts your computer's performance and efficiency. There are a lot of benefits of using Bit Driver Updater. You can download this multi-dimensional software through this download button.

It costs nothing to download, install, and try Bit Driver Updater. So, if you are thinking about trying it, here are some of the steps that can make the process of network driver update a piece of cake for you.
You do not have to perform a fancy setup process to use Bit Driver Updater. Just launch it as you launch any other software on your PC by double-clicking it.
After that, wait for a while and let the Bit perform its job. You'll automatically have a list of all the iffy drivers of your PC.
Find the network driver in that list and go for the driver update straight by choosing the Update Now option.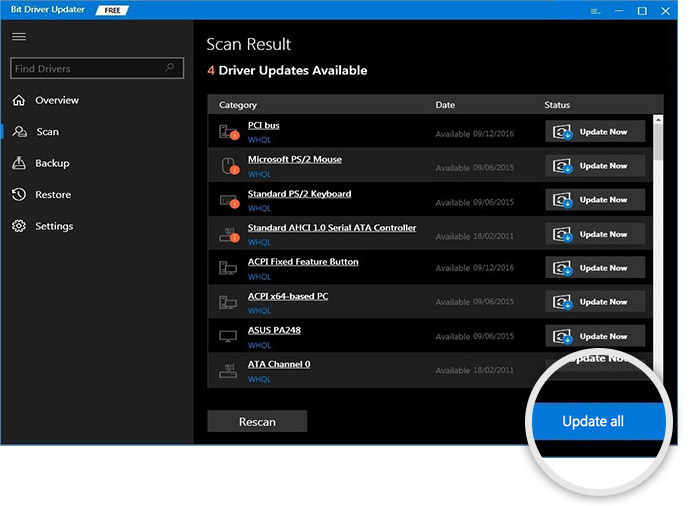 Look how fast and effortless an option it is to update network drivers using Bit Driver Updater.
Conclusion
Well, these are all the verified methods to download, install, and update network drivers on Windows PCs. We hope that the above information provided answers to all of you who are looking to download and install the latest network drivers. Furthermore, you can also share your suggestions if we have missed something in this guide. And if you find it helpful, then subscribe to Innovana blogs as we regularly share such useful information.
Subscribe to Our Newsletter
Keep yourself updated with the latest technology and trends with Innovana Thinklabs Limited.