Read on to know the easiest way to download Nvidia's GeForce Experience application in a jiffy. 
Most gamers rely on Nvidia graphic cards to get the most stunning gaming performance with mesmerizing visuals. If you are also one of them, then you can download Nvidia GeForce Experience to make your gameplay even more pleasurable. It contains a bunch of tools to optimize the game settings, record and share the most memorable gaming moments with your friends, and many such options to take your gaming to another level. 
Hence, through this article, we share the easiest way to download the GeForce experience for Windows 10. Before we begin downloading the software, you need to make sure that your computer matches its system requirements. 
System Requirements of Nvidia GeForce Experience
OS: Windows 7, Windows 8, or Windows 10
RAM: At least 2GB
Disk space: At least 1 GB
CPU: Intel Pentium G Series, Core i3, i5, i7, or higher
AMD FX, Ryzen 3, 5, 7, Threadripper or higher
GPU: GeForce RTX GPUs: 30 and 20 Series | GeForce GTX GPUs: 16, 10, 900, 800, 700, 600, and 900M Series| GeForce MX GPUs: MX100, MX200, and MX300 Series| GeForce 800M and 900M
After knowing about the system requirements of GeForce Experience, below is how to download it. 
How to Download Nvidia GeForce Experience on Windows 10
You need to follow the steps shared below to download Nvidia GeForce Experience software for your Windows 10 computer. 
Step 1: Visit the GeForce page by clicking on the link shared here. 
Step 2: Select GEFORCE EXPERIENCE from the menu bar. 
Step 3: Click on the DOWNLOAD NOW button.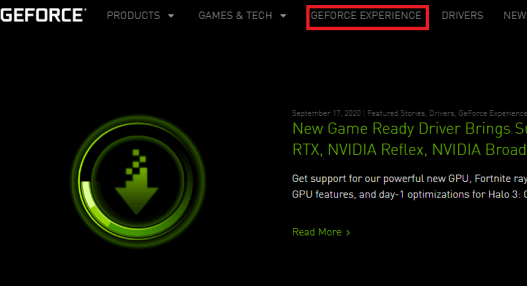 Step 4: After the application setup gets downloaded, click on it and follow the on-screen directions to complete the download of Nvidia GeForce Experience.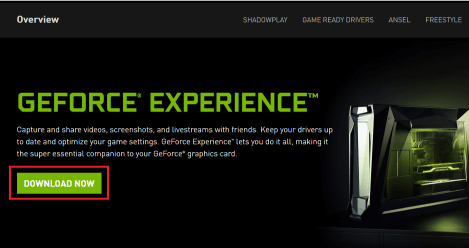 Above, we have learned how to get the GeForce Experience application. Now, you may have a question on your mind that is GeForce Experience any good or not. To answer this question, below are its noteworthy features, pros, and cons. 
Remarkable Features of GeForce Experience
Below is what you get after downloading Nvidia GeForce Experience on your Windows PC.
Most new-age games come with in-game optimization settings to set the graphics to Low, Medium, High, or Ultra level. It helps the game run better. GeForce Experience is a level ahead of these in-built tools to control the game graphics. It further optimizes the games by using its enormously huge cloud data center and other PC hardware configurations present in the data set. To use the game optimization feature, you need to go to the Account, select Games, and then choose Automatically optimize newly added games. 
Video recording and streaming
With Nvidia ShadowPlay or Nvidia Share, you can record and stream the gameplay. It comes with a multitude of game recording and capturing features, like broadcasting and instant replay capture. To record the gameplay, press ALT+F9. To use the instant replay option, press ALT+F10. You can also live broadcast the game by pressing ALT+F8. 
There is a screenshot capturing tool in GeForce Experience, known as Nvidia Ansel. It allows you to capture your gameplay from almost all the possible angles. With this option, you can take HDR images in 4K and even capture 360-degree panoramic screenshots. However, Nvidia Ansel does not support every game. You can find the list of the supported games here. If it works on the game you are playing, then you can take a screenshot by pressing ALT+F2. 
Update Nvidia GPU drivers
Keeping the GPU drivers updated is crucial to get top-notch gaming performance. Therefore, Nvidia GeForce Experience takes care of the drivers and informs you whenever an updated driver is available for your GPU. You can also set it to download the driver update automatically by following the path Account>General>Downloads>Automatically download driver updates and let me choose when to install.
Now, let's take a look at the good and not-so-good side of Nvidia GeForce Experience so that you can decide whether it is worth downloading or not. 
Pros
It is free software.
Lets you record & share the gameplay.
Easy to use game optimization software. 
Cons
It does not support all the games.
Many of its features are available on other platforms.
After knowing the features, pros, and cons of this software, the below sections address the queries that you may have on your mind about it. 
Frequently Asked Questions
Q1. What is the Nvidia GeForce Experience, and do I need it?
GeForce Experience is an application from Nvidia that lets you update the drivers automatically, optimize the game settings, and record your best gameplay so that you can share it with your friends. If you feel the need to take your gaming experience to the next level, then you can download it. 
Q2. How can I update my video drivers using GeForce Experience?
To update the drivers via GeForce Experience, follow these steps.
Launch GeForce Experience.
Go to the DRIVERS tab.
Click on the DOWNLOAD button.
Select the EXPRESS INSTALLATION option. 
Q3. How do I optimize games with Nvidia GeForce Experience?
Follow these steps to optimize your games with Nvidia GeForce Experience.
Launch the Nvidia GeForce Experience app after downloading and installing it. 
Let it scan your library. 
Select the game that you want to optimize from the left pane.
Click on the Optimize button. 
Nvidia GeForce Experience Downloaded successfully
Through this article, we discussed how to download the GeForce Experience application from Nvidia in a few simple steps, its features, pros, and cons of downloading it on your computer. We hope that you found our work helpful. Keep watching this space for such posts. 
Subscribe to Our Newsletter
Keep yourself updated with the latest technology and trends with Innovana Thinklabs Limited.