If you want the highest quality music experience from your Behringer equipment, get the Behringer drivers downloaded, installed, and updated. Read on to learn the safest and easiest ways to do it.
Behringer makes world-class audio equipment to delight musicophiles across the globe.
However, these devices may also make you face annoying glitches if you do not download the updated Behringer drivers to maintain their top performance.
A driver helps your audio equipment to communicate with the computer to give you the best music experience.
Without the compatible and updated driver, your commands do not reach the computer and are not executed correctly.
Therefore, this article discusses the methods to download, install, and update Behringer drivers on Windows 10/8/7.
Safe Methods to Download Behringer Drivers, Install and Update Them
Below are the different ways to download, install, and update the Behringer drivers on Windows 10/8/7.
Method 1: Download the Driver from the Official Website
The official website of Behringer is among the safest places to download drivers for its equipment.
However, downloading and installing the drivers via this method is quite a lengthy process. Still, you can follow these steps to do it.
Click on the Downloads tab.

Choose your Product Group, Category, Sub Category, Product, Download Type, and Sub-Type.
We want to download a driver for our USB Audio Interface BCA2000.

Click on the Download icon to get the driver file downloaded.

Double click on the downloaded file and install the Behringer drivers on your computer.
Method 2: Download and Install the Updated Driver via Device Manager
Device Manager in Windows helps you download, install, and update drivers for all the peripherals existing on your computer.
Below is how to use it to get the updated Behringer drivers downloaded and installed on Windows 10.
Use the keyboard shortcut Windows+X to make the Quick Access menu visible.
Choose Device Manager from the available options.
Click on the category of Sound, video, and game controllers to view its contents.
Right-click on your Behringer device and select the Update driver option.

Search automatically for updated driver software.

Wait for the driver update to complete.
After the driver update completes, restart your computer.
Method 3: Download, Install and Update the Driver Automatically (Recommended)
Above were all the manual methods to download the Behringer drivers, install, and update them on Windows 10, 8, 7.
As you can feel, they are quite cumbersome and need some sort of technical knowledge. Therefore, to make updating drivers easier, we suggest you use software like Bit Driver Updater.
Bit Driver Updater gets all the outdated drivers updated automatically with just a click. Moreover, it also provides several benefits like driver backup and restore, driver download speed acceleration, etc.
We have reviewed it in its complete lengths and breadth. You can read the whole Bit Driver Updater review to know more about this software.
Below is how to download, install and update drivers with this software.
Click on the download link shared below to get Bit Driver Updater's setup downloaded

Click on the downloaded setup and complete the installation of Bit Driver Updater.
Let the software scan your computer for a few couples of seconds.
Click on Update All to get all the out-of-date drivers updated.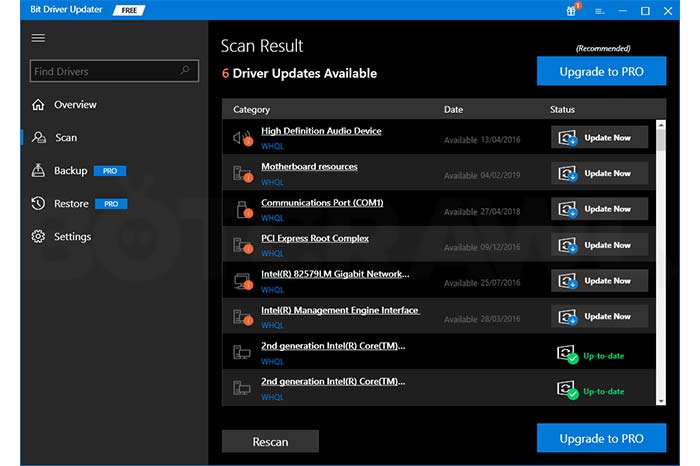 If you want to update only the Behringer drivers, click on the Update Now button present next to them to do it.
Behringer Driver Downloaded, Installed, and Updated
Through this article, we learned the most effective ways to download, install, and update the Behringer driver. You can pick any of them depending on your technical knowledge and convenience.
However, to make things easier for you, we recommend you use Bit Driver Updater to perform driver updates automatically.
And for more detailed tech guides, keep reading this blog.
Subscribe to Our Newsletter
Keep yourself updated with the latest technology and trends with Innovana Thinklabs Limited.