Want an error-free Bluetooth connection on your computer? If yes, then download, install and update Bluetooth drivers. Read further to know the quick and easy ways to do it. 
Why am I not getting the undisrupted Bluetooth connectivity on my computer? If this is what you are wondering, then download the Bluetooth driver. Like any other hardware component, you cannot use Bluetooth as well without proper Bluetooth drivers.
Even if you have downloaded the correct Bluetooth drivers, you may still face annoying issues if you do not keep the drivers updated. Therefore, always make sure they are up-to-date to get the glitch-free experience you expect. The updated Bluetooth driver can help you to connect with other Bluetooth devices without any issue. You can even use Bluetooth to play songs on external speakers or wireless headphones. Therefore, we'll guide you through the methods to download, install, and update Bluetooth drivers on Windows 10, 8, and 7 (both 62 and 32 Bit versions).
Recommended Method to Update Bluetooth Drivers
Updating Bluetooth drivers or any other drivers is quite a hectic task. However, if you use some correct tools, it can become a piece of cake. Hence, we advise you to consider Bit Driver Updater for updating your device drivers. You can try it for free as the software is available to download without any cost. Here is the download link.

Apart from that, First of all, let's discuss the methods to download Bluetooth drivers on Windows 10 if you do not have one.
Methods to Download and Update Bluetooth Driver on Windows 10, 8, and 7
We have divided the methods into two easy-to-understand sections. First, we are going to download the Bluetooth driver and install it. After that, we will learn how to update it with ease.
Simple ways to Download Bluetooth Driver for Windows 10 and install it
Below we have mentioned multiple methods to download and install the Bluetooth driver on Windows 10 and other latest versions of Windows. So, let's check them.
Method 1: Download the Bluetooth Driver from the Manufacturer's Website
You can download the Bluetooth driver from the manufacturer's website. The most common manufacturers of Bluetooth drivers are Intel, Broadcom, etc. You just need to follow these steps to get the required drivers.
Step 1: Visit your Bluetooth manufacturer's website.
As an example, we are sharing the screenshots from Intel. However, the steps described here are more or less the same for all Bluetooth device manufacturers.
Step 2: Click on the Support option.

Step 3: Select Drivers & Downloads from the Support menu.

Step 4: Choose your product from the list of options or search for it using the search box.

Step 5: Select your operating system if it is not detected automatically.
Step 6: Click on the Download button or the driver link to begin downloading the setup file.

Step 7: After the driver setup gets downloaded, click on it and complete the driver installation.
Method 2: Use Device Manager to Download the Bluetooth driver
It is also possible to download the driver for your Bluetooth device using Device Manager, i.e., an in-built driver management tool in Windows. Below is how to use it.
Step 1: Run the Windows Device Manager. You can do it simply by just searching for it in the Windows Search Box.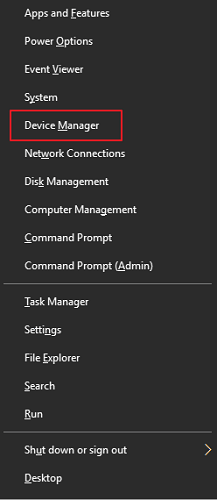 Step 2: In Device Manager, expand the Bluetooth category.
Step 3: Now you have a list of Bluetooth drivers installed on your device. Select the one you want to update.
Step 4: Right-click on it and select Update driver to update Bluetooth driver on Windows 10.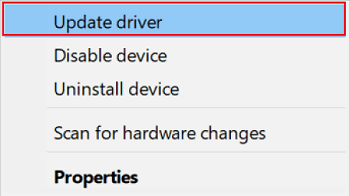 Step 5: After that, click on Search automatically for updated driver software.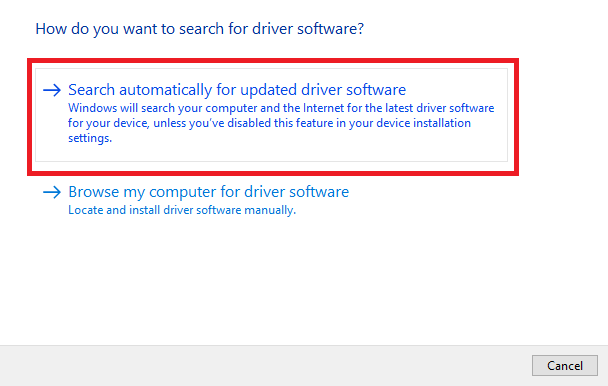 Step 6: Once the search gets complete, Windows automatically starts downloading and installing the Bluetooth driver on your system. You just have to wait for it to get completed and then have to restart the PC.
Read More: Bluetooth is Not Working on Windows 10 [FIXED]
Quick ways to Update Bluetooth driver
You can update the Bluetooth driver either manually or automatically by using driver update software. Let's go through both these methods one-by-one.
Method 1: Update Bluetooth Driver Manually by Updating Windows
First of all, let's discuss the Windows Update method. These are the steps that you need to follow to use Windows Updates to update Bluetooth drivers or any other driver as well.
Step 1: You have to open Windows Settings. In Windows 10 and 8, you can do it by using the Windows+I shortcut command.
However, on Windows 7, you can open the System and Security settings through the Control Panel.
Step 2: Now, click on the Update and Security option.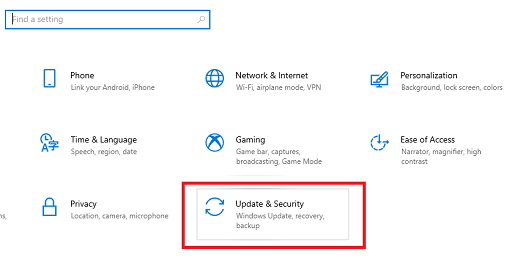 On Windows 7, you have to click on Windows Update in the Control Panel.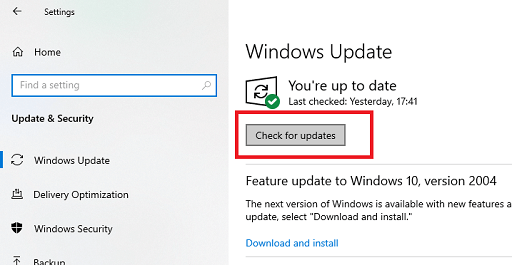 Step 3: At last, in all the versions of Windows, whether 10, 8, or 7, you just need to click on Check for updates. Windows will automatically start updating all your outdated drivers.
However, this method doesn't allow you to update any specific driver.
Read More: How to fix Generic Bluetooth Radio Driver Issues in Windows 10/8/7
Method 2: Update Bluetooth Driver Automatically via Bit Driver Updater
After going through the above methods to download, install, and update Bluetooth drivers, you might understand why we do not recommend updating drivers manually. It's so much hustle to update Bluetooth drivers manually. Hence, to avoid such a hustle, we recommend you to use Bit Driver Updater. As we always say, this is the best option to update drivers such as Bluetooth, Graphics, or various other drivers as well. So, let's have a look at the steps to use Bit Driver Updater to update the Bluetooth driver on Windows 10, 8, or 7.
Download this compact yet effective driver updater utility from the button below.

Install the downloaded file.
Now, go to the desktop and double-click on the application icon of Bit Driver Updater.
It will automatically provide you with a list of outdated drivers in a few moments. So wait for a few seconds until the scan gets completed.
Now you are ready to update the Bluetooth driver on Windows 10. Look for it from in that list of outdated drivers and click on 'Update Now' to update the driver, and that's it.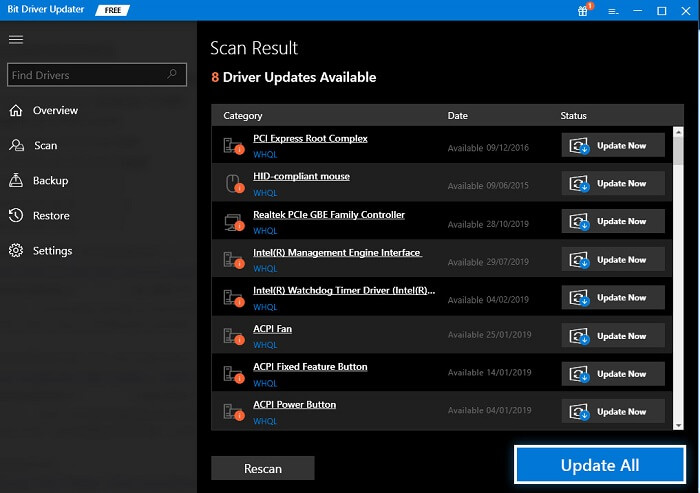 Look how simple it is to use Bit Driver Updater to update the Bluetooth driver on Windows 10. Not just Bluetooth drivers, you can use the Bit Driver Updater utility to update any driver and fix any issues related to the drivers. So, we hope that you'll also use Bit Driver Updater to update your drivers.
After learning about this software and other ways to get the required Bluetooth driver, you might have several questions. Hence, go through the next section of frequently asked questions to get your queries answered.
Frequently asked questions
Q1. What is a Bluetooth driver?
Simply put, a Bluetooth driver is a connector between the OS of your computer and Bluetooth device. It helps them communicate with each other seamlessly, so you get no errors while sharing data wirelessly through Bluetooth.
Q2. What is the use of a Bluetooth driver?
The Bluetooth driver is needed for a smooth connection between your PC and the Bluetooth device. If there is no driver, then it becomes difficult for the computer to execute your commands correctly. Apart from that, below are the other ways in which a Bluetooth driver is useful.
Having the correct, compatible, and updated Bluetooth driver minimizes the chances of errors like Blue Screen of Death.
It helps with the seamless pairing between your Bluetooth device and the computer.
Q3. How do I find my Bluetooth driver? 
It is quite easy to find the Bluetooth driver. Here is how to do it.
Activate the Device Manager on your computer.
Click on the Bluetooth category to view your Bluetooth driver.
Q4. How do I enable the Bluetooth driver?
To activate the Bluetooth driver on your computer, follow these steps.
Launch Device Manager.
Select Bluetooth.
Right-click on your Bluetooth adapter.
Choose "Enable" from the right-click menu.
Q5. How to restore the Bluetooth driver?
It is quite simple to reinstall the Bluetooth driver. Implement the below steps to do it.
Open Device Manager.
Expand the Bluetooth section and right-click on your Bluetooth hardware.
Select "Uninstall device" from the popup menu.
Click on the "Delete the driver software for this device" box.
Click on the "OK" button.
After the process completes, restart the PC to restore the Bluetooth driver.
Bluetooth Driver Downloaded, Installed, and Updated successfully
This article brought to light ways to download, install and update the Bluetooth driver on Windows 10, 64/32 Bit computers. In our view, the best way to perform this task is through Bit Driver Updater, as it also fixes the other drivers. For more such information and suggestions, you can subscribe to Innovana blogs, and if you subscribe, then bookmark the page as well.
Subscribe to Our Newsletter
Keep yourself updated with the latest technology and trends with Innovana Thinklabs Limited.