Here is a comprehensive Driver Reviver review that'll help you to evaluate this Reviversoft program and make a better call while choosing the best driver repairer for your Windows PC. Read on to know more.
Just like scanning malware, performing driver repair on Windows PC is also one of the essential tasks that one should perform quite often. It helps in keeping your system well optimized and eliminates a lot of hardware malfunctions. However, doing it via manual ways may not be easy for everyone. Hence, you require a fast and easy to use driver repairing tool. And one such utility is Driver Reviver. But, before making a decision, it is better to evaluate it. That's the reason why we have brought this detailed Driver Reviver review.
In this review, you'll get to know about all the aspects of Driver Reviver, including its features, pricing plans, pros, cons, etc. Hence, after checking this, you can decide whether the program is good for your PC or not. So, without further ado, let's proceed with the Driver Reviver review.
Driver Reviver: A Brief Introduction
As the name suggests, Driver Reviver is a feature-packed tool that helps its users to revive the health of their PC drivers. It is one of the system optimizing utilities developed by ReviverSoft. The program scans all the drivers on your Windows system and detects the faulty ones among them. And after that, it provides you with their suitable updates. 
One can even use the ReviverSoft Driver Reviver for free as it offers both free & paid versions. However, there are a lot of differences among the Driver Reviver full or paid and free versions that we are going to discuss further in this review.
Now, as we all have a slight glimpse of this driver updating tool, let's check out its pricing plans, features, and pros & cons for better evaluation.
Key Features Of Driver Reviver
The Driver Reviver program of ReviverSoft offers plenty of helpful functions. Below are the ones that we have discovered while reviewing the tool.
One of the things that helps Driver Reviver to outshine other driver updaters is its compatibility. While most of the driver repairing tools available in 2020 is compatible with the latest versions of Windows only, this program also works with the older versions of the OS, including Vista and XP. In short, Driver Reviver is compatible with Windows XP & Vista as well, along with Windows 7, 8, & 10.
A vast database of device drivers is pretty essential for a suitable driver updating tool. Hence, while making this Driver Reviver review, we have also evaluated the driver database of the program. And it impressed us immensely. The program offers a database of around 10 Million+ driver files.
Unlike other driver updaters, Driver Reviver doesn't require you to scan driver issues manually. It starts scanning for faulty drivers automatically every time you boot your PC. Hence, the tool prevents you from many hardware troubles due to outdated or corrupted drivers and allows you to fix them just after the startup itself.
To help the users having better insight into their PC drivers, Driver Reviver provides quite descriptive scanning results. Once you perform a full driver scan, it shows details of all the installed drivers of your computer.
Driver Backup Creation & Restoration Tool
Another prominent highlight of this ReviverSoft utility that impressed us while performing the Driver Reviver review is its driver backup creation & restoration ability. One can also create & save a backup of his/her installed drivers using this driver repairer. It provides a sense of security to the users. If anything goes wrong with the update, then one can use the backup to roll-back to the previous driver version.
Driver Uninstallation Tool
Driver Reviver also helps its users in removing or uninstalling any unnecessary hardware driver from their PC. It comes with a driver uninstallation tool. One can even use it to reinstall any driver.
Straightforward Interface
The interface of this ReviverSoft tool is pretty straightforward. Novice and amateur PC users can also use it with ease to fix their hardware drivers. Along with being straightforward, it's also quite clean and doesn't feel like stuffed with many random tools and features. 
As we have stated earlier, Driver Reviver is also available for free. The manufacturer also offers a free version of the tool that one can use to detect driver issues on his/her system. However, you cannot fix the detected driver problems using the Driver Reviver free version. You have to acquire the full paid version of the tool for it.
The Driver Reviver full version also allows you to download all the available driver updates for free and that too with just a single click. After performing the driver scan, one can easily fix all the detected drivers with one click on the Update All button.
If you do not want this tool to interfere with some specific drivers, then there is a feature for that as well. Driver Reviver comes with a driver exclusion option that allows you to exclude some of the drivers from getting scanned.
One of the features that impressed us the most during this Driver Reviver review is the automatic scanning scheduler. It helps the users to perform driver scans and install the required upgrades on the PC automatically. So, after enabling this option, you do not have to perform any manual driver scans.
Plans & Pricing
As mentioned earlier, the program comes in both paid and free versions. However, the free version offers pretty limited features. You can only perform a driver scan and detect driver problems using the free version. It doesn't allow you to download driver updates and use several advanced features. If you want to unlock all the functions of the tool, then you have to purchase its full version, which costs $35.39. Along with this, ReviverSoft also offers the Driver Reviver program in two of its different software packages. You can check more about those packages by clicking here.

Driver Reviver At A Glance
Here is a quick overview of Driver Reviver.
Developer: ReviverSoft
Compatibility: Windows XP/Vista/7/8/10
Installer size: 17.6 MB
Supported Languages: 16
Driver Database: 10,000,000+
Additional Features: Driver Exclusion, Driver Backup Creation & Restoration, Automatic
Scanning Scheduler
Free Version: Available
Cost (Pro Version): $35.39 (1 Year Subscription, 1 PC)
How To Use Driver Reviver?
Now, as we know about the features and specifications of Driver Reviver, let's have a look at the functionality of the tool. Below we have mentioned the instructions that you require to use the ReviverSoft driver updating tool. 
Step 1: Download & Install Driver Reviver
To use this handy driver repairing tool, you first have to download and install it on your PC. You can use the below provided Driver Reviver download button to get the setup file of the program on your computer for free.

After downloading, use the Driver Reviver setup to install the software. Simply run it on your system and follow the given instructions.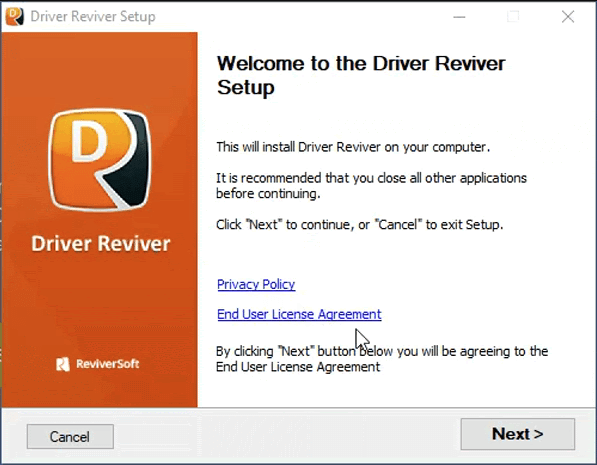 Step 2: Perform Driver Scan
After getting installed, Driver Reviver gets launched automatically and starts detecting the available driver problems on your computer. However, if it doesn't happen, then you have to launch the tool manually. And then, you have to click on the Start Scan Now button available on the home screen of the software.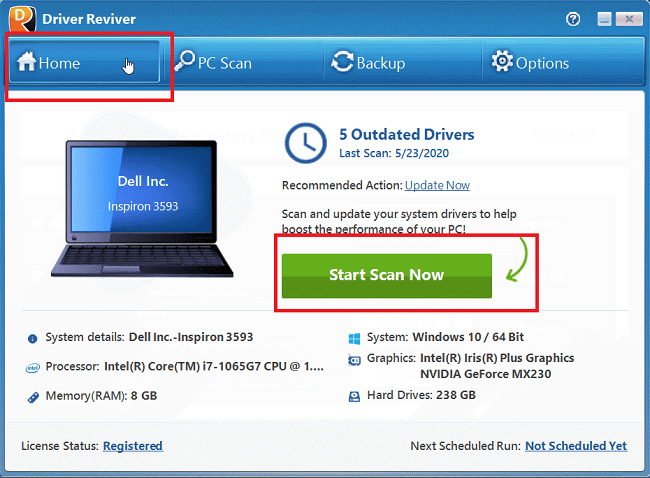 Step 3: Update The Detected Outdated Drivers
Now, as you have performed a driver scan using Driver Reviver, you'll be having a list of outdated or corrupted drivers. Update them by clicking on the update button.
You can also choose the Update All option to get all the faulty drivers updated at the same time.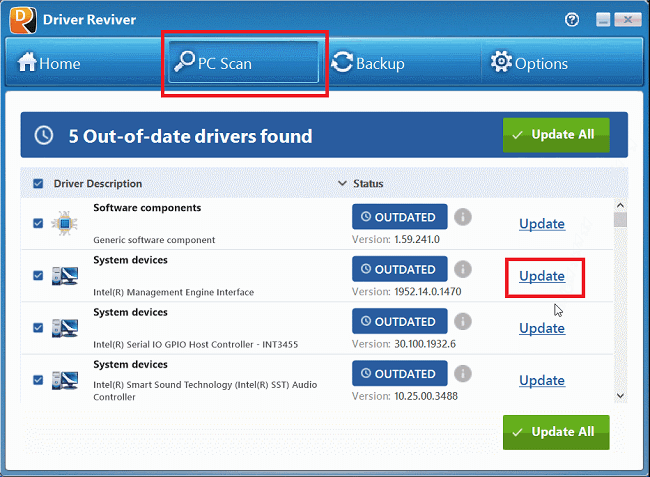 Bonus Step
If you want to use the advanced functions of Driver Reviver, then you have to go to the Options tab.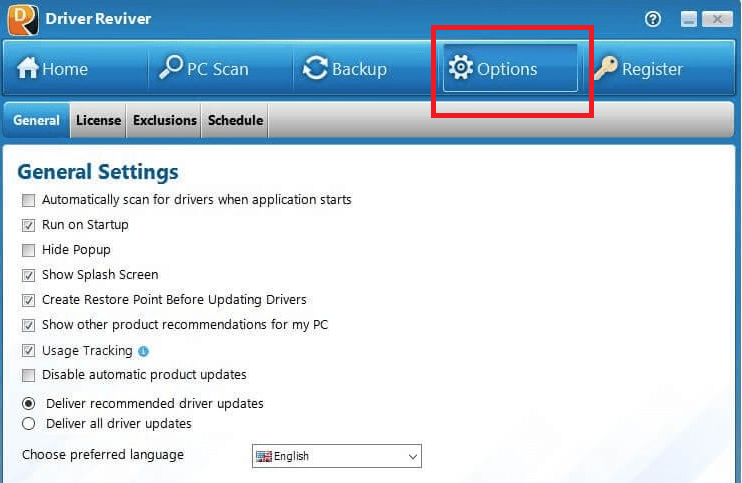 And for creating and restoring backups, click on the Backup tab.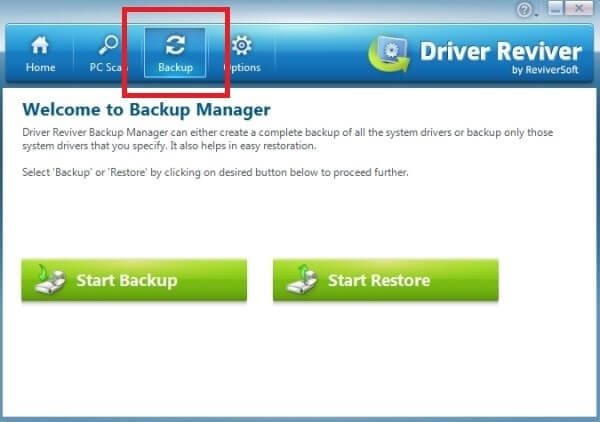 Critical Evaluation Of Driver Reviver
Driver Reviver has offered plenty of helpful features, but as we are reviewing it, hence here is the critical evaluation of the software.
Things We Liked About Driver Reviver
Below are the things that we have liked about the Driver Reviver while using it making this review.
Straightforward interface
Huge database of around 10 Million+ driver files
Run On Startup feature
Descriptive scanning results
Automatic scanning schedule
Option to uninstall unneeded drivers
Feature to exclude drivers
You may also find several Driver Reviver portable versions over the web, so that's also a pretty likable thing about this program. However, if you want to download a portable version of the tool, we suggest you select an authentic and reliable source.
Things We Didn't Like About Driver Reviver
Although there is nothing much to dislike about Driver Reviver, but its price may bother some users. And it also lacks in providing the additional system cleaning and optimizing features that a few of its competitors offer.
Also Read: 7 Best Driver Reviver Alternatives for Windows 10, 8, 7
Our Final Verdict For This Driver Reviver Review
Overall, Driver Reviver is a pretty user friendly and competent driver updating tool for Windows 10, 8, 7, Vista, & XP users. It detects almost all the faulty drivers on the PC and then provides suitable updates to fix them. If you use the paid version of this tool, then you are just a click away from updating all your PC drivers. Not just this, the program provides plenty of other benefits as well that we have already discussed in this Driver Reviver review. 
However, it feels a bit expensive as compared to other options. And if it concerns you, then it's better to try some other competent alternative like Bit Driver Updater. But, if you are not concerned about the price, then it can be the best driver updating tool for your PC.
We hope that the review helped you in making a better decision. If it did, then subscribe to our blog for more such reviews and analysis of PC optimizing tools.
Subscribe to Our Newsletter
Keep yourself updated with the latest technology and trends with Innovana Thinklabs Limited.