If you want to purchase the full version of Driver Talent or use its free edition, go through this genuine review of Driver Talent to know whether it is the perfect choice for you or not. 
If you are aware of the thing called driver updaters, then you might have also heard about Driver Talent. Earlier known as DriveTheLife, this software lets you scan your PC for outdated drivers, find the compatible driver updates, download, and install them in a few clicks. Driver Talent finds its place in the most popular driver updaters that we see in the marketplace currently. But, a few questions, such as is Driver Talent any good, is it legitimate, often pop up in the minds of users. If you also have similar queries, then continue reading this review of Driver Talent. 
We have honestly tested and reviewed Driver Talent so that our readers can make the correct choice when they are selecting a driver updater for their computer. Before we move ahead with this review, here's a quick overview of  Driver Talent specifications and an insight into some of its prominent features. 
Driver Talent System Requirements and other Specifications
OS Supported: Windows 10, 8.1, 8, 7, XP, Vista, and Windows Server
System Requirements: 1 GHz (32 bit or 64 bit) CPU, 256 MB (1028 MB recommended) RAM, and 1 GB or more hard disk
Developer: OSToto Co., Ltd. 
License: Available for $36.95
Free version: Available
Installation File Size: 21.9 MB
Latest Version: 8.0.0.2
These were the specifications of Driver Talent. Now, let's go through the bunch of features that it offers to attract the users. 
Attractive Features of Driver Talent
Below is a quick view of the most enticing features of Driver Talent that has made it quite a popular software and instigated us to review it. 
One of the best things about this software is that you do not need to install it for managing the drivers on your computer. Driver Talent is a portable kind of program. You can update the drivers with the help of flash drives.
Backup and restore drivers
A driver update is quite an unpredictable process. No one can be certain about what will happen after you update the drivers. Almost always, the computer performs exceptionally well after the drivers are updated. But, if due to any reason, the driver update is not correctly installed, then sometimes things may go wrong. Therefore, it is advised to create a backup of drivers before updating them. Driver Talent lets you perform driver backups and restore them as well. However, you need to download Driver Talent Pro to use this feature. 
Not all drivers need to be present on our computer. Some drivers are unnecessary and only hog up space. Therefore, Driver Talent boasts a tool that lets you uninstall the drivers from your PC. 
Offline driver installation
Another good thing about this driver updater is that it allows you to install drivers offline. You do not need an active internet connection to get the required drivers. However, this feature is available only if you have Driver Talent for Network Card installed on your computer. 
Save drivers on the computer
Driver Talent allows you to save the drivers on your computer so that you can get all the required drivers in case of system changes without any hassles. 
Repair drivers and fix system errors
With Driver Talent, you can get drivers repaired for the devices that are acting up and annoying system crashes as well as other errors fixed. However, this feature is available only for the Driver Talent Pro users. 
After looking at the features of Driver Talent, it seems the best options available to perform a driver update. But, whether it is truly the ultimate driver updater or not is dependent on the way it performs. Therefore, below is a detailed analysis of its performance. 
A Detailed Review of Driver Talent's Performance
For our tests, we used the Windows 10 computer with Intel Core i5-7200U CPU, 4 GB RAM, 64 Bit operating system, and x64-based processor. We downloaded the Driver Talent free version for review purposes. After downloading the software, installing it, and initiating the scan, it took only 1 minute to scan our whole computer. We are quite impressed with the scanning speed of this program.  Further, its user interface is also quite friendly and amazing. There is a Driver Status tab that displays the status of drivers that you need to update and also the already up-to-date drivers that it has detected. 
Coming to driver download, update, and installation, there was no automatic driver installation in the version that we had. We performed manual driver installation. You can also do that if you are well versed with computers. Furthermore, another offering of this software that impressed us the most is its game repair option. But, we missed the presence of features such as high-speed driver downloads, online contact, remote technical support, install of network printer drivers, and driver backup and restore. All these features are missing in the free version of Driver Talent. But, you can get them if you buy the Driver Talent Serial Key.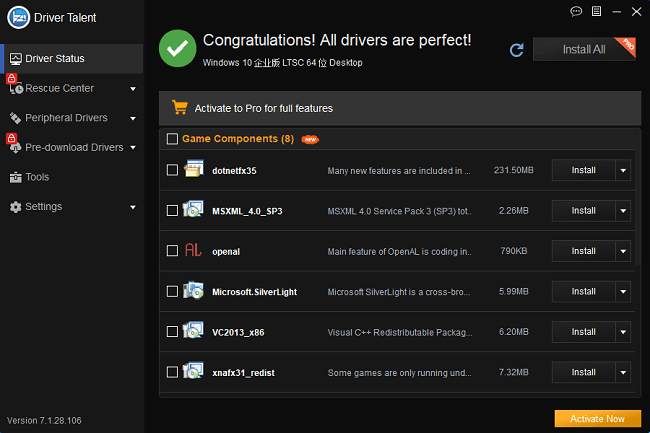 However, even if you get the Driver Talent full or Pro version, the presence of scan scheduling and bulk driver downloading options is strongly missed. 
In a nutshell, we can say that Driver Talent is undoubtedly among the best programs that you can try for its scanning speed, direct within the program driver downloads, ease of use, no limits on driver installation, no advertisements, offline driver downloading, and multiple drivers downloading on different devices. However, it would be even better if there were no frequent popups to download the Driver Talent Pro for Windows 10. 
Review of Driver Talent: Concluding remarks
Driver Talent is no doubt one of the most user-friendly, fast, and best programs to update drivers that we have reviewed so far. You should certainly give it a spin. However, whether you should go for its full version or free edition is dependent on your requirements. If you need advanced and much-needed features, such as driver backup and restore, online and remote technical support, automatic error repair, driver issues fixing, driver pre-downloading, automatic driver download and installation with a single click, and more, then choose its Pro version. You can download the Driver Talent free and Pro versions for Windows 10 from here. 
Subscribe to Our Newsletter
Keep yourself updated with the latest technology and trends with Innovana Thinklabs Limited.