DriverPack Solution is an easy to use driver updater with automated driver installation and many other features. But, is it the perfect choice for you or not? Find the answer to this question in our honest review of DriverPack Solution. 
Isn't there any one-stop destination for all the computer needs ranging from updating drivers to protecting the computer from threats? It is among those queries that users often have. In search of the answer to this question, DriverPack Solution is what you find at most of the places on the web. But, as it is a well-known fact that not every popular program is the perfect one for everyone's needs. Therefore, we decided to test and review DriverPack Solution so that you can judge whether it is the best choice for you or not. Like all other reviews that we have done to date, the views shared in this article are also genuine. 
Let's begin with having a glance at what DriverPack Solution is, its features, and our views on the same. 
What is the DriverPack Solution
DriverPack Solution is a piece of software that, in a few clicks of your mouse, finds, downloads, and installs the required drivers on your computer. It is a free driver updater that you can use online to perform driver download, installation, and update. Below are the key specifications of this program. 
DriverPack Solution Specifications
OS Supported: Windows XP, Windows Vista, Windows 7, Windows 8, Windows 8.1, and Windows 10 
Required Processor: Pentium 4 and above 
Memory Needed: 512 MB or above RAM
Storage Required: 15 GB free space in case of offline edition
Driver Database: 1 million 
Languages: 10+
Latest Version: 17.11.31
Developer: Artur Kuzyakov
Top Features: No installation needed, automated driver installs, ease of use, a tool to clear temporary files, and restore point creation
Above were the specifications of DriverPack Solution. Now, let's discuss its highlighting features.
Highlighting Features of DriverPack Solution
Here are the most attractive features of DriverPack Solution. 
DriverPack Solution is one of the best portable driver update solutions available in the marketplace currently. With this software, you can download, install, and update the drivers from anywhere and everywhere, just like you use a flash drive. 
Restore points are necessary to ensure that the computer can be restored to the working state if any mishappening occurs after the drivers are updated. DriverPack Solution creates the restore points automatically before updating the drivers. 
Good software should speak multiple languages so that everyone can understand and use it with ease. DriverPack Solution supports more than 10 languages. 
DriverPack Solution displays a list of all the drivers present on your computer along with the driver versions. If you want, then you can also view the drivers that do not need to be updated. Moreover, in case of the drivers needing an update, it also shows you the version of the available driver update. 
With DriverPack Solution, you can download the complete set of drivers for various computer peripherals. For example, if you download the video drivers, then you get the drivers for the different video card manufacturers, such as NVIDIA, AMD, and more in the archive. 
If you are worried about the hard drive space getting hogged, then you can put your worries aside. DriverPack Solution comes with an option to delete the temporary files after you have used the required data.
DriverPack Solution boasts a Notifier that keeps a watch on the working of your computer and alerts you about software or hardware issues.
 These were the features of DriverPack Solution that attracts the users. Now, coming to its versions, it comes in both online as well as offline modes. Here we take a dip into the details of both. 
DriverPack Solution Versions
As said above, DriverPack Solution is available in two flavors. Below are the details of both of them. 
DriverPack Solution Online
The online version of DriverPack Solution lets you download, install, and update the needed drivers without going through any installation prompts. It only needs an active connection to perform the driver download, installation, and update. Moreover, it boasts two modes, namely Regular mode and Expert mode. 
Since ease of use is one of the major factors that decide whether the software is the best one or not, below is how to use it in both these modes so that you can have an idea of how it is used. 
How to use DriverPack Solution Online?
We found it quite simple to use DriverPack Solution Online. By default, it starts in the Regular mode. However, if you want to use its Expert mode, then you can tick mark the Expert mode checkbox present in the DriverPack Solution Online's main window. To use the online version of DriverPack Solution, here are the steps that you need to take. 
Step 1: First, we need to visit the official DriverPack Solution Online website. 
Step 2: After the homepage of the website appears, the next step is to click on the "Download DriverPack Online" button. 

Step 3: After the DriverPack Solution Online gets downloaded, you need not go through any installation process. It automatically installs, analyzes the issues, and sets up your computer. By default, it runs in the Regular mode. However, if you want to switch to the Expert mode that gives you more control over the driver download, installation, and update, then checkmark the Expert mode checkbox in the software's main window.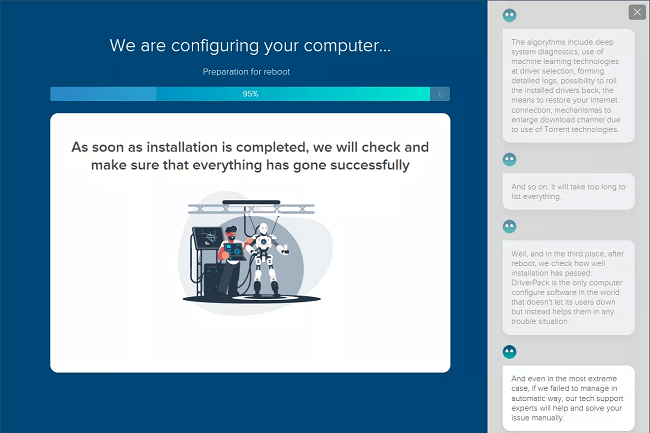 Step 4: Once the software finishes setting up your computer, select the driver that you wish to install and complete the installation. This step is needed only if you have selected the Expert mode in the main window. 
DriverPack Solution Offline
Another version of this software is DriverPack Solution Offline. You can download the DriverPack Solution Offline edition to download, install, and update the drivers even if you do not have an active internet connection. Below is the way to use this software. 
How to use DriverPack Solution Offline?
We did not find the process to use the DriverPack Solution Offline version tough. An implementation of the below steps is what we need to use it. 
Step 1: First of all we need to visit the official website to download the DriverPack Solution Offline
Step 2: After the website's homepage appears, the next thing that we are required to do is, click the "Install all required drivers" button.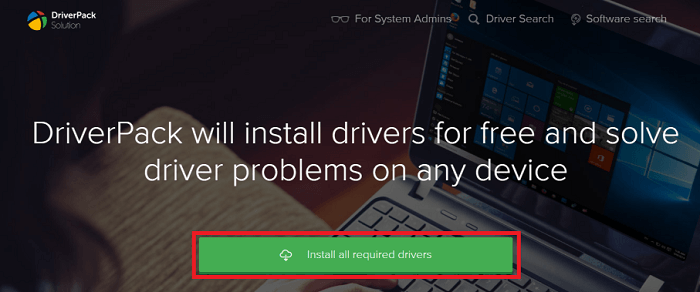 Step 3: Now, it is time to wait for the software setup to get downloaded. 
Step 4: After the setup is downloaded, click on it. 
Step 5: Next, follow the on-screen prompts to complete the software installation. Like the Online edition, the Offline version is also available in two modes, namely Regular and Expert. It runs in the Regular mode by default. Select Expert mode when the software installs to be in charge of what drivers are installed and updated on your computer. 
Step 6: If you have selected the Expert mode of this software, then choose the drivers that you want to download, install, and update. 
Step 7: Click on the button to perform the driver download, installation, and update.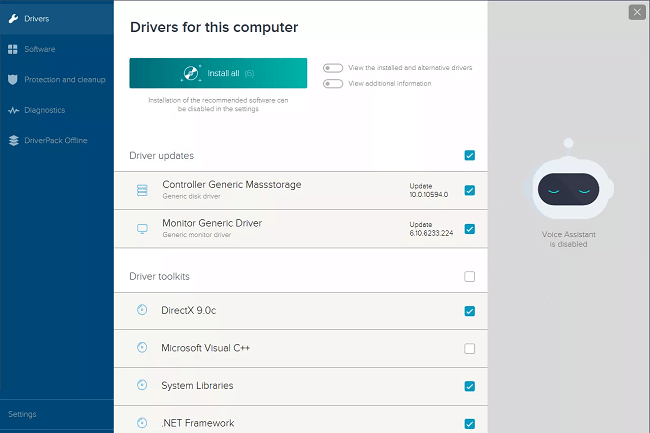 After using this software on our Windows 10 computer equipped with Intel Core i5-7200U CPU, 4 GB RAM, 64 Bit operating system, and x64-based processor, we noted down the things that we liked about this program, i.e., its pros and a few things that we found a bit disappointing, i.e., the cons. We talk about the same in the next section of this DriverPack Solution review. 
What we have liked in the DriverPack Solution
Firstly, we loved the user interface of this software. It has a clean, straightforward, and easy to use interface with clearly defined buttons. In the Expert mode that you get in both versions of this software, you find several useful options such as the Software tab to download recommended programs, Protection and Cleanup tab to get rid of unwanted programs, and the Diagnostics tab to know more about your computer. 
In addition to this, there is also a voice assistant that makes it easy for newbies to understand the software and use it. Furthermore, we also liked the automated no-prompt driver installation, quick driver download speed,  and bulk driver downloads. 
In a nutshell, here is what all we found amazing about this software. 
Easy of use.
No driver installation prompts, i.e., automated process.
Quick driver download and installation.
Portability of the software. 
What we have not liked in the DriverPack Solution
There is nothing negative about DriverPack Solution, expect a few cons that we have noted while using it. We share the same below. 
No scan scheduling.
Offers unnecessary third party software. 
Above was all about our views on DriverPack Solution. Now, we answer a few questions that our readers have often asked us about this program. 
Frequently asked questions
Q1. Is DriverPack Solution a virus?
DriverPack Solution is not a virus, it is a program used to download, install, and update drivers on the computer. However, since there are many malicious programs present in the marketplace, we suggest you do complete research before using any of the software and always use the best driver updater. 
Q2. Does DriverPack Solution need internet? 
DriverPack Solution comes in two versions. One is the offline version, whereas, the other is the online version. You do not require an internet connection to use the offline edition. For the online version, you must have an active internet connection. 
Q3. Is DriverPack Solution free?
You can download the full version of DriverPack Solution for all versions of Windows, including Windows 10, 8, and 7 (both 32 and 64 Bit) for free. Furthermore, there are no limitations on the use of this program. You can use all its features without spending even a penny. However, since it is an ad-supported software, you get popup advertisements and offers for third-party programs. 
DriverPack Solution Reviews: Concluding Words
Above were our genuine views about DriverPack Solution. We believe that it is worth trying software if you do not want to go through a lengthy installation process and seek automated driver installation. Here is the link from where you can download the DriverPack Solution's latest version. However, if you are concerned with the possessed cons, then we advise you to switch to Bit Driver Updater. It is a reliable and con-free solution to fix driver issues on Windows PC.
You can also share your thoughts about this program. Use the comments section. And if you find this DriverPack Solution review useful, then stay tuned with us for more reviews like this.
Subscribe to Our Newsletter
Keep yourself updated with the latest technology and trends with Innovana Thinklabs Limited.