Earlier people used to have contact diaries to store their contacts. Now you can easily save contacts in your smartphones. Mobile phones have made it easier to store contacts. However, people might end up storing duplicate contacts. Duplicate contacts can create a lot of confusion, and it is next to impossible to filter thousands of contacts manually. Hence, it becomes quite necessary to have some duplicate contact remover apps installed in your smartphones.
At the time when people have around thousands of contacts saved in their smartphones, the possibilities of having duplicate contacts are quite high. People do not have that much time to monitor their contact list regularly. That's the reason why their contact list gets more disordered day by day. After that, it becomes more difficult to remove duplicate contacts on iPhone and Android as well. The only option left is to use some apps to remove or merge duplicate contacts. We have brought a list of some apps that can help you to get rid of the messy contact list and duplicate contacts. So, let's move to the list.
5 Best Duplicate Contact Remover Apps
Here we have listed some of the best duplicate contact remover apps. You can easily remove duplicate contacts on your Android phone as well as iPhone using these apps.
1. Contacts +
The first name on our list is Contacts +. It has developed by Contacts Plus Team. It is a multi-feature app that can remove duplicate contacts on iPhone and Android phones. The app allows you to merge duplicate contacts and hence helps you to clean up contacts on your iPhone or Android phone. Along with merging the contacts, Contacts + also provides many other features such as dark theme and phone dialer. Contacts + is the perfect combination of a dialer app and phone book app. You can download this app to merge duplicate contacts on iPhone and Android both.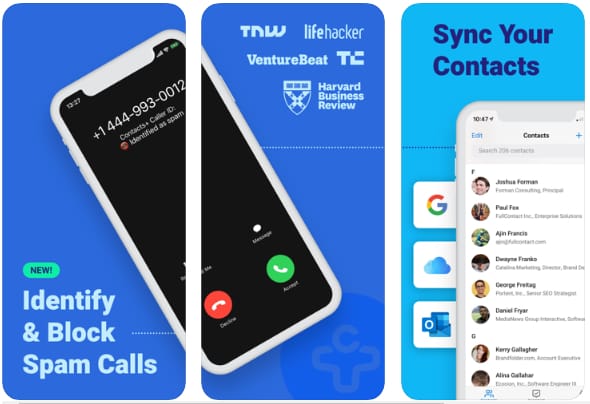 ---
2. CircleBack
CircleBack is a contact manager app for both Android and iPhones. It allows you to manage your contact list more efficiently. The app also comes with some features to delete duplicate contacts on Android as well as iPhone. This one of the best duplicate contact remover apps helps you to remove duplicate contacts by merging them. You can rely on it to remove multiple contacts, as the app doesn't get confused among the actual duplicate contacts or the contacts that just have the same names. Along with this, CircleBack also provides features such as auto-synchronization of contacts and creating a backup of contacts.
---
3. Cleanup Duplicate Contacts!
Here comes the most powerful app to remove duplicate contacts on iPhone. If your iPhone's address book got stuffed with so many duplicate contacts, then it's a high time to install Cleanup Duplicate Contacts. It can delete multiple contacts from the iPhone with just a few taps. The app can even merge similar contacts. Along with all these things, it can also create a backup of your contacts. After creating backup contacts, you can restore them easily whenever you want. The only drawback is of Cleanup Duplicate Contacts is that you can only use it on your iPhones and iPads. The app is not available for Android phones.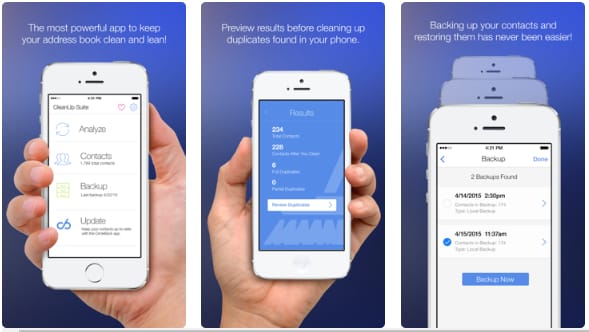 Also Read: Best Apps to Hide Private Photos and Videos On Android / iPhone Device
---
4. Simple Contacts
Simple Contacts is one of the best duplicate contact remover apps for android. It serves as a complete contact manager for Android. One of the salient features of Simple Contacts is its compact size. Despite being a lightweight app, it offers diverse features. You can even export your contacts to an online storage drive with this app and can download them back on any device. Simple Contacts also helps you to keep a check on your emails and important events. If you are looking for a contact management app that can also remove duplicate contacts, then you must try this app.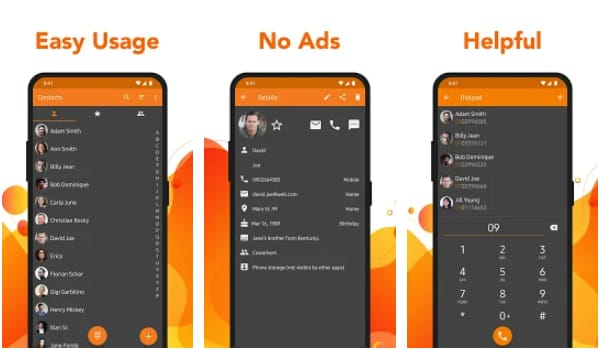 ---
5. Contacts Optimizer
The last name on our list is Contacts Optimizer. It is one of the most focused phone book optimizer apps that you'll ever get. The app uses some advanced features to optimize your contacts and remove duplicate contacts on iPhone and Android phones. Along with removing duplicate contacts from your phone book, the app also provides you with similar contacts. Contacts Optimizer even shows you the incomplete contacts and allows you to complete them by filling the necessary fields. You can also use it to merge similar contacts. Contacts Optimizer is available for free on Android. However, it charges $1.99 from iOS users.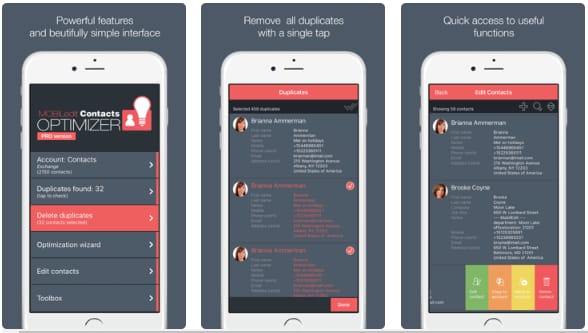 Well, these are some of the duplicate contact remover apps that you can use to remove duplicate contacts from your Android and iPhone. It is quite necessary to have a well-organized contact book and these apps can help you in doing that.
For more information about various such applications, subscribe to Innovana blogs and also bookmark the page.
Subscribe to Our Newsletter
Keep yourself updated with the latest technology and trends with Innovana Thinklabs Limited.