In this post, we have genuinely and completely reviewed Easy Duplicate Finder with its specifications, features, pros, cons, and other details to help you decide whether it is worth downloading or not. 
Do you know why your computer does not perform well anymore? Well, the reason is accumulated junk in the form of duplicate files. The identical pictures, documents, music, or other files you often forget to or find tough to delete hogged up the entire PC resources and brought it to this state. Since it is quite impractical to find and eliminate them manually, you might be thinking of using automatic software. And when you search for one on the web, Easy Duplicate Finder is among the top results you get. But is it worth downloading Easy Duplicate Finder? Is it really "easy" to use or not? These are some of the questions that we answer through this honest Easy Duplicate Finder review. 
Before going deeper into the review, first, let's have a general idea of what Easy Duplicate Finder is and its key specifications. 
What is Easy Duplicate Finder
In the most simple terms, Easy Duplicate Finder is software that scans your computer to find and remove duplicate files, such as images, documents, music, and more. In addition to removing duplicates from the PC, it also lets you free up space on cloud storage. Below are its major specifications and system requirements. 
Specifications and System Requirements of Easy Duplicate Finder
Developer: WebMinds Inc. 
Latest Version: 7.8.0.21
Compatibility: Windows 10, 8, 7, Vista, & XP/macOS 
CPU: 400 MHz or higher
RAM: 128 MB or more
Hard Drive: At least 5MB of free space
User Rating: 4.2/5
Price: $59.95 for a single PC, $119.95 for three PCs, $159.95 for five PCs, $269.95 for 10 PCs
Top Features: Multiple scan modes, undo option, duplicate removal from cloud storage, exclusion of a file from the scan, wizard tool 
Now, let's dig a little deep into the features and have a detailed look at them. 
Key Features of Easy Duplicate Finder
Below are the worth-mentioning features of Easy Duplicate Finder that you must know before downloading it. 
Wizard tool: You do not need to do much work to remove duplicate files if you use the wizard tool. It makes it easier for you to clean the storage. 
Multiple scan modes: Easy Duplicate Finder boasts over ten scan modes, such as SHA 256 Checksum + File Size, Byte-by-Byte Comparison, Filename Only (fast scan), Music Scan, Google Drive Scan, Folder Comparison, Outlook Mail, and more. 
Undo option: Sometimes, in an attempt to free up more disk space, we end up deleting crucial files as well. Therefore, this duplicate finder comes with an undo option to recover the accidentally deleted files. 
Move, rename, and export options: Sometimes, even a duplicate file is also important to keep especially when it is a copy of some crucial document. If this is the case and you do not wish to delete the detected duplicates permanently, then you can also rename, move, or export them to some other location.
 Cloud support: If you have no space left on the cloud storage platforms, such as Google Drive, Dropbox, and more, then also you can trust Easy Duplicate Finder. It lets you remove duplicate files and free up the cloud storage space as well. 
File exclusion: If you do not want to scan any of your private files, then you can keep them out of the scan process using the file exclusion option. 
Preview option: It is always better to view the file before taking any action like moving, renaming, exporting, or deleting it. Therefore, it comes with a preview option to take a look at the file before arriving at any decision. 
Duplicate email removal: You can also download Easy Duplicate Finder to keep your mailbox clean and well organized by deleting the duplicate emails. 
Above were the praiseworthy features of this software. Now is the time to know how easy or difficult it is to use. Below we share its step-by-step use process so that you can make a decision effortlessly. 
How to use Easy Duplicate Finder
In this section of our Easy Duplicate Finder review, we share the detailed process to eliminate duplicates with this software. Below are the steps you need to follow to do it. 
Step 1: Firstly, click on this link to download the Easy Duplicate Finder setup. 
Step 2: Click on the setup after it gets downloaded, and follow the on-screen instructions to complete the installation. 
Step 3: Now, click on the Easy Duplicate Finder icon on the desktop to launch it. 
Step 4: After the home screen appears, click on the "START SCAN" button. 
Step 5: Now, select Easy or Advanced scan modes, depending on whether you are a beginner or experienced user. 
The Easy mode scans your whole drive and lets you eliminate the duplicates in one-click.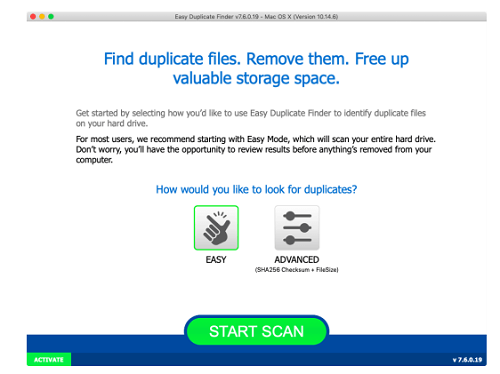 If you selected Easy Mode, then follow the below steps:
Wait for the scan to complete.
After it completes, either choose the "AUTO REMOVE" option or select "MANUAL REVIEW" to decide which files to eliminate.

If you selected the MANUAL REVIEW option, you can either check/uncheck the boxes manually or use the Pencil icon to get the bulk selection options.

After selecting the files you wish to delete, click on the trash can button. 
Choose whether you want to delete the selected files permanently or move them to the Recycle Bin.

If you selected Advanced mode in step no.5 above, then follow these steps: 
Click on the "Scan Mode" option to select the Mode that fits your requirements. 
Now, you can either open Wizard and follow the on-screen instructions to launch the scan or drag and drop the folders containing duplicates to the scan pane.

Include/Exclude files from the scan and specify the minimum/maximum file size. 
Click on the "START SCAN" button to launch the scan. 
After the scan completes, either use the "AUTO REMOVE" option or do the "MANUAL REVIEW." 
If you selected the "MANUAL REVIEW" option, then follow the last three steps described above for the Easy mode. 
Now, after knowing the process to use it, what do you think about whether it is worth downloading Easy Duplicate Finder or not? In case you haven't arrived at any decision yet, below we share what we like or dislike about this software to help you decide.  
What we like about Easy Duplicate Finder
Below is all that we have liked when reviewing Easy Duplicate Finder. 
It shows how much space the duplicates occupy.
You can move, rename, or export duplicate files.
It allows you to free up space on cloud storage.
The wizard tool makes it easy to eliminate duplicates. 
There is a selection assistant to help you decide which files to delete. 
What we dislike about Easy Duplicate Finder
Here are the cons or things we did not like about Easy Duplicate Finder. 
The scan results are no so accurate.
Its scan speed is a little slower than the alternatives.
The interface is quite outmoded. 
It sometimes irritates the user with unnecessary notifications.
The free version only allows you to fix 10 duplicate groups. 
It changes your home page and the search engine. 
Let's wrap the Easy Duplicate Finder Review
Above, we had an in-depth look at how Easy Duplicate Finder works, its specifications, features, pros, and cons. Now, it's up to the end-user, i.e., you decide whether you should download Easy Duplicate Finder or not. In case you are specifically looking for a tool to delete duplicate pictures, then we suggest you choose Quick Photo Finder as it is a better option due to its external device support and more such features. 
Subscribe to Our Newsletter
Keep yourself updated with the latest technology and trends with Innovana Thinklabs Limited.