Windows is a strange kind of software. Sometimes, it mesmerizes you with an exceptionally smooth performance whereas, other times, it does not even let you update the OS and shows errors such as error 0x800705b4. It is an unusual and annoying Blue Screen of Death error that troubles users while updating Windows. 
Since you are here reading this write-up, it must be troubling you too. But, now you can keep your worries aside as this post walks you through the quick and easy fixes for Windows update error 0x800705b4. 
But, before moving ahead, let's dive into the details and discuss what triggers this error in the first place. If you know the root cause of BSOD errors such as Windows 10 update error 0x800705b4, then fixing them becomes a child's play. Hence, below we mention the prominent culprits behind this irksome error. 
What Causes Windows Update Error 0x800705b4
Failure of OS to update automatically

Faults in the system files

You have not turned on the automatic update services

Issues in the Windows Registry

Virus attacks 
The above list is not exhaustive, and there can be other factors such as outdated drivers under the hood that prompt error code 0x800705b4 on Windows 10. But, no matter what the reason for the error is, the workarounds shared below will resolve it completely. 
100 % Working Fixes for Windows Update Error 0x800705b4
Below are the fixes that you need to resolve Windows update error code 0x800705b4 in a jiffy. 
Fix 1: Perform SFC Scan
Since broken system files are among the prime causes of Windows update error 0x800705b4, you need to run an SFC scan to fix the issues. Here we share the steps to do it.
Right-click "Start" or press Windows and X key simultaneously.

Choose "Command Prompt (Admin) from the context menu that appears.



After the Command Prompt window appears, type "sfc/scannow" and hit "Enter".

Wait for a couple of minutes till error code

0x800705b4 is fixed on Windows 10.
---
Fix 2: Run a DISM Scan
Another way to fix Windows 10 update error 0x800705b4 is through a DISM scan. Thus, implement the below steps to run it.
Evoke "Command Prompt (Admin).

After the Command Prompt window appears, in the Command line, input "

DISM /Online /Cleanup-Image /RestoreHealth.



Press "Enter" and wait for the

Windows update error 0x800705b4 to get resolved. 
---
Fix 3: Disable the Antivirus
No doubt, antivirus is essential to shield the PC from malware attacks. But, sometimes, the antivirus may conflict with the operating system and hinder its working. Therefore, disable the antivirus either completely or turn off the features that cause troubles. However, if you use the best antivirus software such as ITL Total Security, then such a situation never comes.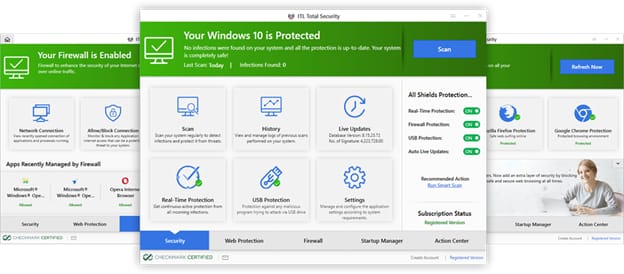 ---
Fix 4: Enable the Windows Defender Service
Certain essential services must be in a running state while you update Windows. Otherwise, you get the Windows update errors such as 0x800705b4 on Windows 10. Therefore, follow the below steps to enable it. 
Press Windows and R keys simultaneously to call up the "Run" box.

In the Run box, input "Services.msc" and hit "Enter" or click on "OK" to open Services.

Wait for the Services window to come up and after it appears, locate and double-click the "Windows Defender Firewall Service" to open its Properties.



In the Properties window, check whether the service is running or not. 

If it is not running, then Click on Startup type and choose Automatic.

Click on Start.

Lastly, choose "OK" and "Apply" for changes to take effect.


Repeat the above process to enable Windows Defender Antivirus Service. 
---
Fix 5: Run chkdsk scan
Hard drive issues can also be a reason for which you are getting the Windows 10 update error code 0x800705b4. Therefore, implement the below steps to run the chkdsk scan and fix the issue.
Launch "Command Prompt (Admin).

In the Command Prompt window, type

chkdsk /f X: In the place of X, write the letter of your system drive. In almost all cases, it is C.



Type "Y" to schedule the scan when you restart the system.

Lastly, hit "Enter".
---
Fix 6: Do a clean Windows 10 install
Performing a clean Windows 10 install can also resolve the BSOD Windows update error 0x800705b4. Therefore, follow the below steps to do it. 
Go to the Start menu and click on the "Power" button.

Press and hold the "Shift" key.

Choose "Restart" from the on-screen menu.

On the next screen, select "Troubleshoot" and click on "Reset this PC".



If prompted, insert the Windows 10 installation media.

Go to "only the drive where Windows is installed" and select "Just remove my files".

Click on "Reset" and follow the on-screen instructions to complete the procedure. 
---
Fix 7: Update drivers (Recommended)
Outdated drivers are among the prime culprits behind not just the Windows update error 0x800705b4 but other PC errors as well. Therefore, the best way to fix the issues is by updating drivers. You have two options when it comes to updating drives. Either you can go on a driver hunt on internet and update them manually or you can act smart and update them automatically. The latter sounds better, right? Therefore, we recommend updating drivers automatically via ITL Driver Updater. This amazingly wonderful tool not only updates drivers but also takes the PC's performance to a new level. To update drivers with ITL Driver Updater, you only need to follow the below steps.
Get it from the download link given below.

Install and evoke ITL Driver Updater.

Let it scan your PC. If in a rare case, the scan does not begin automatically, then click on "Scan".



After the scan completes, click on "Update Now" to update a single troublesome driver. To update all outdated drivers smartly in a single shot and avail benefits such as scan scheduling, backup & restore, and more, click on "Update All".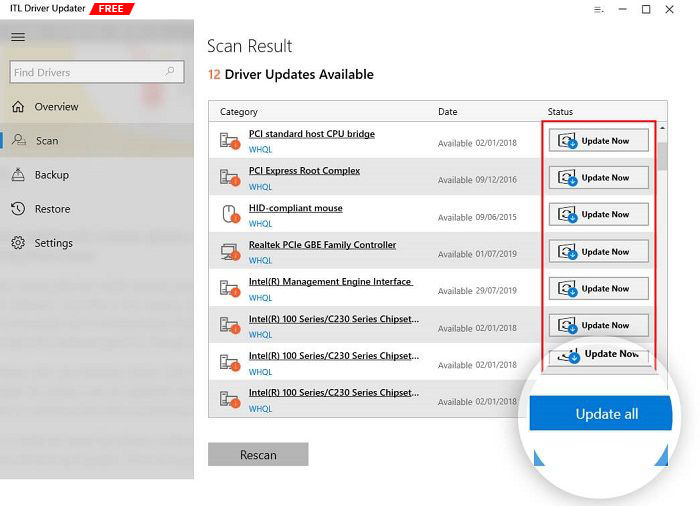 The buttery smooth and error-free PC performance that you always wanted is just a click away.  Click on the below ITL Driver Updater download link to get it.
Windows Update Error 0x800705b4: Fixed
Through this write-up, we fixed yet another BSOD stop code, i.e., error 0x800705b4. We hope that the above fixes helped you resolve it with ease. If you have any doubts, questions, or suggestions about the post, then feel free to leave us a comment. Also, it would be highly appreciated if you join us in our newsletter and show us some love through social media handles. We will see you soon with a fix for some other annoying PC error. Till then, stay tuned.
Subscribe to Our Newsletter
Keep yourself updated with the latest technology and trends with Innovana Thinklabs Limited.