Ever since the launch of Facebook, this social media site has continuously been growing and upgrading itself on various fronts. The latest update is that you can send money on Facebook. Digitization has rapidly changed the method and ease of money transactions over the last few years. Facebook payment is the latest one to join the bandwagon of digital payment service providers.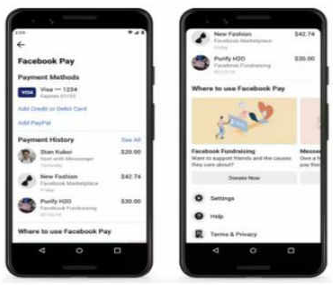 How Can You Send Money through Facebook?
You can send money on Facebook via the Facebook Pay option, which is going to be available on the platform of Facebook apps and its website. There would be no need to download a new app for this purpose. This has been decided by Facebook to keep things simple and convenient for users. Mobile billing will also be a payment mode on FB pay.
More About Facebook Messenger Payments
No charges will be levied on people who are undertaking online monetary transactions with the help of the Facebook messenger payments service.
Facebook users who are not yet 18 will not be allowed to send money through Facebook using peer-to-peer payments services on the Facebook messenger.
Also, another important thing about using Facebook Pay is that it is not linked to Libra in any way. Libra is the cryptocurrency wallet proposed by Facebook, which is a blockchain digital currency wallet, currently under development and is expected to be launched by 2020. The company has acquired legal permission to start this cryptocurrency wallet. The currency and network don't exist in reality yet, and only the experimental coding has been released so far.
What Happens when your Facebook Payment is Pending?
When Facebook payments are pending or getting declined, then users may be subjected to some reversal charges from third-party entities. To explain it further, consider facing some unpredicted scenarios during transactions when you are trying to send money through Facebook, then if third parties have to reverse back your payment, you might get subjected to some form of penalty for this.
How to use Facebook Payments option?
Facebook Pay feature will allow only those users to send and receive money via the Facebook messenger app who are deemed fit as per the eligibility criteria. This feature can be set up across all the Facebook apps that a user uses at any given point in time.
To enable FB pay on the app or website, you can use the below path of navigation:
Go to Settings.
Then, to the Facebook Pay section.
Finally, choose a payment method .
Payment options include debit cards and credit cards. Other payment platforms available are PayPal and Stripe.
According to the company, "Users can get started easily by adding the payment method, and you're good to go."
Facebook Pay has only been made available in the US currently and is yet to reach other global destinations. FB pay can be used for sending money to friends and family, receiving payment from them, and also for shopping. Additionally, you can also donate money using Facebook Pay.
The company has planned to also expand the payments services to its other counterpart platforms like Instagram and WhatsApp soon.
At the moment, it is unclear if Facebook Pay will be launched in India as it is facing some regulatory issues. Also, Facebook's plan to launch Whatsapp pay in India is more on priority due to the existence of a large number of Whatsapp users. The UPI-based service was first announced in February 2018, but its launch was stalled when the company failed to fulfill all the criteria as per the digital payments framework guidelines. However, it was later announced that it would be available in India by the end of this year.
Subscribe to Our Newsletter
Keep yourself updated with the latest technology and trends with Innovana Thinklabs Limited.