Don't let the Kodi Exodus error "No stream available" block your entertainment. Fix it effortlessly with the fixes shared here.
There is a couch potato in each one of us who loves enjoying shows and movies the entire day. But, things become frustrating when instead of your favorite show, what you get on the screen is an error stating, "No stream available"  on Exodus. Wondering why is this happening?
Well, the reason for "No stream available" on Kodi Exodus is that it fails to pull out the links to the desired show or movie. Yes, that's true. Kodi addons such as Exodus, Seren, and Gaia do not stream the content on their own, and they provide the links from platforms such as IMDB, Trakt, themoviedb, and more.
Hence, the "No stream available" on Kodi means that the addon found no links matching to your search. Talking about the solution, luckily, you can fix this annoying issue and enjoy the movies or shows that you want to watch effortlessly with the fixes shared in this penned note.
First, here is a quick snapshot of the most recommended fix.
The most recommended solution for Exodus No Stream Available
Since an outdated graphic driver is among the top reasons for Exodus No Stream Available, updating the driver is the best way to fix it. You can update the drivers in no time and boost the performance of your computer significantly using Bit Driver Updater. Below is the link to get this one-click software to update the drivers and make the PC perform smoothly.

Quick Fixes for Exodus No Stream Aavailable
Below are the easy as pie solutions for "No stream available" on the Exodus issue that you are facing.
Fix 1: Clear the Clutter
Unnecessary cache and providers can not only slow down the working of your Kodi addon but also device as a whole. Hence, one of the best ways to resolve the Exodus issue "No stream available" is through clearing the accumulated cache and providers. Be guided by the below steps to do it.
Go to the Exodus menu, locate "Tools" and click on it.

Image Source: Trypoint

In the Tools, you will see "EXODUS REDUX: Clear providers…", click on the same.

Image Source: Trypoint

Click on "Yes" to give your assent.

Image Source: Trypoint

Once you receive the process complete notification, scroll down to find "EXODUS REDUX: Clear cache…." Click on it.

Image Source: Trypoint

Click on "Yes" to confirm that you are sure about your actions.

Image Source: Trypoint
Also Read: Here's "How to Change My Region on Netflix?" – Key to Endless Content
Fix 2: Change the Timeout Settings
This solution is a sure shot fix for the cases when you get the Kodi Exodus issue "No stream available" due to the slow internet connection. Thus, if your internet is working slow, then comply with the steps mentioned below to change the timeout settings.
Go the "Tools" section and click on "Settings: General."

Image Source: Trypoint

Choose "Providers Timeout" and position the slider to your desired time (the maximum timeout setting in Exodus is sixty seconds).

Image Source: Trypoint

Click on "OK" to confirm the action and let it take effect.

Image Source: Trypoint
Fix 3: Use a VPN
The use of a Virtual Private Network or VPN is among the most recommended solutions as in many cases "No stream available" on Kodi results out due to your Internet Service Provider  (ISP)  blocking the access to these streaming options. The Virtual Private Network connects your PC to a server located at some remote location. This masks your IP address and helps you circumvent the filters imposed by your ISP or the streaming engines.
In case you are confused about which is the best VPN that you can use, then we recommend ITL Secure VPN. It is among the most secure VPN networks that employ state of art security mechanisms to keep your data protected at all times from every kind of threat. Moreover, it also provides a multitude of enticing features. Below we state the key ones out of them.
Data encryption to shield it from the snooping eyes of hackers.
Bypasses Internet filters and brings websites from every part of the word to your computer screen on your demand.
Lets you stream at a speed as fast as that of a leopard.
There are no bandwidth restrictions, this means that you can browse without worrying about the amount of data used.
It offers round the clock technical support for any query that you may need help with.
Fix 4: Ensure That the Addon you are Using is Not Abandoned
Due to the copyright infringement issues Kodi keeps on replacing its addons from time to time. For instance, it replaced Genesis with Exodus. Later on, even Exodus was replaced by Covenant. Hence, you are bound to encounter the Kodi no stream available issue if the addon you are using a non-supported addon. However, if any active developer supports the addon, then you can continue to use it without any worries.
Fix 5: Update the Exodus Version
If your Exodus version is outdated, then you are most likely to face the Kodi Exodus issue "No stream available" on your device. Hence, string along the steps shared below to update it.
Visit the Kodi homepage, locate "Addons" present on the left pane, and right-click on it.
Choose "Information" from the context menu that pops up on your screen.

Image Source: Firesticktricks

After you see the Information screen, click on the "Update" option.

Image Source: Firesticktricks

Follow the instructions appearing on your screen to install the updated Exodus version.
Fix 6: Use Ares Wizard to Adjust the Buffer Mode
If Kodi keeps on buffering and ultimately shows that annoying message stating that the Exodus stream is not available on Kodi, then you can adjust the buffer mode to fix it. Here is how to do it.
Run the Ares Wizard and click on the "Tweaks" option located on the menu bar.

Click on the "Advanced Settings Wizard" option.

Image Source: Firesticktricks

Go through the Caution displayed on the screen and click on "Next."

Image Source: Firesticktricks

Click on the "Generate Settings" button.

Image Source: Firesticktricks

Drag the Video Cache Size to the recommended size.
Now, select the recommended Buffer Mode.

Image Source: Firesticktricks
Fix 7: Use Ares Wizard to Delete Temp Files
Accumulation of temp files is another reason for which you encounter an issue like "No stream available" on Kodi Exodus. Below is how to delete such files and fix the problem.
Open the Ares Wizard and click on "Maintenance."
Select "Delete Thumbnails."
Choose "Delete Packages."

Image Source: Firesticktricks

Now, relax and enjoy streaming your favorite show or movie.
Fix 8: Pay Attention to the Network Connection 
Sometimes, your device may not be connected to a stable network. And this may result in errors like Exodus No Stream Available. Therefore, pay heed to the network connection and ensure network stability. You can follow these steps to do it.
Press your router's reset button for about 10 seconds.

Relaunch Exodus on Kodi.
Fix 9: Update Graphics Card (Recommended)
Here comes the most recommended solution. Since the graphics card is the one responsible for running all the visual content on your device without any glitches, it is inevitable to always keep to it updated. Thus, update the graphics card to keep issues such as "No stream available" on Kodi Exodus at a bay. You can do it either manually through Device Manager or automatically with Bit Driver Updater which is among the top driver update utilities available in the town. We strongly recommend this tool as it not only helps you keep drivers up to date but also amps up the performance of the PC as a whole. Moreover, it also provides several other advantages. We state the prominent ones out of them below.
Supports multiple languages such as German, English, French, and more.
Lets you update drivers and fix PC errors in one click.
Allows you to backup and restore drivers.
Hosts an easy scan scheduling option.
Boasts an option to exclude drivers that you don't wish to be scanned.
It is compatible with all the latest versions of Windows.
Downloads only WHQL certified drivers on your PC.
These were the central benefits of Bit Driver Updater. Now, let's have a glance at how to use it.
How to use Bit Driver Updater
Bit Driver Updater is among those utilities that people of all ages and technical backgrounds can effortlessly use. The only thing that you need to comply with is a few simple steps. We share them below.
Download Bit Driver Updater with the link given below and install it.

Wait till the utility scans your PC. If for some reason the automatic scan does not begin, then you can click on the "Scan" button to start it.
After the scan completes, locate the graphic card and click on "Update Now" to update its driver. If you desire to update the drivers for all the other devices as well, then choose "Update All."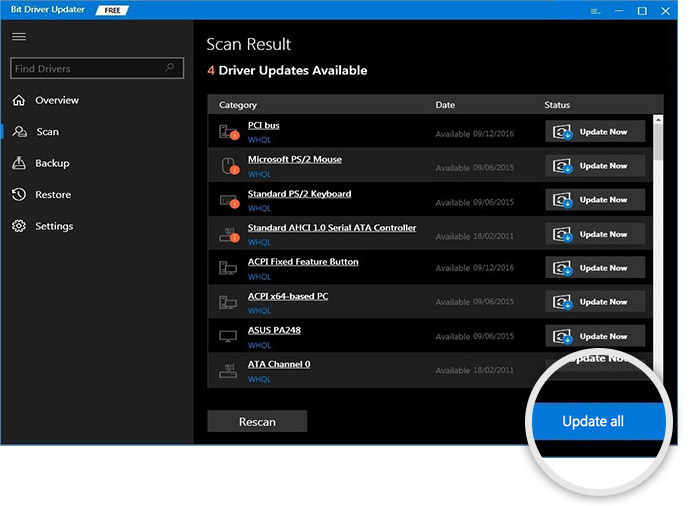 It seems unimaginable but updating the graphic card driver is this simple if you have Bit Driver Updater installed on your PC. Thus, instead of wasting time thinking, click on the below link for downloading this incredible tool and resolving all errors including "No stream available" on Kodi Exodus in a jiffy.
Frequently Asked Questions
Q1. What is meant by Exodus on Kodi?
Exodus is nothing but a Kodi add-on that you can use to stream videos. You can install it effortlessly and then watch a plethora of shows and movies.
Q2. What is the meaning of No Stream Available on Exodus?
To put it simply, No Stream Available is an error where video content is either unavailable or cannot be loaded on your computer, thereby making the video inaccessible.
Q3. Why is No Stream Available on Exodus?
Below are some of the reasons why you are getting No Stream Available error on Exodus.
Network issues.
Exodus is blocked by some network components.
Your version of Exodus is outdated.
The video you are trying to access is unavailable.
Improper timeout settings.
Outdated graphics card.
Q4. How to fix the No Stream Available problem on Exodus?
Since outdated graphics cards are among the top reasons why you face the No Stream Available issue on Exodus, updating the graphics card driver is one of the best ways to fix it. And for other solutions to this problem, you can refer to the above guide.
Exodus No Stream Available: Fixed
 Through this write-up, we attempted to help you fix the Exodus issue "No stream available." Hopefully, we got successful in our attempts. It would be highly appreciated if you share your thoughts in the comment box below. Also, if you are not on our mailing list, then it would be a pleasure for us to include you in the same. Subscribe to it and join us on our social media handles for such useful tech posts.
Subscribe to Our Newsletter
Keep yourself updated with the latest technology and trends with Innovana Thinklabs Limited.