After making an announcement in August last year, Microsoft released XLOOKUP for the office insiders. Now, thrilled with the feedback it received, Microsoft has finally released this much-awaited successor of VLOOKUP for all the Excel users across the globe.
XLOOKUP is all set to take the search facility in Excel a level ahead. With this function, you can find what you are looking for in a fraction of a second.
The iconic VLOOKUP will also be present. But, with XLOOKUP you can search for the required values in Excel without any limitations. No matter whether you need to find values from a column or row, this function lets you do it all. This means that you may even use it in lieu of HLOOKUP.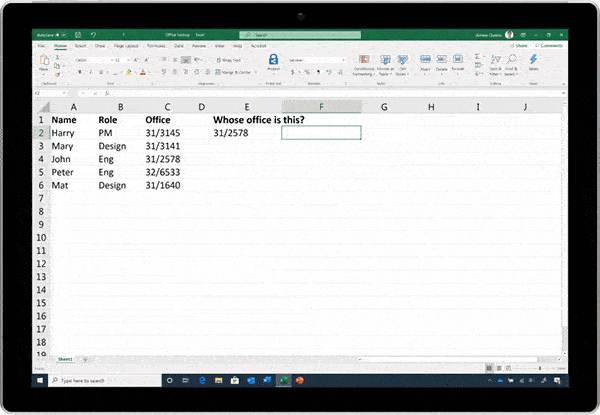 Further, its usefulness is not restricted to a mere search of values, you can do a lot more with this newly introduced Excel function. For instance, you can even use it to insert and delete columns. If you want to know more about how to use XLOOKUP, then visit https://support.office.com/en-us/article/xlookup-function-b7fd680e-6d10-43e6-84f9-88eae8bf5929
The officials from Microsoft encourage the users who are still dependent on the VLOOKUP function to try XLOOKUP. We concur with them as XLOOKUP is a more efficient and faster way to search values in Excel. In case you need more reasons to use XLOOKUP, then here they are.
Also Know: List of Windows 10 Keyboard Shortcuts
Why use XLOOKUP?
As said earlier, it makes it easy for you to search for values in Excel. In addition to this, there are several other reasons for which you must try using it. Below are the central ones out of them.
It works for rows and columns both
Unlike VLOOKUP, it employs separate lookup and return arrays
Unlike VLOOKUP that looks from left-to-right, it even works to the left
It even eliminates the need for using HLOOKUP.
Above were some of the advantages that make XLOOKUP a must-try Excel functionality. However, you must have the latest Excel version on your device to use it.
To know more about this function and the latest happenings in the tech worl, stay tuned with us and subscribe to our newsletter.
Subscribe to Our Newsletter
Keep yourself updated with the latest technology and trends with Innovana Thinklabs Limited.