Blue Screen of Death or BSOD is a "stop error" with a blue screen that occurs when Windows comes across a critical error from which it can't recover. BSODs are usually a consequence of faulty hardware or bad drivers on your system.
This screen consists of a message that reads; "Your PC ran into a problem and needs to restart. We're just collecting some error info, and then we'll restart for you." And a general stop error code that might help in figuring out the cause of BSOD.
This article aims to help you fix blue screen error by walking you through a number of troubleshooting steps. This way, your computer would be up and running in no time.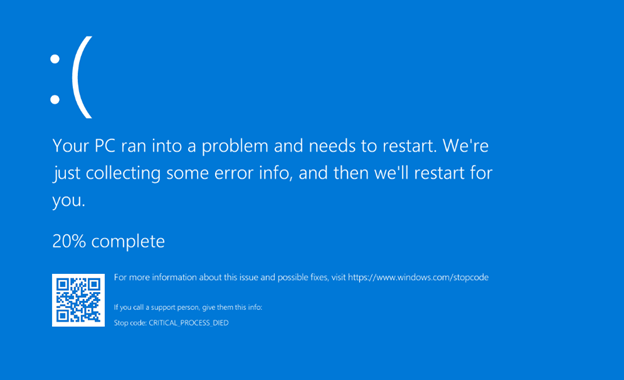 What are the Reasons for Blue Screen of Death
There are a number of reasons that may lead to BSOD. We've mentioned some of them below:
Internal or external hardware devices are not installed properly.
The hardware device(s) is/are malfunctioning, such as CPU, RAM, and internal hard disk.
The new hardware device and BIOS are incompatible.
Windows drivers are outdated or corrupted. Especially the Graphics driver. They might be causing conflict.
BIOS is misconfigured and/or out of date.
System files could be damaged.
Your system could have become a victim of a virus attack.
Some incompatible Windows programs or updates could have been installed in the system.
There is not enough free space on the divide where Windows is installed.
What did you change
Firstly, investigate whether you have made some changes to your system. This is the most important BSOD troubleshooting step. 
More often than not it's something that you have recently downloaded or updated, like a new piece of software. This is the usual reason for the BSOD state of your PC.
And hence, in that case, you should undo all the extreme changes that you made. Some solutions may also include:
Entering Recovery Mode and troubleshooting
Updating and installing the latest device driver
Start your Computer in Recovery Mode:
The first order of business should be activating Recovery Mode. Do so by pressing the Power Button of your PC, and letting the PC restart. Perform this step multiple times until you reach the Windows Recovery screen. This is the page you'll see: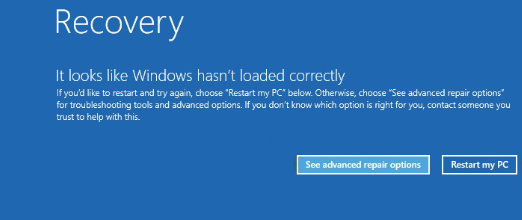 If you find that the BSOD error is still persistent and isn't fixed, then just click on Advanced Options > Troubleshoot.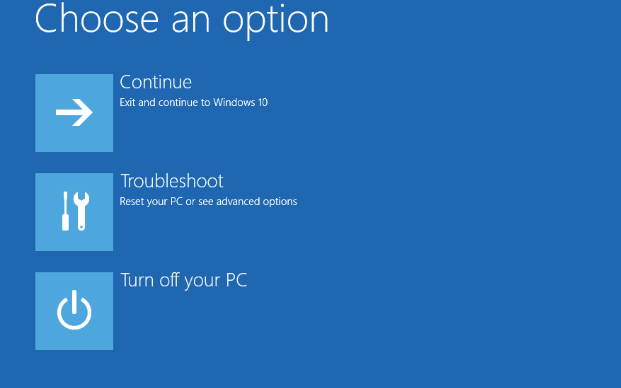 There are majorly two troubleshooting options you can follow:
Option 1: System Restore
You can perform a System Restore if you find that there have been some software changes on your system, such as downloads, configurations, and/or updates.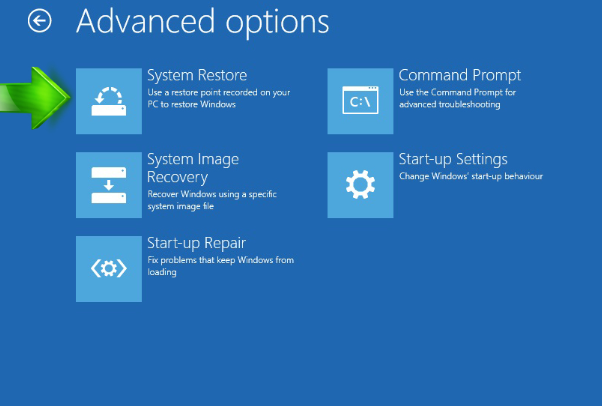 Option 2: Start your PC in Safe Mode 
For entering Safe Mode, you need to click on Start-up Settings>Restart, and you'll encounter this screen: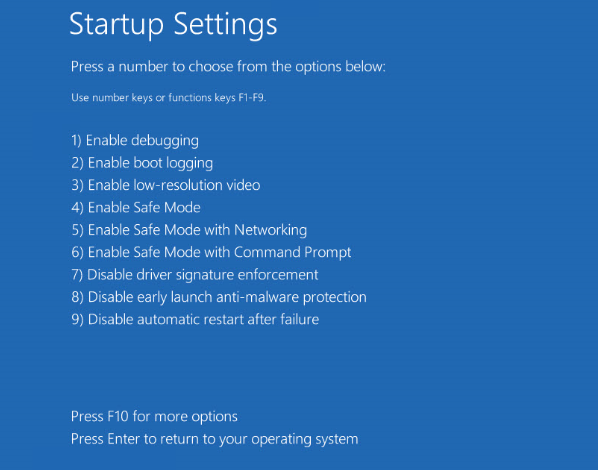 After performing all these steps if you still witness Display error (usual for GPU or Display Driver error), you could either press F5 or F3 to mitigate that.
How to Fix BSOD Errors for Free
The BSOD errors are of different types and each type of error has a different way to fix. You may find below the types of the Blue Screen of Death (BSOD) errors that you may find on your Windows computer and fix them as described.
The types of BSOD Errors and their Fixes
NTFS File System
BSOD error with the name "NTFS_FILE_SYSTEM" usually occurs when the data in the hard disk is corrupted. You can easily fix this error by running the chkdsk command
To run this Command Prompt, you need the original Windows 8 installation disk.
Step 1: Insert the disc and restart your PC.
Step 2: Press any key to boot from the disc.
Step 3: Click Repair your computer.
Step 4: Select Troubleshoot, then Advanced Options, then Command Prompt
Type this command:
chkdsk /f /r
Step 5: Hit Enter. 
Driver IRQL not less than or equal to
The Blue Screen of Death (BSOD) error of "DRIVER IRQL NOT LESS THAN OR EQUAL TO" is usually caused by a faulty driver installed on your system.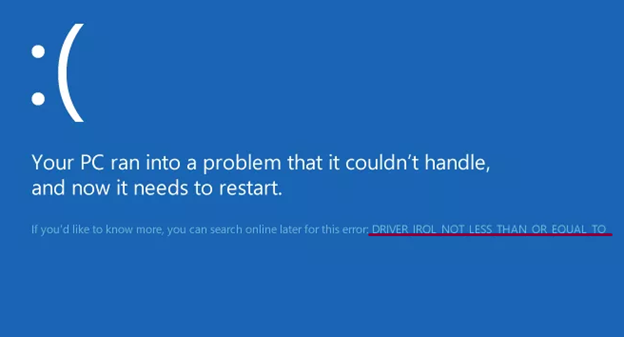 System Thread Exception Not Handled
This Blue Screen of Death (BSOD) error, System Thread Exception Not Handled, mostly appears because of incompatible graphics drivers.
Update the Drivers
First, Uninstall
Step 1: Right-click on Start and choose Device Manager.
Step 2: Expand the device from the list that is the source of the problem (usually it's the "Display Adapters").
Step 3: From the expanded list, choose the device and right-click on it. Select Uninstall.
Step 4: Click OK to confirm.
Step 5: Restart your PC to save the changes.
How to update System Drivers?
The errors are more often than not caused due to faulty and dodgy system drivers. They wreak extreme havoc on your PC which leads to BSOD. And all this points out to one single thing- downloading and installing the latest drivers on your computer is a must. 
That can be done in two ways: 
Manually
Automatically (Recommended)
Manually
To manually update drivers, you need to go to the manufacturer's site and look for the new and updated versions of the driver that you need on your system. After that, you'll need to download it, and then install it on your system.
There's no guarantee that you'll get the most compatible drivers. It is also an impatient and long task that takes up all of your time and effort.
Automatically
The above-mentioned method is quite lengthy and tiresome. It tests your time, patience, and computer skills. You might even download the wrong drivers that can further damage your system.
And hence, in that case, we recommend using a utility tool, a driver updater to be precise. And we know the one that'll be perfect in this scenario. It's Bit Driver Updater.  
Bit Driver Updater, and driver updater tools similar to it, automatically recognizes your system and starts finding the latest drivers that would solve all your system issues. It is extremely proficient in detecting the correct drivers so that you don't need to search for them online. It updates all the outdated, broken, or missing drivers in one-go. 
You can instantly scan your system for outdated drivers with the FREE version, while with the PRO version you can do a lot more, like driver Backup and Restore.
How to use it?
Step 1: Download and install Bit Driver Updater for FREE on your system.

Step 2: It asks your permission to perform a Quick Scan of the system for any driver updates. I agree to do so.
Step 3: After the completion of the scan, it finds all the old and corrupted drivers that are causing performance issues in your system. It then gives you a choice of what to do about these drivers. You could either automatically update all of them at once, or you could pick them out manually.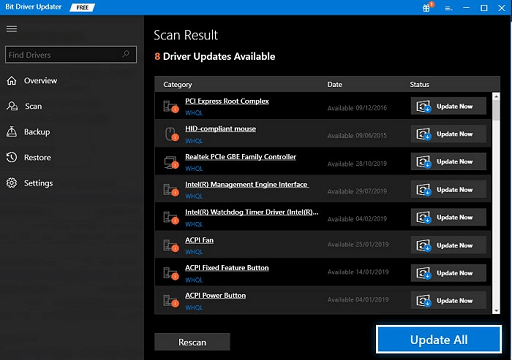 Finally, after making your choice, all the latest drivers are installed on your system without any hassle. And this way, you wouldn't have to face Blue Screen of Death anymore.
And hence, you can solve your Blue Screen of Death issues by using the methods provided. In case, you are unable to follow the instructions, don't hesitate to leave a comment and we shall help you.
Subscribe to Our Newsletter
Keep yourself updated with the latest technology and trends with Innovana Thinklabs Limited.