Check out the 100% working ways to fix all kinds of Discord lagging issues on your Windows 10, 8, 7 PC permanently. 
Games are fun with friends. What makes games more enjoyable is audio-video sharing and chatting with friends through Discord. However, many users are facing Discord stream stuttering issues, making the game not so entertaining.
Are you also one of those users who are facing Discord streaming lagging issues? Well, then you can cheer up as this post introduces you to the best solutions to this problem.
Before jumping into troubleshooting, let's look at what is making Discord lag while playing games. Understanding the reasons for a problem leads to better solutions.
Most Recommended Method to Fix Discord Lagging Issues

If the Discord stream is lagging for viewers on your Windows PC, then the most common reason behind this is outdated drivers. Before going over other solutions to fix the issue, we recommend that your download the Bit Driver Updater and use the software to update all the outdated drives. After you update the drivers, all the other hidden problems will also be resolved. Download the Bit Driver Updater from here and fix all the flawed drivers.
Common Discord Lagging Issues Faced by Users
You may face different kinds of Discord lagging issues on Windows. The fixes provided below work to get rid of all of these issues. The most common issues you may come across are:
Discord running slow
Discord stream lagging
Discord stream choppy
Discord voice lag
Discord stream stuttering
Discord screen keeps cutting out
Discord audio sound lagging
Discord music bot not working or lagging
Video calls keep lagging on Discord
Discord live streaming buffering
Discord lagging while playing games
Discord mic lagging problem
Why do you face Discord lagging issues when streaming or gaming?
The most common reason behind the Discord lagging and choppy issues is friction between Discord and other programs. Sometimes, Discord may not work properly because some other program is affecting its performance.
Other reasons behind Discord stream lagging include Hardware Acceleration issues, Outdated graphics or audio driver, Accumulation of cache files, Unsuitable power settings, Incorrect Discord voice settings, Corrupted Discord files, etc.
Now that you know why Discord is running slow or choppy, let's fix this issue permanently.
Easy and 100% Working Fixes for Discord Lagging Issues
Below is what you can do to fix the Discord stream lag. We suggest you follow the sequence of fixes till you reach the solution that solves the problem.
Fix 1: End unnecessary processes:
If too many programs or processes are running on your computer, you may find yourself stuck with Discord lagging issues. The reason is conflicts between these programs and Discord. Therefore, to solve this problem, take the below steps to end the unneeded processes.
Note: Before proceeding further, be careful that you do not close any program that you do not know about as it can cause system crashes. Only end those tasks that you completely know about.
Right-click on your taskbar and choose Task Manager from the context menu.

On the Processes tab, go through the CPU and memory consumption and find the processes utilizing the most resources.
Right-click on the resource-hogging process and choose End task from the context menu. Alternatively, you can select the process and click on the End task button present in the bottom right corner.

Image Source: Windows Central

Now, check whether Discord ping spikes are fixed or not.
Fix 2: Check Whether the Discord Server is Down or Not
Sometimes, the server of Discord may be down. This can result in you facing discord lagging and choppy issues on your PC. Hence if none of the above methods fix the error, then you should check to see if the Discord server is down. You can easily check the server status of Discord through Google or other trusted platforms.
If you still have any queries related to Discord lagging issues, then you should head over to the next section for frequently asked questions related to the topic.
Fix 3: Disable Hardware Acceleration:
If the hardware like the graphics of your computer is not in shipshape, then turning on Hardware Acceleration can cause various issues, such as Discord stream lagging and stuttering. To fix this problem, you need to turn off Hardware Acceleration by following these steps.
Launch Discord and select Settings from the bottom left corner.

Image Source: Techwiser

Select Appearance from the Settings menu.

Image Source: TechSwift

Turn off the Hardware Acceleration toggle if it is turned on.

Image Source: TechSwift

Lastly, select OK to complete the process.
Fix 4: Update graphics and audio driver:
Outdated graphics and the audio driver is among the top causes behind Discord video and voice chat lagging. Therefore, you must ensure that they are up to date at all times. You have two options to update the driver for your graphics card and audio device, one is manual, and the other is an easier automatic way. Let's talk about both of them.
Manual way to update graphics and audio driver
Below is how you can update the graphics and audio driver manually with the help of the Device Manager.
On the keyboard, hit the Windows and X keys in unison.
From the on-screen menu, select Device Manager.

Now, click on Sound, video, and game controllers to update the audio driver.
To update the graphics driver, click on the Display adapters section.
Right-click on your audio device or graphics card and choose Update driver from the on-screen menu.
Choose the first available option, i.e., Search automatically for updated driver software.
Now, have patience and wait for a couple of hours till Windows detects, downloads, and installs appropriate drivers on your device.
Automatic way to update graphics and audio driver (Recommended)
If you don't have the patience or technical skills required to update the driver manually, then we have a simple solution. You can leave all your worries to the best driver updater in the town.
Programs such as Bit Driver Updater perform all the work automatically without you having to make any tiring effort. This can help you fix Discord stream lagging for viewers' issues right away.
Moreover, this software also provides many benefits like an option to create and restore driver backups, creating a system restore point, increasing the driver download speed, and more. You can learn more about Bit Driver Updater.
Below is how to update the graphics and audio driver automatically with Bit Driver Updater.
Click on the link given below to get Bit Driver Updater's setup.

Click on the setup you downloaded and install the software.
Let the Bit Driver Updater scan your computer for a few seconds.
After the scan, click on the Update Now buttons present next to the audio driver and graphics driver to update them.
If you want to save time and improve your PC's performance as well, then get the latest version of all drivers in one go by selecting the Update All option.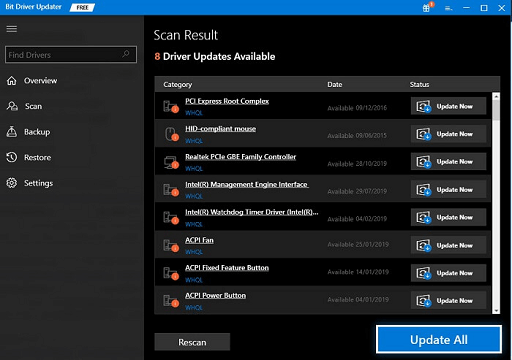 Fix 5: Delete the accumulated cache files:
When accumulated, cache and cookies impact Discord negatively, making it laggy, screen share server, and other lags. Therefore, to fix this and the Discord lagging problems, delete the accumulated cache by implementing these steps.
Move out of Discord.
Press Windows and R keys on your keyboard to make the Run box active.
In the Run box, key in %AppData%/Discord/Cache, and hit Enter.
Use the combination of Ctrl and A key to select all the files.
Hit the Del key to remove all the files you selected in the previous step.
Launch Discord and check whether the Discord server still lags or not.
Fix 6: Modify the power settings:
If you have set the power plan to Balanced, then in an attempt to save energy, your PC becomes slow causing Discord lagging issues. To fix these problems, you need to change the power plan to High performance. Here is how to do it.
In the search bar, type Control Panel, and select it.

Change View by to Large icons and then choose Power Options.
Choose High performance.


Start Discord again and check whether it is still lagging while streaming or the problem is fixed.
Fix 7: Change Discord voice settings:
Inappropriate voice settings may be a reason why voice chat is lagging on Discord. Therefore, follow the below steps to make changes in the voice settings.
Open Discord Settings. 
Select Voice & Video from the available options.

Image Source: 99Media Sector

Click Reset Voice Settings.

Click Okay to complete the process.

Image Source: TechCult
Fix 8: Ensure Discord is updated:
Issues like voice delay, video, and sound lags may occur because your Discord version is outdated. Therefore, update Discord to get rid of these problems by following the steps below.
Launch the Run box.
Type %localappdata% and hit Enter.

Double-click on Discord. 
Double-click on Update.exe and let the update complete.
Open Discord and check whether the problem is solved or you are still facing lagging issues.
Fix 9: Modify the CPU Usage Credentials
If none of the above-listed methods work to fix Discord lagging and stuttering issues then you can try modifying the CPU usage credentials. By fixing the range, you can provide power to the app easily. Here's how you can do that:
Press Ctrl+Shift+Esc keys and right-click on Discord in the Task Manager.
From the drop-down menu, select Go to details.

Right-click on the selected program that appears and clicks on Set affinity.

Check all the CPU boxes to improve the performance of the app.

This method will help you fix if the Discord running slow on your PC.
Fix 10: Install Discord again:
If your Discord files are corrupt, reinstalling the program can fix the problem. Below is the way to do it.
Open Control Panel.
Choose the Uninstall a program option.
Right-click on Discord and select Uninstall from the context menu.

Image Source: Discord Tips & Tutorial

After completing the uninstallation, install Discord from the official website.
Fix 11: Take the Help of Some VPN App:
All of the countries do not have servers for Discord. If you are using the app in such a country, you may face Discord stream lagging issues. It is also possible that the server in your country is being hogged up by numerous users.
The perfect solution to save yourself from such situations is to use a VPN (Virtual private networking) app. These apps allow you to connect to a server of your choice of the desired country.
The best VPN apps like TunnelBearVPN, Hola VPN, SurfShark VPN, and NordVPN are quite effective and safe to use. Here are the steps to use any VPN to run Discord:
Download and Install the VPN tool of your choice.
Launch the app.
Select the location/country you wish to connect to.
Click on Connect.
Minimize the VPN tool's window.
Launch Discord
Now you can enjoy uninterrupted chatting and other services with the help of a VPN on Discord.
Frequently Asked Questions for Discord Stream Lagging Issues
We hope that these FAQs will help you find the perfect answer to your queries related to the Discord stream lagging permanently.
Q 1. Does Discord Have Minimum System Requirements?
Yes, Discord has some minimum requirements that your system should meet to run the program without Discord lagging errors. Here they are:
OS- Windows 7, 8, or 10
RAM- 2 GB or up
Graphics- 64 MB or up
Hard Disk Space- 200 MB
Processor Speed- 2GHz or up
Q 2. What to do if Discord is lagging even if the internet is working fine?
Below is how to fix Discord lagging issues in such a case.
Move closer to the router.
Ensure that you have not connected multiple devices.
Stop ongoing downloads and updates.
To fix the screen share issues, follow these steps.
Launch Discord Settings.
Choose Voice & Video. 
Find and click on Enable Quality of Service High Packet Priority. 
Close Discord and open it again.
Q 4. How do I improve Discord stream quality?
You can try the fixes mentioned above to prevent Discord stream lagging issues and get the best streaming quality.
Q 5. Does Discord Slow Down Games?
As Discord is a separate and lightweight program built for chatting and connection, it does not affect or slow down the games. If you face the Discord lagging issue, then the reason might be your low-end PC.
Q 6. Why is my ping so high in Discord?
Internet connection issues, program conflicts, server problems, etc. can increase the ping of your Discord program.
Q 7. How to find discord servers?
The process to find the servers on Discord is very easy. Just follow these steps and connect to any server:
Launch Discord and click on the Compass icon (Explore Public Servers) from the menu.
Go through the list of communities and select the one you like the most.
Click on Join the community button on the top of the window.
If you know a server, in particular, you can take the help of the search bar or category as well.
Q 8. Can I Choose My Discord Server's Location?
Yes, you can choose and select the server location on Discord very easily. Just follow these steps precisely to do so:
Open Discord and click on your profile button to select Server Settings

From the Server Region, click on Change

In the next window, select the server region you like.

Q 9. Does The Quality Of Discord Calls Also Depend On Server Location?
Yes, as you may already know Discord does not provide calling between you and the receiver directly, thus the server affects the quality of the call. Similarly, the server can also affect the program and result in Discord lagging issues.
Discord lagging issues fixed successfully
Through this article, we elucidated how to fix the Discord lagging issues effortlessly. Since outdated drivers cause most of such issues, we recommend you perform a driver update with Bit Driver Updater to solve this and other problems. And for more solutions to irritating tech issues, keep visiting Innovana Blog.
Subscribe to Our Newsletter
Keep yourself updated with the latest technology and trends with Innovana Thinklabs Limited.