If the Logitech C920 webcam does not work, then it may be annoying. But, the solutions shared below can make it a child's play for you to fix the problem.
Out of all the peripherals of a computer, perhaps, a webcam is one of the most underrated but essential components. You need it for various purposes such as taking part in a work from the home meeting or catching up with a distant beloved. Not only you but everyone is bound to get irritated if the webcam does not work in situations like these.
The problem seems irritatingly big but you can fix it easily. Since, Logitech is among the most popular and widely used brands, through this post we discuss how to resolve the issue if Logitech C920 webcam is not working.
Most Recommended Thing To Fix Logitech C920 Webcam not Working Issue
There are various reasons behind the malfunctioning of the Logitech C920 webcam. Some of them are improper privacy settings, conflict programs, faulty drivers, etc. Apart from flawed drivers, you can resolve each of these problems quite easily. But when it comes to resolving driver issues, we recommend you to use the best driver updating application, and that is Bit Driver Updater. You can download it from here:

Now, let's have a look at the methods through which you can fix the Logitech C920 webcam not working issue.
Logitech C920 Webcam not Working: Fixed
If the webcam is not working, then it may hamper your work and irritate you quite a bit. Therefore, below are the simplest solutions to fix Logitech C920 not working on Windows 10.
Solution 1: Check the Privacy Settings
Sometimes, Logitech C920 may not be detected because of your current privacy settings. To make it work, you need to change the settings. Here are the steps to do it.
Step 1: Press the Windows logo and I key simultaneous and then choose Privacy.
Step 2: Click on the Camera option located at the left pane.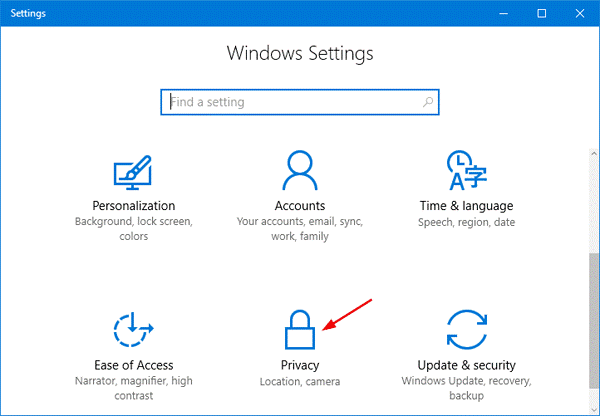 Step 3: Turn on the toggle to allow apps to access the camera on your device.
Step 4: Go through the list of apps and then switch the toggle on for the app for which you want the webcam to work.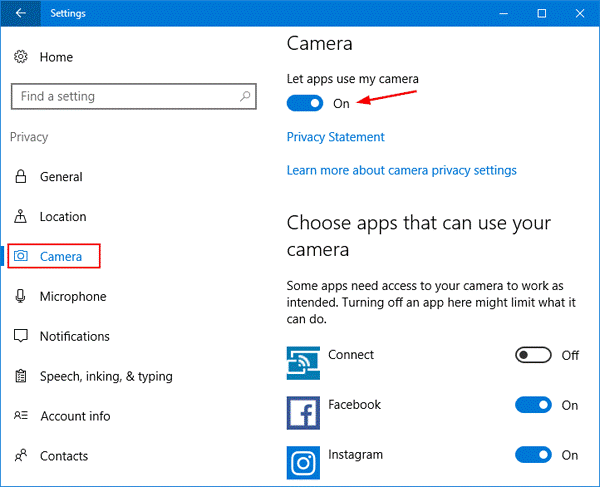 Know More: Best Webcam Software & Windows 10 Camera Apps
Solution 2: Install the Logitech Software Again
In some cases, the faulty Logitech software may be the reason for which the C920 webcam is not working. And you can resolve it by installing the program again. To do so with ease, follow the steps listed below.
Step 1: Hit the Windows logo and R keys simultaneously to launch the Run box.
Step 2: Now, type appwiz.cpl.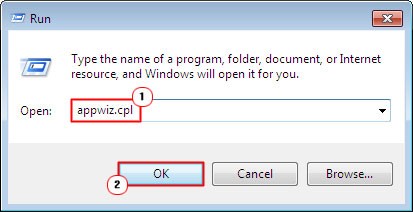 Step 3: Hit Enter to open Programs.
Step 3: Locate Logitech software and right-click on it.
Step 4: Choose Uninstall.
Step 5: First, try uninstalling the driver only and for this click on THE DRIVER when the option comes up.
Step 6: Wait for the uninstallation to complete.
Step 7: After the uninstallation completes, try running the camera again.
Step 8: If the Logitech C920 webcam is still not detected, then you have to uninstall the complete Logitech software.
Step 9: Once you have uninstalled the software, download it again from Logitech's official website and install it.
If this doesn't work, then try the other fixes provided here. They are also pretty effective.
Solution 3: Disable the Conflict Programs
Sometimes, other programs such as Skype and Discord are the reason for Logitech C920 webcam not working on Windows 10. In such cases, you need to disable these conflict applications. Follow the below steps to do it.
Step 1: Press Ctrl, Shift, and Esc keys simultaneously to launch Task Manager.
Step 2: Once Task Manager opens, locate the conflict program and click on End Task.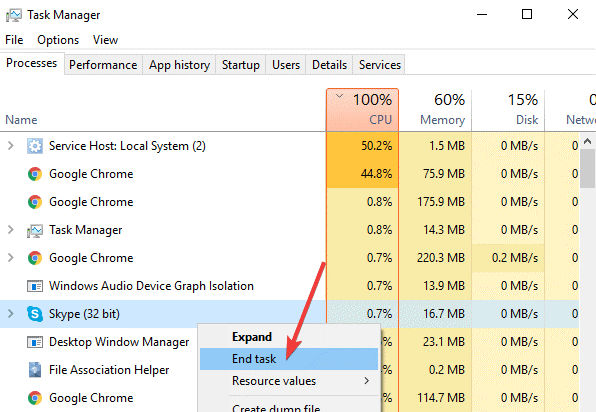 Step 3: Boot the camera again and check it works or not.
Know More: 3 Ways to Download HP Webcam Driver | Install & Update on Windows 10
Solution 4: Use another USB port or Computer
Sometimes, simple solutions like connecting the webcam to another port or computer works magically. Thus, if your Logitech C920 webcam is not detected, then try using other port or computer to test it.
Test the webcam on another USB port
In case the USB port that you are using to connect the webcam is USB 3.0, then change it to USB 2.0. 
Check whether the webcam works on another computer or not
While testing the webcam on another computer, ensure that you do not use the USB hub to plug it. If the webcam remains dysfunctional even on the other computer, then it is the time to replace it with a new one. 
Solution 5: Uninstall/Re-install Logitech C920 Webcam driver
To make your webcam work smoothly again, you can try uninstalling the driver for your Logitech webcam and then reinstalling the same. Here, we share the quick steps to perform this task. 
Step 1: On your keyboard, hit the Windows and R key in unison to trigger the dialog box. 
Step 2: In the Run box that pops up, input "devmgmt.msc" and click "OK."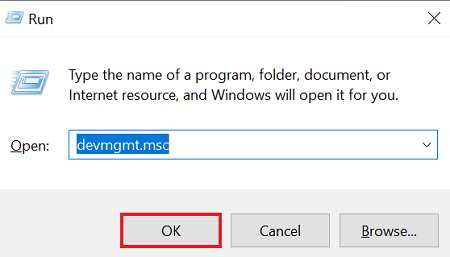 Step 3: After launching the Device Manager, click & expand Imaging devices in it. 
Step 4: Right-click on the Logitech C920 webcam.
Step 5: Select "Uninstall device" from the menu.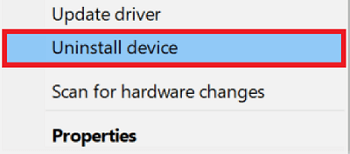 Step 6: Now, checkmark the box saying "Delete the driver software for this device." 
Step 7: After that, click on "Uninstall."
Step 8: Once the driver uninstallation is completed, restart the PC so that Windows can reinstall Logitech C920 webcam driver on your computer.
If the problem persists even after reinstalling the device driver, then try to update the Logitech C920 driver.
Know More: Logitech BRIO Webcam Driver Download for Windows 10/8/7
Solution 6: Update the Logitech C920 Webcam Drivers
A driver is a software that communicates your instructions to the webcam. Logitech C920 webcam may not be working on your PC because of outworn, missing, or faulty drivers. Therefore, update drivers to resolve the issues.
You can update the drivers both manually and automatically. Since the manual update is a daunting task, we suggest you get the best free driver upgrading program such as Bit Driver Updater. But, if you are willing to spend your precious time and energy on updating the drivers manually, then you can try out the steps shared below. 
Method 1: Update the Logitech C920 Drivers Manually
Here are the steps to update the Logitech C920 drivers in a manual way. 
Evoke the Windows driver management tool, i.e., Device Manager. 
Once the Device Manager pops up, locate, and click on "Imaging devices."
Right-click the Logitech C920 webcam and select "Update driver" from the options present in the popup menu.


Now, click on the option that allows Windows to "Search automatically for updated driver software."



Wait for several hours till Windows finds the driver update for your Logitech C920 webcam and installs it on your computer. 
Most users do not update the drivers manually as it is cumbersome and consumes a lot of time and energy. Therefore, everyone prefers the automatic method of updating the Logitech C920 webcam driver. 
Method 2: Logitech C920 Webcam Driver Automatically (Recommended)
 Bit Driver Updater updates drivers with a single click.  It not only updates the drivers but also gives your PC a new lease of life. It is among the easiest to use driver updaters. Implementation of the steps shared below is the only thing that you need to do. 
How to use Bit Driver Updater?
Allow the software to scan your computer automatically or click on "Scan" to begin the scan yourself. 

After the results popup, click on the "Update Now" button to update the flagged drivers one by one. If updating drivers one after the other seems a little tiring, then you can take a shortcut and click on "Upgrade to PRO" to update all drivers in a single click.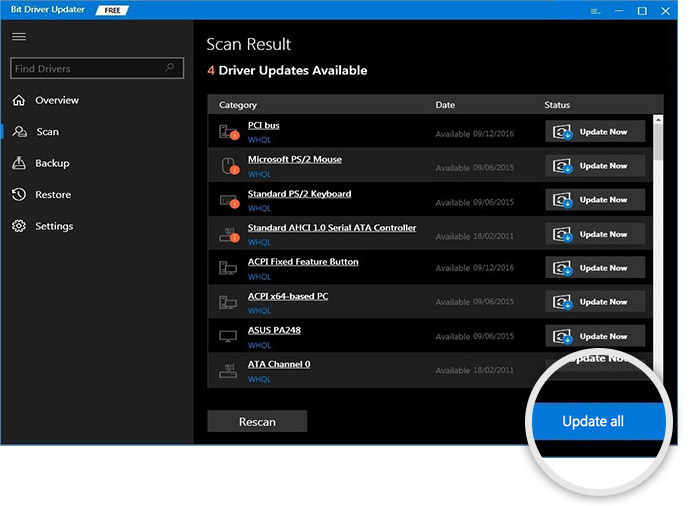 Along with ease of use, it also has several other features that we find truly impressive. We share them below.
Remarkable Features of Bit Driver Updater
Boasts of the functionality to backup and restore drivers.

Downloads only WHQL certified drivers on your PC.

It is highly compatible with all Windows versions.

Encompasses support for multiple languages.

Allows you to update drivers automatically with just a click.
The above list is not exhaustive, you will get to know many of its advantages after you start using it. Bit Driver Updater is one of those competent programs that tweaks and optimizes the performance of your PC and makes it snappier than ever. 
As you can see, Bit Driver Updater is the easiest to use and the best driver updater that one can use. But, if you want some other options as well, then we suggest you to download, install, and use Quick Driver Updater. 
Frequently Asked Questions:
Below we have answered some of the most frequent queries about the Logitech C920 webcam and issues related to it.
Why is my Logitech C920 not working?
There are several reasons due to which your Logitech C920 webcam may have stopped working. Below we have listed the prominent ones.
Misconfigured settings of your PC

Problematic device software

Wrongly installed driver

Outdated and missing driver

Conflicting programs
How do I fix my Logitech C920?
There are multiple ways to fix issues that are related to your Logitech C920. Below are the most effective ones.
Check the cables & connections. If there is any issue with them, then fix it.

Check the USB port by switching to another one.

Check if the issue is with the webcam or the PC by trying it with a different PC.

Configure Privacy Settings of your Windows PC.

Uninstall the Logitech hardware program and reinstall it.

Repair Webcam & other PC drivers by updating & reinstalling them.
Does Logitech C920s work with Windows 10?
Yes, Logitech C920s is highly compatible with Windows 10 and other latest versions of the operating system, such as Windows 8 & 7.
How do I test my webcam on Windows 10?
It is pretty simple to test your webcam on Windows 10 and you can do it via multiple ways.
Use an online webcam tester site such as webcammictest.com or webcamtests.com

Use Windows default Camera app to test you webcam offline

Use apps such as Skype and Zoom to test your webcam
Which is the best method to fix Logitech C920 not working?
The answer to this question entirely depends on the factor causing the Logitech C920 not working issue. However, most often, it's the outdated and faulty webcam driver that causes the problem. Hence, we suggest keeping the Logitech C920 driver updated and healthy as the best method to fix the webcam not working issue. And the best way that we recommend to do so is using the Bit Driver Updater program.
Is Logitech C920 Webcam not Working Issue Resolved
We hope after trying the above methods you are no longer troubled with Logitech C920 webcam not detected on Windows 10. Make the most of your webcam and have a pleasing experience using it. Lastly, before you leave, subscribe to Innovana Blogs for more such easy solutions to tech problems and other interesting updates. Also, bookmark the blog so that you never miss out on any of our posts.
Subscribe to Our Newsletter
Keep yourself updated with the latest technology and trends with Innovana Thinklabs Limited.