If you are a gamer or a person who likes to play games on the PC, then you might be aware of Steam. It is one of the most famous online gaming client or platform. However, despite being so popular and widely used by gamers across the world, various people have reported that the Steam is running slow. If it is also behaving sluggish on your computer, then do not worry. You can fix it and make it fast.
In this post, we'll tell you what to do if the Steam is running slow on your PC. There are multiple ways through which you can optimize the performance of Steam. So, let's jump directly to those solutions and make this popular online gaming client perform fast on Windows system.
What To Do If Steam Is Running Slow?
There are multiple reasons for the sluggish performance of Steam on your PC. Hence, there are several methods and solutions to apply if Steam is running slow.
Allow to Use The Complete Internet
As we all know that Steam is an online gaming platform, hence it requires good internet speed to run efficiently. However, other applications installed on your PC may impact the speed of the internet. And that may eventually affect Steam. That's why you should close the unnecessary programs using the internet. Along with that, you should also stop the running downloads, or updates if any.
For the best internet speed, we advise you to use the Ethernet to connect the PC with the internet router/modem.
End Unnecessary Tasks
Running multiple programs at the same time may result in the slow performance of not Steam but the entire PC as well. Hence, to fasten up the PC and Steam, you have to end the unnecessary tasks and free up some CPU memory. Here is how you can do it and fix the Steam is running slow issue.
Make a right-click on the Taskbar.
Choose Task Manager.

Look for the unnecessary running tasks.

Click on them.
Then select the End task button, respectively.
Relaunch the Steam and check if it is still running slow or have started performing fast.
Delete Steam Cache
Junk can make anything perform slower. And one of the most prominent junk files is the App Cache. Hence, you have to clean the Steam Cache to make it fast. Here is how you can delete Steam Cache and get rid of the Steam running slow problem.
Right-click on the Steam Application and select Run as administrator from the context menu.
After that, select the Stream tab.
Click on Settings.
Now, click on the Web Browser option.
Select DELETE WEB BROWSER CACHE.
Choose OK.
After that, click on the Downloads option.
Select CLEAR DOWNLOAD CACHE.
Choose OK.
Close the Steam and relaunch it to check if the problem got resolved or if it is still running slow.
Delete Steam Cookies
Cookies are another major junk that causes slow performance of an app or the whole system. Hence, just like cache, you should also delete cookies to make Steam fast. Below are the instructions that you have to follow to resolve the 'Steam is running slow' issue.
Right-click on the Steam Application and select Run as administrator from the context menu.
After that, select the Stream tab.
Click on Settings.
Now, click on the Web Browser option.
Select DELETE ALL BROWSER COOKIES.
Click on the OK button.
Close the Steam Window and launch it again as an administrator to ensure that the slow running issue has got resolved or not.
Repair Stream
You can try repairing the corrupted and erroneous files of Stream to improve its performance. It is quite easy to do so. Here is all you need to do to fix Stream files and slow running issues.
Access the Windows Run utility by pressing Windows key and R simultaneously.

In the text box, enter C:\Program Files (x86)\Steam\bin\SteamService.exe /repair.

Click Ok.
Let the Steam service repair itself.
After it gets finished, relaunch the Steam.
Configure Proxy Settings
We have discussed that Stream is an online gaming client, and hence, slow internet speed an effect its performance drastically. One of the prominent factors that can impact the internet speed on your PC is the Proxy Settings. That's why you need to configure them and disable the settings to automatically detect a proxy service. However, if you use a proxy server that works with automatic configuration, then we advise you to avoid this solution. Furthermore, here is all you have to do to change the proxy settings.
In the Windows search box, type Internet Options.

Click on the result and open it.
Go to the Connections Tab.

Select LAN settings.

Unmark Automatically detect settings.

Select OK.
Relaunch the Steam program and check if the 'Steam is running slow' problem is still there or got resolved.
Update Drivers
Device drivers are one of the most vital elements of a healthy functioning PC. You require drivers to perform almost every task on a computer. Hence, any error, fault, or problem in the device drivers can impact the functioning of the entire PC. They can make the PC or any particular application run slow. That's why one should always keep the device drivers healthy and up-to-date.
With the above explanation, we can conclude that erroneous device drivers can also impact Steam and make it function slow. Hence, to resolve the Steam running slow issue, we need to update our PC drivers. You can do it snappily without putting much effort just by using Bit Driver Updater. It is one of the most reliable, easy to use, and competent program to update computer drivers. You just need to follow the below-provided instruction to fix your drivers via Bit Driver Updater.
Use the Download button provided below to get Bit Driver Updater on your Windows PC.

Install it by just running the setup file and following some simple instructions provided by it.
Run Bit Driver Updater.
Select Scan Drivers.
Update the drivers by clicking the Update All button. However, you need to purchase the premium subscription to update all the drivers with a single click.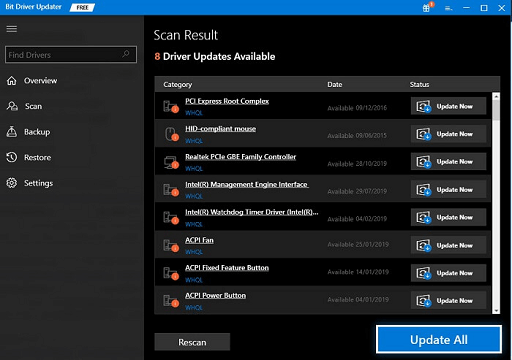 Conclusion
We hope now you can make the Steam work faster than before. After knowing the above fixes, you'll never complain about the Steam is running slow. However, along with optimizing the Steam, we would also like to provide general advice. You can see how faulty drivers can impact Steam and other programs on Windows PC. Hence, we suggest to update your PC drivers regularly. You can make this task effortless by using Bit Driver Updater.
Furthermore, we always love to receive your feedback and suggestions. Hence, use the below-provided comment box and share your suggestions.
Subscribe to Our Newsletter
Keep yourself updated with the latest technology and trends with Innovana Thinklabs Limited.