A Windows update can resolve almost any PC issue. But, what about the errors such as stop code 0xc000021a that show up while you try to install an updated Windows version. Is there is a way to fix them? Luckily, there is, and through this write-up, we shall discuss the same.
This post shares the sure-shot fixes for Windows 10 Error 0xc000021a. But, before we move on to them, it is on point to mention the causes of this troublesome error. Incompatible or buggy Windows updates is one of the culprits behind this issue. In addition to this, there can be multiple factors that prompt it. Below are the central ones out of them.
What causes Windows 10 Error 0xc000021a
Winlogon.exe and Csrss.exe, i.e., system files getting damaged
Incorrectly configured or faulty device drivers
Installing an incompatible third-party software
Problematic external device interface
Windows Registry related issues
Now that we know the causes, it will be easy for us to attack 0xc000021a Windows 10 Stop Code and make it disappear in no time. Here we go.
Quick and Easy Fixes for Windows 10 Error 0xc000021a (100% Working)
Here are the best possible solutions that you need to resolve Windows 10 Error Code 0xc000021a in no time.
Fix 1: Run an SFC scan
Since corrupt system files are also a factor that triggers Windows 10 Error 0xc000021a, you need to run an SFC scan to fix the issue. Implement the below steps to do it.
Right-click Start and choose "Command Prompt (Admin)" from the context menu that appears on your screen.

After the Command Prompt window pops up, input "sfc/scannow" and press "Enter".

Wait till the scanning process completes and after it ends, check whether Windows Stop Code 0xc000021a is resolved or not.
Fix 2: Use Windows Media Creation Tool
Incorrect Windows update, as said earlier, is among the topmost causes of Stop Code 0xc00021a on Windows 10. You can update Windows through Media Creation Tool to fix this gruesome error code. Below are the steps to do it.
Get Media Creation Tool from here.
Click on "Accept" to run the software.

Click on "Update this PC" to start the downloading procedure.
Choose "Next" and wait till the update download completes.

Now, check whether Windows Error 0xc000021a has disappeared or not.
Fix 3: Unplug Unnecessary Peripheral Devices
Unnecessarily connected hardware can also result in fatal BSOD errors such as Windows 10 Stop Code 0xc00021a. Therefore, disconnect all the peripheral devices other than the keyboard, mouse, and monitor of your PC.
Fix 4: Run a DISM scan
DISM scan is another way to diagnose Windows update issues and fix them. Therefore, if you are facing 0xc000021a Windows 10 installation error, then follow the below steps to perform the DISM scan.
Evoke Command Prompt as administrator (also known as Elevated Command Prompt).
After the Command Prompt window comes up, input "DISM /Online /Cleanup-Image /RestoreHealth" and hit the "Enter" key.

Wait for the scan to finish and after it finishes, check whether Error Code 0xc000021a has gone from Windows 10 or not.
Fix 5: Build BCD again
A corrupt boot sector can also lead to Windows 10 Error 0xc000021a. Therefore, to fix the issue, implement the below steps to rebuild the BCD, i.e., Boot Configuration Data, and fix the boot sector issues.
Insert a bootable USB/DVD and restart your PC.
Make the USB/DVD your primary boot device through BIOS settings.
Choose the desired language, time format, and keyboard input.
Click on the "Next" button.
Select "Repair your computer" option located at the screen's bottom-left.
On the next screen, choose "Troubleshoot".
Click on "Advanced Options".
Choose "Command Prompt".

Image Source: How To Connect
In the Command Prompt window, type below mentioned commands and hit "Enter" after each one of them.
bootrec /FixMbr
bootrec /FixBoot
bootrec /ScanOs
bootrec /RebuildBcd

After the rebuild process is complete, check whether Windows error 0xc000021a is resolved or not.
Fix 6: Disable the Driver Signature Enforcement
This is an in-built blocker in Windows 10 for drivers that are not digitally signed. To resolve the Stop Code 0xc000021a on Windows 10, you need to disable it. Here're the steps for doing it.
Click on the "Start" icon, press & hold the "Shift" key, and select the "Power" button to boot PC in Recovery Mode.
On the next screen, select "Troubleshoot" and move to the "Advanced Options".
Click on "Startup Settings".

Select "Restart" and after the PC restarts, press F7 to disable Driver Signature Enforcement.
Fix 7: Update drivers with BIT Driver Updater (Recommended)
Here comes the best way to resolve not just Error Code 0xc000021a on Windows 10 but also the other annoying PC errors. As you might know, outdated, corrupt, incorrectly configured, or missing drivers are among the prominent causes of most of the PC issues, updating drivers is an inevitable task. You can update drivers both manually as well as automatically via BIT Driver Updater. However, for manual updates, you need to go on a driver hunt and search for compatible drivers all over the web. And, this sounds frustrating, right? Well, that's why we suggest you update drivers smartly through BIT Driver Updater. This utility not only updates drivers in just a click but also fixes all the PC problems and make it super fast like a brand new model. Further, using it is also easy as pie, all that you need to do is follow the below steps.
Download, install and launch BIT Driver Updater.

Wait till it scans your PC. If the scan does not begin automatically (happens in only rare cases), then click on "Scan" to run it manually.
Review the scan results and choose "Update Now" to update only a single driver. To update all the drivers in a New York minute, click on "Update All" to get BIT Driver Updater's Pro version. The Pro version comes with several additional features such as backup & restore, scan scheduling, and more. Hence, it is worth the investment.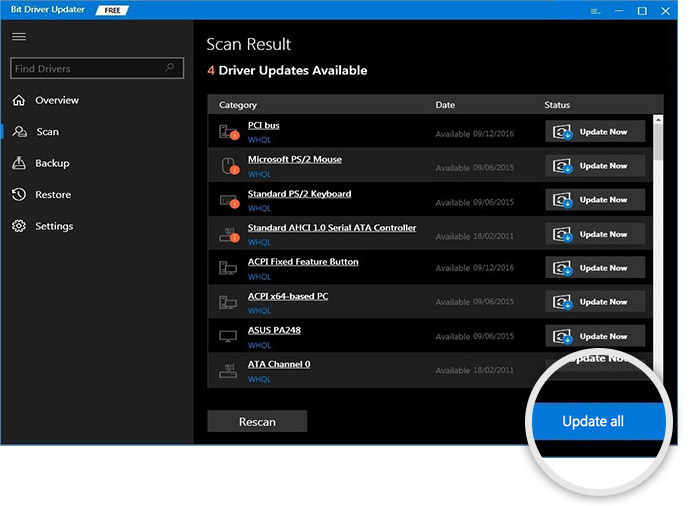 Below is the download link for this incredible utility. Click on it and gift your PC a new error-free life.

Windows 10 Error 0xc000021a: Fixed 
Through this write-up, we fixed the Windows 10 Stop Code 0xc000021a. Hopefully, it no longer comes up to trouble you. In case you need any further help fixing this or any other PC error, then feel free to let us know via the comment box below. Also, it will be highly appreciated if you show us some love by joining us on our social media handles and subscribing to our newsletter. We will soon return with fixes for another annoying PC error and other tech updates. Till then, stay tuned and keep reading Innovana Blog.
Subscribe to Our Newsletter
Keep yourself updated with the latest technology and trends with Innovana Thinklabs Limited.