Want to track how much calories you intake in a day? If yes, then here is the list of the best calorie counter apps that help you endlessly.
World is developing firmly with technology, and the most critical thing that gets affected the utmost is undoubtedly our health & fitness. Though you are surely aware of your health & fitness, the fact is most of the individuals are not. As they don't focus on their health properly. Usually, individuals are so busy in their hectic schedule that they never give proper attention to their health. But, this pandemic phase has taught us a lot about how much health & fitness are crucial for us. Isn't so? Probably, yes, so take an oath right away that from now you will take proper care of your health & fitness.
And technology is making everything so feasible to happen then why are you wasting so much energy and time as well in overthinking unnecessarily. Your little smartphone can be your personal doctor, fitness trainer, a reminder. Want to know how? This is because of the fitness & health mobile applications that are loaded on Google Play Store and App Store in a bulk. Yeah! The best calorie counter app can give you a proper health report on a daily basis. Moreover, these health & fitness applications could also suggest health tips. Sounds good no! Let's follow this post to know everything in depth!
List of 10 Free & Best Calorie Counter Apps for Android and iPhone in 2021
It seems so easy & cool to talk about health or fitness and claiming that you are fully aware of the same. But, accept it that it is not so easy in real to take regular follow-up of health. So, here's the 10 best calorie tracker apps to give you a daily-basis report about how many calories you intake in a day.
1. Net Calorie Counter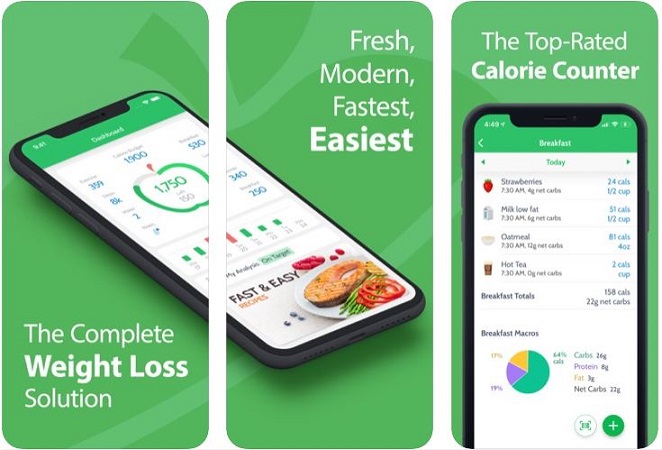 The more fit you are, life goes accordingly. That's 100% true, so, better to take proper care of your health and fitness. And for this, the one app named Net Calorie Counter that monitors your overall health right away from calories to exercise routine, to routine check-ups, and more. This app is for both users Android and iPhone. Net Calorie Counter is one of the top calorie counting apps.
Features
Sets daily weight goals.
Extremely fast barcode scanner.
Estimated calorie plan.
Monitors daily meals and exercises.
Go with any sort of diets such as a Keto diet, Low-Carb, and Macros.
Timely notify you about your weight plan, diet plan, and everything else.
Comes with an in-built diabetes tracker.
2. MyFitnessPal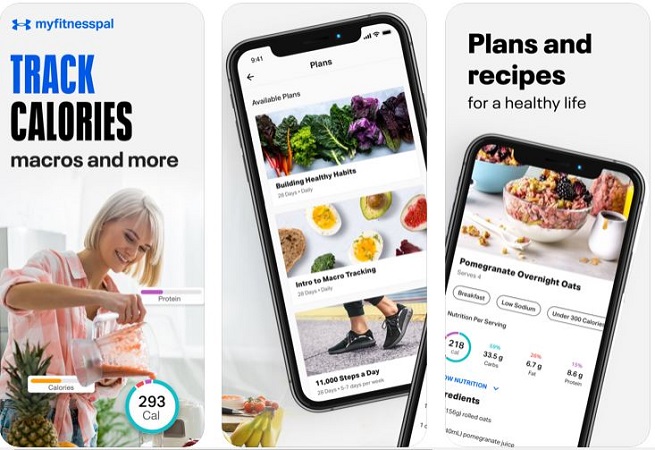 Whether you want to lose weight or just keep an intense eye on your health, MyFitnessPal is the leading most accurate calorie counter app that helps you in doing so with much ease. MyFitnessPal lets you sign-up absolutely free and assist you to live a healthier life. It also allows you to sync your exercises and diet plans across all devices easily.
Features-
Largest food database including global cuisines and items.
To log foods and diet charts just scan barcodes.
Macro tracker.
Records daily water consumption as well.
Lets you select a goal set it, and achieve it too.
Direct restaurant logging facility.
Exercise and diet sessions by experts.
Daily, weekly, or monthly progress report.
3. EasyFit Calorie Counter
Easyfit Calorie Counter app that observes your water consumption, calorie intake, waist progress, macros, exercise, diet chart routine, and more. However, the only shortcoming is iPhone users can't be able to use this as this is not available on App Store. EasyFit Calorie Counter is the best calorie counter app android.
Features
No log-in required.
Calorie estimation.
No permissions required.
100% secure.
Daily macro report.
Food chart.
4. Lose it! Calorie Counter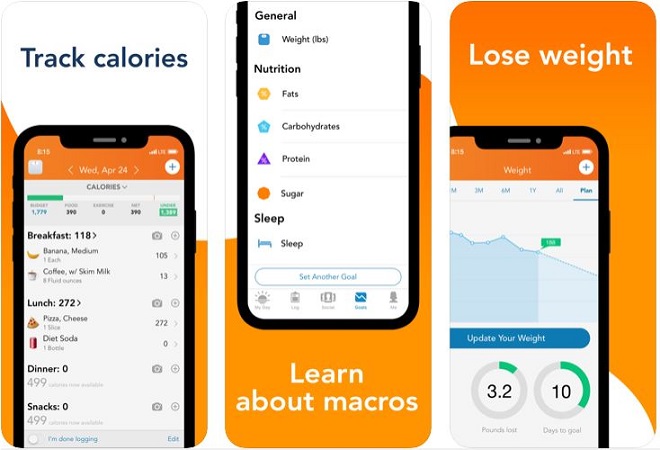 It's hard to stick to a diet plan but if you want to be fit and healthy then you need to follow your diet plans. But to make it a little bit easy, you can use the best calorie counter app iPhone and Android as well, and that is – Lose it! Calorie Counter app. It is the app that tracks your daily diet and helps you in following it too.
Features
Vast global food library database.
Monitors carb, macro, and calorie intake.
Daily challenges to losing weight.
Fastly scan food barcodes.
Connect with other fitness devices such as Fitbit trackers, HealthKit, Google Kit, and more.
5. MyPlate Calorie Counter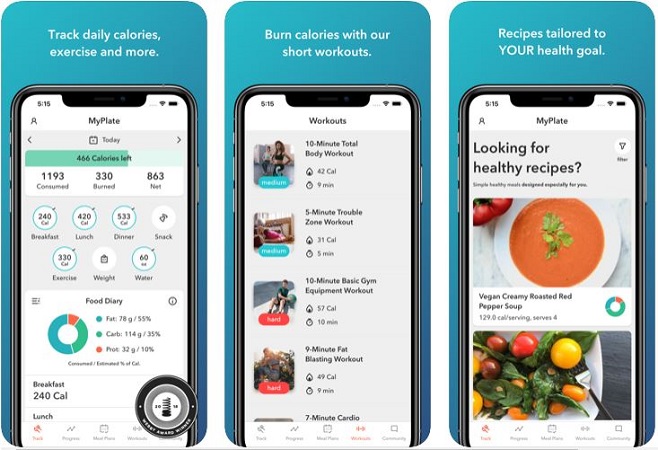 Join millions of individuals who have lost their weight with the help of MyPlate. It is the best calorie calculator app that enhances your health level. MyPlate tracks calories and arranging accurate nutrition to lose weight easily & quickly. Now, through MyPlate, it is extremely easy to counting calories than anything else such as points.
Features
Large food database over 2 million.
Real-time 24/7 support.
Powerful and engaging progress sessions.
User friendly.
Fix meal reminders.
Convenient barcode scanner.
Also Read: The Best Calorie Counter Apps for Android and iPhone
6. Lifesum Diet Tracker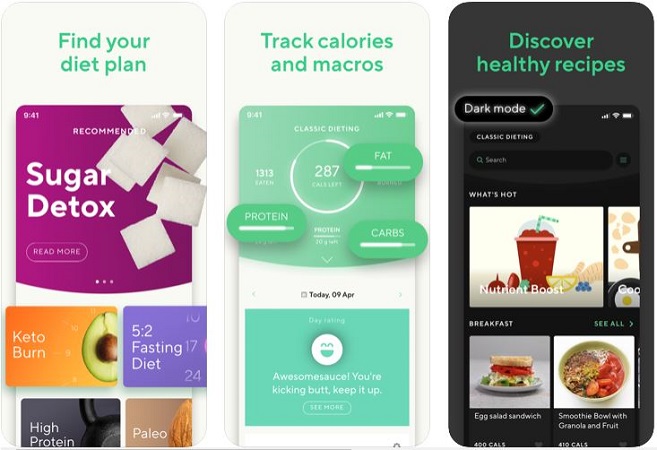 Want to live fit? Then, try the Lifesum Diet Tracker fitness mobile application that monitors your overall health. Diet charts, calorie & macro calculator, food log, exercise suggestions, and more you will get in one suitable place- Lifesum. It has accurate diet plans for accomplishing any goal.
Features
Diet tips for any sort of goal.
Food planner & controller.
Logging easily and quickly just by scanning the barcode.
In-built health assistant.
Most accurate calorie counter.
7. Calorie Counter +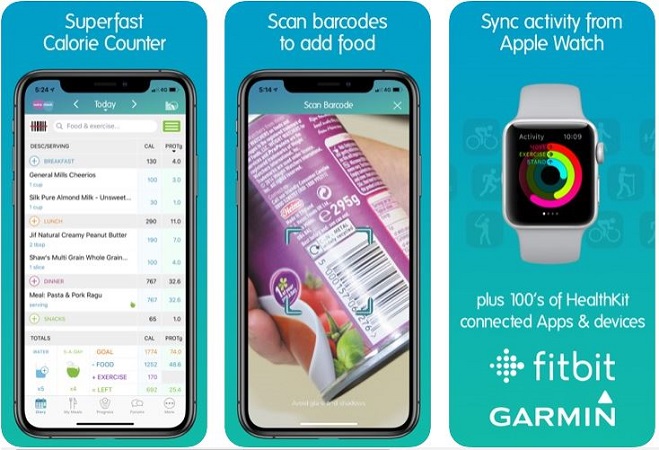 Want a health tracker to regular health updates? Then, download Calorie Counter + now, because this is the easiest and fastest way to track overall health status. With the help of this pro fitness tracker application, you can achieve your fitness goal. You can use the app 7 days as a free trial then you need to upgrade the app for unlimited access.
Features
Tracks proteins, sugar, fat, and more.
Big food database.
Food photos are available for quick recognition.
Quicker and easier to use.
Sync with Fitbit devices.
8. Foodvisor – Calorie Counter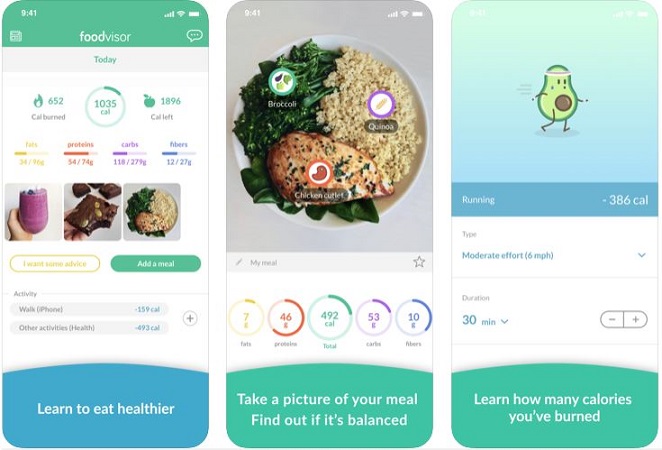 Foodvisor is your health coach that keeps an eye on your overall health & fitness. To get healthier advice you just need to click a snap of your food whatever you are having and Foodvisor will give you nutrition facts. Moreover, it helps you to make better food choices to be fitter and healthier.
Features
Track the overall diet.
Connect with other fitness devices.
Accurate carb counting app.
Regular log activities to monitor calorie intake.
9. FatSecret Calorie Counter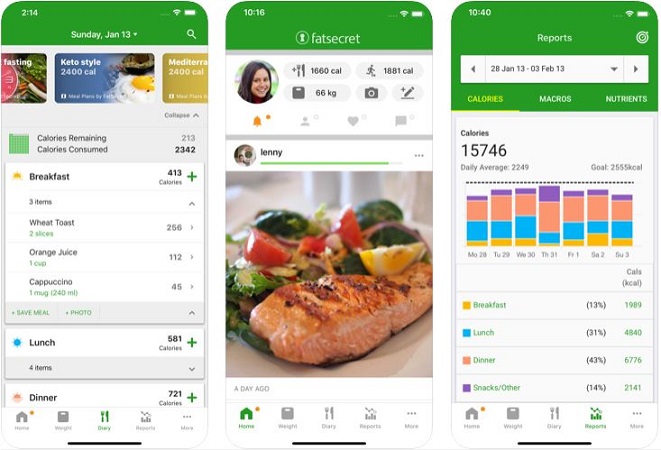 FatSecret Calorie Counter application is yet another mos captivating way to track the complete health status. And top of all is FatSecret is an absolutely free calorie counter app. FatSecret offers you world-class diet plans and food database. It is not like other fitness tracker apps, FatSecret is a bit different and more effective. The easy-to-use user interface makes everything extremely simple and quick.
Features
Wide food database.
Link with the international community.
Barcode scanner.
Comes with an in-built step counter tool.
Proper diet charts and exercises.
Daily or weekly challenges.
10. My Diet Coach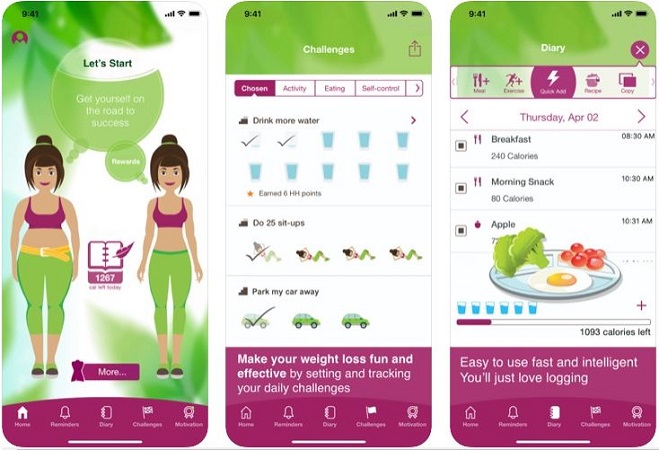 As its name suggests, it is your health coach that tracks your complete health and keeps you motivated towards your health & fitness. My Diet Coach is the best free calorie counter app for both Android and iPhone. Try this amazing fitness tracker application to keep your body tone and shape-up.
Features
In-built water tracker kit.
Easy diet plan according to weight & height.
User friendly.
Rewards for every progress (Women-only).
Daily weight loss challenges.
Keep a Track of Calorie Intake via Best Calorie Counter Apps
There is nothing else which is more crucial than health & fitness. So, it is essentially very crucial to take proper care of health, especially in this pandemic time. It doesn't make any sense whether you are thin or fat, the only thing that matters a lot is – how fit you are? No matter what you did till now, but from now start taking proper care of your health and do whatever necessary to be fit. The above-suggested best calorie tracker app helps you in keeping an eye on how much calorie intake in a day. So, without wasting more time, try out the best calorie apps and do let us know in the below comment section which one you liked the most.
Subscribe to Our Newsletter
Keep yourself updated with the latest technology and trends with Innovana Thinklabs Limited.