During these terrible circumstances, the social media platform is the only way to get the latest updates, stay connected across the world, entertainment purposes, and more.  Social media is proving a revolutionary to help people in every possible way. One of the biggest and popular apps across the world – Whatsapp. Whatsapp always set a benchmark with its emerging fame and gives great chatting experience to its users with many wondrous features.  App companies release a beta version of almost every app before releasing the original one. They do it because they want to take feedback from customers and they also take the idea of how will app performs in the real market. As we all know, every individual is not a tech maniac so some people don't know about it. In this write-up, we are going to introduce you to the beta version, beta testing, hence, read on to know how to be a beta tester for Whatsapp. Before moving forward let's know about the beta version.
What is a Beta Version
Beta version is nothing just a part of the software that released only for a limited number of users i.e., beta tester or beta users, to know about the shortcomings and benefits of the app before releasing it in the actual market. And some people are wondering that is it safe or not. But, let me tell you it is completely safe but you have to know its risky side too which by default comes with it.
Also Read: How to Enable WhatsApp Dark Mode – Step by Step Guide (Android/ iPhone)
Who are Beta Testers
Beta testers are those users that access the app under the production, examine the app thoroughly reveals its bugs and issues by giving feedback to the developer before the official release of the app. By this feedback, developers make changes and after making changes then only release it for all. Now, you are thinking to become a beta tester but you don't know the procedure. No worries, here I've suggested the methods to become the beta tester for Whatsapp.
Ways to Become a Beta Tester for Whatsapp
The only question that strikes in our head is – how to become a beta tester for Whatsapp. To become a beta tester is not that difficult but the responsibility that you have to fulfill after becoming a beta tester is more worthy. Being beta tester you should be responsive, dedicated, and active. You should be a fast tester to examine all the bugs and immediately gives the feedback to the developer so that, they can make changes to it before releasing it for everyone. Let's know the steps to become a beta tester for Whatsapp…
There are two ways to become a beta tester for Whatsapp i.e., via browser, and via Google Play Store.
To be a BetaTester via Google Play Store
Step 1: Open-up Google Play store and now go to Whatsapp.
Step 2: Now, you will find the "Become a beta tester" option below the description and screenshot section, click on this option.
Step 3: After that, Whatsapp will seek your permission to "Join" the beta version, click-in by affirming "I'm in".
Step 4:  Now, after some time you will get a prompt notification that led you to the beta version of Whatsapp.
That's it, now you are too a beta tester for Whatsapp. Eventually, so easy and simple for anyone to be a beta tester in just a few steps.
To be Beta Tester via Browser-
Step 1: Open-up your browser and search for Whatsapp beta test page.
Step 2: Sign-in your account that you are currently using on your smartphone.
Step 3: Now, you will see a page that gives you an option " Become a Beta Tester", Click on to this option.
Step 4: After clicking on this "become a beta tester" option, you will become a beta tester for Whatsapp.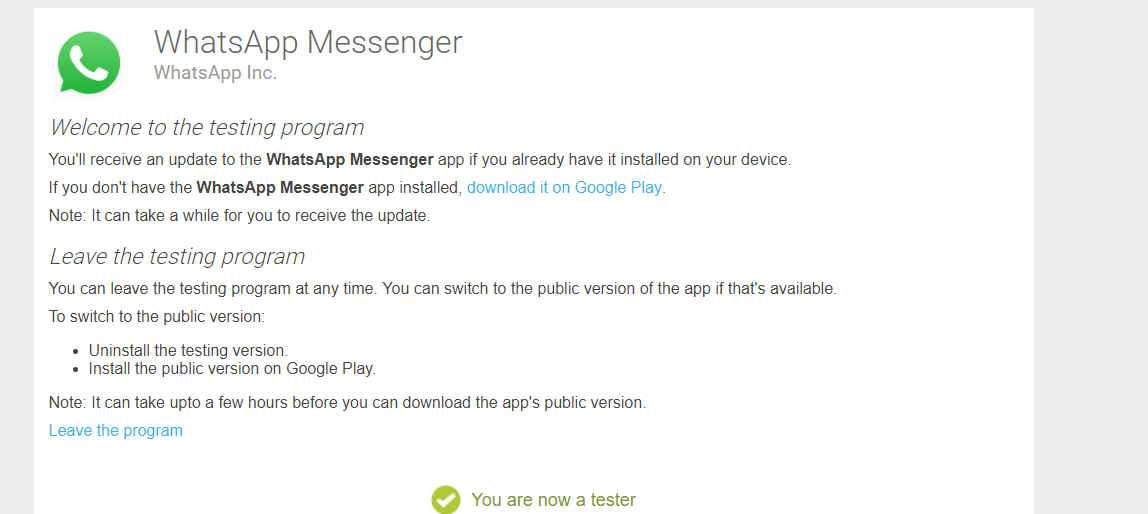 Now, after a few times, Whatsapp will send you a prompt message to install the Whatsapp but if you've already installed it then it will be led you to the Whatsapp Messenger Beta Page and ask you to delete the general Whatsapp messenger and install its beta version.
Benefits of Whatsapp Beta Tester
You will be able to use the latest features before its actual release
You will get more updates on a regular basis.
Drawbacks of Whatsapp Tester
You will be facing a lot of issues.
You will also confront many bugs and frequent crashes.

Read More: How to Show or Hide WhatsApp Status from Specific Contacts
These are the two easy approaches – how you become a beta tester for Whatsapp. However, the Whatsapp beta version is optional that means if you are confronting various troubles from the beta version then you can easily and instantly uninstall it. If you want to be a beta tester for Whatsapp then you should be a little bit more responsive, active, and energetic to observe the bugs in the meantime. I hope, this write-up will be helpful for you. If you face any trouble while becoming a beta tester, then just drop a comment below.
Subscribe to Our Newsletter
Keep yourself updated with the latest technology and trends with Innovana Thinklabs Limited.