Get rid of System Service Exception Windows 10 error in no time with the methods shared in this write-up.
Blue is a color that is loved by one and all. But, when the computer screen displays the same color as Blue Screen of Death (BSOD), it seems like the scariest thing on the planet. What makes it so scary is the fact that it is a daunting task to resolve BSOD errors. You need to beat your brains out to fix them. But, the same won't be the case anymore as we are here with the simplest ways to tackle System Service Exception in Windows 10, i.e., one of the creepiest BSOD errors.
In the yesteryear, resolving this error was not something that one can do with ease. Since Windows 10 doesn't merely display BSOD but also divulge some information about the kind of error you're facing, it has become a cakewalk to fix System_Service_Exception error.
All that you need to know is the ways to fix it. And, through this write-up, we share the same.
The best way to fix System Service Exception error on Windows 10
Outdated drivers are among the prominent causes of the System Service Exception error. Hence, you can solve this problem efficiently by performing a driver update. To update the drivers quickly and easily, we suggest you use Bit Driver Updater. It is a program that updates the drivers automatically with one-click and offers many incredible features, such as driver backup and restore, creation of a system restore point, and more. We are going to have an in-depth discussion about this software a little later. However, you can get it by clicking the below link.

5 Ways to Resolve System Service Exception on Windows 10
After thorough research on BSOD errors, we devised a few simple methods to get rid of System Service Exception error on Windows 10. Here they are.
Method 1: Disable the Webcam
Webcam is, no doubt, a core computer peripheral. But, sometimes, even the webcams can cause System Service Exception error on Windows 10. Thus, the first thing that you can try is disabling the webcam. Below are the steps that you are required to follow for the same.
In the box that says "Type here to search" type "Device Manager" and select the first result that appears.

In the Device Manager, you see a list of all the peripherals that form your computer. From that list, locate and right-click webcam.
Choose "Disable" from the small menu that is displayed on the screen.

Hopefully, the Stop Code System Service Exception error is now fixed. But, if it persists, then try the next method to fix it.
Read Also: How to Fix DRIVER IRQL_LESS_OR_NOT_EQUAL Error on Windows 10
Method 2: Temporarily Uninstall the Antivirus
It may sound weird but some users reported that uninstalling third-party antivirus actually resolved System_Service_Exception error on Windows 10. We believe that if you don't have the best antivirus installed and use any random utility available in the marketplace, then this may be the reason for which you get such errors. Therefore, uninstall the antivirus that you are currently using and replace it with the best antivirus available in the town.
Method 3: Try Updating Windows
Outdated Windows is among the central reasons for which BSOD error System Service Exception appears. Therefore, you need to check and update Windows to drive this error away. Here we share the shortest route that you are required to take for updating Windows.
Press Windows and I key simultaneously to launch Settings.
Go to "Update & Security" and check if any new update is available for Windows or not.

If there is a new update, then save your essential files and click on "Restart Now" to update Windows.
Is Windows System Service Exception error now fixed? If not, then we've got more methods for you to try.
Method 4: Try Running the SFC Scan
System File Checker or SFC is a utility that Windows provides to check for errors in Windows files. You can run an SFC scan via Command Prompt to resolve System Service Exception on Windows 10. Here're the steps for doing the same.
Move to the Windows search bar and type "cmd".
Right-click the first result and choose "Run as administrator" to open Command Prompt.

Now, type "sfc/scannow" and hit Enter.
After the scan process completes, restart the PC.
Check whether System Service Exception error on Windows 10 is resolved or not. If it is still not resolved, then below is a preeminent way to fix it.
Method 5: Update Drivers with Bit Driver Updater
Outdated drivers are a menace for your computer. They result in an ocean of PC problems including System Service Exception error on Windows 10. Therefore, you must ensure that the system drivers are always up to date. If they are worn out, corrupt, or missing, then get the latest drivers for your PC as soon as possible. One way of doing this is through Device Manager. But, we won't suggest you go on that route as using that in-built Windows tool requires a bit of technical knowledge. Further, why update drivers in a troublesome manner when you can do it effortlessly with Bit Driver Updater? Thus, get Bit Driver Updater to upgrade drivers automatically in a single click. Using this utility is also as simple as ABC. Below we talk about how to use this incredible driver updater.
How to use Bit Driver Updater?
To update drivers through Bit Driver Updater and resolve System Service Exception error on Windows 10, simply follow the steps mentioned here.

Download and run Bit Driver Updater.
In the left pane, there is a "Scan" option. Click on it.
Once the scan is done, click on "Update Now" to upgrade a specific driver or "Update all" to get download the latest drivers for all peripherals in one go.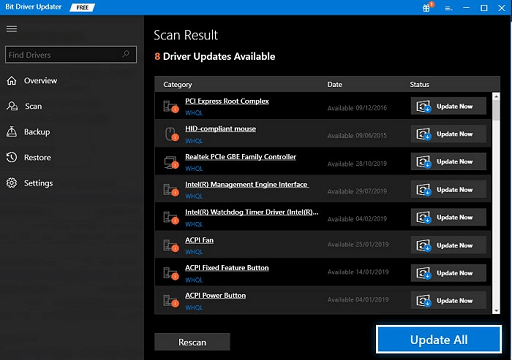 Now, the System Service Exception error will surely get resolved.
System Service Exception error on Windows 10: Resolved
This write-up threw light on the methods to fix System Service Exception error on Windows 10. You can choose the one that you think works best for you. Lastly, before going back, do let us know what you feel about this post and subscribe to our blog for more such updates.
Subscribe to Our Newsletter
Keep yourself updated with the latest technology and trends with Innovana Thinklabs Limited.