Read the Samsung printer driver download guide to know ways to download, install, & update Samsung printer drivers on Windows 10/8/7 PCs for free.
Since HP has acquired Samsung's printer business, the quality & technology of Samsung printers have got increased. However, without a proper driver, one can not do anything even with the latest Samsung printer. You have to download and install suitable drivers and keep them updated to make the printing device function properly. But, not everyone knows how to correctly download the Samsung printer driver for free on Windows PC. Hence, today we will focus on the ways to get, install, & update the Samsung printer driver with ease. 
Ways To Download, Install, & Update Samsung Printer Driver On Windows
Below are the methods that you can use to download the latest Samsung printer driver and install it on your Windows 10, 8, or 7 PC.
Method 1: Download & Update Samsung Printer Driver From HP's Driver Support
As HP has acquired Samsung's printing device business hence, to download the latest Samsung printer driver for free, you have to look up to HP's driver support. With this method, you can get the authentic driver for your printer manually. Here is all you need to do.
Visit the HP website.
Go to Support.
Select Software & drivers.

After that, click the Printer option.

Enter the name of your Samsung printer.
Click the most relevant search result.

Finalize the operating system.

Look for a suitable driver for your Samsung printer. 
Download it for free by clicking on the download option.

Run downloaded driver setup on your PC.
Follow setup instructions to install the Samsung printer driver on Windows 10, 8, & 7.
Reboot the PC.
That's how you can download the Samsung printer driver for free from HP's driver support and install it on your Windows PC.
Method 2: Update & Install Samsung Printer Driver Using Device Manager
Device Manager utility of Windows also serves as a great tool to update and install hardware drivers. One can also use it to update the Samsung printer driver and install it on your PC. However, it can be a hectic task for users who do not have much technical knowledge. But do not worry. Here we have shared the guide that you can follow.
Type Device Manager in Windows Search and open it from the results.
Go to the Printers (or Print Queues) category and expand it.
Right-click on the Samsung printer listed in the category.
Choose Update driver (or Update device) option.

Now, click Search automatically for updated driver software.

Wait for the Device Manager to look for the available update for your Samsung printer driver.
Allow Windows to download and install the detected driver update.
After complete installation, reboot the PC.
Following the above steps, you can easily download the updated version of the Samsung printer driver and install it for free on your system.
Method 3: Download Latest Samsung Printer Driver Using Bit Driver Updater
Finally, here we are going to talk about the best & most recommended way of downloading the latest Samsung printer and other PC drivers on Windows PC. You have to face some hardships with the above two methods. The reason is both of them are manual ways of getting a Samsung printer driver. Hence, instead of going with any of them, it is better to look for an automatic and easy option. And using the Bit Driver Updater program is that alternative.
It is a tool that helps Windows users to get all the latest drivers in a snap. With Bit Driver Updater, all we have to do is to make a click. And then, the driver update gets downloaded and installed on our PC automatically. Here we have elaborated on some of the salient features of the tool.
Bit Driver Updater helps to carry out automatic driver scans. It features a scan scheduler.
Users get the feasibility to download all the PC driver updates with one click.
There is also a tool to keep the sensitive system drivers untouched. The tool features a driver ignore pane.
Device driver security is also one of the things that lure users toward Bit Driver Updater. It hoasts options to create & restore backups of existing PC drivers.
Now, let's have a look at how to use Bit Driver Updater to download the latest drivers.
Click the Bit Driver Updater download button.

Run setup and install the tool by following all the setup instructions.
Launch software.
Click Scan Drivers and run the driver scan.
Download the detected latest drivers by clicking Update Now.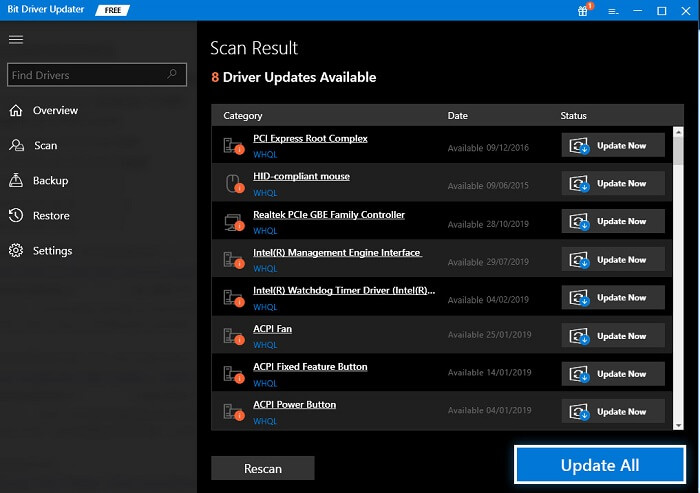 Conclusion: Best Way To Download Samsung Printer Driver
Downloading the Samsung printer driver is a crucial task to keep the device running properly. However, it is not that simple. But we hope that we have helped you to make it easy with this post. Some of you might still be confused in selecting the best way to download, install, and update the Samsung printer driver. If you want our opinion, then we suggest you go with using the Bit Driver Updater.
If you have some other queries about the Samsung printer driver, then let us know using the comments. And for more such posts, subscribe and bookmark the Innovana blog.
Subscribe to Our Newsletter
Keep yourself updated with the latest technology and trends with Innovana Thinklabs Limited.