Make your computer your multitasking partner with triple monitors. Read this post to learn how to do a triple monitor setup. 
If you want to multitask on your computer or boost your productivity, using multiple monitors is a great idea. It helps you accomplish multiple tasks simultaneously.
For instance, we are playing music through one monitor, writing this post on the second one, and collaborating with colleagues using the third monitor. Everything is going smoothly at the same time, isn't it amazing? Yes, it is.
Therefore, we are here with a quick and easy guide to help you set up triple monitors. With multiple monitors, you can also expand the functionality of your computer to get more work done or manage work and play together.
Here's a Quick Snapshot of How Triple Monitors Help to Increase Productivity.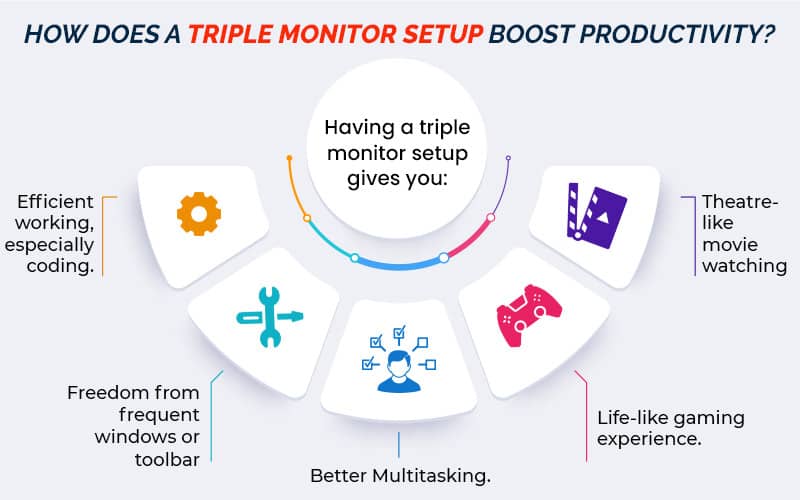 Without any further ado, let's begin with how to set up triple monitors on Windows 10, 8, 7.
A Step-by-Step Guide to Set up Triple Monitors on your Computer
You need to follow these instructions to do a triple monitor setup on your Windows 10, 8, 7 PC.
Step 1: Make Sure your Computer is Compatible with Triple Monitors
There is no point in moving further if your PC cannot support three monitors. Therefore, check whether triple monitors are supported on your computer or not.
To do that, firstly, you need to look at the ports of your computer. Here is how they look.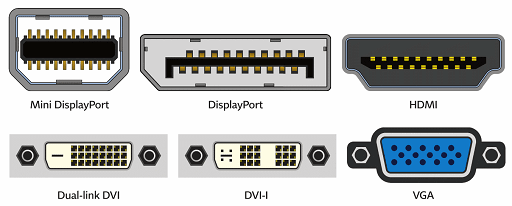 For a triple monitor setup, you must have at least three video ports.
Here's how to check ports on a desktop and laptop.
Checking the Ports on a Desktop Computer
The desktop computer has ports on its back. Check how many of them are available.
Now, whether you can use the available ports simultaneously or not, depends on two conditions.
Let's look at them.
Simultaneous use of a Graphics Card and Integrated Graphics Card
If the motherboard of your computer has an integrated graphics card, only two video ports may be visible to you.
Here is how it all looks like.

Here, you need to take into account only the graphics card ports.
You can use the integrated graphics card and the graphics card simultaneously to run multiple monitors. However, if you do that, you may face lags later on.
Thus, we suggest you use the dedicated graphics card for the smooth setup and performance of triple monitors.
Still, if you are determined to use both integrated graphics cards and dedicated graphics cards simultaneously, follow these instructions.
Note: The screenshots shared here are of the Asus device. But the steps are mostly the same on every computer.
Enter your PC's BIOS.
Go to the Configuration.

Select Video/ Graphics Configuration.

Choose the Always Enable option for the integrated graphics device.
All Ports not Available for Simultaneous Use
It may be possible that you may not be able to use all the available ports at the same time.
In this case, you need to check your graphics card manual or search on Google how many ports are available for simultaneous use.
Checking the Ports on a Laptop
It is fairly easy to check laptop ports as compared to desktop ones. Laptops mostly have a single video port.
Like the one shown below.


There may be two ports as well. But, three ports are rarely seen on notebook computers.
If you want to set up triple monitors on a laptop, you may need to get extra hardware to do it.
Below is how to buy extra hardware to make your computer all set to run three monitors.
Buying Extra Hardware if There are Not Enough Ports
If your desktop or laptop does not have the needed ports to set up triple monitors, you need to get one of these:
A graphics card for desktop: You can get a brand-new graphics card for your PC to make it support triple monitors.
However, before buying any graphics card ensure that the selected card perfectly fits the PCI Express slot on your motherboard.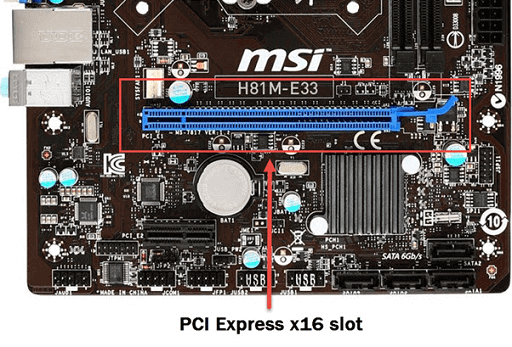 Furthermore, you need to check the power requirements as well. Graphics cards with triple monitor support may not work smoothly below 600 W of power. 
A multi-display adapter: Adding an external multi-display adapter to your computer can help you use multiple monitors effortlessly.

USB-HDMI adapter: Multi-display adapters come with a hefty price tag. Therefore, buying a USB to HDMI adapter, like the one shown below, is an affordable way to set up triple monitors on Windows 10.
A docking station: You can connect the docking station to your computer via a USB cable. After that, connect the monitors to the station through the display and HDMI ports of the station.
Here is how a docking station looks like.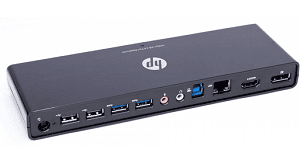 Step 2: Make sure you Have the Needed Cables
Ports are of no use if you do not have the required cables to connect them to the monitor. Therefore, before proceeding with how to set up 3 monitors on Windows 10/8/7, ensure that you have all the needed cables.
If you do not have the necessary cables, it is needless to say that you need to get them from either the online/offline market.
In some cases, the ports on the computer can be a mismatch to the ports on the monitor. If that is the case, then you need to get an adapter/adapter cable as well. Here is how it looks.

Step 3: Check the display settings
Next, you have to check and configure the display settings on your Windows 10/8/7 computer to make it triple monitor compatible.
Below is how to do it depending on your Windows version.
Checking Display Settings on Windows 10
To check and configure display settings on your Windows 10 PC, follow these steps.
Right-click the desktop and select Display Settings from the contextual menu.

Choose 1 and then click on Identify to check which monitor displays the same number.
In case any of your monitors is not visible, click on Detect and wait for Windows to find it.
If the on-screen arrangement of monitors is not the same as how you have arranged them, drag and drop the on-screen monitors to rearrange them.

If you want, you can also change the appearance of apps, text size, screen resolution, and orientation from the settings.
Choose to Extend these displays from the Multiple displays drop-down menu.
Step 4: Update the Graphics and Monitor Drivers
Your triple monitors must be working fine after following the above steps. To make them perform outstandingly and avoid display/other issues, you need to update the graphics and monitor drivers.
You can update the driver using any of the following methods.
Update the Graphics and Monitor Drivers Manually
It is possible to update the drivers manually using Device Manager. Here is how to do it.
Employ the shortcut command Windows+X to launch the Quick Access menu.
Select Device Manager from the available options.

Expand the category of Monitors/Display adapters. 
Right-click your monitor or graphics card and choose the Update driver option.
Search automatically for updated driver software.

Let Windows complete the download and installation of the needed driver.
Give your computer a quick restart.
Update the Graphics and Monitor Driver Automatically (Recommended)
If you do not have much time, you can get the graphics and monitor driver updated automatically using software, like Bit Driver Updater.
Bit Driver Updater updates all drivers instantly with just a click, along with providing many benefits, like driver backup and restore.
Below is how you can update the graphics and monitor drivers using Bit Driver Updater.
Click on the link shared below to get the setup of Bit Driver Updater downloaded.

Double click on the downloaded setup and install the program.
Let Bit Driver Updater scan your computer completely for a couple of seconds.
Click on the Update all button to get all the flagged drivers updated with a single click automatically.
You can also update the graphics/monitor driver individually by clicking on the Update Now button located next to it. However, for better PC performance, we recommend updating all drivers.
Final Words on How to Set up Triple Monitors on Windows 10/8/7
Through this article, we acquainted you with the step-by-step process to set up triple monitors. Now, you can apply the above steps to complete setting up multiple monitors and multitask on your computer effortlessly.
For more tech-how to, subscribe to and bookmark this blog. We will soon be back with another interesting tech guide.
Subscribe to Our Newsletter
Keep yourself updated with the latest technology and trends with Innovana Thinklabs Limited.