Outdated Graphics Driver can cause a lot of trouble on your Windows PC. Read on to know how to solve the 'Your graphics card driver is outdated' issue.
To have stunning graphics on a Windows PC, we require a robust graphics card, GPU, and a suitable driver. But that's not enough. You also have to keep the graphics card driver updated. Or else, your PC might not support HD visuals and show warnings like 'your graphics card driver is outdated,' 'your graphics driver is outdated please update,' 'the driver for this AMD video card is outdated,' etc. To fix it, you only have to get the latest GPU driver installed on your PC.
Without proper guidance, it seems quite hard to find a suitable update for the outdated graphics driver. Do not worry. Here is the guide that you have always looked for to update your video drivers.

Recommended Solution To Download Updated Graphics Driver On Windows

However, if you are not interested in reading the whole post, then do not worry. You do not have to. Here we have a quick recommendation to solve the issue of outdated graphics driver on your PC. You can simply use Bit Driver Updater. It is a tool that can help you to fix the obsolete graphics drivers in a snap. All you have to do is download it on your PC and then update the graphics driver in a few clicks. To make it more simple, here we have also shared the download button for Bit Driver Updater.
Ways To Update Outdated Graphics Card Driver On Windows 10/8/7
Below are the most suitable ways to update the outdated graphics card driver on Windows 10, 8, or 7 PCs.
Method 1: Update Out Of Date Video Drivers Using Windows Device Manager
If the graphics card driver of your Windows PC is out of date and causing trouble to you, then you can use the Device Manager utility to fix it. The Windows default tool allows you to get rid of various such driver issues. All you require to do is follow the below instructions to update the outdated GPU driver via Windows Device Manager.
To run any particular program or folder directly, we first have to open the Run dialog box. It is pretty simple. Just press the Windows key on your keyboard along with R.
Then, open Windows Device Manager by typing 'devmgmt.msc' in the box and then hitting the enter key or clicking the OK button.

In Device Manager, expand the Display adapters category.
Right-click on the listed graphics card driver and select the Update device/driver option.

Now, the last step is to click on the Search automatically for updated driver software.

You also have to consider a few minor things for a successful driver update & installation. One of them is to keep a check on the Windows OS while it searches, downloads, and installs updates for your outdated graphics driver. Another one is to provide the requisite permissions to the system during the process.
Method 2: Get Update For Your Outdated Graphics Card Driver From The Manufacturer
Are you getting the 'Your graphics card driver is outdated' error on your Windows PC? Then you have to start searching for a suitable update for your GPU driver. And a sure-shot way of getting it is using the manufacturer's website to download the latest video card driver. Both PC and device manufacturers provide driver software updates for their respective or compatible hardware. Here is a general guide to download updated graphics drivers from the manufacturer's website. 
Let's take the example of AMD. Here is how to get the latest version of AMD's graphics driver from its website and fix the 'driver for this AMD video card is outdated' issue.
The initial step is to visit AMD's website. You can do it by clicking here.
On the AMD's homepage, click the Drivers & Support option.

Scroll down a bit.
Select Graphics under the select your product from the list.

Then, choose the series of your AMD graphics card.

Click on your graphics card and then choose Submit.
Finalize the OS version for which you want to download the latest AMD graphics driver.
At last, download the suitable version of the GPU driver.
After downloading, you have to install the latest version of the driver. You can do it by running the downloaded driver setup and following onscreen guidance. However, if you require some help in downloading, installing, and updating the driver for your AMD graphics card, then you can have a look at our AMD Graphics Driver update & installation guide.
Method 3: Solve Your Graphics Card Driver Is Outdated Issue Using Bit Driver Updater
Here we have the best way of fixing the outdated graphics driver on Windows PC. The previous two solutions seem pretty confusing, tedious, and tiresome. Hence, most of the novice PC users may not want to go with them. Do not worry. You can automatically get the updated GPU driver on your system. For this, the only thing you have to do is download the Bit Driver Updater utility.
Bit Driver Updater helps to fix outdated drivers on your PC in a single click. It can help you get a solution for any driver related issue, including the out of date graphics driver in a snap. Here we discuss some of its features.
It requires a single click on Scan Drivers to find out outdated drivers on your Windows PC.
Along with the driver problems, it also finds the driver updates. And in the meantime, the tool also ensures the WHQL certification of those drivers.
Bit Driver Updater keeps the safety of your PC as its priority. Hence it offers features to create & restore driver backups.
There is a tool to schedule driver scans to make driver scan and update more effortless.
It also has a ignore pane that you can use to keep some of your crucial drivers untouched.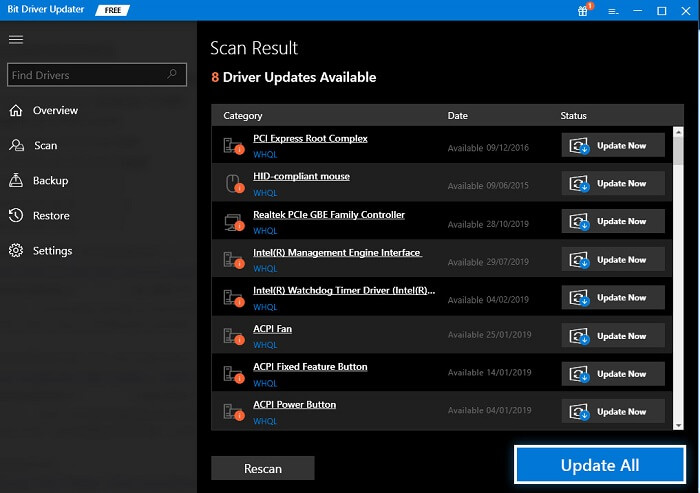 The list of Bit Driver Updater's helpful features is quite long. You can experience and take benefit of all of them. Just opt for the full version of the software. However, you can also give it a try for free. For that, you have to click the below button and download & install Bit Driver Updater on your Windows 10, 8, or 7 PC.
We have also reviewed the software to provide our users a better insight into it. You can find it on our blog.
Bottom Line On Resolving 'Your Graphics Card Driver Is Outdated' Issue
We have discussed all the major helpful ways to get updates for the outdated graphics driver on Windows PC. Hence, we would like to conclude this post now. All the above solutions are pretty effective in getting the latest driver version for your GPU. However, some of them also have a few cons. According to us, the best way to solve the 'your graphics card driver is outdated' issue is using Bit Driver Updater. You can also let us know your thoughts as well via comments. 
We hope that we have helped you to resolve your out of date video card driver. To read more such posts, subscribe to the Innovana blog and bookmark the page to never miss an update from us.
Subscribe to Our Newsletter
Keep yourself updated with the latest technology and trends with Innovana Thinklabs Limited.