Wondering how to update audio drivers on Windows 10? Check out this tutorial with multiple methods and get the perfect solution for your query.
No audio device or speaker can run properly on Windows 10 if your audio drivers are outdated. Windows releases updates for its OS regularly. Different device manufacturers also release driver updates for their devices according to Windows updates. So, it becomes quite important that you also update the drivers regularly.
The same is the case with audio drivers. As drivers are the main and only source of communication between devices and different software, it is important to keep them stable and up-to-date.
Audio drivers help in playing the audio of games, music, videos, and other files. So, you should update audio drivers on Windows 10 and every other operating system regularly. Audio driver updates are a viable solution if your speaker is not emitting any sound or if the sound is distorted and unclear.
So, without any further ado, in the next section of our article, we will present some of the best, safe, and reliable ways to update audio drivers on Windows 10 easily.
Highly Recommended Method to Update Audio Drivers on Windows

If you want to save time and update the Audio drivers safely and quickly, we recommend that you use the Bit Driver Updater. The Manual ways to update the driver are very tough, confusing, and troublesome, so we say you use this automatic one. Bit Driver Updater is a fast and secure way to get the latest versions of all the drivers, whether it is audio or otherwise. You can get the Bit Driver Updater from the link provided below.

Best Methods to Update Audio Drivers on Windows 10, 8, 7
Below are some of the safest and working methods to update audio drivers on Windows 10, 8, 7, and multiple other operating systems. Check out these methods and employ the one you think is the best.
Method 1: Update Audio Drivers Through the Device Manager
If you are wondering how to update audio drivers on Windows 10, here is the manual method to do so. Every Windows system has a Device Manager that allows you to manage all the connected devices on your system.
Follow these steps to update the driver using the Device Manager:
To launch the Device Manager, press Win+R keys, type devmgmt.msc, and then click on Ok.

After the Device Manager launches, you should expand the device head named Audio inputs and outputs.
From the list, right-click on the device driver you want to update and then select Update Driver.


Your OS will pop up a warning message. Click on Search automatically for updated driver software.


Wait for the update to complete and then restart your system.
With the help of these easy and quick steps, you can update audio drivers on Windows devices. If this method does not solve your problem or want some other way to update, check the next method.
Also Read: How to Update Sound Driver on Windows 10
Method 2: Update Audio Drivers Via Windows Update
If the update through the Device Manager does not work out for you, the next thing you can do is to update the Windows. Microsoft releases regular updates for Windows with bug fixes and compatibility additions.
If you ever wondered how to update audio drivers on Windows 10, this is the answer. You can update Windows which will, in turn, update your audio drivers precisely. Follow these steps to update Windows:
Press Win+I keys on your keyboard to launch system Settings.
Click on Update & Security.

Prompt the system to Check for updates and wait for some time.

Windows will list all the latest updates for your system. Click on Download to download and install the same.
Restart the system to continue
This method will install the latest versions of Windows as well as update audio drivers on Windows 10. You will not face any audio-related problems after the execution.
Method 3: Update Audio Drivers on Windows 10 Using Bit Driver Updater Automatically (Recommended)
All the above-listed methods to update audio drivers were manual. The main disadvantage of these manual methods is that they are not very reliable. You may not get the latest audio drivers for Windows 10 through these.
Moreover, these methods take time and effort from your end. So the best solution for how to update audio drivers on Windows 10 is through the Bit Driver Updater. This is one of the best and safe driver updating tools with multiple features.
With the help of the software, you can update any driver on your system with a single click. The software brings real-time updates from the manufacturers and serves your purpose very well.
You can update audio drivers and other drivers right away or schedule them for a later period. Apart from this, you can also create backups and restore the drivers if the update is not compatible or useful.
Take the help of the below-listed steps to update drivers with Bit Driver Updater on Windows 10:
Execute the exe file and install the software.
Launch the software and let it scan the system thoroughly for outdated drivers.
After the scan is complete, the software will list all the outdated drivers. This will include your audio driver too. Click on the Update Now button beside the driver and update them.
You can also click on the Update All key on the bottom of the software to install all the driver software at once.
Once the drivers are updated, restart the PC.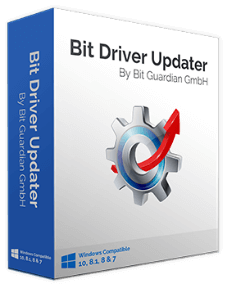 Now that all the drivers, including audio drivers, are updated, you can enjoy a clear play of audio. You will no longer face any issues related to audio devices.
Tip- How to Download and Reinstall Audio Drivers on Windows 10
Instead of updating audio drivers, you can also download or reinstall the audio driver if nothing else works out. If you want to know about the methods to download audio drivers on Windows 10, you can check them out here.
For information related to reinstall audio drivers on Windows, you can take the help of the safe methods listed in the article here.
Wrapping Up on How to Update Audio Drivers on Windows 10
These were some of the best and the safest methods to update audio drivers on Windows 10. Updating the driver will ensure a stable flow of information and you will hear everything clearly over your speakers.
If you want our recommendations, we say that you use the Bit Driver Updater to update audio drivers with a single click. As the Bit Driver Updater is safe and easy to use, it can help in saving your precious time and effort.
After updating the drivers, you will get a never had before gaming experience with realistic audio. Listening to music is always soul-soothing. The clarity of every beat will rejuvenate your mind.
Now that your speakers are working perfectly you can have movie nights at your palace and have fun. And these were only a few suggestions, with perfectly playing audio devices, you can do anything you want without getting annoyed over the bad quality.
If you have any queries about how to update audio drivers on Windows 10, let us know in the comment section below and we will get back to you ASAP!. Subscribe to the Innovana Thinklabs Blog to get tech-related articles and updates regularly.
Subscribe to Our Newsletter
Keep yourself updated with the latest technology and trends with Innovana Thinklabs Limited.