As you may already know, DirectX is software from Microsoft containing application programming interfaces, commonly referred to as APIs, to take care of multimedia-related tasks such as game programming and video rendering. Windows 10 has DirectX preinstalled. You do not have to install it manually. But you need to download the latest version of DirectX to dodge problems like dsetup.dll, "DXGI_ERROR_NOT_FOUND", and other errors.
Updating DirectX on Windows 10 keeps errors away and improves the graphics and gaming performance significantly. With the latest version of DirectX for Windows 10, you can create high-end games that work perfectly on almost every computer.
Now that you know why you need to update DirectX on Windows 10, let's move on to another important question, i.e., "How do I check to see if my DirectX is up to date?" After that, we are going to learn how to download its latest version.
Checking the DirectX Version
To check whether you have the updated version of DirectX or not, follow these steps on your Windows 10 computer.
Key in DxDiag in the search box and hit Enter.
Choose DxDiag from the results.
Give the required permissions.
Go to the System Information section and view the DirectX version.
After knowing which version of DirectX you have, let's discuss how to download its updated version on Windows 10.
Methods to Update DirectX on Windows 10
If you have DirectX12, DirectX11.4, DirectX11.3, DirectX11.2, then updating Windows is the only way to download the latest version of DirectX. For the lower versions, you can download the newest version via Microsoft support as well. We discuss both these options below.
Method 1: Update the Operating System (applicable to all DirectX versions)
You can apply this method to update all DirectX versions. It is the most preferred way to get the newest version downloaded. Follow the below steps for updating Windows.
Step 1: Employ Windows+X hotkey to launch Settings.
Step 2: Click on the Update & Security option.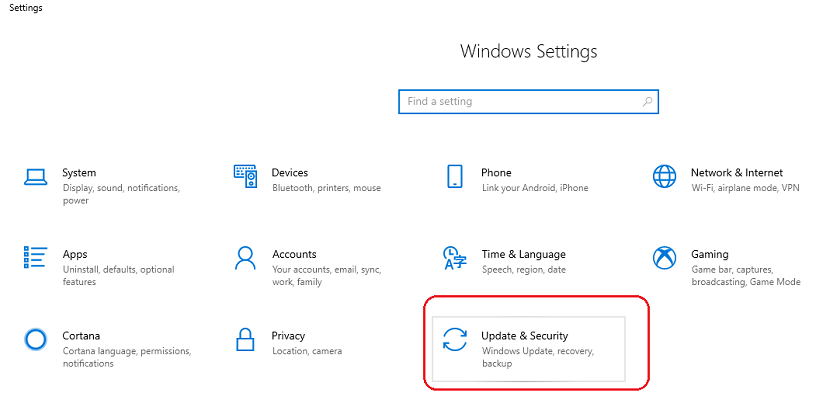 Step 3: Select Windows Update from the left segment of the Update & Security window.
Step 4: Click on the Check for updates option.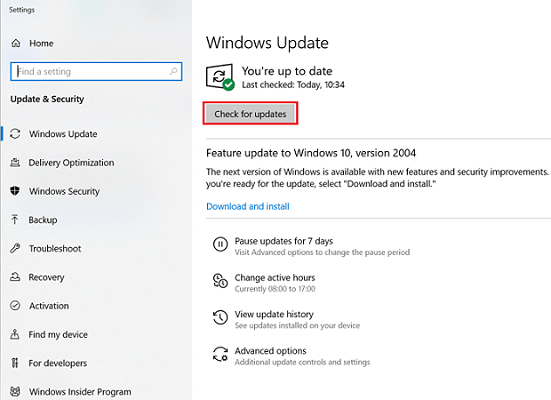 Step 5: Download the available operating system update and install it.
Step 6: Lastly, reboot your computer to complete the Windows update process.
Read More: How to Update Outdated Drivers on Windows 10, 8, 7
Method 2: Download the Latest Version of DirectX from Microsoft (applicable to versions below DirectX11.2)
If you have the DirectX version below 11.2, you can update it by downloading the latest version from Microsoft's website. Go along with the steps given below to do it.
Step 1: Click on this link to go to the Microsoft website.
Step 2: Select your language and click on the Download button to get the setup of the DirectX End-User Runtime Web Installer.

Step 3: After the setup is downloaded, click on it.
Step 4: Click on Yes to allow the application to make changes to your computer.
Step 5: Accept the agreement and click on Next.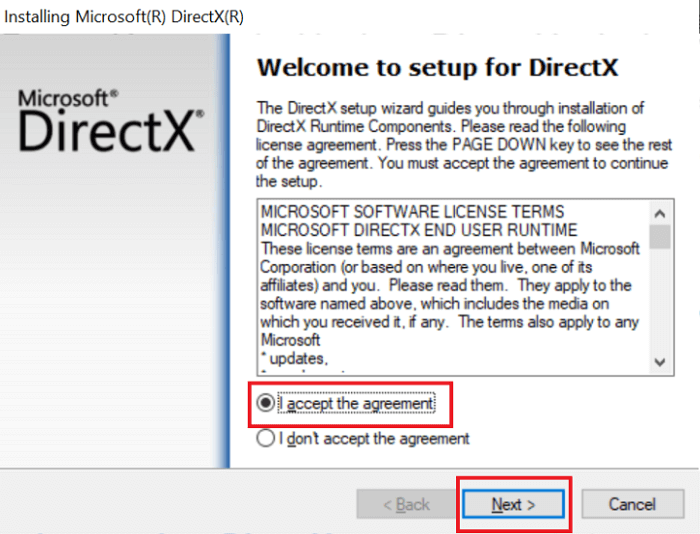 Step 6: Select whether you want to install the free Bing Bar or not and click on Next. 
Step 7: Click on Next to install the DirectX Runtime Optional Components.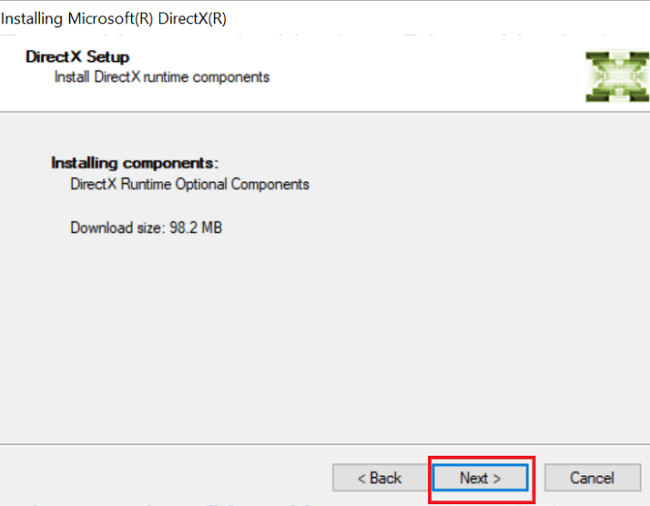 Step 8: Wait for the installation to complete.
Step 9: After completing the installation, restart the computer.
These were the approaches you can follow to get the latest version of DirectX for Windows 10. Now, let's answer some questions that our readers often ask.
Frequently Asked Questions
Q1. What is DirectX used for
As said at the very beginning of this post, the purpose of this software is to help you tackle multimedia tasks like video rendering, game programming, and playing audio effortlessly.
Q2. How do I redownload DirectX
Follow these steps to redownload or reinstall DirectX on your computer.
Firstly, uninstall DirectX.
Install it by following the steps shared in method no.2 above to install DirectX.
Reboot the PC.
Q3. How do I update DirectX
The way to update DirectX depends on the currently installed version of this software. You can refer to the detailed guide above to learn how to download its latest version easily.
Q4. How do I enable DirectX
There is no dedicated option to enable DirectX in Windows 10. However, you can perform the following tasks to ensure that your version of DirectX works perfectly.
Update graphic drivers.
Make sure the operating system is up to date.
Apart from the activities shared above, you may also require to configure a few settings to make DirectX work in some games.
DirectX Latest Version Downloaded Successfully
Above were the step-by-step ways to update DirectX on Windows 10. You can use any of these methods to get the application updated and download its missing files, depending on your currently installed DirectX version. As said earlier, to update DirectX 11.2 or above, you have only one option, i.e., updating Windows. In case you have any more questions, drop them in the comment section. We will try our best to answer them. And for more tech guides like this, keep following Innovana Blog.
Subscribe to Our Newsletter
Keep yourself updated with the latest technology and trends with Innovana Thinklabs Limited.