Read on to find out how to update Intel drivers in the easiest possible way.
Intel, as almost everyone knows, is a pioneer in the domain of microprocessors and graphic cards. However, Intel's intelligent microprocessors and graphic cards also need a helping hand to function the way you expect them to. They need well-updated drivers to live up to your expectations and let you have a glitch-free computing experience. If the driver is outdated, then even the world-famous Intel graphic card and microprocessor begin to show signs of erratic behavior. Therefore, through this write-up, we walk you through the best ways to download and update Intel drivers.
In addition to the ways of upgrading drivers, this post also touches upon the best Intel driver update utility that makes it a cakewalk for you to update drivers.
The Best ways to Download, Install, and Update Intel Driver
Here is how to download, install, and update Intel drivers in the best way.
Manual way to Download Intel Driver
Let's begin with the manual ways to install and update Intel driver. However, these methods require a bit of technical knowledge. But, you can still try them out if you want.
Method 1: Install Intel Driver through the official website
You can get the latest Intel drivers from the official website. Below are the steps that you need to follow for doing it.
Visit Intel's download center.
Select the product for which you intend to download or update the driver. (For instance, if you want to update graphics drivers, then select it).

Select the product version and the OS that your PC has.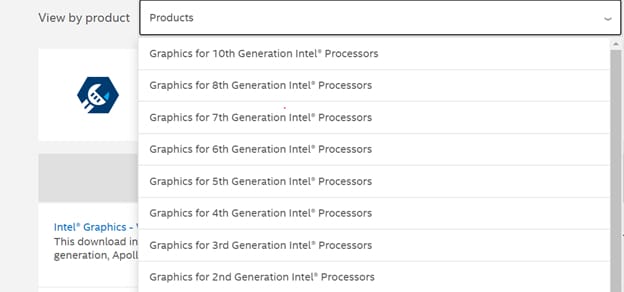 Now, under the description column, click on the appropriate driver to install it on your PC.

Method 2: Perform Intel driver update through Device Manager
Windows boasts a built-in Intel update utility called Device Manager. This utility helps you get the latest driver version of almost all hardware that your PC has. However, using this tool is a bit tricky thing to do. But, if you are willing to try it, then here're the steps.
Type "Device Manager" in the search box and select the topmost result that you see.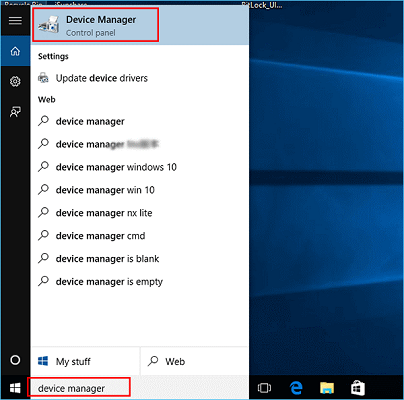 After the opening of the Device Manager window, expand the category of drivers that you desire to update.
Right-click on the troublesome device and choose "Update driver software" from the menu that you see on the screen.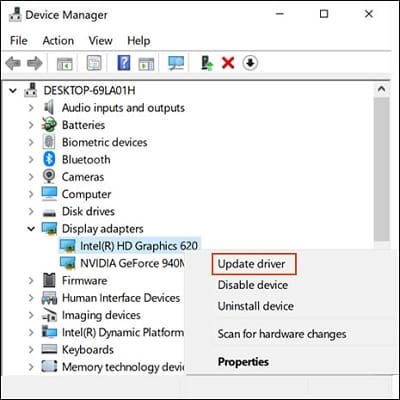 Now, select "Search automatically for updated driver software".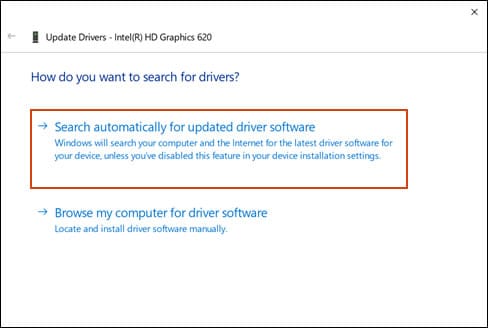 After you are done with the above steps, Windows gets the latest Intel drivers for your PC.
Also Read: How to Update Graphics Drivers on Windows 10 Easily
Method 3: Update Windows to get the latest Intel driver
With the Windows updates, you also get the latest drivers for various hardware components on your system. Therefore, another way to update the Intel driver is by upgrading Windows. You can do it with the steps that we share below.
Click on the Start icon and select Settings.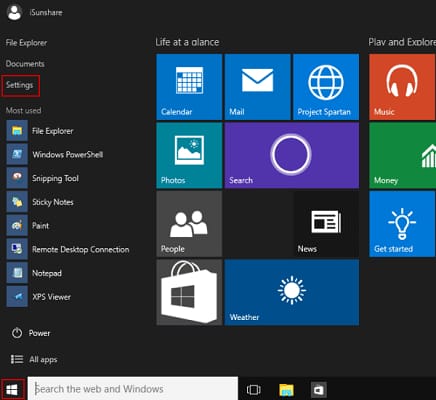 After the Settings window pops up, choose "Updates & Security".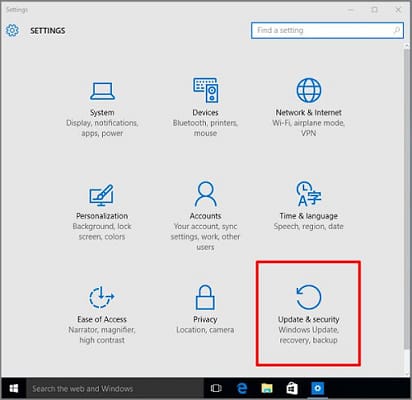 Finally, select "Check for updates".
If an updated OS version is available, then Windows installs it automatically. And, along with updated Windows, latest Intel drivers also get installed on your system.
Method 4: Install Intel driver manually via Device Manager
This method to get the latest Intel drivers installed on your PC is a combination of two methods that we have discussed in this post. First, you need to download the driver file through Intel's official website with the help of steps mentioned in method no.1. Once you are done with downloading driver files, follow the below-mentioned steps to install them on your system.
Launch Device Manager.
After the Device Manager window pops up, expand the category of hardware for which you want to upgrade drivers.
Right-click on the problematic component and choose "Update driver".
Now, select "Browse my computer for driver software".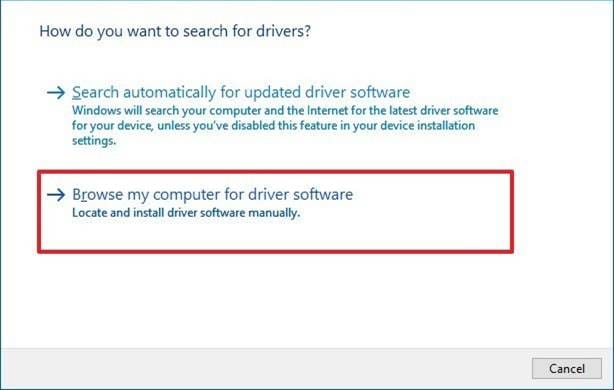 Choose the folder where you have saved the downloaded driver files.
Click on "OK" and checkmark "Include subfolders".
Finally, click on "Next" to complete the driver installation.
Also Read: How to Fix WiFi is Not Working in Windows 10, 8, 7 PC
ITL Driver Updater: The Best Intel Driver Update Utility
As you can see, how daunting it is to update Intel driver manually. Therefore, we have an easy solution for you. The best solution for all your driver update and other PC issues is ITL Driver Updater. This is not merely a driver update software but an all-in-one tool to take care of all your PC care requirements.
Coming to how to use it, using ITL Driver Updater is simple as ABC. The only thing you need to do is, follow the below-mentioned series of steps.
Click on the download button mentioned below to get ITL Driver Updater.
Install the utility and launch it.
Select "Scan" from the left-hand side of the window and wait till the software scans your device.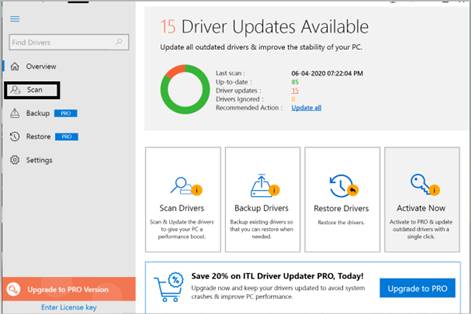 At last, choose "Update all" to upgrade Intel as well as all the other drivers.
We know it is tough to believe that updating drivers is this easy and requires only four steps. But this is true. There is no need to beat your brains out to install and update Intel drivers. Apart from ease of use, this tool has many other incredible features such as backup & restore, and more. You'll come to know of them once you start using this utility. Thus, without thinking twice, click on the below button to download it on your PC.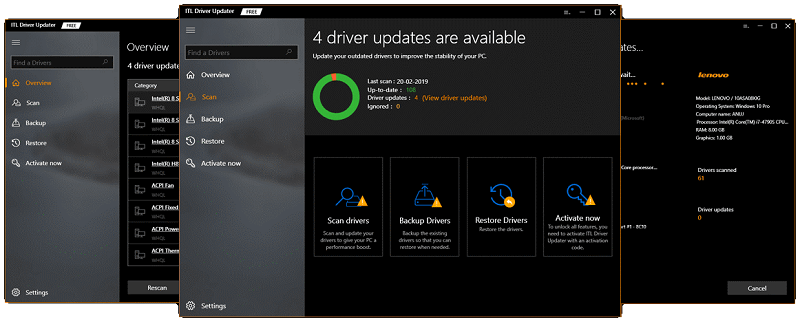 Have you Updated the Intel Driver
With this write-up, we brought to the fore the best ways to download, install, and update Intel driver. We also discussed ITL Driver Updater, i.e., an amazing Intel driver update utility that not only upgrades the drivers but also takes the PC's performance to new heights. Lastly, before we bid adieu, we would request you to subscribe to our updates so that each of our posts reaches directly to your mailbox. Don't worry as spamming is completely against our ethics.
Subscribe to Our Newsletter
Keep yourself updated with the latest technology and trends with Innovana Thinklabs Limited.