Do you want to view a profile on LinkedIn without seeming like a stalker? If yes, then learn how to see a LinkedIn profile anonymously through this post. 
You might have got a notification from LinkedIn, that someone has viewed your profile. It is the same notification that other people receive when you check their profile. Now you might be thinking, how can you avoid notifying others whenever you look at their profile. If yes, then this write-up is for you. Here, we'll discuss – How to view a LinkedIn profile as anonymous? But, first of all, let's understand this feature of LinkedIn.
LinkedIn is the most professional social networking platform. Unlike other social networking platforms, people do not use it to connect with their friends or family. People use LinkedIn to connect with various professionals, corporate people, and other professional organizations. However, there are some more differences as well between all other social media platforms and LinkedIn.
You can check other people's profiles by being anonymous on other social networks. While on the other hand, LinkedIn sometimes notifies you about the people who have checked your profile. It may seem a decent feature from your point of view as you can find out who viewed your LinkedIn profile anonymously. But, it doesn't seem elegant from the other's point of view. As, whenever you look at someone's profile, they'll get notification about it, and they might also consider you as a cheap stalker.
The fact that someone is secretly keeping an eye on their profile can also disturb people. Hence, the solution to "How to view a LinkedIn profile as anonymous?" becomes more necessary. Don't worry as here we'll provide you some tips and tricks to view LinkedIn profiles anonymously. So, without any further ado, let's check the ways through which you can check someone's profile without being noticed.
How to View a LinkedIn Profile as Anonymous
There are two ways through which you can view a LinkedIn profile as anonymous. We have mentioned both the methods below.
Make Changes in Account Settings
If you want to know a solution to how to view a LinkedIn profile without login, this method is the answer. You can look at Linkedin profiles anonymously by just making some changes in your account settings. However, these changes can also make other people anonymous, and you'll no longer be able to check who has viewed your profile. So, you are advised to proceed with this method only when you are okay with the above condition.
First of all, log in to your LinkedIn account on PC over the web.
Then, look for your profile icon.
Click on it.
Now, select the Settings & Privacy option to be anonymous on LinkedIn.
After that, you have to select the "How others see your profile and network information" option from the left side of the page.
Look for Profile Viewing Options under How others see your LinkedIn activity.
Select it.
After clicking on Profile Viewing Options, you have to select Anonymous LinkedIn Member under Private Mode.

That's all. Now you can view a LinkedIn profile as anonymous. From now onwards, whenever you view someone's profile, it will show them that some anonymous person has checked their profile.
However, selecting this option also disables you from keeping a check on the people who view your profile.
Also Know: How to Watch YouTube Videos Not Available in Your Country
Take the Help of Google to View a LinkedIn Profile
This is the easiest method to check someone's profile anonymously. With the help of this method, you can view your LinkedIn profile without logging in to your profile. All you have to do is to search the name of the person on Google whose profile you want to view. You might get a lot of results. Hence, to avoid unnecessary results, type the company name or profession as well. For example Aman Gehalot LinkedIn EMIAC Technologies.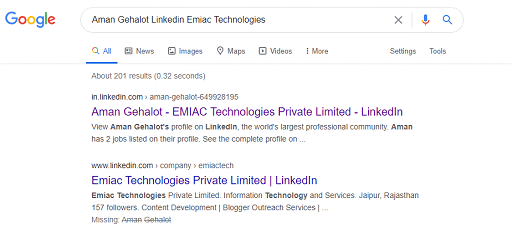 Now just click on the top search results to check the profile of that person anonymously. Along with that, you can also see who is viewing your profile. However, there are certain limitations to this method. Sometimes you might see limited information on the profile. Hence, we usually do not prefer this method.
Use the Mobile-Friendly Test from Google for Anonymous Viewing
Google provides a service called Mobile-Friendly test to analyze whether a website is mobile-friendly or not. With the help of this test, a lot of owners check the mobile compatibility of their website and webpages easily. You can use this test to see LinkedIn profile without logging in. here's how to do that:
Paste the profile URL on this tester and Test the URL
After the website completes Analyzing the website, click on the Source Code or HTML. 
Copy the code

Paste the code on any HTML support website or viewer like CodeBeautify.
The HTML viewer will show the webpage, just like the original. And, with the help of this method, you can view a LinkedIn profile without logging in.
Get a Subscription to the LinkedIn Premium Account for Advanced Settings
If you are wondering, how to check LinkedIn without login? Get LinkedIn Premium. If you get a premium membership of LinkedIn, then you can browse the profile of other users anonymously. Moreover, it also gives you several other benefits that a basic LinkedIn account lacks, such as access to learning courses to fine-tune your skills.
Frequently Asked Questions
Q1. What are the advantages of browsing profiles anonymously?
Browsing profiles anonymously on LinkedIn can give you the following benefits.
You can know what your competitors are up to effortlessly.
It gives you ideas about how to make your profile more impressive.
Q2. Can someone see if I viewed their LinkedIn without logging in?
LinkedIn needs you to be logged in to track your footsteps. If you browse someone's profile without logging in or through search engines, like Google, then there is no way for them to know that you viewed their profile.
Q3. How do I become invisible on LinkedIn?
You need to follow the below steps to become invisible on LinkedIn.
Click on the Me icon present on the LinkedIn homepage's top.
Choose Settings & Privacy from the menu you get.
Click on the Visibility option.
Go to the Visibility of your profile & network segment, choose Change present next to the Profile viewing options.
Select one from the three browsing options, i.e., Your name and headline, Private profile characteristics (i.e. job title and industry), Private mode.
Q4. Can I see a LinkedIn profile without an account?
Yes, you can easily see your LinkedIn profile without logging in with the help of all the steps listed n the above article. You can choose and deploy any method and have a look at the profile of any individual without them knowing.
Q5. If I search a person via Google and see his LinkedIn profile, will the person know?
The answer to this question is yes. When you search for any individual's account on Goole, it shows the search results and you have to click on the website to see the profile. When you will be redirected to the LinkedIn profile on the website, it will ask you to log in. No one can see the profile on LinkedIn without logging in. So, the moment you log in, the individual will know who visited his profile. However, to save yourself from all this hassle, you can take the help of the methods listed in this article if you are wondering how to view a LinkedIn profile without login.
Q6. If I view someone's LinkedIn profile while not logged in, in incognito mode, will the person know who has viewed his profile?
As stated earlier, LinkedIn does not allow anyone to view a profile without logging in. Whether you are using an incognito mode or not, you are required to sign in to see a profile. However, with the help of the solutions listed in this article, you can get effective solutions to how to check LinkedIn without login.
Final words on How to view a LinkedIn Profile as an Anonymous
So, these are some methods through which you can view a LinkedIn profile as anonymous. Both methods have their advantages and disadvantages. It entirely depends on your preferences that which one you want to select. However, it is assured that the other person will not see your name whenever you view his/her profile.
Furthermore, if you want to know more such tips and tricks, then subscribe to Innovana blogs and bookmark the page as well.
Subscribe to Our Newsletter
Keep yourself updated with the latest technology and trends with Innovana Thinklabs Limited.