When we talk about budget-friendly laptops, we cannot ignore HP Pavilion. HP has launched this series of laptops in 1995. Since then, the series has become quite popular among the folks. As compared to other alternatives of similar price, HP Pavilion offers quite good performance. However, after a certain period, HP Pavilion also requires to be updated. Yes, we are talking about updating system drivers. Like any other system drivers, you need to update HP Pavilion drivers as well to maintain its performance.
In this write-up, we'll discuss various methods of updating system drivers of your HP Pavilion laptop. Along with updating the drivers, we'll also discuss how to download HP Pavilion drivers. So without further ado, let's have a look at different methods through which we can download, install, and update the HP Pavilion drivers.
How to Download, Install, and Update HP Pavilion Drivers
There are multiple methods of downloading, installing, and updating drivers on your HP Pavilion laptops. We have categorized those methods into two categories, i.e., manual and automatic. First of all, we would like to introduce some of the manual methods to download and update HP Pavilion drivers.
How to download HP Pavilion Drivers Manually
You can download HP Pavilion drivers from various sources. Some people prefer to download drivers from the official website of the manufacturers. While some prefer to download them from other trusted third-party sources. We would prefer you to download the drivers from the manufacturer's site, as it is a more genuine and reliable source. You can download the HP Pavilion drivers from the link:
After visiting the page, here are the steps that you need to follow to download HP Pavilion drivers.
Step 1: Select "Laptop" on the "Let's identify your product to get started" page.
Step 2: Now you are required to type the name or serial number of your HP Pavilion laptop.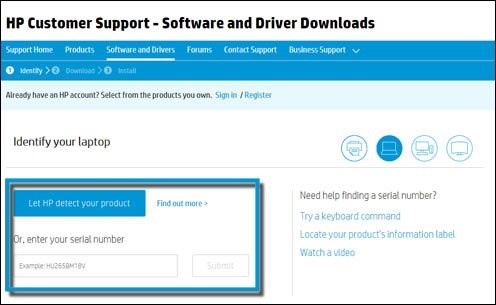 Step 3: After entering the above details click on "Submit"
Step 4: Select your model number.
Step 5: The page will automatically detect your operating system. If it needs to be changed, then you can change it as well.
Step 6: At last, it will show you drivers of different categories. You can download the HP Pavilion drivers you require by clicking on the "Download" button.
After downloading the required HP Pavilion drivers, you can install them with the help of the installer. If any problem occurs, then we have listed some other methods as well to install HP Pavilion drivers.
Also Know: How to Completely Remove/Uninstall Drivers on Windows 10
How to Install or Update the HP Pavilion Drivers Manually
There are multiple ways to install HP Pavilion drivers manually. Here we'll talk about using HP Support Assistant to install and update HP Pavilion drivers. It is a default program in HP computers that comes with Windows OS. You can follow these steps to install your HP Pavilion drivers via HP Support Assistant.
First of all, search "HP Support Assistant" in the Windows search box.
Open it.

Look for your device on the My devices tab.
Now, select the "Check for updates and messages" option and wait till the support assistant search for the updates.
After it shows the new updates, select them.
At last, click on download and install.
However, you can also use Windows Updates or Device Manager to update and install HP Pavilion drivers. Here are the steps to install updated HP Pavilion drivers using Windows Updates.
Click on the Start Icon.
Now click on Settings.

After clicking on Settings, select the "Windows Update & Security" option.
It will start updating the drivers automatically if there is any update available.
Although, using Windows Updates seems quite ineffective sometimes. While on the other hand, using Device Manager is a time consuming and tedious task. Hence, we do not prefer either of them. Anyways, using HP Support Assistant is also not a time-saving way of updating your HP Pavilion drivers. It can take a lot of time to search for the adequate updates for your device.
If you are looking for a time-saving method to download, install, and update your device drivers, then you should look for a driver updater tool.
How to Download, Install, & Update HP Pavilion Drivers Automatically
Using a driver updater tool is one of the best ways to download HP Pavilion drivers automatically. When we talk about using driver updater tools, the first name that comes to our mind is Bit Driver Updater. It is one of the best modern-day driver updater tool. If you are the one who doesn't have much time or much computer knowledge, then you should definitely go for this method.
Bit Driver Updater doesn't only save your time but also offers various other features as well. It can be the best solution for all your driver related problems. You can update HP Pavilion drivers much faster than before with Bit Driver Updater. Here are some of the features that this one of the exceptional driver updater tool offers to its users.
The tool is much faster than other driver updater utilities.
Bit Driver Updater offers quite an interactive and intuitive user interface. Hence, anyone can use it.
The tool is quite reliable and provides WHQL certified driver updates.
You can install it in all the major updated versions of Windows, i.e., from Windows 7 to Windows 10.
It also allows provides features such as "Backup" and "Restore" in its paid version.
The tool offers support for multiple languages.
Here are the steps to update your drivers through Bit Driver Updater.
Step 1: Download the Bit Driver Updater

Step 2: Install it simply with the installation wizard.
Step 3: After installing, launch the Bit Driver Updater application.
Step 4: As soon as it gets launched, it starts scanning the broken, missing, and outdated drivers.
Step 5: After completing the scan, it shows a list of problematic drivers.
Step 6: At last, you can update HP Pavilion drivers by just clicking on the "Update Now" button.
That's all you are required to do for updating your drivers via Bit Driver Updater.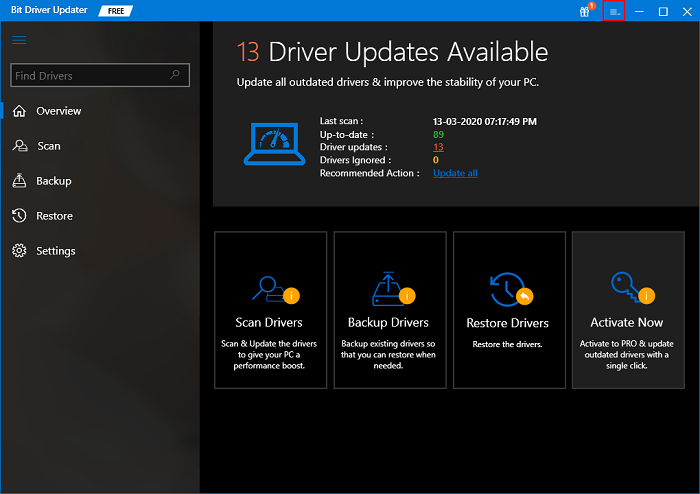 As you have seen multiple methods to download HP Pavilion drivers, it's entirely up to your choice which method you want to select. However, we highly recommend using a driver updater tool to update drivers. As it can save your time and efforts as well.
We are also quite specific with the driver updater tool. We prefer Bit Driver Updater over other such utilities to update HP Pavilion drivers or any other drivers. It is not because we are biased, but it is because of the bunch of features that the driver updater utility offers to the users. Although, the choice is completely yours, hence choose wisely.
For more such information, subscribe to Innovana blogs and bookmark the page as well.
Subscribe to Our Newsletter
Keep yourself updated with the latest technology and trends with Innovana Thinklabs Limited.