Today, we are here with the Driver Booster review. But before starting it, we would like you to know the reason why we are providing this review. So, first of all, let's understand its purpose and why such kind of analysis is necessary.
Have you ever thought why updating device drivers is a general solution for various severe issues on Windows PCs? It is because drivers are quite an essential part of a PC. And the majority of the computer issues are related to the problematic device drivers. Hence, it is necessary to repair the corrupted, obsolete, broken, or any other kind of faulty drivers.
Earlier it was quite a tumultuous thing to repair driver related problems. But with the introduction of the best driver updater programs, it became one of the most simple tasks. However, in the recent few years, we have seen an immense rush in the software market. Hence, you can see n number of device driver updater software as well over the web. Just like any other thing, not all the software that claims to repair device drivers are capable enough to do so. Therefore, today we have come up with the Driver Booster 7 review, which is one of the most popular driver updater software available on the web.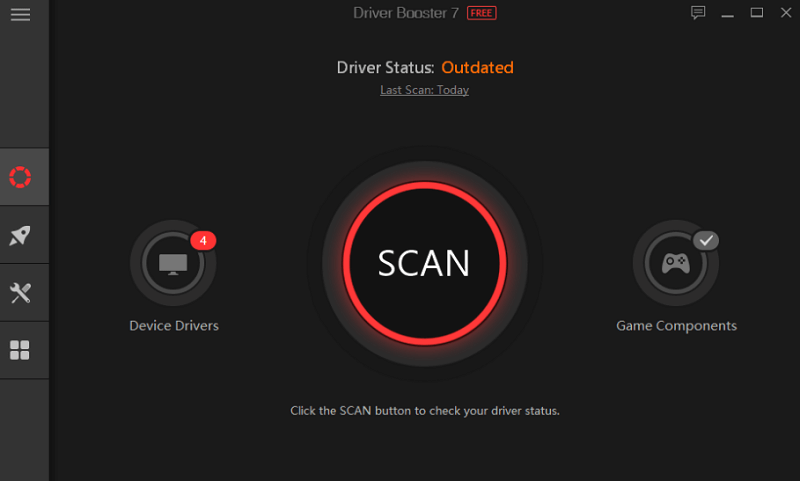 IObit Driver Booster 7 is quite popular among the PC users who prefer updating drivers using a specific program. It allows you to repair the majority of your device drivers with just one click. So without further inclusion, let's have a look at what this software has to offer in this IObit Driver Booster review.
A Brief Introduction About IObit Driver Booster
Along with various PC optimizer, booster, and security providing software, IObit has also developed Driver Booster. The software is best known for providing complete care to your device drivers. The best thing about Driver Booster is that it constantly gets updated. Driver Booster 7 is the latest version of the software. Hence, we have decided to review it.
The software provides two versions, i.e., free and pro. As the name suggests, you can download and use the free version without any cost, but for the pro version, you have to purchase a subscription.
However, do not worry. We are going to help you in deciding between the free and pro version. Along with the Driver Booster free review, we are also providing you the IObit Driver Booster pro review. So, let's start with the prominent features of this utility.
Prominent Features
Just like any other thing, IObit Driver Booster 7 also possess some prominent features. And because of these features, the software has its unique identification in the driver updater market. So, here are the details about the features that we have observed while making this Driver Booster review.
Compatibility
The first thing that you need to know about any software or program is its compatibility. You should know on which system the software or program works the best. Talking about the IObit Driver Booster 7, it is one of the majorly compatible driver updater software available in 2020. You can use it on most of the latest and working versions of the Windows operating system. If you are still confused, then let us specify it for you that the Driver Booster is compatible with Windows Vista, XP, 7, 8, 8.1, and 10.
Database
Database is the key requirement for any organization or program. And IObit Driver Booster has quite an impressive database of drivers. No matter whether you are using the free version or pr version of this driver repair software, you'll get amazed after knowing the driver database that it offers. The tool provides more than 3,000,000 device drivers in its free version and more than 3,500,000 drivers in its pro version.
One-Click Functionality
Another good thing about Driver Booster is that it offers one-click functionality. This means that you can perform a majority of its functions with just a single click. It is a great feature for the people who don't have much time to take care of their PC's drivers and performance.
Automatic Detection
If you are the one who does not want to put much effort into driver repair or any other PC care activity, then you'll indeed like this software. It provides quite automatic functioning as well. You do not have to put effort into searching the system issues. Drivers Booster does it for you and automatically detects faulty drivers and other system issues related to the device drivers.
Prioritization
Not everyone is good at making decisions. Hence, sometimes we do not provide priority to the important tasks, and in result, we end up making things problematic. However, this is not a case with the IObit Driver Booster as it prioritizes the important tasks at the moment and hence boosts the performance of your system. It provides priority to gaming drives that are new and various other such components. But you have to purchase the Pro version of the software to use this feature.
Restoring The Backup
It is one of the points that we specifically liked about this software. You can even create a restore point or back up of your device drivers before updating them. So, if in case the driver update starts causing any problem, then you can easily restore the previous version of the driver. Apart from this software, we have found this exceptional feature in ITL Driver Updater.
Free
As we have discussed above, the IObit Driver Booster also offers a free version. However, do not underestimate it as a featureless or weak driver updater software. The developers provide most of the features of their Driver Booster software in the freeware as well. Hence, if you are not looking for some advanced features such as the creation of restore point, more device driver database, etc. then you can easily rely on the free version of Driver Booster. It can help you to repair your Intel, AMD, Realtek, and many other major drivers without any problem.
Silent Mode
Just like smartphones, the software also has a silent mode feature. You can enable it when you do not want any notification from the program. However, you do not have to enable it manually all the time as it automatically gets enabled when you play games or perform any other full-screen task.
Repair Game Components
Along with the device drivers, the software also repairs the game components of your PC, such as Adobe Flash Player ActiveX, Visual C++ redistributables, Microsoft DirectX Runtime, etc. However, this feature is only available in the pro version of the software. Hence, if you want to repair the game components of your PC, then we recommend you to use the pro version of Driver Booster.
Ignore Unwanted Drivers
Driver Booster gives you the power to decide which driver software you want to update or which you do not want. Hence, it offers a feature to ignore some device drivers. Once you enable that feature, the program automatically ignores that particular driver and doesn't provide any update for that driver unless you recover it from the ignore list.
Game Boost
It is one of the best-tailored driver update software for the gamers. The software provides a game boost feature through which you can channelize the resources of your PC for a better gaming experience. The game boost feature disables all the unwanted and unnecessary programs of your PC and enhances the gaming performance of your PC. You can even create an IObit game boost icon on your desktop screen and directly access the game boost feature of the software from there.
Below we have provided a table that can help you to understand the specifications that we have observed while reviewing Driver Booster free and pro.
Developer: IObit
Latest Version: Driver Booster V 7.5.0
Compatibility: Windows XP/Vista/7/8/8.1/10
Installer size: 24.6 MB
Language Packs: 48
Driver Database: 3,000,000+
Additional Features: Silent Mode, Game boost, and Ignore Unwanted Updates,
Cost (Free Version): Free
Cost (Pro Version): $22.95 (1 Year Subscription, 3 PCs)
How to Use IObit Driver Booster
Now, let's move to the next section of this Driver Booster review and talk about how to use it. Below is the step-by-step guide and feature description to use Driver Booster 7 and its features properly.
Installing IObit Driver Booster
There is nothing different about the installation of the IObit Driver Booster. Just like any other computer program, you can install it easily after downloading the setup file from the developers' website. You do not have to make any payment as it is free to download. You can use this link to download IObit Driver Booster 7.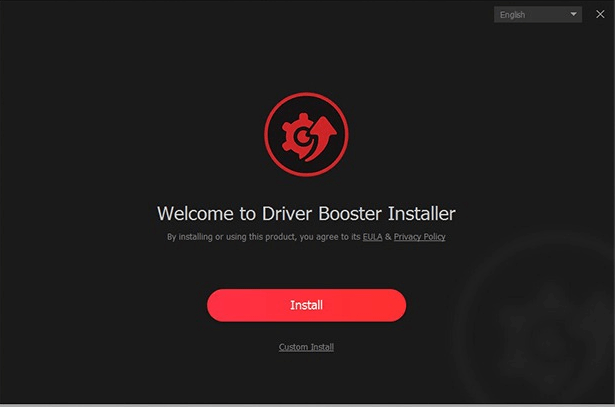 After downloading, run the setup file, and then the installer will ask you to select your preferred language. Apart from this, it has two installation modes, one is the standard installation, and the other is the custom installation. So, you can select any one of them as per your preference.
Once you select any of the installation options, it will provide you the instructions that you have to follow for proper installation. It takes a couple of minutes maximum to install this software on your PC or laptop.
Scanning Device Drivers Using IObit Driver Booster
It will provide you with a Scan Now option just after you complete the installation. If you have select that option, then the software will automatically get launched and start scanning for driver-related issues on your computer.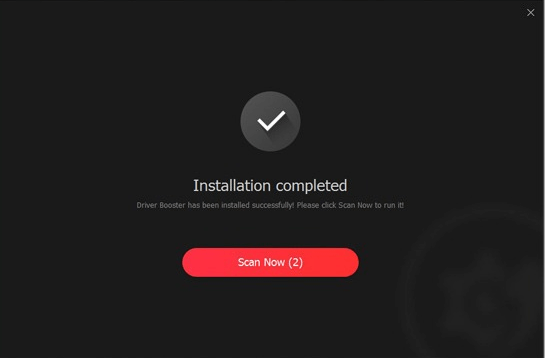 However, if you have not selected that option, then you have to manually launch the program. Once you launch it, the software will automatically start detecting the faulty drivers on your system. But if you do not want it to scan, then you can choose the Scan/Stop option.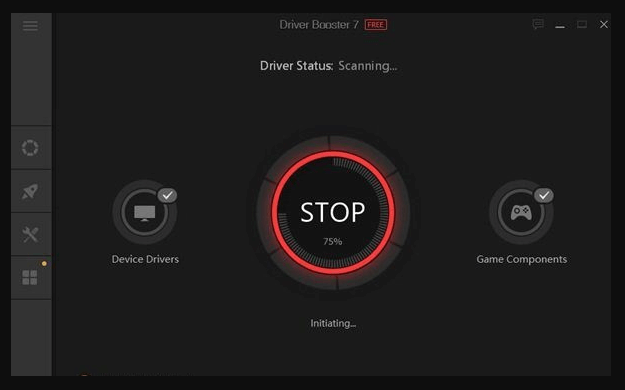 But as it is a Driver Booster free review, we have observed the time of the scan and found that the software requires a couple of minutes to scan the driver problems.
Along with this, the thing that impressed us the most is the driver information that this software provides. It shows the manufacturer name along with the name of the driver, current version details, category, and details about the update that it is going to provide you. Depending on the information that Driver Booster provides, any user can make his/her mind on a driver update quite easily.
Repairing Drivers Using IObit Driver Booster
Once you have completed the scan, you'll have a list of drivers having some issues along with their updates, and other information. You can repair them with just a single click on the Update Now option after selecting all the drivers.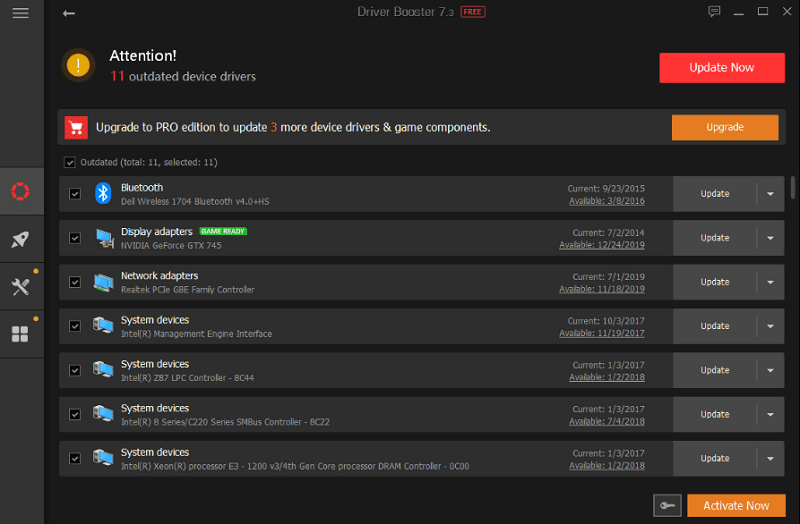 It will provide you a notification regarding your security software's interference in the network and PC functioning. Apart from that, some of the drivers require you to reboot your computer after installation. Hence, mark the Automatically reboot PC option available at the top right corner of the software Window.
The duration of this step depends on various factors such as internet connectivity, system configuration, etc. So, it may vary from system to system.
Additional Features
Along with repairing your device drivers, IObit Driver Booster 7 also offers various additional features that we have mentioned earlier as well in this Driver Booster pro review. It is quite efficient when it comes to enhancing the gaming performance of your PC. As we have discussed above, the software offers a Game Boost feature.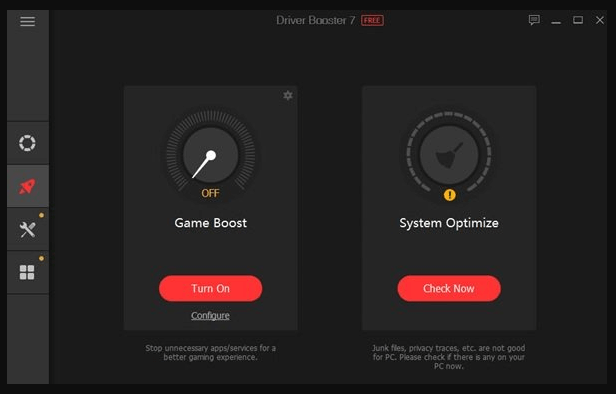 It also has a System Optimize option, as you can see in the above image. But it is not an inbuilt feature of IObit Driver Booster, it directs you towards other IObit software. Hence, we have not included this feature in our list of Driver Booster specifications.
The software also offers various useful tools and options. With its Rescue Center, you can create backup or restore point of your drivers for additional safety and later restore them as well. It provides various shortcuts to fix general driver-related problems such as no sound, bad resolution, network failure, etc. The users of its pro version can also use the Fix Driver Error option to repair their drivers.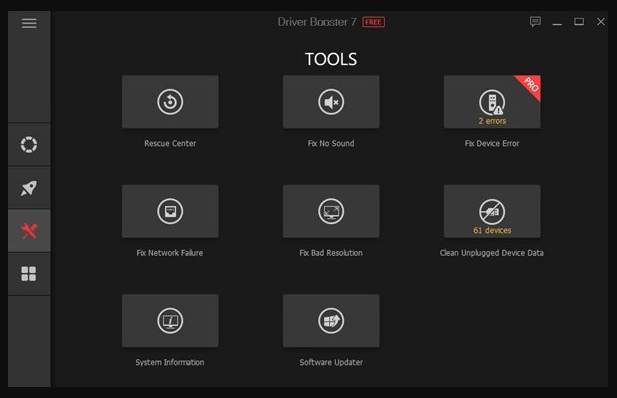 Settings
Now let's have a look at the settings of IObit Driver Booster 7 and check how many customizations we can make. It provides 6 options in the settings, including General, Scan, Drivers, Ignored, Network, and Silent Mode.
In General settings, you can customize the size of the window of the software, font size, transparency, etc. The Scan settings lets you control and customize the scanning functionality of the program. If you want to make changes to the download and install location of the driver updates, then you can use the Driver settings to do so.
The Ignored setting helps you to remove the driver update from the ignore list that you have earlier selected to ignore. While the Silent Mode helps you to disable the software notification while you perform any important task on your PC.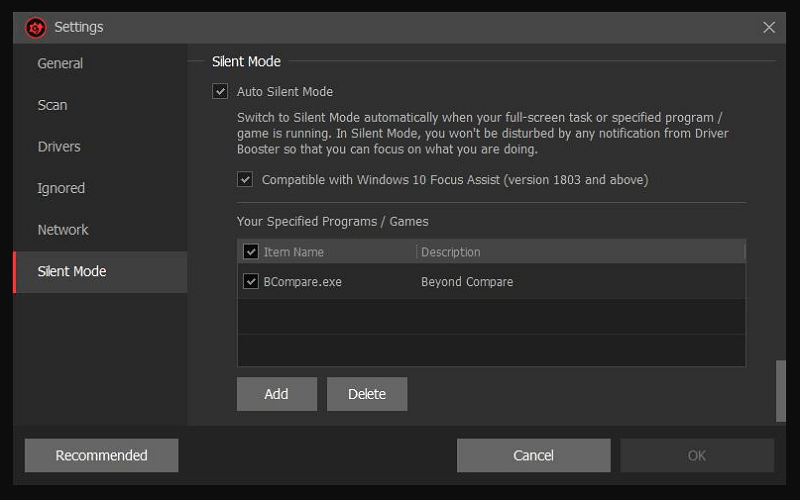 Performance Evaluation
The software has functioned quite well while we reviewed it. From the installation to repairing the device drivers, the software is quite quick. Along with this, it doesn't even use much of your system. Hence, you can perform other tasks simultaneously without any issue. Below we have listed some of the pros and cons that we have observed during this Driver Booster review.
Pros of IObit Driver Booster
Here are the worth mentioning pros of the IObit Driver Booster.
Effortless one-click functionality.
Automatic features.
Vast compatibility.
Provides only WHQL certified driver updates.
Provides additional security with backup and restoration features.
Cons of IObit Driver Booster 
Here are some of the cons of IObit Driver Booster 7 that also require your attention.
Provides too many unnecessary warnings.
Not a multi-platform utility.
Language translation doesn't work properly.
Doesn't pay attention to missing drivers.
Final Verdict
So, as we have checked almost every aspect of the IObit Driver Booster 7, we can say that it is a handy and feature-rich utility along with a few cons. The free version is quite impressive. Although if you want some additional advanced features, then we recommend to buy the Pro version. We hope that you have found this Driver Booster review helpful.
We provide various such useful reviews of different famous software and applications. So, subscribe to the Innovana blog and check out our reviews before downloading or purchasing any software.
Furthermore, you can also share your experience with IObit Driver Booster 7 in the comments section.
Subscribe to Our Newsletter
Keep yourself updated with the latest technology and trends with Innovana Thinklabs Limited.