Watch on-demand videos, live TV, and all the digital content that you love seamlessly via the best IPTV players for Windows listed in this post. 
Television was the only source of entertainment in yesteryears. But, people, like you, often missed out on their daily dose of entertaining TV shows and cricket matches because of prior personal and professional commitments. Soon when the trend of Internet Protocol Television spread among the masses, the best IPTV players for Windows entered the picture, and missing the shows, cricket, and football matches became a thing of the past.
Therefore this blog-post, we list out the top IPTV players for Windows that not only allow the users with IPTV subscriptions to watch their favorite shows but a lot of exciting media content such as videos on-demand, live TV, and a whole lot of other media content available over the Internet Protocol Networks. But, before moving to these IPTV players, we think that it is crucial to know about the formats of IPTV so that you can choose the player that fits your requirements the most. 
A Brief
Introduction to IPTV Formats
You can stream anything and everything through an IPTV. Below are the major formats that the IPTVs support.
Video On Demand (VOD):

As indicated by the name itself, VOD means that you can watch demand for a video anytime as per your wish. You specify the show, movie, or other videos that you want to stream and the IPTV service sends the same to you through the internet. Examples of VOD IPTV services include Netflix, Hulu, Amazon Prime Video, and more. 

Time Shifted Media:

Have you missed an episode of your favorite show? Well, you do not need to worry as with Time Shifted Media IPTV services, you can watch all the missed shows whenever you have the time to do it. However, remember that the missed shows should not be too old as they remain available only for a limited time. BBC's iPlayer is one of the examples of Time Shifted Media IPTV services. 

Live IPTV:

If you wish to stream any live event such as a cricket match, then you can do so through the Live IPTV. For instance, Fox Sports Go, CBS Sports HQ, and Sling TV are some of the platforms that offer live IPTV services. 
---
The Best IPTV Players For Windows PC in 2021
Out of the plethora of options available currently, we've curated the best IPTV Players for Windows PC that turn your PC into a live TV. Here they are.
1. Kodi
Kodi is another IPTV player for Windows desktop, although it is known for its popularity as a media player application. You can install different kinds of officially approved add-ons that can help you play video-on-demand (VoD) as well as stream live TV. This software is compatible with all kinds of devices and operating platforms. In addition to this, below are its highlighting features. 
Highlights
It can add links and stream videos through those links.

Kodi lets you install addons for streaming videos on demand and live TV.

The UI is simple enough so that you can stream all your favorite shows and other videos with ease. 

Kodi is among the most popular and well-programmed IPTV players. Hence, you do not experience any glitches or issues while using it
How to use Kodi
Download and launch the software on your computer. 

Upon launching the software application on your PC, you can either choose to play TV or Radio.
You can enter the URL and then tap "OK" to stream the video.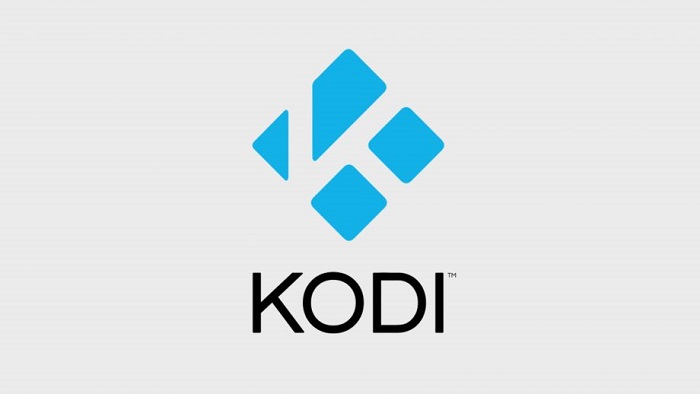 ---
2. Plex
This can also be considered to be among the best IPTV players for Windows, as it comes with a fancy user interface and can transcode any media file. Hence, this player can provide buffer-free continuous streaming, which at the end of the day, can be considered to be an end-user experience-enhancing feature. It is not all and it provides several other useful features as well. Below we discuss the highlighting ones out of them. 
Highlights
It supports all the major video formats including

MP4, MKV, HEVC, AVI, MOV, and DIVX.

There is support for all audio file formats such as MP3, M4A, FLAC, and WMA.

Its in-built tools convert the non-supported files to usable formats.

It lets you stream 4K content as well.

You can adjust the streaming quality and player settings according to your preferences.

There are a lot of free movies and TV shows for you to watch. 

Plex organizes all the available content in neat categories that can be accessed with ease. 

You can install plugins to increase the functionalities.
How to use Plex?
 Below are the most straightforward steps to use it.
Digitize the media connection with the help of various software available online

Download and install Plex Media Server on your PC from its website

Now, signup on to the server

Click on Launch and add your media on the server

Click on Save Changes and play the media.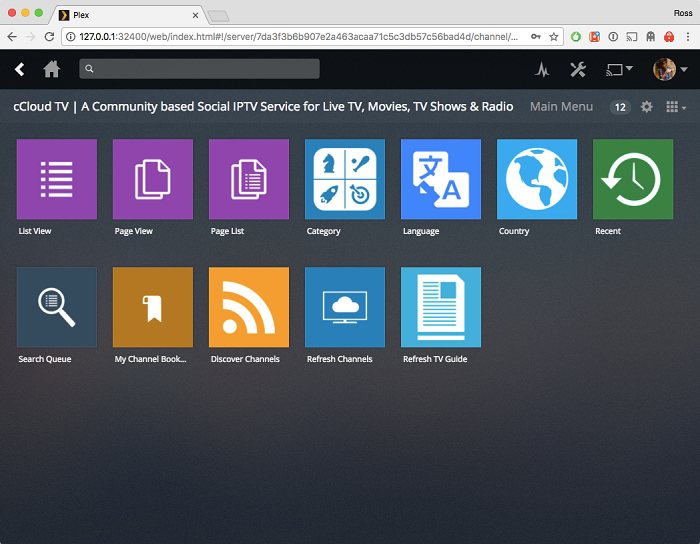 Isn't this easy as pie? Perhaps, this is the easiest way to get an IPTV for Windows.
---
3. VLC Media Player
You can stream IPTV into your VLC media player, which is one of the most common offline media players. The IPTV contents are streamed with the help of M3U files in VLC Media Player. It has a simple user interface. It has a simple user interface and several other attractive features that we share below.
Highlights
It supports a plethora of multimedia files, DVDs, and CDs.

There is support for almost all the video formats available. 

It does not need codec packs to play most of the codecs.

VLC Media Player is free from spyware, viruses, and annoying advertisements.
How to use VLC Media Player
Start the VLC media player application.
Navigate to the media section, followed by going to open network streams.
Then paste the URL of the video or live TV show and click on the play button to play the video content.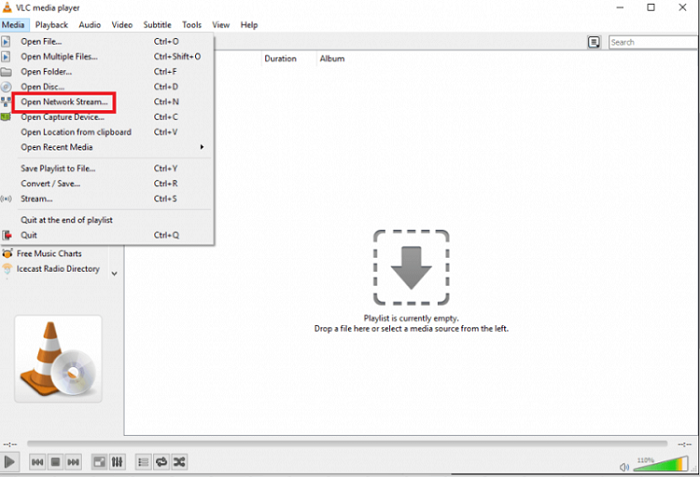 4. OTT Player
OTT Player features in this list as it allows you to edit the channels, logos, and groups of the uploaded playlist directly from the user panel. In addition to this, it also gives you the freedom to use your custom playlist and offers an ocean of other exciting features. Here, we share the same.  
Highlights
It supports all the protocols such as

 

HLS, TS by UDP, RTSP, and RTMP.

There is M3U8 support.

OTT Player does not trouble you with irritating advertisements.

It is among the easiest to use IPTV players for Windows.
How to use OTT Player?
The above features make OTT Player one of the best IPTV players in the town. It would be great if you give it a try. Below are the easy steps to use it.
Launch OTT Player on your computer.

Select your playlist and enter its name.

Lastly, click on OK to confirm.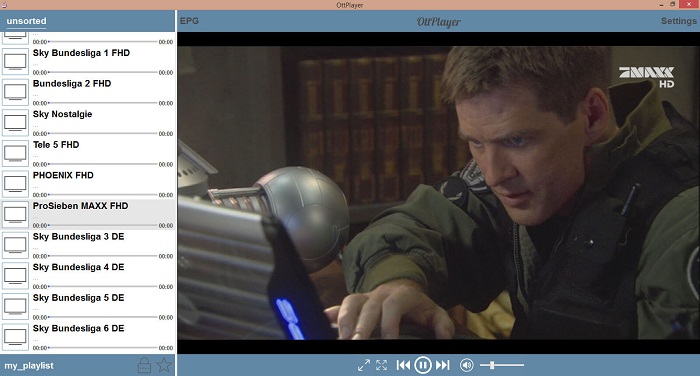 ---
5. ProgDVB/ProgTV
This IPTV player for Windows can be considered another good option for streaming IPTV service on PC due to some of its great features. You can download this app for free from the official website of the company. With Prog TV, you can easily record live radio programs as there is a unique picture-in-picture feature that can enable this function. Let's know about more of its features below.
Highlights
It supports multiple data sources such as

DVB-S (satellite), DVB-S2, DVB-C (cable), DVB-T, DVB-T2, ATSC, ISDB-T, and IPTV. 

Boasts support for high definition TV including H.264/AVC.

It offers a blazing fast preview of Mosaic channels.

All major TV audio formats such as MPEG, AC3, and AAC supported.

There is a Time Shifting functionality.

It shows Teletext, image-based, and closed captions.
How to use ProgDVB/ProgTV
You can follow the below steps to watch HD TV channels:
Evoke

ProgDVB/ProgTV on your Windows computer. 

Input your URL and select the channel.

Once you see the list of videos, you can go ahead and select the favorite video that you wish to watch.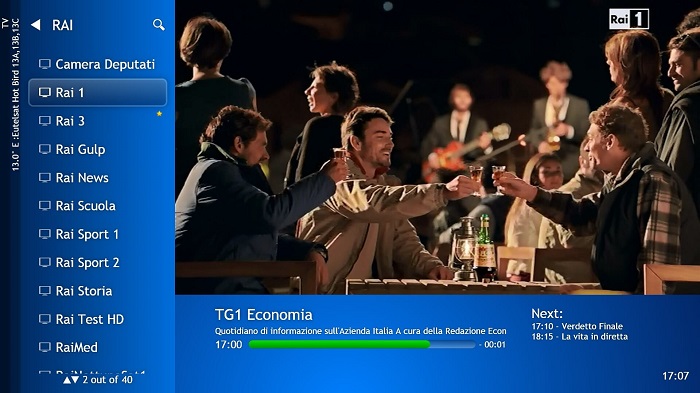 ---
6. Simple TV
This one of the best IPTV for Windows that seamlessly streams recorded programs and live TV to devices such as iPads, Web browsers, and TV's have a Roku box connection. In addition to this, it works well outside your home network and enables Slingbox-Esque placeshifting. Although it charges $5 monthly for its high-end features, still it seems worth every penny. Here's a glimpse of the features that it offers. 
Highlights
Lets you change channels and customize your hotkeys in just a click. 

You can not only play but also record the streams.

The file list in the channels/player is editable. You can move, delete, and perform such editing tasks. 

It supports LUA scripts to download channels, process address during playback, etc.

You can record up to 8 channels at once.

It also lets you schedule the recording.

Simple TV runs in a tray mode.
How to use Simple TV
Here's the guide to use it as an IPTV player.
Open Simple TV on your device.

Tap on the TV icon.

Right-click on the playlist and select "delete all."

Again, right-click and choose "load playlist."

Click on "load from m3u file", and then select the square visible on the top right corner."

Double click on the m3u playlist.

Click on OK and Load.

Select any channel from the list to play it.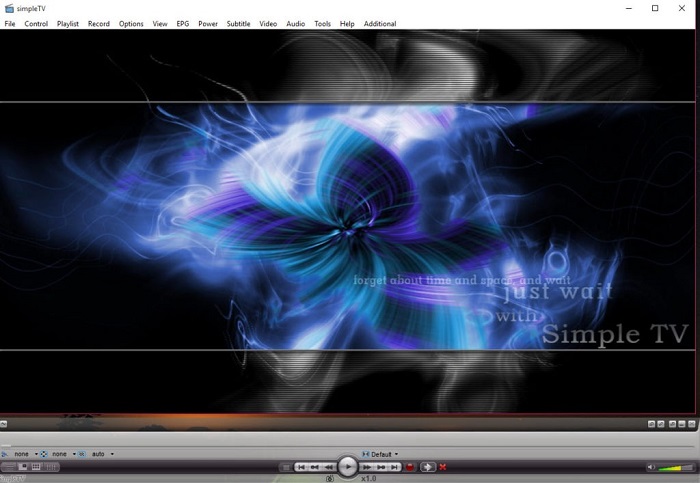 ---
7. My IPTV
You can watch IPTV by downloading this app from the Microsoft Windows Store. You can watch live IPTV using this app by entering the link of the video to stream your most preferred channels, but there is no direct IPTV service available on this application. The app can be protected with the help of a pin. Once you have installed the application, Moreover, below are its other key features.
Highlights
It supports full HD in 1080p so that you can stream your favorite shows in the best possible quality and resolution. 

My IPTV groups the channels automatically based on the channel data.

It comes with in-built EPG support and favorites management. 

With this IPTV player, you can download videos on demand.

There are a lot of channel filtering options.

You can use the VLC library for media playback.
How to use My IPTV
Once you have installed the application, you can follow the below steps to stream IPTV on your Windows PC:
Launch the application on your computer.

Go to the settings of the app.

Upon the addition of a new playlist and choosing EPG Source, input the remote channel list name and also the remote source.

Then select your favorite channel and play it.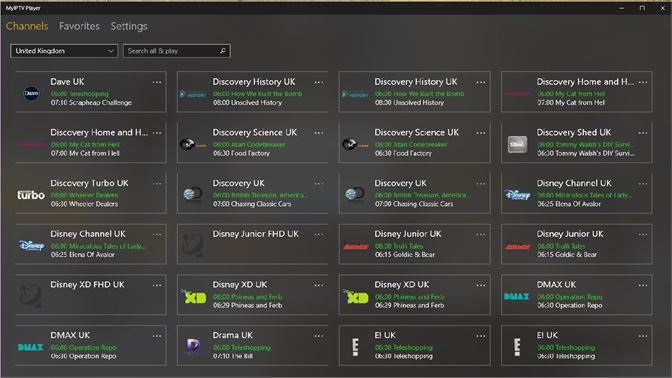 ---
8. Free TV Player
This is another free IPTV player for PC, which can be used to stream live TV channels, TV shows, Movies, and Internet Radio. This app can be downloaded from the Windows Store, which can be used to upload the M3U playlist of your choice to watch live TV channels. Here's what makes this application unique.
Highlights
It is among the most lightweight apps & does not consume much device resources.

Lets you watch tons of movies, shows, and even live TV for free.

Free TV Player lets you stream all the digital content in the most hassle-free way possible. 

It even allows you to listen to internet radio.

This application lets you play videos on demand (VOD).
How to use Free TV Player
Following are the steps to watch IPTV:
Open the application on your device.

After it opens, input the M3U playlist URL that is given by the IPTV service provider.

You can then choose to play your preferred live TV Channel, once all the channels are loaded.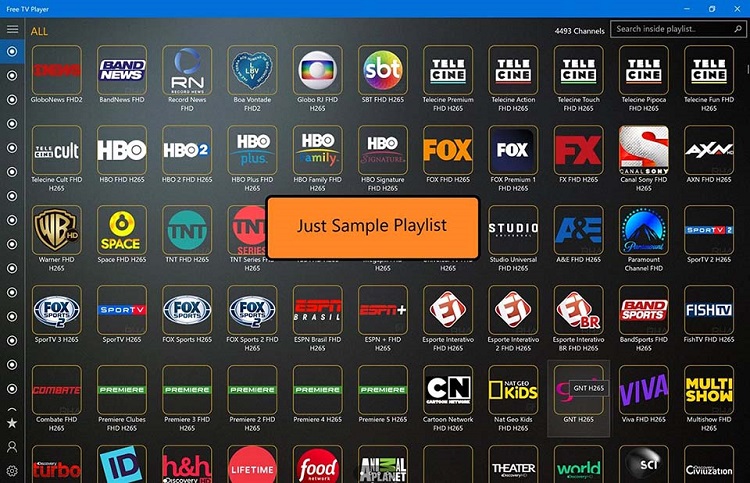 ---
9. Perfect Player
This is perhaps one of the most preferred and best IPTV players for all the non-Apple users. It is an easy to install IPTV that lets you access its functions irrespective of whether you are using a smart phone, computer, or a normal television set with digital to analog conversion capabilities. It has support for two common playlist formats, namely M3U and XSPF. And, provides you an ultimate viewing experience. Here're its feature highlights.
Highlights
Boasts semi-transparent OSD.

You can control the videos in fullscreen mode.

It has

udpxy (UDP-TO-HTTP proxy) support for watching, scanning, and playlist generation.

The OSD is scalable as per any window size and resolution.

It works with multiple playlists and EPGs simultaneously.

Perfect Player lets you manage channels, add, edit, or remove channel groups with ease. 
How to use Perfect Player
 Here's a simple guide to use the Perfect Player as an IPTV.
Launch Perfect Player on your computer. 

Click on the Settings option.

Choose General from the on-screen alternatives.

Select Playlist from the menu you see on your screen.

Enter the M3U URL received with the registration mail and click on Next

Click on EPG.

Enter the EPG M3U URL from the registration mail and click on OK.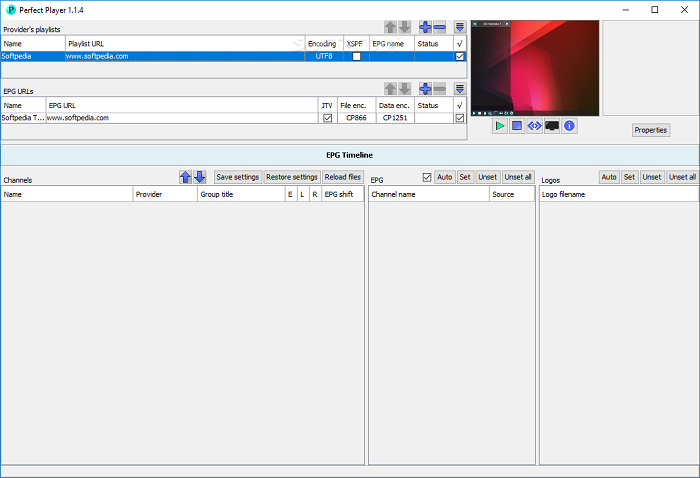 ---
10. IPTV Smarters Pro
Although this is available in the app version on Android and iOS devices, yet it can be used on the Windows PC with the help of Android emulator apps. Talking about its features, it offers several unique functionalities. Below are the core ones out of them.
Highlights
It supports almost all the video formats including 4K.

You can even record live TV to watch it whenever you want.

Boasts support for several APIs such as Xtream Codes, StreamCreed, Xtream UI, and others. 

Up to 4 users can watch the content they love at the same time as this application supports multi-screens and multi connections.

Hosts advanced features such as parental control and VPN integration.

You can Chromecast the videos on your Windows or Mac computers.

It comes with an EPG (Electronic Program Guide) to keep you updated with the timings of your favorite shows and series. 

In addition to playing network streams, it also plays local video and audio files. 
How to use IPTV Smarters Pro?
You can use the below-mentioned steps to stream IPTV using the IPTV Smarters Pro app:
After installing Android emulator apps like Bluestack, you can use your Gmail account credentials to log in to the Android emulator app.

Post this, go to Play Store and download the IPTV Smarters Pro app.

Once the app is installed on your PC, then launch the app.

Choose the "Add Playlist" option, followed by adding the URL.

Once you have entered the Playlist URL and clicked on "OK," select your live TV channel to watch it.
---
Addressing the Frequently Asked Questions about IPTV Players
Q1. What is meant by IPTV?
IPTV is an acronym for Internet Protocol Television. This technology lets you stream live TV on your PC with the help of the internet. It allows you to access digital television services on the PC seamlessly through the internet protocol. This means that you can watch the content of your choice, unlike the regular television that allows you to watch only what is being currently broadcasted on various channels. 
Q2. How does IPTV function?
Unlike the traditional cable or dish TV setup, IPTV uses the internet's power to wirelessly stream live TV on your PC. You simply need an internet connection to watch your favorite TV shows and videos. Whenever you request any video, it divides the video from various sources, i.e., servers into data packets that are sent to you via the internet. 
Q3. Is it legal to use an IPTV?
Yes, it is not at all illegal to use IPTVs. They do not host any content of their own. They only give you a platform for streaming the movies, shows, and other digital content.
Q4. How to use IPTV securely?
Since IPTV uses the internet, the possibility of viruses invading the PC cannot be ignored. Therefore, we suggest you use a secure IPTV player. In addition to this, you should also use a VPN for extra security and shielding the PC from the prying eyes of hackers.
Q5. Why do you need a VPN?
When you stream content via IPTVs, your IP address is exposed. It may lead to serious issues if you have even unknowingly streamed any copyrighted content. Therefore, you need a VPN. VPNs mask your IP address and connect your computer to the internet via a server present in some remote location so that your identity is protected. Moreover, a VPN also helps you bypass the location-based content restrictions.
Q6. What are the different types of IPTV services?
The various types of IPTV services include:
Video On Demand

Live IPTV

Time Shift Media

Start Over TV

Catch-Up TV
Q7. Which is the best IPTV software?
All the software list above are the best IPTV applications. However, our top favorites are:
IPTV Smarters Pro

Perfect Player

GSE Smart IPTV

Plex

OTT Player 
Best IPTV Players for Windows: Concluding words
We learned from the above article not only about the best IPTV for Windows but also about IPTV players that you can use on your smartphones. You can use any of the free IPTV players for PC, but if you want an enhanced user experience, then you can try your hands on the paid IPTV players too. Gone are the days when we depended on satellites and cable operators for catching our favorite pre-recorded shows and live broadcasts. Nowadays, our lives have indeed become better with such digitalization as we have the freedom to watch whatever we want to and that too in our preferred time on our Windows computers and laptops.
Subscribe to Our Newsletter
Keep yourself updated with the latest technology and trends with Innovana Thinklabs Limited.