Almost every gamer knows about G933, a wireless headset from none other than Logitech. It has low latency, superb mic, outstanding sound quality with a plethora of customization options. But unluckily, for some users, Logitech G933 keeps disconnecting. If you are also a part of the clan of such folks, then this post is the troubleshooting guide you need to read.
Through this post, we show you how to stop Logitech G933 from turning off and losing connection. But before we discuss the solutions, let's go to the root of the problem and know why it is occurring in the first place. Knowing the causes of the issue helps you troubleshoot it better.
Why does the Logitech G933 Keep Disconnecting
Below are the top reasons why your Logitech G933 is disconnecting more than often.
Other WiFi or Bluetooth devices interfere with its working.
USB not offering enough power.
Outdated, faulty, or broken Logitech G933 driver.
Above we answered the question of why is the Logitech G933 headset behaving erratically. Now, let's fix it.
Fixes for Logitech G933 Keeps Disconnecting
Below is what you need to do if the Logitech G933 headset is not performing the way it should do or keeps disconnecting.
Fix 1: Try Plugging Logitech G933 into a different USB Port
If your Logitech G933 headset is causing you troubles and disconnecting, then unplug it and try plugging it into another USB port. The users using a USB 3.0 port should use a USB 2.0 port to connect the headset. Before implementing this fix, ensure that your headset is completely charged.
Read More: How to Download & Update Logitech Drivers
Fix 2: Perform a Rollback of the Logitech G933 Driver
If you have recently updated the Logitech G933 driver manually, there are high chances that you downloaded an incompatible update. And this may be the reason why the headset keeps switching off. Thus, below is how to fix the issues and stop the microphone from turning off.
Use the combination of Windows and X keyboard keys to make the Quick Access menu visible.
Select Device Manager from the options given in the Quick Access menu.

Click on the Sound, video, and game controllers to expand them.
Right-click on the Logitech G933 headset and then select Properties from the available options.
Click on the Driver tab and then click on the Roll Back Driver button.
Choose a reason for rollback (you can select any of the given options).
Complete the process and restart your computer after completing it.
Fix 3: Try Changing the Time of Turn-off Interval
Logitech G933 disconnects automatically after 15 minutes of inactivity to preserve power. You can make the turn off interval zero to stop it from disconnecting. Below we show you how to do it.
Move out of the Logitech Gaming Software.
Move to the Windows Explorer and then go to C drive.
Go along the path Program Files > Logitech Gaming Software > Resources > G933 > Manifest.
Right-click on the Device_Manifest.xml file.
Open the file you right-clicked with Notepad.
Now, find Battery turnOffInterval = "900"
Input 0 in place of 900.
Fix 4: Disable USB Selective Suspend Settings
In some cases, USB Selective Suspend Settings may be a reason why Logitech G933 keeps disconnecting on your computer. Therefore, you need to turn it off. You can implement the below steps to do it.
Open the Quick Access menu using the Windows+X keyboard shortcut.
Choose Settings from the menu on your screen.
Select System and then choose Power & Sleep from the right section.
After entering the Power & Sleep settings, click on the Additional power settings option.
Click on the Change plan settings option present alongside the power plan you are using.
Select Change advanced power settings.

Image Source: Free Driver Updater

Now, find and double-click on the USB settings.
Double click on the USB selective suspend setting and select the Disabled option.
Lastly, click on Apply and OK. 
Fix 5: Update the Logitech G933 Driver
As you might already know, almost all computer problems occur due to outdated drivers. And the issue where Logitech G933 is losing connection is no exception. To fix this problem, the best solution is to update the driver for your Logitech G933 headset. There are both manual and automatic ways to do it. Let's discuss both of them.
Manual way to update the Logitech G933 driver
Although updating the drivers manually is a slow and risky process, still you can follow these steps if you want.
Wake up the Device Manager. 
Click on the Sound, video, and game controllers.
Right-click on the Logitech G933 driver and choose Update driver. 
Select Search automatically for updated driver software. 
Give Windows a few hours to find, download and install the driver.
After the above steps are completed, reboot your computer.
Automatic way to update the Logitech G933 driver (Recommended)
It is a fast, convenient, and safe way to update your driver automatically. You can use any of the best driver updaters available currently. However, we recommend Bit Driver Updater for its outstanding features such as driver download speed acceleration, driver backup and restore, etc. You can read its complete review to know more.
Below are the steps you need to take to update the Logitech G933 driver using Bit Driver Updater.
Click on the below button to get Bit Driver Updater downloaded and installed.

Let the software perform a complete PC scan.
View the scan results and click on the Update Now button present alongside the Logitech G933 driver to update it.
If you want to update the drivers for other peripherals and solve other PC problems in one go, instead of Update Now, choose to Update All the drivers.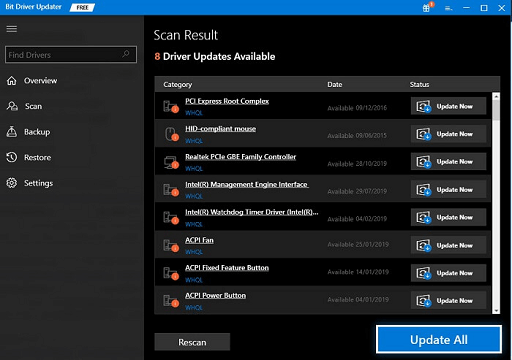 Fix 6: Try Turning off USB Root HUB Power Management
If Logitech G933 keeps disconnecting, then turning off the USB Root HUB Power Management can also fix it. You need to take these steps to do it.
Open Device Manager.
Click on Universal Serial Bus Controller and right-click on USB Root HUB.
Select Properties from the available menu.
Go to the Power Management tab.
Uncheck Allow the computer to turn off this device to save power.


Image Source: Ten Computer

Unmark the power save option for every USB Root HUB and generic USB HUB one after the other.
Logitech G933 keeps Disconnecting Issue Fixed Successfully
This article guided you on how to fix the problems if Logitech G933 is disconnecting unnecessarily. If it keeps on troubling you, we suggest you update the drivers using Bit Driver Updater. This software is known to update all drivers automatically and safely along with fixing annoying PC errors. We will return soon with another useful tech post.
Subscribe to Our Newsletter
Keep yourself updated with the latest technology and trends with Innovana Thinklabs Limited.