The keyboard shortcuts are a mixed bag of both good and troubles. The good thing is that the shortcut commands come handy when you are in a hurry to complete a task and have no time to follow the steps involving a lot of mouse clicks. Whereas, the same shortcuts become a problem when you use them accidentally. For instance, nowadays, a lot of Windows users are complaining that their computer screen flipped upside down. One prominent reason for the problem could be mistakenly pressing the key combination to rotate the screen.
If you are also searching for, "Why is my computer screen is upside down, and how do I fix it?" Then, you are in the correct place. Through this post, we share the ultimate solutions to this problem of the flipped computer screen. These fixes help you resolve the issue in a New York minute no matter what caused it.
Now, without further delay, let's answer your question, "What to do if my PC screen is upside down?"
100% Working Solutions for Upside-Down Computer Screen
Below are the sure-shot fixes that you can try if your computer screen flipped upside down. There is no need to try all the solutions. You can start from the first one and stop at the fix that solves the problem in your case.
Solution 1: Try Different Keyboard Shortcuts
As said above, the accidental keypress is among the central reasons for the upside-down computer screen. Therefore, to resolve the issue, try various shortcut combinations to bring the screen to normal orientation. Here, we share steps to do the same.
Step 1. Press the following key combinations one-by-one:
Ctrl + Alt + Up Arrow
Ctrl + Alt + Down Arrow
Ctrl + Alt + Left Arrow
Ctrl + Alt + Right Arrow
Step 2. If your screen rotates after pressing the above shortcut keys, then keep pressing the shortcut keys till the screen returns to its correct orientation.
Read More: How to Fix Vertical Lines on the Computer Screen
---
Solution 2: Enable the Hotkeys
If the Hotkeys are disabled on your computer, then also the computer screen may be flipped upside down. Therefore, follow the instructions shared below to enable the Hotkeys and bring the screen back to normal.
In the search bar located next to the Start button, type "Control Panel" and open the "Best match."

Click on the "Ease of Access" option.

Choose the "Change how your keyboard works."

Checkmark the "Turn on Sticky Keys" box.

Click on "OK" and "Apply" to save the changes.
---
Solution 3: Update the Drivers (Recommended)
In addition to the accidental keypress, outdated drivers are a prime culprit behind a computer screen flipped upside down as well as several other errors. Therefore, you need to update the drivers. There is a multitude of methods through which you can perform a driver update. Some of these ways include manual tasks such as downloading and installing the driver via the component manufacturer's website, etc. We do not recommend these manual activities to update drivers. In our opinion, the best way to update drivers is through ITL Driver Updater. This utility updates driver without you having to make any tiring efforts. Further, it also solves various computer problems such as bugginess at the same time. We are sure that after trying this solution, you will not require anything else to keep your device in the pink of health.
Here's how to update drivers and solve all the computer problems with ITL Driver Updater.
Setup ITL Driver Updater through the download link given in this typewritten note.
The utility automatically launches after installation and also begins the PC scan. But, by chance, if this does not happen, then click on the ITL Driver Updater icon to launch it and the "Scan" option to start the scanning process.
At last, see the scan results and click on "Update All" to update all the outdated drivers existing on your computer. Alternatively, you can also update drivers individually by clicking on the "Update Now" button for each outdated driver. However, we recommend the former option as updating drivers in one go is much easier than updating them separately.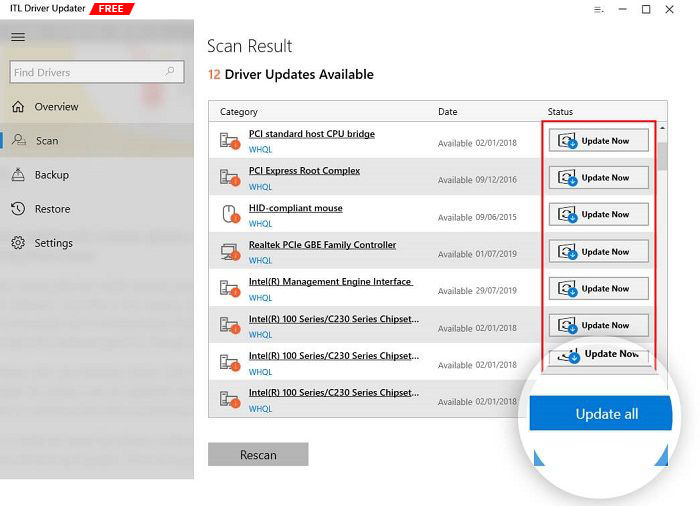 We know that you must be pondering about why are we recommending ITL Driver Updater. Well, we resolved the upside-down computer screen issue as well as other problems using ITL Driver Updater. In addition to this, it has certain noteworthy features that induce us to recommend it. We mention them below.
Remarkable Features of ITL Driver Updater
Downloads and installs drivers that have passed the Windows Hardware Quality Labs, i.e., WHQL testing.
With this tool to update drivers, one can create a driver backup and restore the backups with ease.
There is no problem if you do not wish to scan a specific driver as this software allows you to add that driver to the exclusion list.
This utility speaks and understands multiple languages.
ITL Driver Updater supports all the operating system versions ranging from Windows 7 to Windows 10.
It boasts a massive driver database.
In addition to the above features, there are many other qualities of ITL Driver Updater that you will notice after trying it out. Hence, click on this link to download it.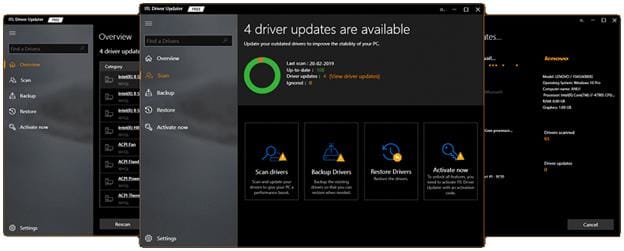 ---
Solution 4: Change the Display Settings
Incorrect display settings can also force you to search for "How to solve my upside-down computer screen?" Making a few changes in the display settings can fix the problem for you. Here is the way to do it.
Click on the empty space present on your desktop and select "Display settings."

Scroll down to the "Display orientation" and click on the small arrow to change the orientation.
Click on the different orientations present in the drop-down menu.

Check which orientation returns the upside-down computer screen to normal.
Click on "Keep changes" to save the correct orientation.
Read More: Windows 10 Display Too Big (Fixed)
Computer Screen Upside Down: Solved
Through this typewritten tutorial, we got enlightened on how to fix the upside-down computer screen. As mentioned earlier, we used ITL Driver Updater to solve this and all the other problems on our device. You can also get it from this link.
However, if you prefer any other method or know about more ways to solve this problem, then we highly appreciate your comments. Moreover, you can also share any ideas or suggestions that you may have for our blog. And, it would be a pleasure to add you to our mailing list. Enter your email address in the box given below and click on the Subscribe Now button to join it.
Subscribe to Our Newsletter
Keep yourself updated with the latest technology and trends with Innovana Thinklabs Limited.