If you want to get rid of duplicate/similar pictures and free up PC space, then go through this complete and honest review of Quick Photo Finder, i.e., one of the best image deduplication software for Windows. 
Photos are an integral part of our life. We all love clicking pictures to keep the memories of our happy moments alive. But, in an attempt to capture one perfect shot, we often end up clicking multiple images of the same scene. And then what we are left with is a pile of duplicate pictures hogging up PC space. Well, now this problem is soon to become a thing of the past as through this article we are going to review Quick Photo Finder, i.e., software to find and delete identical/similar images in an instant.
Now, you must be wondering about what is Quick Photo Finder exactly, right? Well, Quick Photo Finder is software that employs smart algorithms to scan your PC thoroughly to detect twin/ almost twin pictures and helps you remove them effortlessly. Before, going deeper into the full review of Quick Photo Finder, let's have a look at the specifications and features of this software.
Key Specifications of Quick Photo Finder
Developer: Digital Protection Services S.R.L
OS Requirements: Windows 10, 8.1, 8, and 7
RAM required: At least 512 MB
Processor needed: 1 GHz
Noteworthy features of Quick Photo Finder
Below are some of the top features of this tool to remove all kinds of duplicate image files, such as JPG, JPEG, PNG, and more.
External device support: We often transfer our pictures to external storage devices such as Pen Drives and more. It leads to the accumulation of dupe shots in them. With Quick Photo Finder at your side, you need not worry as it lets you free up space on the external devices as well.
Smart algorithms: Not even a single duplicate can escape from this software as it employs the most intelligent algorithms to find both similar and identical images.
Drag and drop: There is a convenient drag and drop option to add the folders to the scan pane effortlessly.
Many scan filters: With this software, you can find the exact kind of duplicates that you are looking for as it allows you to apply a matching level, bitmap size, time interval, GPS, image size, and dimensions based filters to the scan.
Group-oriented scan results: Quick Photo Finder organizes the detected duplicates in the form of easily reviewable groups. It helps you decide which images to keep or delete without any confusion.
Easy duplicate removal: It is simple as ABC to remove duplicates with Quick Photo Finder as after the scan completes it lets you auto mark the images and delete them instantly with just a click.
Increases storage space: Quick Photo Finder removes every bit of duplicate images from your computer. Hence, a lot of space becomes available on the hard disk to store what really matters. Moreover, increased storage space results in faster and smoother PC performance.
Refund guarantee: If for any reason you feel unsatisfied with Quick Photo Finder within 60 days of purchasing its full version, then you can claim a refund. However, the need to use this option arises only in the rarest of rare cases.
After learning the features of Quick Photo Finder, let's go through the process that you need to follow to use it.

How to use Quick Photo Finder
To find and delete duplicate pictures with this software, you are required to follow the below series of steps.
Step 1: First, download Quick Photo Finder. You can do it for free by clicking the below button.

Step 2: Click on the software setup that you have just downloaded and follow the on-screen instructions to install the software.
Step 3: After the software launches, add the folders that you wish to scan. You can also use the drag and drop option to do it conveniently.
Step 4: Set the criteria to compare exact or similar pictures as per your preference from the left pane.
Step 5: Now, click on the big blue "Scan" button to begin scanning the folders for duplicate or similar photos.
Step 6: After the scan results appear, review them and perform the required action.
You can use the auto mark option to select all the twin or nearly twin images and delete them with a single click.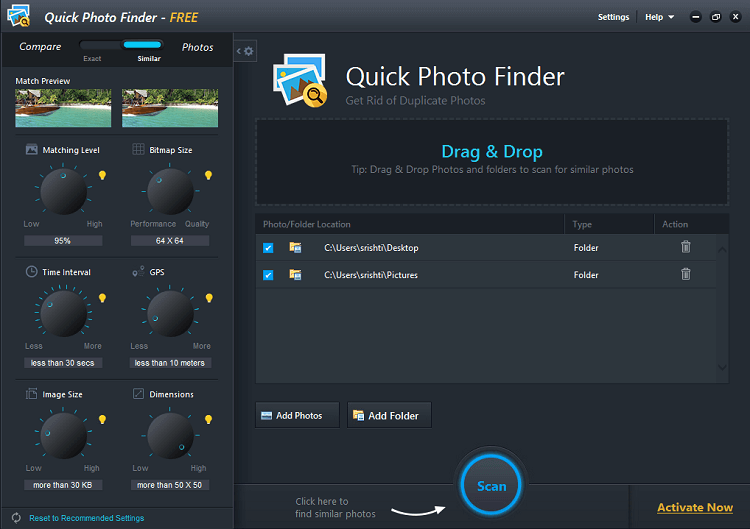 Deleting duplicates with Quick Photo Finder is, as you can see, quite easy. In addition to ease of use, there are several other things that we found impressive in this software. Below we share the same along with a minor point where this program falls short of other similar tools.
Pros
Quick detection of duplicate and similar images.
Novice friendly interface.
A lot of video tutorials to help you use the program.
A multitude of filters to customize the scan.
Frees up ample storage space.
Employs smart and precise algorithms.
Organizes even the highly unorganized image galleries.
Group-oriented scan results.
Cons
It does not support XP and Vista versions of Windows.
Wrapping up the Review of Quick Photo Finder
Above was our honest opinion of Quick Photo Finder. In our view, it is among the best software that you can use to eliminate duplicate and similar pictures from your computer as it provides quite a lot of features to make the task easy to accomplish. However, the final decision to get the software or not always depends on the end-user. If you choose to try it, then you can click on the below link to download Quick Photo Finder online for free.

After using this software, do not forget to share your review of the same through the comments section.
Subscribe to Our Newsletter
Keep yourself updated with the latest technology and trends with Innovana Thinklabs Limited.