Sometimes things that catch the ears are more special than the ones that eyes see. Are you pondering about what we mean? Well, imagine watching an action-packed movie with no audio, a mute song, or playing games with no sound effects. We are sure that they won't seem as enticing and pleasing as they do now. It is the magic of sound that makes even the ordinary things and tasks such as mouse clicks exciting. But, to your dismay, audio on your PC will not work if you do not have the compatible and correct drivers installed. Therefore, you need to reinstall audio drivers on Windows 10 if the sound is not working the way you expect.
Thus, through this penned note, we bring to the fore the best ways to install the audio drivers again. Along with this, we also talk about how to update audio drivers on Windows 10 since only installing the drivers is not enough, and you also need to keep them updated for high performance.
Without further ado, now let's guide you through the methods to install, update and reinstall audio drivers on Windows 10.
Quick and Easy Methods to Install And Reinstall Audio Drivers on Windows 10
Below are the simplest ways that you can adopt for installing, reinstalling, and updating audio drivers on Windows 10.
Method 1: Use Device Manager to Reinstall Audio Drivers on Windows 10
Device Manager is the tool in Windows computers that has a solution for almost all issues involving drivers. Hence, you can install, reinstall, and update audio drivers on Windows 10 via Device Manager by following the below steps.
Locate and press the Windows and R key on the keyboard simultaneously to bring "Run box" on the screen.
Once the Run box shows up on the screen, enter "devmgmt.msc" in the given space, and select "OK."

After the "Device Manager" comes into view, locate and expand the category called "Sound, video, and game controllers."
Right-click the audio driver and choose "Uninstall" from the menu displayed on the screen.

Confirm your action and wait till the uninstallation finishes.
After the audio driver is uninstalled, restart the PC to reinstall it.
Also Read: How To Update And Download Acer WiFi Driver Easily
Method 2: Install the Audio Drivers on Windows 10 Via the Manufacturer Website
If you have the skills and patience to search for drivers that are compatible with the model of your PC and the operating system, then you can reinstall the audio drivers on Windows 10 and update them through the manufacturer's website. Be guided by the below steps to do it.
Search for the website of the peripheral manufacturer on the internet or enter it in the address bar of your browser.
Find the drivers compatible with the operating system and model of your computer.
Download the installation file of the required drivers.
If the file is in zipped format, then unzip it.
Complete the installation in accordance with the on-screen instructions.
Method 3: Browse Your Computer for Audio Drivers
This method to install audio drivers on Windows 10, reinstall, and update them is a bit tricky and works if you have the driver file on your computer. Therefore, save the driver file from the manufacturer's website and then string along the steps mentioned here.
Open "Device Manager" and expand the "Sound, video, and game controllers."
Right-click on your audio driver and choose "Update driver."

Now, from the two options that you see on the screen, choose the second one, i.e., "Browse my computer for driver software."

In the given space, mention the location where you have kept the driver file, tickmark "Include subfolders" and click on "Browse."

Choose the folder containing the driver file and click on "OK."

Now, act according to the instructions displayed on your screen to complete the driver installation.
Also Read: Guide to Resolve Dell Laptop Black Screen Problems
Simple and Fast Methods to Update Audio Drivers on Windows 10
After installing and reinstalling the audio drivers on Windows 10, it is of utmost importance to update them. Therefore, below are the most straightforward ways of doing so.
Method 1: Update the Operating System of Your PC
When you perform an OS update, all the outdated drivers present on your PC also get updated if Windows finds the latest drivers. Therefore, try updating Windows with the below steps.
Launch "Run box" and once it comes up, input "ms-settings:windowsupdate" and choose "OK."

Once the Update window is displayed on the screen, click on the "Download" button. If the Download button is not present, then it means that you need to run a check for OS updates. In such a case click on "Check for updates."

Wait patiently till Windows updates and installs updated audio drivers on your PC (It may take approximately an hour to do so).
Method 2: Install, Reinstall, and Update Audio Drivers Automatically Through BIT Driver Updater (Recommended)
Here comes the method that we recommend. BIT Driver Updater is a software through which you can download, install, reinstall, and update all the drivers automatically without making any cumbersome efforts. Moreover, it also resolves various PC errors that trouble you and elevate your device's performance. There are several other benefits of using BIT Driver Updater that we will discuss a bit later. First, let's have a glance at how to use this tool.
How to Use BIT Driver Updater for Installing, Reinstalling, and Updating Drivers?
BIT Driver Updater is among the most beginner-friendly utilities. Hence, anyone can use it with ease. To install, update, or reinstall audio drivers on Windows 10 with this software, simply comply with the quick steps shared below.
Click on the BIT Driver Updater download link to install it on your computer.

Once installed, it scans the PC automatically. Wait for the scan to finish.
After the scan finishes, click the "Update Now" button located in front of the audio driver to update it. To update all the other outdated drivers simultaneously and give your PC a new life, click on "Update All."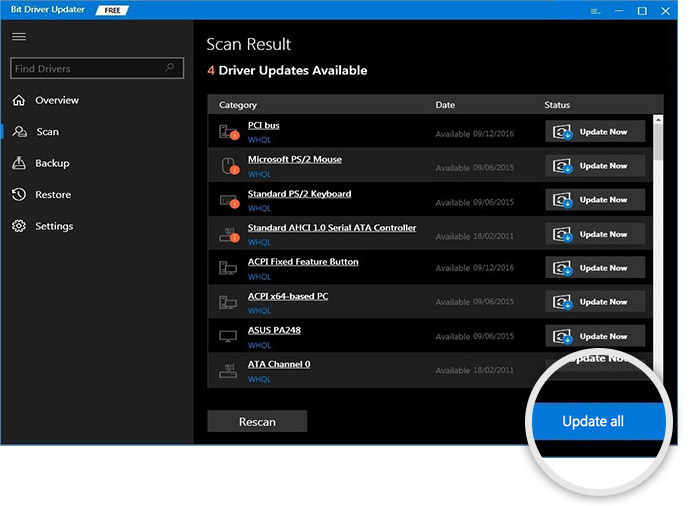 Three steps and all your drivers are updated. Downloading, installing, reinstalling, and updating drivers cannot be simple than this. Along with an easy to use interface, BIT Driver Updater also hosts several remarkable features that make it one of the most sought after driver updaters available in the marketplace. We share the same below.
Commendable Features of BIT Driver Updater
Here are the outstanding features of this software that make it our topmost recommendation when it comes to driver updaters.
It downloads and installs only those drivers that have certification from WHQL.
With BIT Driver Updater, you can perform effortless driver backup and restore.
There is an option to schedule the scans as per your convenience.
Lets you ignore the drivers from the scan if you wish to do so.
Supports many languages ranging from English to French.
Boasts support for all the Windows versions higher than Windows 7.
Encompasses a vast driver database.
Above was only a snapshot of the offerings of BIT Driver Updater. You will come to know many more when you install and use it. Hence, click on the below link to get it.

Reinstall Audio Drivers on Windows 10: Done Successfully
Through this note, we learned the easiest ways to reinstall audio drivers on Windows 10. You can choose any method as per your wish. However, we recommend you download, install, reinstall, and update drivers with BIT Driver Updater as this tool not only makes your work easy but also makes the performance of your PC better. Lastly, we would be pleased to add you to our mailing list if you are not already there.
Subscribe to Our Newsletter
Keep yourself updated with the latest technology and trends with Innovana Thinklabs Limited.